Smart plug uses are multiplying as smart home systems gain in popularity. You can use them independently or integrate them into home monitoring systems like Constellation Connect. The various technologies are changing fast, so we've put together this guide that covers questions such as what is a smart plug, how smart plugs work, and what to use a smart plug for. Once you discover the many uses for smart plugs, you'll get a feel for how they can improve your lifestyle.
What is a smart plug and how does it work?
Smart plugs are devices that add connectivity and control to anything that runs on electricity. Whether a lamp, electronic device or appliance, when you plug it into a smart plug and then connect the smart plug into an electrical socket, you can control it by an app or voice assistant. Smart plugs also allow you to set schedules for your devices and adjust these routines based on the day of the week.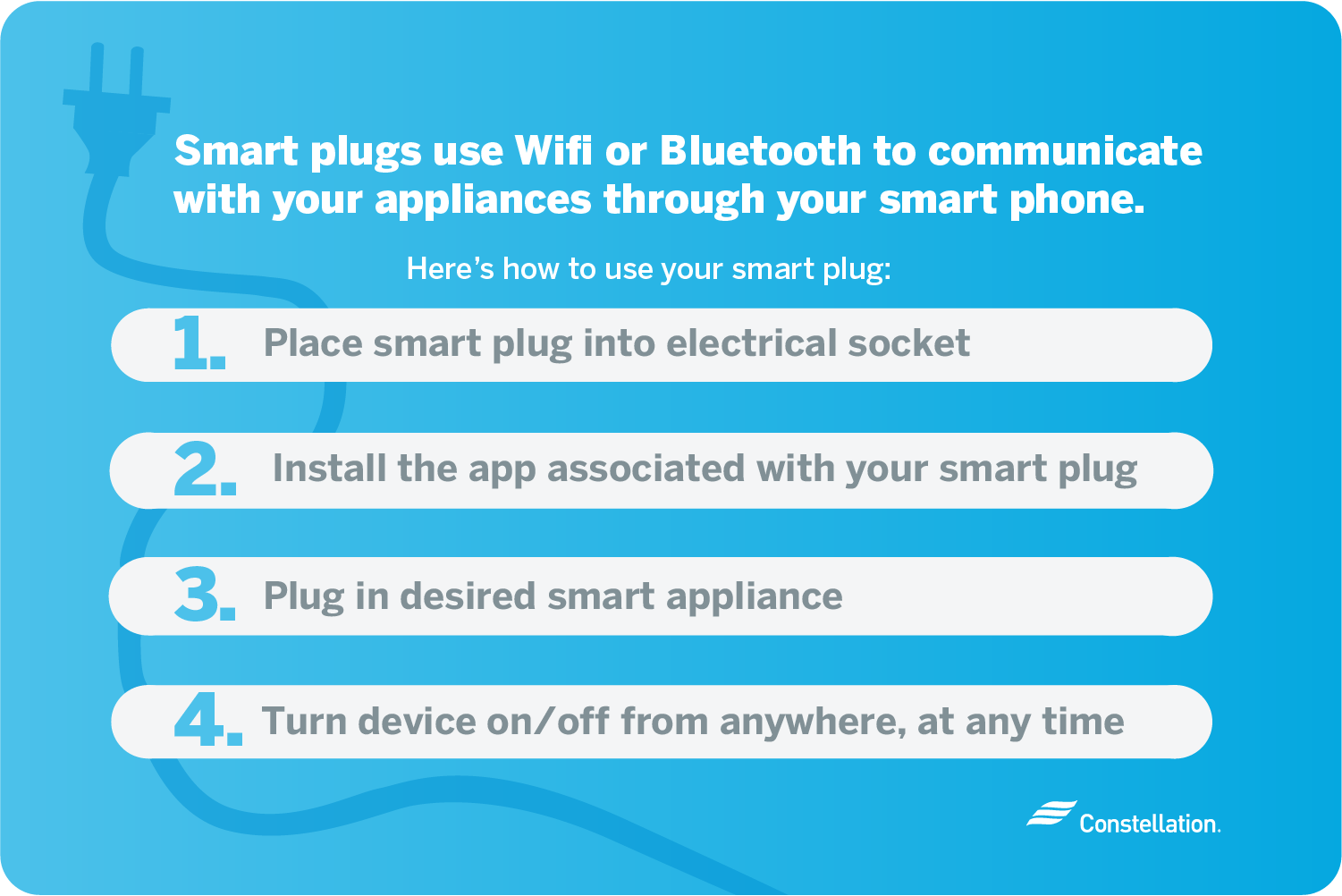 When it comes to how smart plugs work, advances that go beyond just Wi-Fi connectivity are now on the market. One of the more advanced options is Constellation's PowerPlug. It connects to other devices via Z-Wave and lets you control appliances, while monitoring and controlling energy use. While you can use it with a smart hub like Constellation Connect, it also works independently as a smart hub itself, giving you a great deal of flexibility when it comes to home automation.
25 uses for smart plugs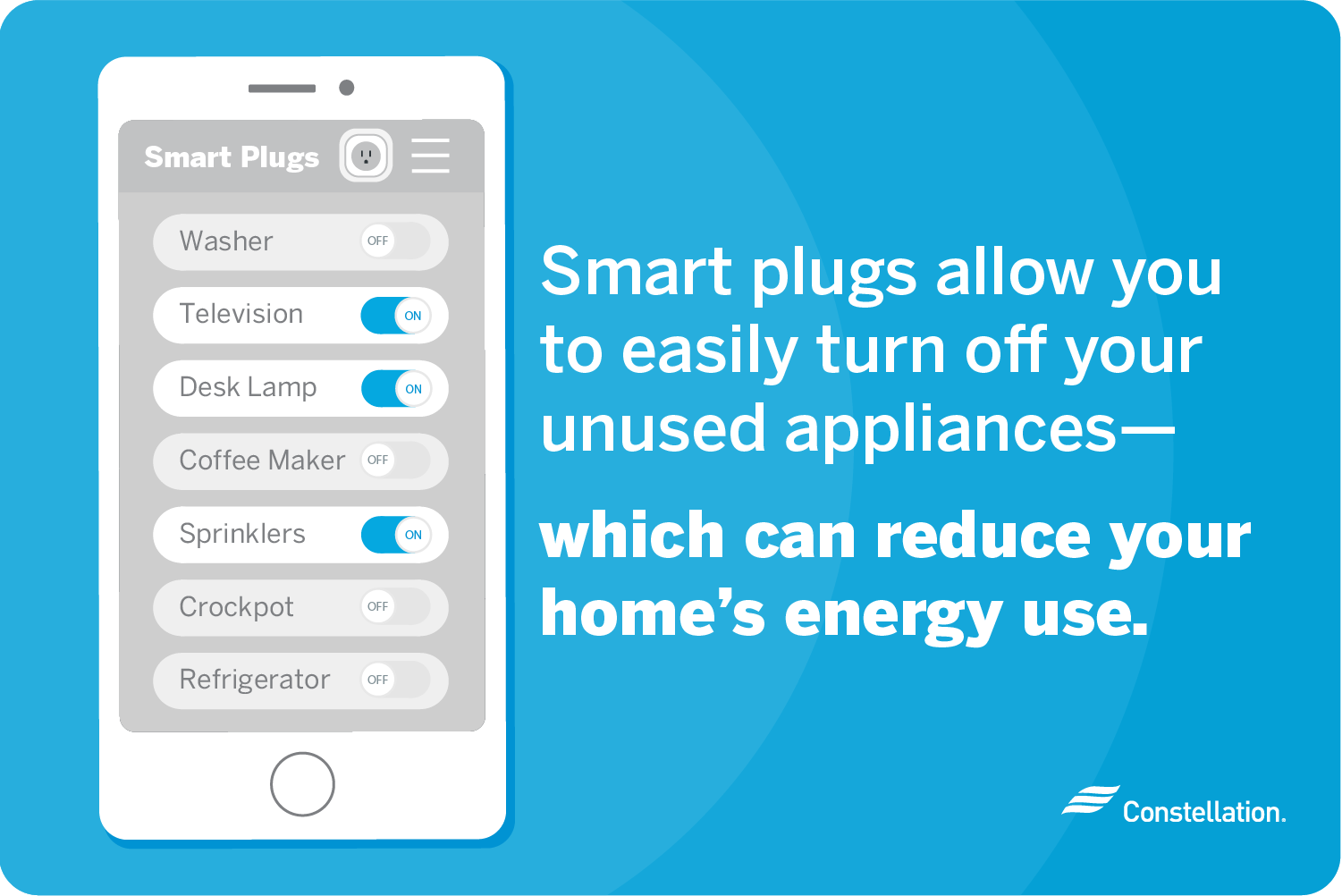 Smart plug uses are almost limitless. Some of the ways you can answer the how to use smart plugs question are obvious and some are more creative. Here are some of the best answers – so far – for what to use a smart plug for.
Using smart plugs to save energy
Lights. You can combine smart plugs with motion detectors to turn on lights when you enter a room. You can also program them to turn on and off according to a routine or you can control them from your phone when you are away. They work for any type of light, from LED vs CFL light bulbs. Pair the PowerPlug with a smart light bulb to save energy. They definitely are an example of useful smart lighting tools.
Televisions and computers. Plug them into a smart plug to schedule idle times when they can power down to save energy.
Radios and speakers. Pairing your radio or speaker with a smart plug allows you to preset schedules for these devices, power them on and off remotely, and reduce the amount of energy they consume.
Device chargers. Set battery rechargers to shut off after a set amount of time to save energy and avoid damaging batteries.
Gaming systems. Game console energy consumption adds up, as they continue to draw power even when turned off. Cutting off power with a smart plug can save you money.
Washers and dryers. You can find great options for new units in our smart washer and dryer guide. If you are not ready to replace old machines, you can plug your existing appliances into a smart plug to monitor cycles or schedule them to run during off-peak hours.
Freezers and refrigerators. Clever smart plug uses include using them to monitor refrigerator energy consumption. But be sure to check if the energy rating of your smart plug is safe to handle the energy needs of your refrigerator or freezer.
Air conditioners. Use a smart plug to turn off your window AC unit when you are not home, then power it up during your commute back.
Space heaters. Smart plugs make a lot of sense for portable heaters. Aside from the convenience of turning them on remotely to warm a room before entering, you'll also be able to monitor their energy use.
Fans. Control when your fans are operating from your phone. If you have integrated them into your smart hub, you can program them to switch on when the temperature reaches a certain level.
Humidifiers and dehumidifiers. If you have invested in energy-efficient humidifiers or energy-efficient dehumidifiers, you can make them even more efficient when you use them with a smart plug and integrate them when you are setting up your Constellation Connect.
Air purifiers. Turn them on and off remotely or set them to run in your bedroom while you are sleeping or your home office when working.
Safety and security uses for smart plugs
Smart security systems. You can set lights, alarms and other devices connected to smart plugs to work with automated home security systems and with smart motion sensors to detect an intruder.
Outdoor lights. Plug outdoor lights and energy-efficient decorative lights into a smart plug and set them to turn on when the sun goes down.
Sound systems. Controlling the music around your home is convenient, but it also can enhance security by creating the illusion that someone's home.
Leak detectors. Water damage tops the list of insurance claims and can wreak costly damage. Pair a Constellation's PowerPlug with a smart leak detector to get an alert of standing water so you can take action right away.
Parental controls. Limit screen time for your children or alert them to bed time by controlling their devices and lights.
Other convenient smart plug uses
Coffee makers. Connect your coffee maker to a smart plug to set it to make fresh coffee every morning. Program your smart plug to turn off the coffee maker after a set amount of time to avoid burning an empty carafe.
Slow cookers. Other uses for smart plugs is to have dinner ready when you get home by scheduling your slow cooker to turn on at a specific time of day. Check out these delicious Crock-Pot® recipes that save time and energy.
Pet feeders. If you are working, staying out late, or just want to sleep in, a pet feeder connected to a smart plug can feed your pet on any schedule you set.
Lawn sprinklers. Link a smart plug to smart devices for managing and automating your garden to set an optimal watering schedule.
Pool pumps. If your pool pump doesn't have its own scheduling mechanism, you can save energy by running pool pumps according to a schedule you set on your smart plug.
Hard-to-reach outlets. Turn lights on with the convenience of your phone when they are not easily accessible.
Fun and creative ways to use a smart plug
Turn your home into a haunted house. Activate smart speakers to broadcast scary screams or turn the lights on and off.
Create the ideal meditation or relaxation space. Set mood lighting when you want to relax and then automatically turn off after a set amount of time.
Benefits of smart plugs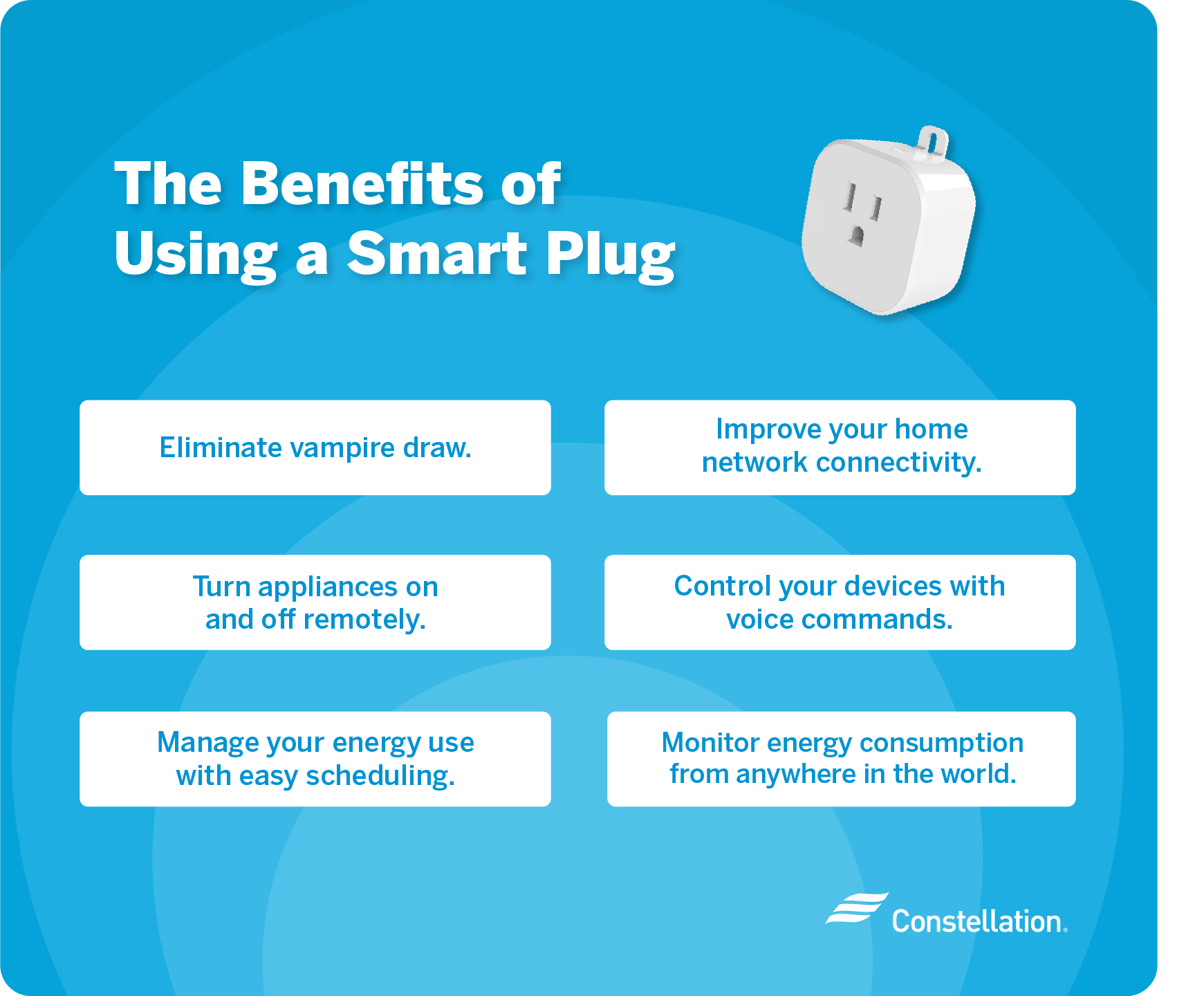 We've looked at some of the common uses for smart plugs, including energy monitoring and easy control of appliances. But there are many benefits of smart plugs:
Eliminate vampire draw. One of the best smart plug uses is to control "vampire draw." Vampire draw, or phantom load, is the energy your devices waste even when they're not in use. Smart plugs can help you identify these devices and determine the most effective ways to reduce your home energy usage.
Improve your home network connectivity. A smart plug can turn any of your existing appliances and electrical devices into smart objects that can communicate with other smart products in your home.
Turn appliances on and off remotely. Using the plug's app, you can turn appliances on and off remotely and even check to see if you left an appliance running after you've left your home.
Control your devices with voice commands. Smart plugs are among the many devices that work with Google Home vs Amazon Echo and other smart hubs, so you can operate connected appliances by voice command.
Manage your energy use with easy scheduling. Programming your appliances to shut down or start up on a smart home routine is a great way to optimize energy use and add convenience to your life.
Monitor your energy consumption from anywhere in the world. You can monitor how much energy you're using directly from your smartphone and as part of a smart home energy management system. Smart plugs will even notify you if a device suddenly starts using unusual amounts of energy.
Do smart plugs save energy?
When used correctly, smart plugs can reduce your energy consumption by between 1% and 4.58%. They do this by helping you optimize the energy use of your appliances and cut power to energy-hungry devices, like game consoles, that use power even when off. It's true that smart plugs draw a small current when they're in standby mode, but it's not enough to offset the potential energy savings.
Tips for choosing a smart plug
With multiple smart plugs on the market, how do you choose the best smart plugs for your needs? Here are some things to keep in mind.
Select a smart plug that works with your home. Smart plugs can connect to your home automation hub, but most can also work alone. Choose smart plugs that integrate and are compatible with your system.
Look at smart plug specs and capacity. Plan how you will use smart plugs and research the load capacity you need for each of your devices. Appliances like air conditioners, refrigerators and washers and dryers can draw more power than some plugs can handle. Always check smart plug specs before buying.
Look for smart design. Plugs come in a variety of styles and shapes. Poorly designed plugs can block other outlets, so consider the shape of the plug you need. A compact design that won't block the other opening in your wall outlet is a big consideration.
Use smart plugs with devices already in your routine. What devices are part of your regular home routine? The best smart plug uses can be determined by identifying the devices you use the most.
Consider UL-certified models. Check to see if your unit has been tested by Underwriters Laboratories (UL). Smart plugs made by untrustworthy brands can create safety issues. In addition to UL, some units have also been tested and approved by the Better Business Bureau.
The best smart plug for your home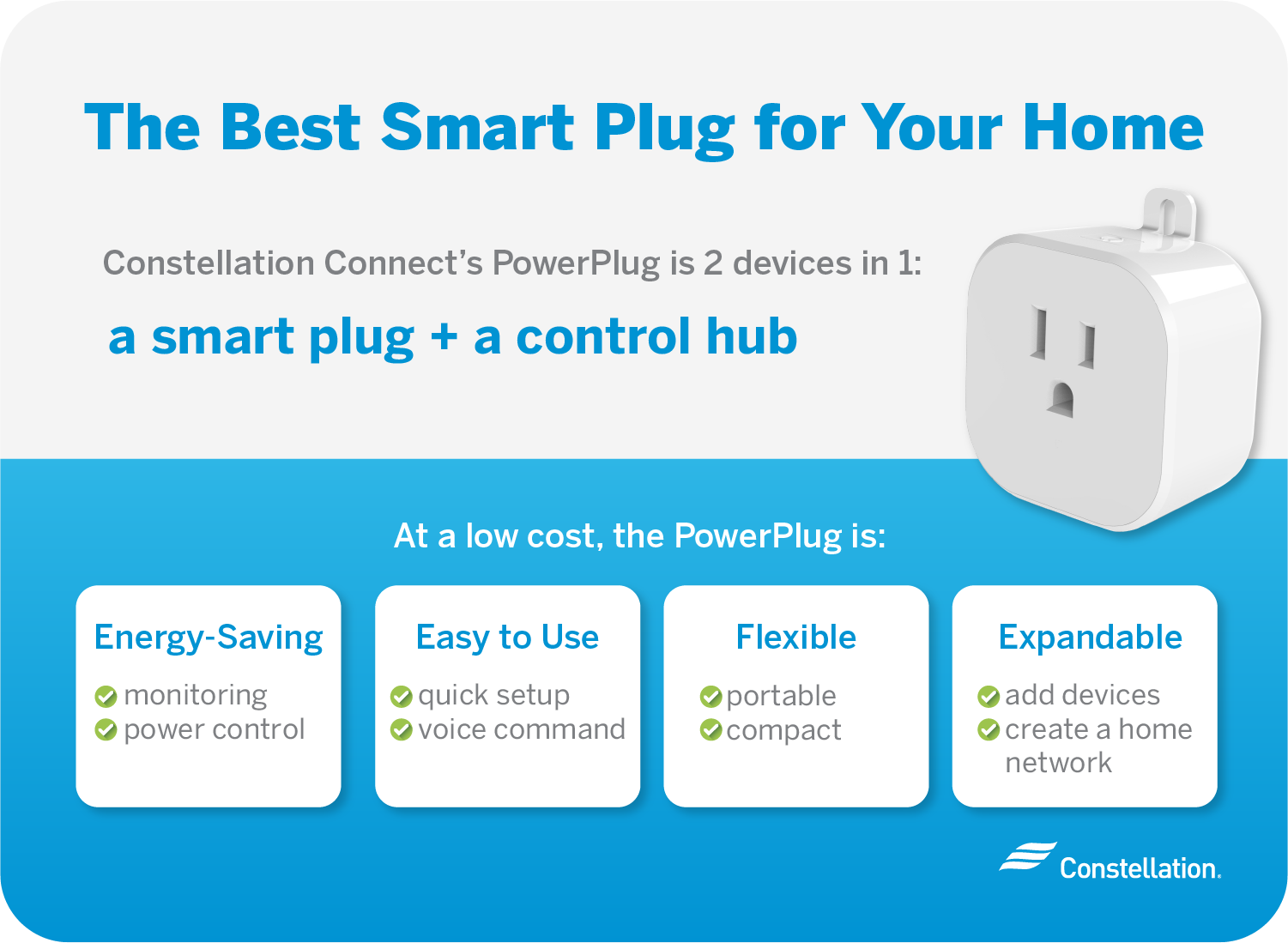 When it comes to convenience and energy efficiency, smart plugs are an important part of any home automation system. Adding Constellation Connect's PowerPlug gives you the best of both worlds — a compact, portable smart outlet and a control hub, all in one. It works with your home's Wi-Fi so it can be controlled by the Constellation Connect app. It also works as a self-contained control hub for other compatible Z-Wave smart devices in your home.
Whether you start simple with a few smart plugs or go all-in with a full smart home system like Constellation Connect, you can take control of your home's many electronic devices and reduce your energy consumption. With the affordable options currently available, it's never been a better time to make your house into a smart home.