Smart homes give homeowners control over everything from energy use to home security, but transitioning to an entirely automated home can be a little overwhelming. If you don't already have a smart-home hub, smart plugs might be the perfect compromise. Smart plugs let homeowners turn any device into a smart device.
Smart plugs are an easy-to-use introduction to the world of home automation because they can function independently, but they can also easily integrate into home-monitoring systems like Constellation Connect.
The Constellation Connect system, for example, supports a number of ZigBee and Z-Wave smart outlets, including plug-in models from Centralite and GoControl. Once you discover the many common uses for smart plugs, you'll get a feel for how making your home smarter can improve your life.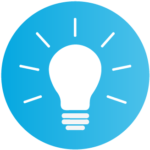 Pro Tip: In the realm of smart homes, "ZigBee" and "Z-Wave" are wireless technologies that can help your gadgets communicate with one another (instead of using Wi-Fi or Bluetooth).
---
What Does a Smart Plug Do?
So what are smart plugs, anyway? They're small devices that look like travel adapters: you plug an appliance into the smart plug and then plug the smart plug into the wall socket. And just like that, they allow you to turn your existing appliances into smart devices.
Smart plugs connect to an app on your smartphone via Wi-Fi or Bluetooth, allowing you to control whatever appliance is connected to that plug without the need for a smart hub.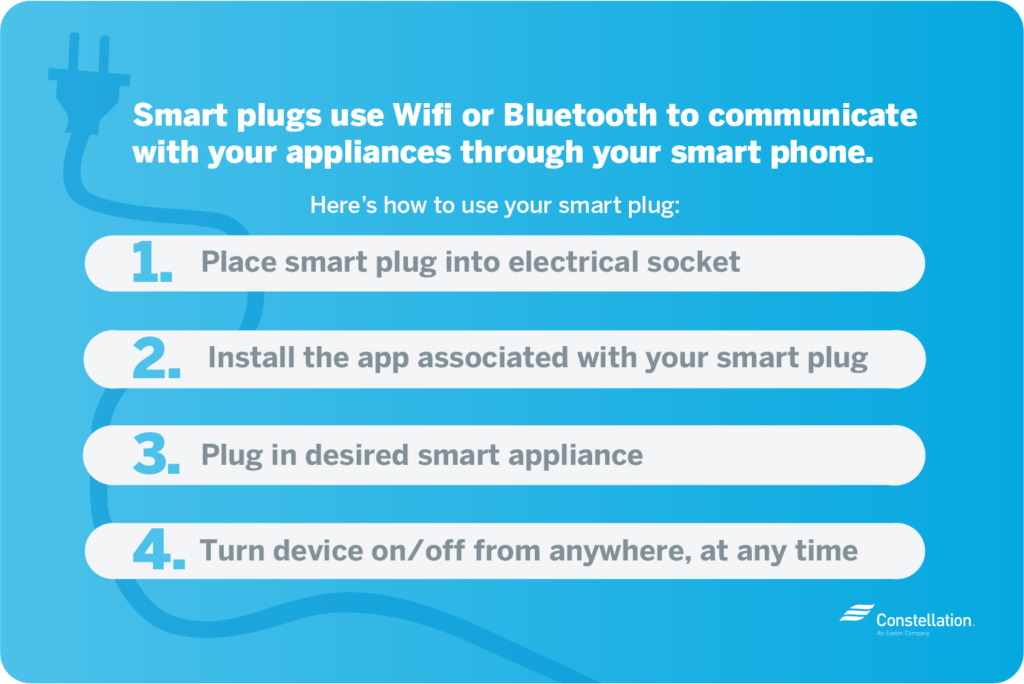 Once connected to an appliance, smart plugs allow users to create "scenes." Scenes are small IFTTT (If This Then That) programs that can adjust your lighting, coffee maker, washing machine and other appliances based on the time of day, the temperature or anything else your smartphone measures. You won't sacrifice any wall outlets by using smart plugs, and different plug designs are available to accommodate different space requirements.
---
Benefits of Smart Plugs
By now, you might have some questions: What are smart plugs for, and do smart plugs save energy? Common uses for smart plugs include energy monitoring, easy control of appliances and home security automation. Here are some of the best smart plug uses:
Improve your home network connectivity. While new appliance models and technology often have built-in compatibility with home networks, older models may not. A smart plug can turn any of your existing appliances and electrical devices into smart objects that can communicate with other smart products in your home.
Turn appliances on and off with the tap of a button. Can a smart plug turn on a TV? Absolutely. Using the plug's app, you can turn appliances on and off remotely and even check to see if you left an appliance running after you've left your home. If you've ever nervously wondered if you left an iron or hair straightener on, smart plugs offer peace of mind—just check the app to see if the object is on, and if it is, turn it off.
Monitor your energy use from anywhere in the world. Smart plugs are indispensable tools for anyone concerned with energy use. You can monitor how much energy you're using directly from your smartphone. Smart plugs will even notify you if a device suddenly starts using unusual amounts of energy.
Manage your energy use with easy scheduling. By creating scenes for your appliances, you can schedule when devices should shut down or start up. This way, power-hungry devices don't consume energy when not in use. For example, you can use a scene as a smart-home routine for children by only letting them use gaming consoles and televisions at certain times of day.
Eliminate vampire draw from your house. One of the best things to use smart plugs for is controlling "vampire draw." Vampire draw, or phantom load, is the energy your devices suck up even when they're not in use. Smart plugs can help you identify devices guilty of phantom load so you can save on your energy usage.
Appear at home while you're away. Burglars often target homes by watching for signs that a home is empty, and they're quick to notice when lights, televisions and other appliances aren't on. Smart plugs can be used to improve home security by turning lights and appliances on and off while you're on vacation, making smart plugs a safe and effective way to look like you're home while you're away.
Control your devices with voice commands. One of the best smart plug uses is the ability to turn on hard-to-reach devices remotely. Smart plugs are among the many devices that work with Amazon Echo, Google Home and other smart hubs, so once you link smart plugs to your hub, you can activate and deactivate connected appliances by voice command.
Keep your home safe with smart plug temperature control. If you live in a home with older electrical wiring, you may have safety concerns: Are smart plugs safe to use, or will they encourage wall sockets to overheat? The plugs themselves won't increase the chance of overheating, and some smart plug models even monitor wall socket temperatures and will send you an alert if it gets too hot. You can even have the smart plug turn off the appliances automatically to decrease the risk of electrical fires.
Do smart plugs save energy?
So do smart plugs save energy, or are they responsible for their own energy load? It's true that smart plugs draw a small current when they're in standby mode, but it's a very small amount of energy—only about 1 watt—and that means the overall effect on your energy consumption is negligible.
Also, the savings you gain by controlling devices known for high levels of phantom load, such as gaming consoles, more than make up for that. Used correctly, smart plugs can reduce your energy consumption by between 1 and 4.58 percent.
Live Secure and in Control
Constellation Connect protects your home.
And your peace of mind.
Start Shopping
---
Best Smart Plugs for Your Home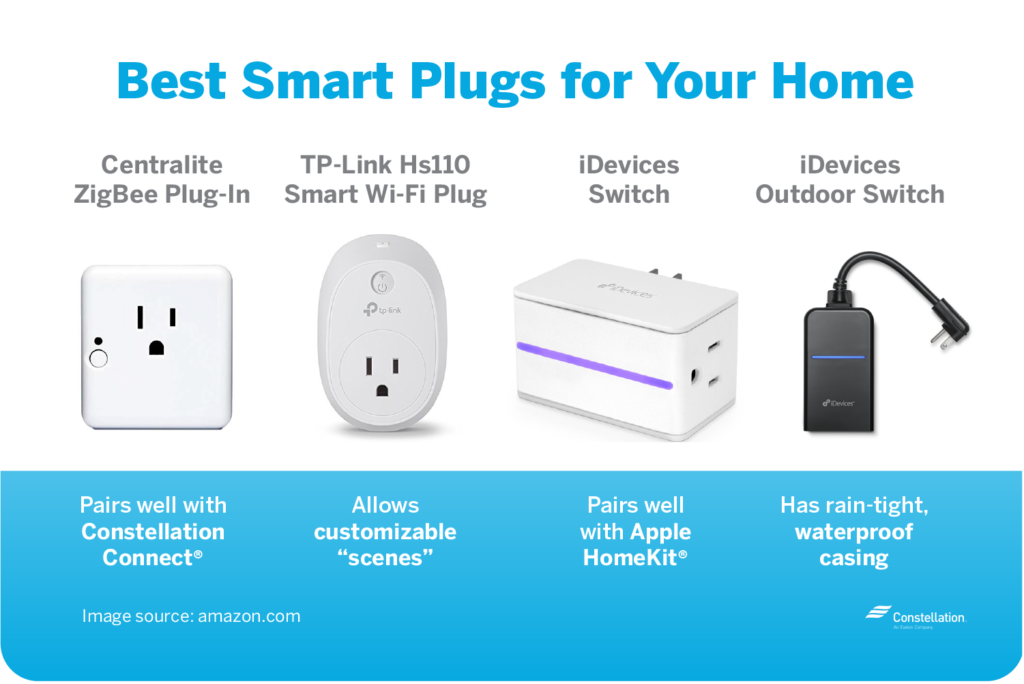 Centralite ZigBee Plug-In.
The Centralite ZigBee measures real-time energy use. It can also be paired with motion detectors and door sensors to turn on devices when people enter the house or a particular room, and is even compatible with home monitoring systems like Constellation Connect.
TP-Link Hs110 Smart Wi-Fi Plug.
The TP-Link Hs110 allows you to create scenes for different days of the week and provides weekly and monthly summaries of power usage. This is one of the best smart plugs to use with Alexa and Google Home hubs.
iDevices Switch.
A good option for pairing with Apple HomeKit, the iDevices Switch allows you to easily access your devices through Wi-Fi. It also lets you schedule both recurring and single events.
iDevices Outdoor Switch.
The iDevices Outdoor Switch offers all the benefits of the regular iDevices Switch plus dual outlets, a manual power button and a rain-tight casing. It too is compatible with Apple HomeKit.
---
The Best Smart Plug Uses and Ideas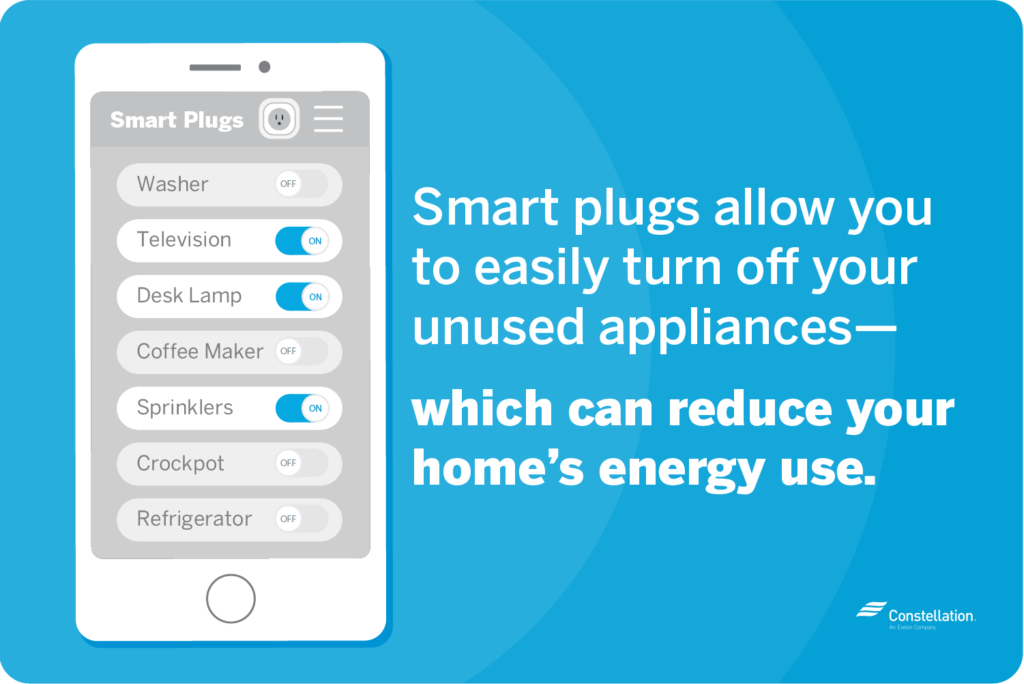 Since smart plugs can control almost any device that uses electricity, they offer hundreds of possible solutions to the inventive homeowner. In fact, there are so many creative ways to use smart plugs that we bet you can add to this list of best things to use smart plugs for. Here are some of the best smart plug uses:
Washers and dryers. Receive notifications of when either appliance finishes a cycle and improve the washer or dryer energy usage.
Lights. Try combining smart plugs with motion detectors to turn on lights when you enter a room, or create scenes to adjust when outdoor or ornamental lights are in use, or decrease the power consumption of your Christmas lights during the holidays.
Coffee makers. Connect your coffee maker to a smart plug and set a time for it to turn on, and you'll wake up to fresh coffee every morning. Program your smart plug to decrease the coffee maker wattage, or so it turns the pot off after a set amount of time.
Televisions and computers. Use scenes to monitor when computers and televisions receive power to create routines for children or to turn off devices at specific times, and use your smart plug to turn on the TV.
Gaming systems. Gaming consoles are notorious for consuming energy even when turned off. Cutting off power at the plug can save you money.
Refrigerators. Monitor your freezer or refrigerator energy consumption. Be sure to check if the energy rating of your smart plug is safe to handle the energy needs of your refrigerator or freezer.
Security cameras. Unlock the benefits of security cameras and program them to turn on and off as needed with smart plugs.
Lawn sprinklers. Use smart plug scenes to create a lawn-watering schedule, or use a smart plug to turn off your sprinklers if you're expecting rain.
Slow cookers. A common use for smart plugs is to have dinner ready when you get home by scheduling your slow cooker to turn on at a specific time of day. Check out delicious crock-pot recipes that save time and energy.
Battery chargers. Older battery rechargers don't always have the most effective automatic shut-off features. Use a smart plug to turn off power after a set amount of time.
---
Which to Choose: Smart Plugs Versus Smart Switches
When considering smart lighting, you have to weigh the relative merits of smart plugs versus smart switches and bulbs. Each device has its own pros and cons. Plugs and bulbs offer easy installation in contrast to smart dimmer switches, which must be wired into your home's electrical system. On the other hand, smart switches are frequently more flexible.
Smart plugs versus smart bulbs
The iDevices Socket and other smart plugs are best used with lamps and other lighting requiring a wall outlet. Smart LED lights can be used for both lamps and ceiling lights, but they may not come in the style you need for your light fixture. Additionally, installing smart bulbs in all your fixtures can be more expensive than using smart plugs or switches.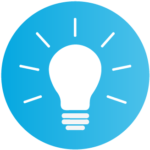 Pro Tip: Don't want to choose between smart plugs versus smart switches? You don't need to! You can buy smart switches and plugs bundled together.
Smart plugs versus smart dimmers
Smart dimmers are most often associated with smart switches, but smart plugs can also be used to dim and brighten lights. The GoControl ZWAVW plug-in dimmer, for instance, wirelessly controls the brightness of hardwired lights while monitoring energy use. It also pairs well with the Constellation Connect smart hub.
---
Best Smart Plug Buying Tips
With multiple smart plugs on the market, how do you choose the best plug for your needs? Here are some things to keep in mind!
Select a smart plug that works with your home. Smart plugs can function without a home automation hub, but if you have an existing home network, it makes sense to purchase plugs that are compatible with your system. If you're planning on adding a smart home hub in the future but are unsure which type you want, choose smart plugs that integrate with multiple automation networks.
Look at smart plug specs and capacity. Have some idea what function your smart plugs will serve and understand the load capacity you need. For instance, homeowners often want smart plugs to control air conditioners, but air conditioners usually draw more power than the plugs can handle. Always check smart plug specs before buying.
Look for smart design. One of the best things to use smart plugs for is controlling devices from hard-to-reach outlets. As a result, plugs come in a variety of styles and shapes. Poorly designed plugs can block other outlets, so consider the shape of the plug you need, and look for smart plugs from trusted manufacturers.
Use smart plugs with devices already in your routine. What devices are part of your regular home routine? Are you a person who needs coffee within 10 seconds of waking up? Do you turn on the dishwasher in the morning or at night? The devices you use the most are the ones best suited for smart plug use.
Consider UL-certified models. Are smart plugs safe? The answer is yes—provided you use models that are marked safe by nationally-recognized testing laboratories like Underwriters Laboratories (UL). Like most products, some smart plugs can be made by untrustworthy brands, and these models may cause safety issues. Stick with UL-certified smart plugs, and you'll be fine.
When it comes to convenience and energy efficiency, smart plugs are an important part of any home automation system. Combine smart plugs with Constellation Connect or other home automation systems, and you'll be able to take control of your home's many electronic devices while reducing your energy consumption. And that's a really bright idea.