As part of our "Which is More Energy Efficient" series, we've been looking at common household appliances and evaluating which are more energy efficient. (Take our quiz to see how savvy you are about which appliances use the least amount of energy.) We've evaluated gas and electric dryers. Now, it's time for the showdown between the Crock-Pot® and the traditional oven. Bonus? At the end of this post, we'll share some of the best Crock-Pot® recipes from popular food bloggers.
To some extent, the degree of potential energy savings you can using a Crock-Pot® depends on the energy source of your oven (and the cost of that energy source in your area). That said, the Crock-Pot® is the energy winner, regardless of whether your oven runs on gas or electricity. This chart from the U.S. Environmental Protection Agency breaks it down.
| | | | | |
| --- | --- | --- | --- | --- |
| Appliance | Temperature | Time | Energy Used |  Cost |
| Electric oven | 350 | 1 hour | 2.0 kWh | $0.24 |
| Gas oven (electric ignition) | 350 | 1 hour | 0.112 therm +0.35 kWh | $0.21 |
| Gas oven (pilot) | 350 | 1 hour | .112 therm | $0.16 |
| Electric oven, convection | 325 | 45 minutes | 1.39 kWh | $0.17 |
| Toaster oven | 350 | 1 hour | .33 kWh | $0.04 |
| Crock-Pot | 200 | 7 hours | .70 kWh | $0.08 |
| Microwave | high | 15 minutes | .36 kWh | $0.04 |
Source: https://blog.epa.gov/blog/2013/02/cooking-and-being-green-2/
Other energy savings ideas to keep in mind: Ovens cycle on and off, according to a University of Connecticut sustainability report, while slow-cookers stay on continuously. Also, the age of your Crock-Pot® can affect its overall efficiency. Newer models, like all appliances, are generally more energy-efficient than older ones.
And if time is money, well, then it's hard to beat the Crock-Pot®. Many delicious Crock-Pot® recipes are just a question of chopping up a few items, tossing them in the pot and turning on the timer. Mere hours later, a beautifully-cooked meal is just a scoop away.
With that in mind, we contacted some popular food bloggers for their best Crock-Pot® recipes. We also asked them for their top energy saving tip in the kitchen.
Fast Crock-Pot® Recipes
Karen Petersen
The creator of 365daysofcrockpot.com, Karen has been creating recipes since 2009 when she set out to see if she could create 365 days of delicious Crock-Pot® recipes without a single repeat. The answer was a resounding yes. Since then, she's created two Crock-Pot cookbooks and continues to update her blog regularly with more Crock-Pot® recipes.
Top Energy Saving Tip in the Kitchen: Don't use the heated dry cycle on your dishwasher.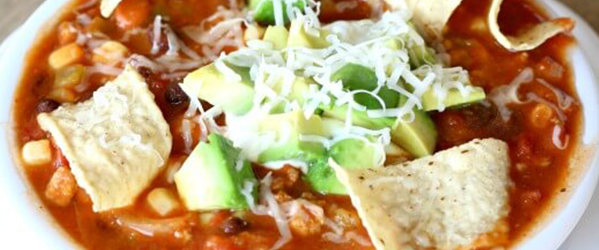 Slow Cooker Creamy and Skinny Taco Chili Soup
Ingredients:
1 pound ground turkey, ground chicken or ground beef
1 small yellow or white onion, diced
1 tablespoon tomato paste
1 8-ounce can tomato sauce
1 14.5-ounce can petite diced tomatoes
1 4-ounce diced green chiles
1 14.5-ounce can black or kidney beans (rinsed and drained)
1 14.5-ounce can refried beans
2 cups chicken broth or 2 cups water mixed with chicken bouillon
Taco seasoning to taste
2 cups frozen white sweet corn
Optional toppings: diced avocado, shredded cheese and tortilla chips
Want the full recipe and Karen's best Crock-Pot® recipes? Click here.
Christine Hadden
Christine describes herself in her Foody Schmoody blog, this way: "I honestly cringe when I hear people say things (in a snooty voice) like 'I'm a bit of a foody' or 'I am considered a foody in my community.' Big deal. Who can't say that about themselves? So I say 'Foody Schmoody.' I'm JUST cooking. That's all." She has apparently cooked for Gordon Ramsey in her home and been on his show, though.
Top Energy Saving Tip in the Kitchen: My time saving kitchen tip is to prep ahead before I start cooking in order to have appliances on less during the actual cooking process. More often than not, back before I cooked as much, I would just go on the fly. The problem with this is that I would end up leaving my water running so I could hurry back to the stove. The oven would be on longer because I would pre-heat long before I was prepped and/or the stove would remain on because I wasn't ready to throw all the ingredients in in the order they were supposed to be. So, now I always prep ahead of time.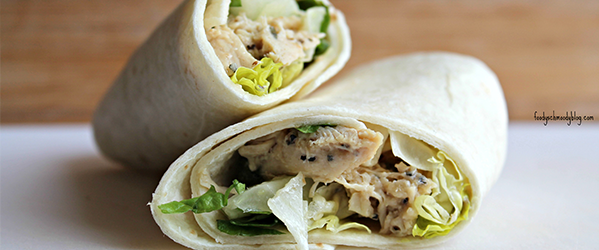 Crock-Pot® Chicken Caesar Wraps

Ingredients:
3 boneless chicken breasts
2 cups chicken broth
¼ cup chopped parsley
¾ cup Caesar dressing
½ cup Parmesan cheese, shredded
1 bag shredded Romaine lettuce (about 2 cups)
4-6 large flour tortillas
Want the full recipe and Christine's best Crock-Pot® recipes? Click here.
Jen Sattley
Jen started Carlsbad Cravings in 2014 after years of creating new recipes. A cystic fibrosis survivor and lung and kidney transplant recipient, Jen describes her food this way on the blog: "My creativity as a former interior designer flourishes in the kitchen as I find something so satisfying in creating delicious, flavorful (spices are my forte!), fresh food…and then eating it."
Top Energy Saving Tip in the Kitchen: A super simple way to save energy that everyone can do every day, likely multiple times a day, is to open the refrigerator with a purpose! Decide what you need/want instead of opening the door and staring for seconds, even minutes at a time.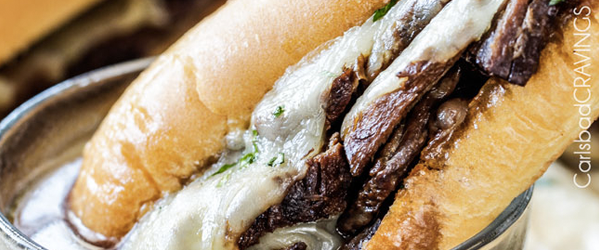 Best Slow Cooker French Dip Sandwiches
Ingredients:
1/3 pound beef chuck roast, trimmed of excess fat
1 tablespoon olive oil
6 French rolls or hoagie buns
12 slices provolone cheese
1/3 cup reduced sodium soy sauce
1 cup Coke, not diet
2 10.5-ounce cans been consommé
¼ cup dry minced onions
1 tablespoon beef bouillon
1 tablespoon garlic powder
½ tablespoon onion powder
½ teaspoon dried oregano
½ teaspoon salt
½ teaspoon pepper
1/4 teaspoon dried thyme
1 bay leaf
Want the full recipe and Jen's best Crock-Pot® recipes? Click here.
Nettie Moore
Nettie Moore, cook/baker/photographer/designer behind Moore or Less Cooking food blog. A self-trained cook, she loves creating easy recipes, especially fast Crock-Pot® recipes, with recognizable ingredients. Her Blueberry Skillet Cake has been featured in Taste of Home Magazine and her Peach Raspberry Pie has won awards.
Top Energy Saving Tip in the kitchen: I conserve hot water and use cold water as much as possible. Saving hot water will lower two utility bills at once.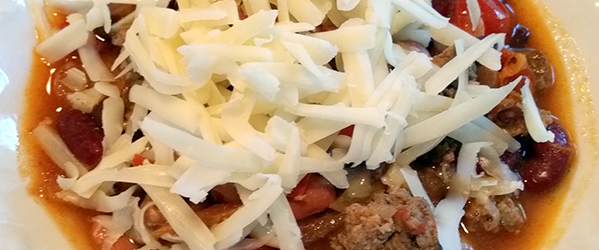 Best Slow Cooker Chili
Ingredients:
1 tablespoon olive oil
2 pounds lean ground beef
1 medium yellow onion, peeled and chopped
1 yellow pepper, seeded and chopped
¼ red pepper, seeded and chopped
4 cloves garlic, minced
1 15-ounce can dark red kidney beans, rinsed and drained
2 15-ounce cans tomato sauce
1 15-ounce can black beans, rinsed and drained
1 4-ounce can chopped green chiles
1 cup beer
2 tablespoons chili powder
1 tablespoon ground cumin
1 teaspoon salt
1 teaspoon sugar
½ teaspoon black pepper
Want the full recipe and Nettie's best Crock-Pot® recipes? Click here.
Heidi Larsen
Heidi Larsen's love affair with cooking started, she writes in her blog Foodie Crush, when she won a blue ribbon in the Utah State Fair in fourth grade for her Snickerdoodles. Today she describes herself as a "photo-taking, storytelling, magazine and e-cookbook designing food blogger."
Top Energy Saving Tip in the Kitchen: Newer models of slow cookers can help reduce your energy consumption simply because they use less energy than a conventional electric range or oven. Some of the newer models like this multi cooker can even be used to brown meats in, making slow cooker cooking efficient without sacrificing flavor.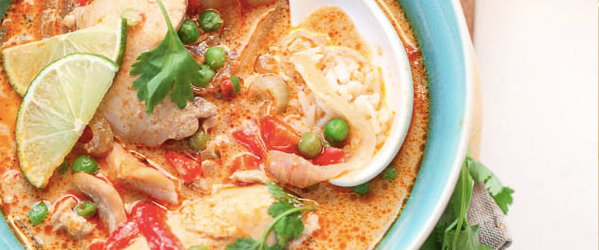 Recipe: Slow Cooker Thai Chicken Soup
Ingredients:
2 tablespoons red curry paste
2 12-ounce cans coconut milk
2 cups chicken stock
2 tablespoons fish sauce
2 tablespoons brown sugar
2 tablespoons peanut butter
1 ½ pounds chicken breast, cut into 1 ½ inch pieces
1 red bell pepper, seeded and sliced into ¼ inch slices
1 onion, thinly sliced
1 heaping tablespoon fresh ginger, minced
1 cup frozen peas, thawed
1 tablespoon lime juice
cilantro for garnish
cooked white rice
Want the full recipe and Heidi's best Crock-Pot® recipes? Click here.
What are your energy saving tips in the kitchen? Do you have a favorite delicious Crock-Pot® recipe? Share below!