What is smart gardening, exactly? If you're new to the term, it might be because it's a relatively new idea. While gardening is as old as human history, smart gardening for the home has only been around for a dozen or so years. Innovation has made it affordable and practical for home use. Smart garden technology today can turn just about any space — even a shelf in a small apartment — into a productive place to grow plants.
What is smart gardening?
Smart gardening uses technology to provide and manage light and water, monitor nutrients, and control weeds. These devices can connect to your smart home systems and your phone. With home garden automation, you can save energy and effort while producing food or decorative plants.
6 of the Best Smart Gardening Devices
Smart garden technology is a fast-growing field that's changing everything from large-scale farming to window box herb gardens. People are using smart gardening devices because energy-efficient gardens are great for the environment and the bank account. The innovations below are some of the most useful smart gardening products on the market today. They're definitely examples of smart home devices that are worth it.
1. Smart sprinklers
These home garden automation devices will optimize moisture so that your plants thrive. You can get smart sprinklers for window boxes and for backyard gardens. Although you can set a watering schedule, most offer more sophisticated capabilities. A smart garden sensor can let you know when a particular plant needs water and will apply just the right amount. They can also adjust to the weather and particularly know the best times to save water in the summer.
2. Smart plant sensors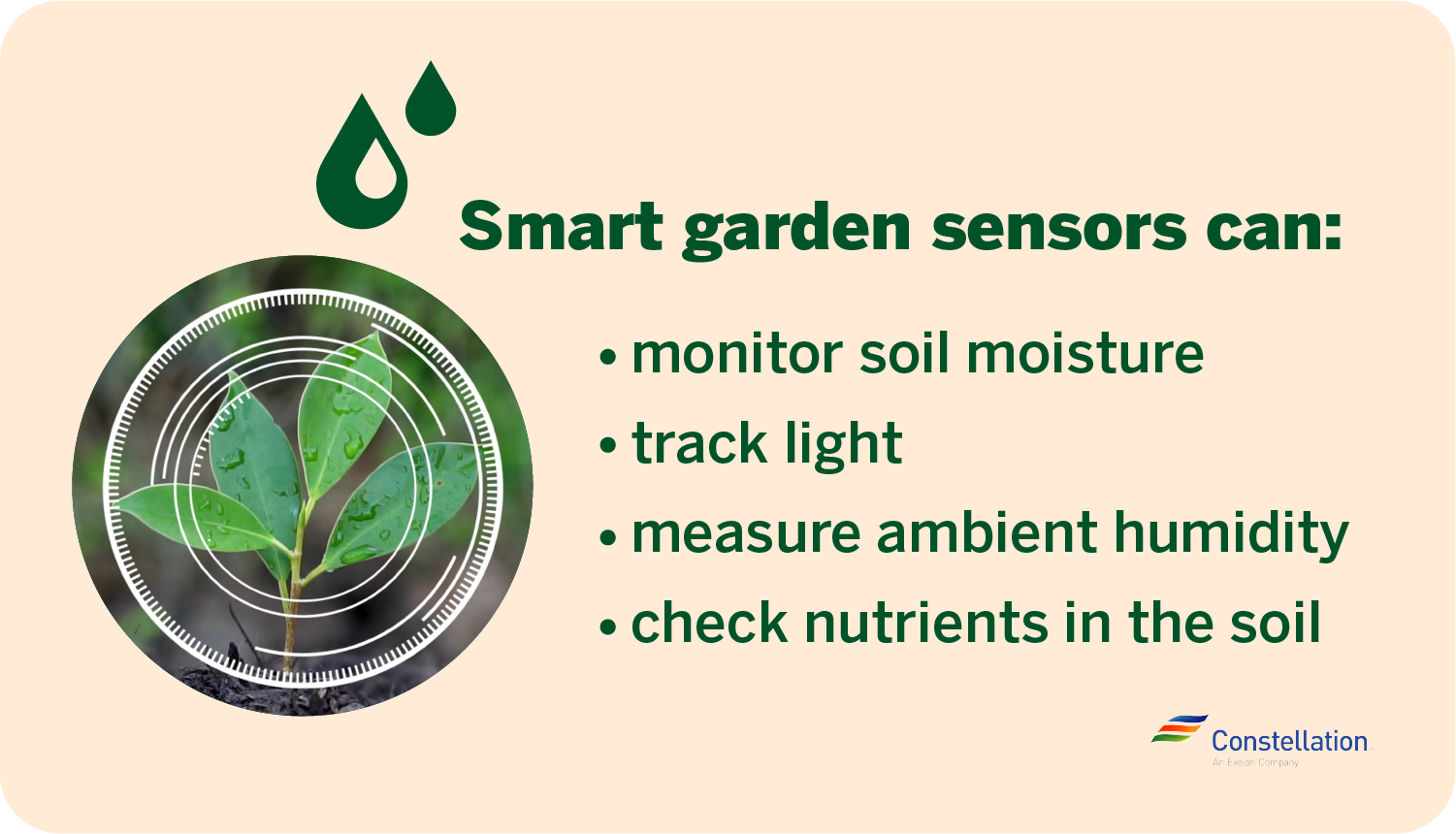 A smart garden sensor can do more than monitor soil moisture. It can also track light, ambient humidity and nutrients in the soil. You can integrate them into your existing smart home automation, and they're easy to control with a smartphone app. They take the guesswork out of gardening as much as they cut out the chore of caring for plants.
3. Smart weather station
A smart weather station is a collection of devices that monitor temperature, barometric pressure, wind strength and direction, rainfall, and even levels of ultraviolet rays. They're handy for getting a custom forecast for your home. When they connect to a home garden automation system, they can fine-tune your ability to care for your plants. Knowing what to expect from the weather gives you information you need to adjust all your home systems — the garden included — one of the key energy-saving tips for summer.
4. Smart lawn mowers
Just like a robot vacuum cleaner takes the drudgery out of cleaning your house, a smart lawn mower puts an end to that weekly chore — plus they look cool. These battery-operated, safety-optimized devices keep your yard looking trim. Using smaller blades, they're designed to cut your grass frequently, not just once a week. They're always at work in your yard to keep your grass always looking great. And the smaller clippings they produce add natural mulch to your yard; you won't be sending bags of yard clippings to the landfill.
5. Smart outdoor lighting
Garden lighting serves three purposes. It can:
Light the path and showcase your home or certain plantings.
Enhance security by lighting up dark corners of your property.
Ensure your plants get adequate light for optimal growth.
Automating outdoor lights lets you program them according to a schedule or use sensors to deliver exactly the light you need in your outdoor or indoor environment.
6. Smart security cameras
Improving security should top your list of home automation ideas, and smart devices for your garden play an important part. For example, as noted above, lighting enhances security. Add motion sensors for an early warning that intruders may be lurking. Remote monitoring of your garden also lets you keep an eye on things from a security perspective when you're out of town.
The benefits of automating your garden
Don't neglect your garden when you set up your smart home. Automating your garden using smart gardening devices cuts out much of the daily work and responsibility, leaving you with all of the benefits:
Added convenience. Gardening can be a chore. With smart gardening devices, you can automate much of it.
Improved energy efficiency. You can improve energy efficiency in the summer by optimizing to conserve power and water usage.
Fresh food and flowers. Nothing beats homegrown for freshness and quality, not to mention affordability. A home garden puts healthy food on the table at a fraction of the store-bought cost.
Better productivity. Because smart gardening optimizes everything plants need to thrive, you'll get a better yield, whether you're growing vegetables or flowers.
Using smart garden technology at home
Smart gardening devices should be included in your planning when automating your home. They improve the efficiency of your garden, whether it's a large corner in your yard or a small pot on the windowsill. But regardless of its size, you'll have a productive garden with a lower carbon footprint. Green thumb, meet Bluetooth.