Once considered science fiction, the smart home has become a reality. Today's homeowners increasingly use smart home devices to monitor and control energy usage, remotely control appliances and improve home security. Smart home features improve the value of your home, lower utility bills and make life simpler and safer.
How does Constellation Connect work?
Constellation Connect is a home automation security system that includes powerful tools to manage home energy use. Constellation Connect links all your smart devices to a single home hub, using Wi-Fi, Z-Wave or the cloud.
How does this help you conserve energy? By pairing with compatible devices, Constellation Connect can program home lights to turn on and off at specific times, set your home's thermostat to reduce heating and cooling costs when the home is empty and manage how much energy your appliances use.
What are connected devices?
A connected device is any appliance or piece of electronic hardware capable of connecting to a network. Thermostats, voice assistants like Amazon Alexa, automated door locks, light bulbs and smart plugs are all examples of connected devices used home automation. Such devices can operate independently but work better when connected to a central hub like Constellation Connect.
What can Constellation Connect do?
Constellation Connect offers homeowners the peace of mind only a home security system brings while also offering a means to manage home energy use and remotely control smart devices. Here's a breakdown of the system's main advantages.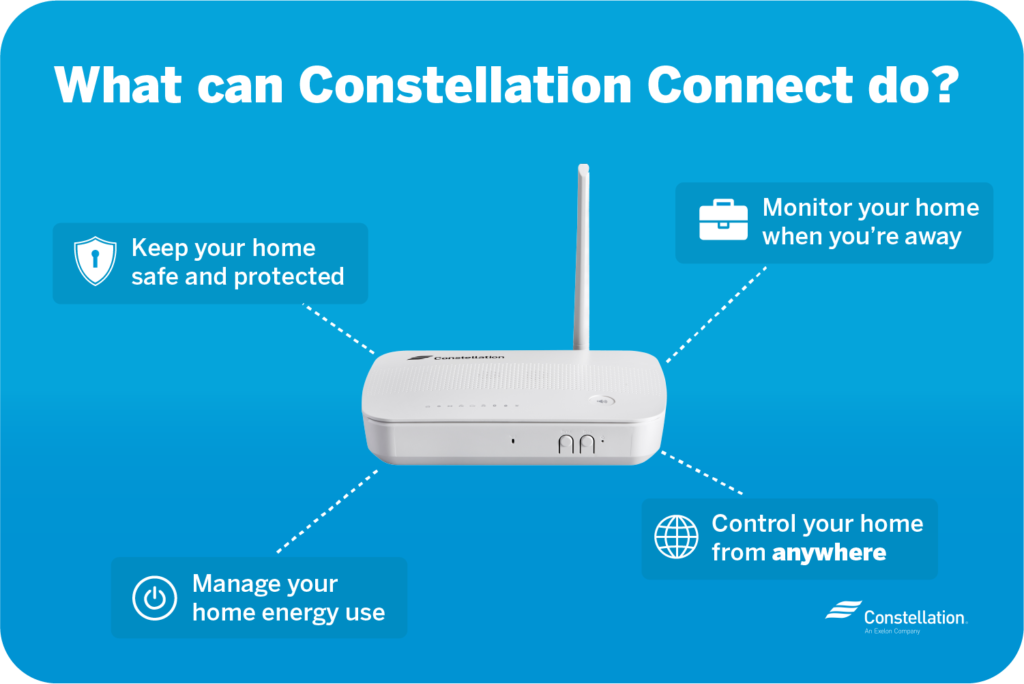 Keep your home safe and protected.
Constellation Connect acts as the central "brain" for your home security devices, protecting your home and alerting you to potential threats. If Constellation Connect detects any activity while you're out of the house, the system pushes an alert to your smartphone, email, or any other mobile device based on your preference.
Monitor your home while you're away.
Ever been out of the house and wondered what your pets or kids were doing? Just wanted to check in on the house and make sure everything's okay? Pairing Constellation Connect with motion sensors and security cameras provides you with the opportunity to do just that, whenever and wherever you are.
Manage your home's energy usage.
Homeowners who understand which appliances consume the most electricity can take steps to reduce their energy use. Constellation Connect pairs with hundreds of smart devices, enabling homeowners to control the lights and thermostat as well as any other energy-draining appliances. Pair Constellation Connect with your smart thermostat, for instance, and you can manage your HVAC system remotely from the Constellation Connect app on your device.
Control your home from anywhere.
The ability to control your home remotely is fantastic. No more spending a night out worrying whether you turned the lights out or locked the door — if your smartphone is connected to your home hub, you can adjust the ambient temperature, turn off lights, check security cameras and monitor energy use no matter where you are: the backyard, your workplace or the beach.
What are the benefits of Constellation Connect?
Constellation Connect isn't the only home security and energy management system on the market, so why choose us over the competition? Constellation Connect excels in three important areas: simplicity of use, reliability and compatibility.
It's simple to use and set up.
Setting up the Constellation Connect home hub is quick and easy. While you can have the system installed by a professional in select markets, Constellation Connect is easily self-installed, making it the ideal choice for the DIY homeowner.
It's reliable and easy to integrate.
Trying to control multiple smart devices through their independent apps is time-consuming. Multiple apps also take up space in your smartphone's memory. Constellation Connect allows you to route all devices through a centralized hub so you can control them all via a single app.
Not even power interruptions can prevent you from connecting to Constellation Connect. Cellular and battery backups ensure that you can still access the system even during a blackout.
It's compatible with hundreds of other smart home products.
Compatibility has been an ongoing issue for smart home systems, with homeowners often having to pick and choose smart home products based on the type of central hub they use. With Constellation Connect, you don't have to worry about that. Constellation Connect works with hundreds of smart devices, including Google Nest, Amazon Alexa and a huge range of smart household appliances. The system is also fully compatible with all iOS and Android devices.
What works with Constellation Connect?
Amazon Alexa
Google Nest
Honeywell
Kwikset
Centralite
Hue Personal Wireless Lighting
NuTone
Yale
Looking for more devices that work with Constellation Connect? Check out our shop.
Constellation: Your trusted energy company
An Exelon company, Constellation is a trusted supplier in the deregulated energy market. We're dedicated to helping our customers buy, manage and use energy in the most efficient way possible. Over 2 million home and business owners rely on Constellation's commitment to dependable, innovative service, including two-thirds of Fortune 100 companies. We're working toward a more sustainable, energy-efficient future, and we invite you to do the same.