Environmental sustainability has become an increasingly important topic, leading many business owners and property renters to look for new strategies that can help improve efficiency, reduce waste, and limit their environmental impact. One of the ways the environmentally conscious are achieving this is through green leasing.
A green lease, or energy-efficient lease, is a type of lease that addresses the unique sustainability interests of a tenant and a landlord. It establishes clauses, procedures, and various other actions for both parties to take that reduce waste and improve the efficiency of the building. Green leases also specify how the landlord and tenant will be expected to split the costs associated with making these improvements.
In addition to outlining priorities and determining how upgrades will be paid for, green leases also ensure a level of transparency and accountability for both parties. Signing a green lease means that you and your landlord are committed to becoming more energy efficient and are willing to implement mutually-beneficial solutions to achieve this. Green leases also provide quantitative data that can be used to track progress on your sustainability initiatives.
What topics are included in a green lease?
Since these agreements are created to support the specific interests of a landlord and tenant, each green lease is unique. Though there is not a standard green lease that is used in every case, there are some topics that are commonly addressed in a green lease, including:
Improving energy efficiency. Green leases often include clauses regarding energy efficiency, such as requiring the landlord to install energy-efficient light fixtures and requiring the tenant to unplug appliances and equipment when not in use.
Conserving waste. Water conservation clauses may also be included in a green lease. For example, landlords may be responsible for installing low-flow faucets, while tenants may be responsible for posting water conservation signs in the workplace.
Using renewable energy. A green lease may feature a clause about the use of renewable energy, like specifying how much of the tenant's energy must come from renewable energy sources.
Limiting waste and paper use. A clause regarding waste reduction may be incorporated into a green lease, such as requiring the landlord to provide recycling bins and requiring the tenant go paperless or implement other waste reduction strategies for their business.
Reducing emissions from commuting. Green leases may contain procedures that aim to reduce emissions related to employee travel. For example, the landlord may need to provide the tenant with bike storage for their employees, while the tenant may need to offer employee commuter benefits.
Improving indoor air quality. Examples of air quality clauses that may be incorporated into a green lease include requiring the landlord to equip the building with proper ventilation and requiring the tenant to use non-toxic cleaning products.
Ensuring sustainable purchases. With an energy-efficient lease, landlords may be required to use sustainable construction materials for repairs and remodels, while tenants may be required to purchase energy-efficient office equipment when replacing old equipment.
Allowing for submetering and data sharing. A green lease may include clauses that allow the landlord to submeter certain equipment or areas of the property, in addition to ensuring that any data about the building's environmental performance is shared between the landlord and tenant.
What's the cost recovery clause of a green lease?
The cost recovery clause in a green lease exists to overcome issues of split-incentive. For example, while landlords may have some incentive to make energy-efficient upgrades to their building, the costs of these improvements will ultimately fall on them. Furthermore, it's the tenants who will reap most of the benefits, such as reduced utility costs and an enhanced brand image. This is what's known as a split incentive.
To resolve this situation, a cost recovery clause clarifies how the tenant will split the costs of energy-efficient upgrades with the landlord. This provides an additional incentive to landlords who are interested in green leases, as they are able to pass on some of the improvement expenses to tenants in the form of operating expenses.
How to implement a green lease in your business
There are two common ways for a green lease to be implemented. The first option is to create the green lease as a separate document that accompanies your business's standard lease agreement. The second option is to incorporate the green lease language into the standard lease agreement itself. When the green leasing process begins, you can work with your landlord to determine which approach will work best for your particular situation.
There isn't a set procedure to follow when starting the green leasing process. Either you or your landlord may raise the subject or initiate the conversation. From there, it will require a collaborative effort to establish the details of your green lease, such as the topics or clauses your green lease is going to include, the actions that will be required, and the metrics to be tracked and analyzed.
5 benefits of green leases for small businesses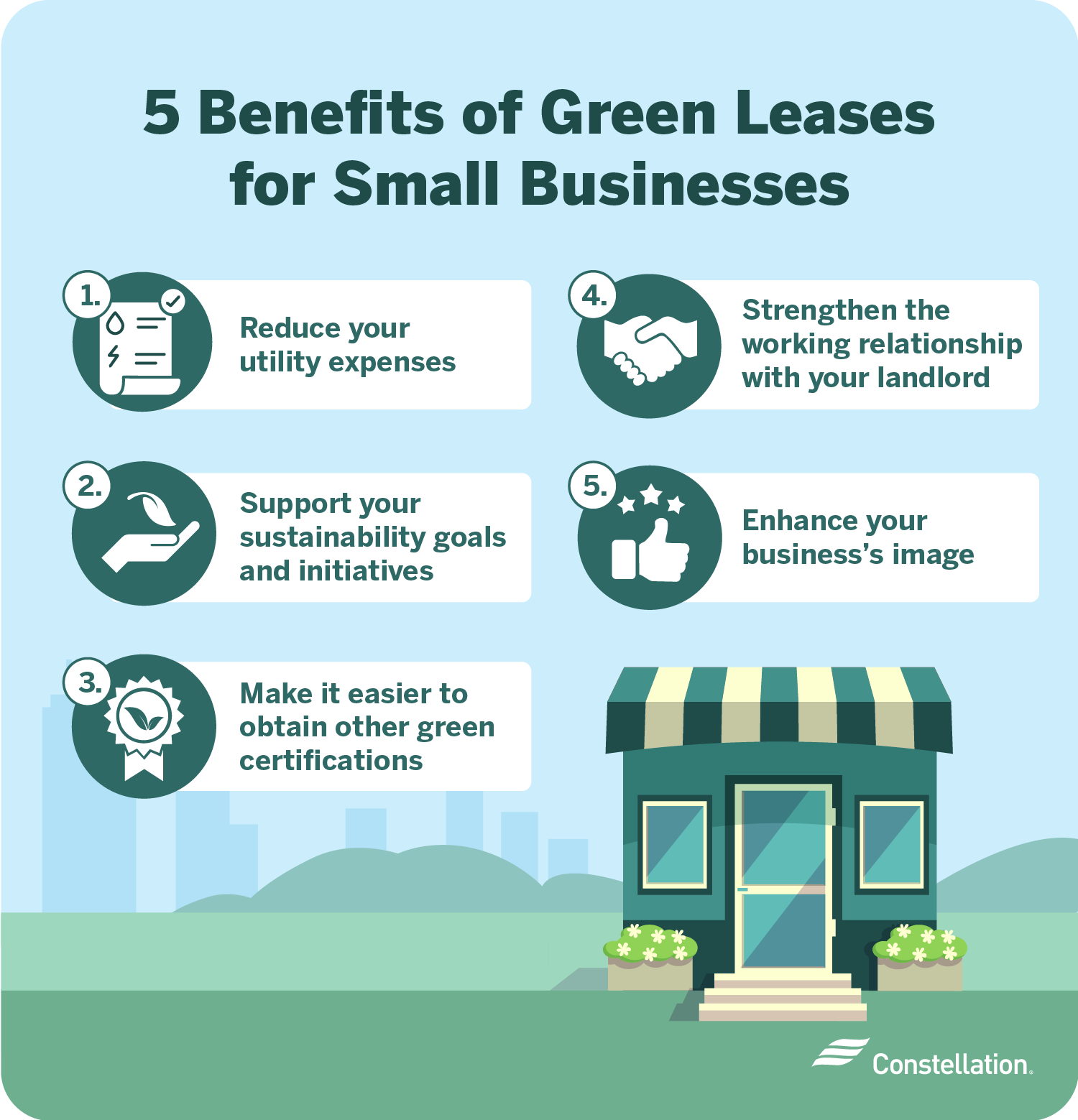 Green leases help minimize a building's environmental impact while offering incentives to both landlords and tenants. For landlords, a green lease creates an opportunity to increase property value and drive demand for their rental space. Meanwhile, tenants like small business owners stand to benefit from green leases in several different ways:
1. Reduce your utility expenses
Green leases outline energy-efficient upgrades and procedures that can help you lower your small business utility bills. For example, by following the energy efficiency measures laid out in a green lease, office buildings in the United States can reduce their energy usage by up to 22 percent.
2. Support your sustainability goals and initiatives
A green lease allows you to define clear-cut sustainability objectives, determine the metrics that will be used to track progress, and obtain quantitative data that can be analyzed and communicated to stakeholders. The accountability that comes with implementing a green lease ensures that you'll be working towards achieving your small business sustainability goals.
3. Make it easier to obtain other green certifications for your business
As you implement your energy-efficient lease and start making changes to go green in your small business, you'll also set yourself up to obtain additional sustainability certifications. Many green leases have clauses that cover similar topics as LEED, ENERGY STAR®, and other green rating systems, meaning you may be able to expedite the process of securing these or similar certifications.
4. Strengthen the working relationship with your landlord
The premise behind green leases is that both tenants and landlords have a financial incentive to agree on sustainability measures. Since tenant/landlord discussions in a green lease are based around mutually beneficial actions and procedures, these conversations can help you establish trust and strengthen your working relationship with your landlord.
5. Enhance your business's image
In addition to making your business more environmentally friendly, implementing the actions outlined in a green lease can help enhance your brand's image and foster a positive reputation for your business. Sharing your small business's sustainability story is an effective way to engage your customers, stakeholders, and employees and continue building support for your environmental efforts.