You create real value for your business when you tell your small business sustainability story to customers, partners, employees, investors, and community leaders. These stakeholders in your business increasingly care about how companies contribute to protecting and improving the environment.
When you thoughtfully communicate about what your business is doing, you let your stakeholders know that you are a responsible member of the community and that you care about more than just profit. With these tips for sharing your sustainability story, you can build the stature of your company and build enduring trust.
7 tips for sharing your business's sustainability story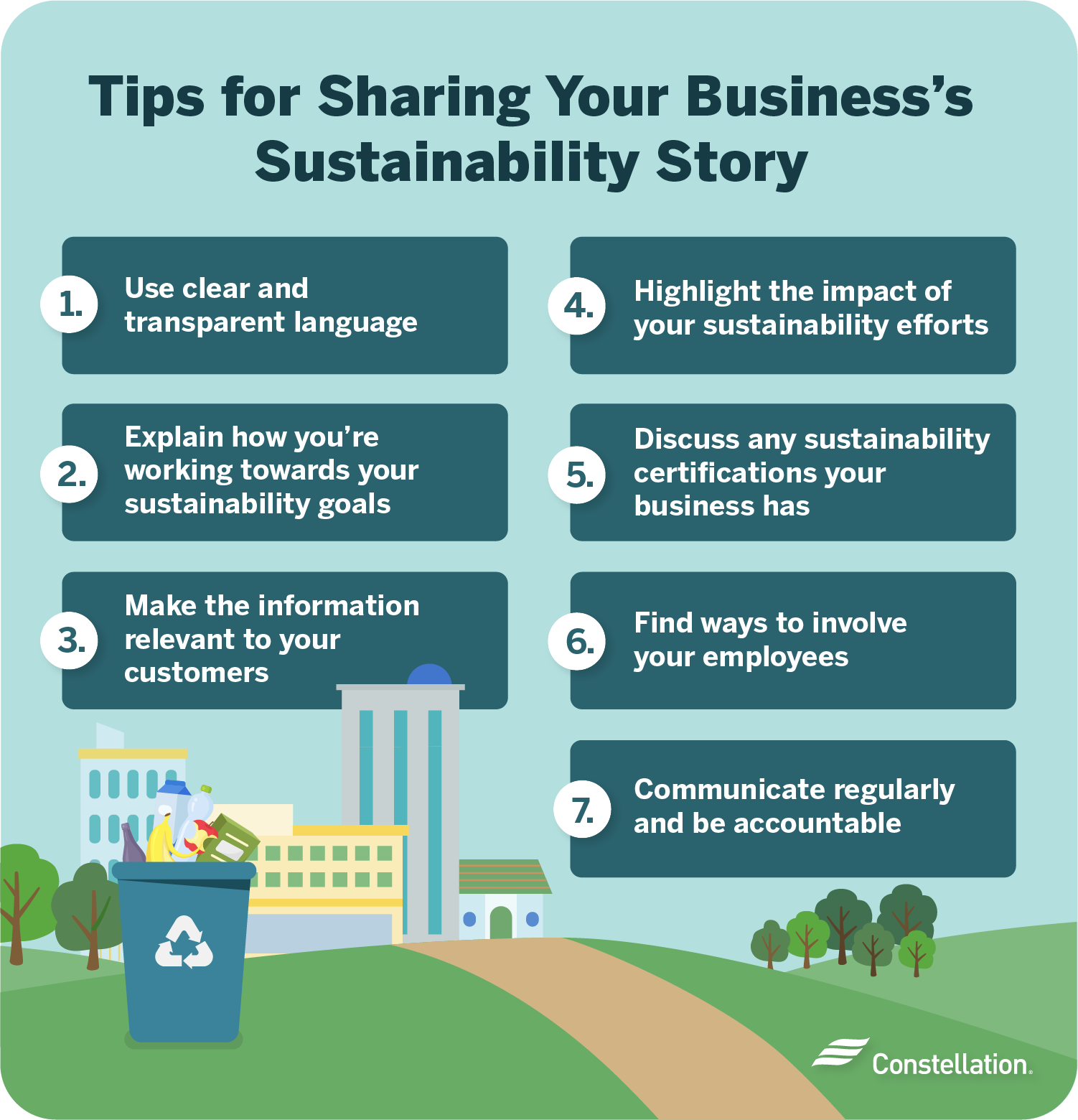 The benefits of running an environmentally friendly business include enhancing your company's reputation. How to communicate about the steps you are taking should be part of your small business sustainability plan. Here is advice for how to market your business's sustainability story in a way that is effective and compelling.
1. Use clear and transparent language
Tell your small business sustainability story in a simple and concise way that fits with your company's personality. If you use flowery language and mix in trendy jargon, you may confuse people or make it difficult for them to understand the work you're doing.
Honestly spell out your goals, the steps you're taking, and what you have achieved as clearly as possible. People won't trust what they don't understand. Good communication will also engage customers in sustainability endeavors at your company.
2. Explain how you're working towards your sustainability goals
Start with explaining your small business sustainability goals and how they're relevant to your business. A company that runs a factory will have very different sustainability issues from a restaurant or an office. That's why it's helpful to explain how your goals are a fit with the nature of your business. Stakeholders will better understand the steps you're taking to achieve them. Be sure to explain each one and why you're taking each specific action.
3. Make the information relevant to your customers
People will be more invested in the sustainability work your business is doing if it relates to topics and issues that matter to them. Include examples of environmental sustainability activities. If you're reducing the amount of waste your business sends to the landfill, you can quantify it and name the local facility. If you're sending used equipment to a local charity, explain how it benefits the community. When you provide specifics and link what you do to the real world, your sustainability efforts are bound to have more impact.
4. Highlight the impact of your sustainability efforts
The key to communicating sustainability for small businesses is to talk about the impact you're making. Cite specifics and use data whenever possible. In the example above, you can talk about cubic yards of waste that are no longer going to a landfill. To illustrate the environmental impact of donating computers to a local charity, research how much carbon was used in manufacturing each machine and mention the plastics and metals that go into its parts. When you donate the machines, you're getting the maximum value from each component. Including a human touch helps illustrate the difference your business is making in the lives of people in your community.
5. Discuss any sustainability certifications your business has
An important part of how to market your business's sustainability is to include third party certifications that document and verify your activities. Examples of these are getting your building a certified LEED (Leadership in Energy and Environmental Design) rating and earning a B-Corp certification by making a positive contribution to the community. Your business's building may also be eligible for an ENERGY STAR® certification for energy efficiency.
6. Find ways to involve your employees
Involve your employees in setting your business's sustainability goals, planning steps to take, and in the follow through. Some examples include participating in recycling drives, composting for a community garden, and redesigning products and packaging to help reduce waste in your products.
Getting employees involved not only improves performance, but improves engagement and work satisfaction. They can help you get your story out, too. When your whole team contributes to sustainable workplace practices, they become an authentic part of your company and mission.
7. Communicate regularly and be accountable
Communicating sustainability for small business isn't a one-and-done activity. Make a long-term commitment to going green in your business and continue to provide progress reports on a regular basis. When you keep everyone up-to-date on your efforts, achievements, and even your set-backs, you keep customers and other stakeholders engaged and show that you are accountable to them.
Why is telling your small business's sustainability story important?
Learning how to market your small business's sustainability mission, goals, and achievements ensures that people know about, understand, and value what your company is doing. Sustainability has become a selling point for many customers and can help attract more engaged, forward-thinking employees. Partners and community leaders are also eager to work with companies that are committed to the well-being of the environment and people in it.
Working towards sustainability in your business requires a continued effort, ideally from everyone in your organization. To get the most benefits, you'll want to tell your small business sustainability story in an effective way on an ongoing basis. You'll stand out as a model for others and potentially encourage more people and organizations in your community to be stewards of the environment.