Smart furniture is a fast-growing trend in home decor. You may be wondering: What is smart furniture and what does it do? Definitions vary, so we will take a deeper look at the concept and into smart furniture products that are on the market today.
Definition of smart furniture
Some people define smart furniture as items that incorporate technology like USB charging ports, touchscreens, speakers and motion-activated features.
Others equate smart furniture with intelligent furniture that connects to a network or device. You can interact with intelligent furniture via your smart home hub, computer or phone. It might include sensors that adjust the piece or activate features to your specifications.
Smart furniture innovations are new concepts, with manufacturers trying and testing ideas to see what consumers might value and want. You can expect to see rapid development in this segment of the market.
Why are people choosing smart furniture for their homes?
With both definitions, intelligent furniture and furniture that incorporates technology, smart furniture is offering convenience and control to buyers in both offices and homes. You can incorporate smart furniture in smart home automation networks and include high-tech built-in furniture as smart home improvements that can help sell your house.
Examples of smart furniture for your home
If you're looking to redecorate or add new pieces to any room in your home, consider these smart furniture options.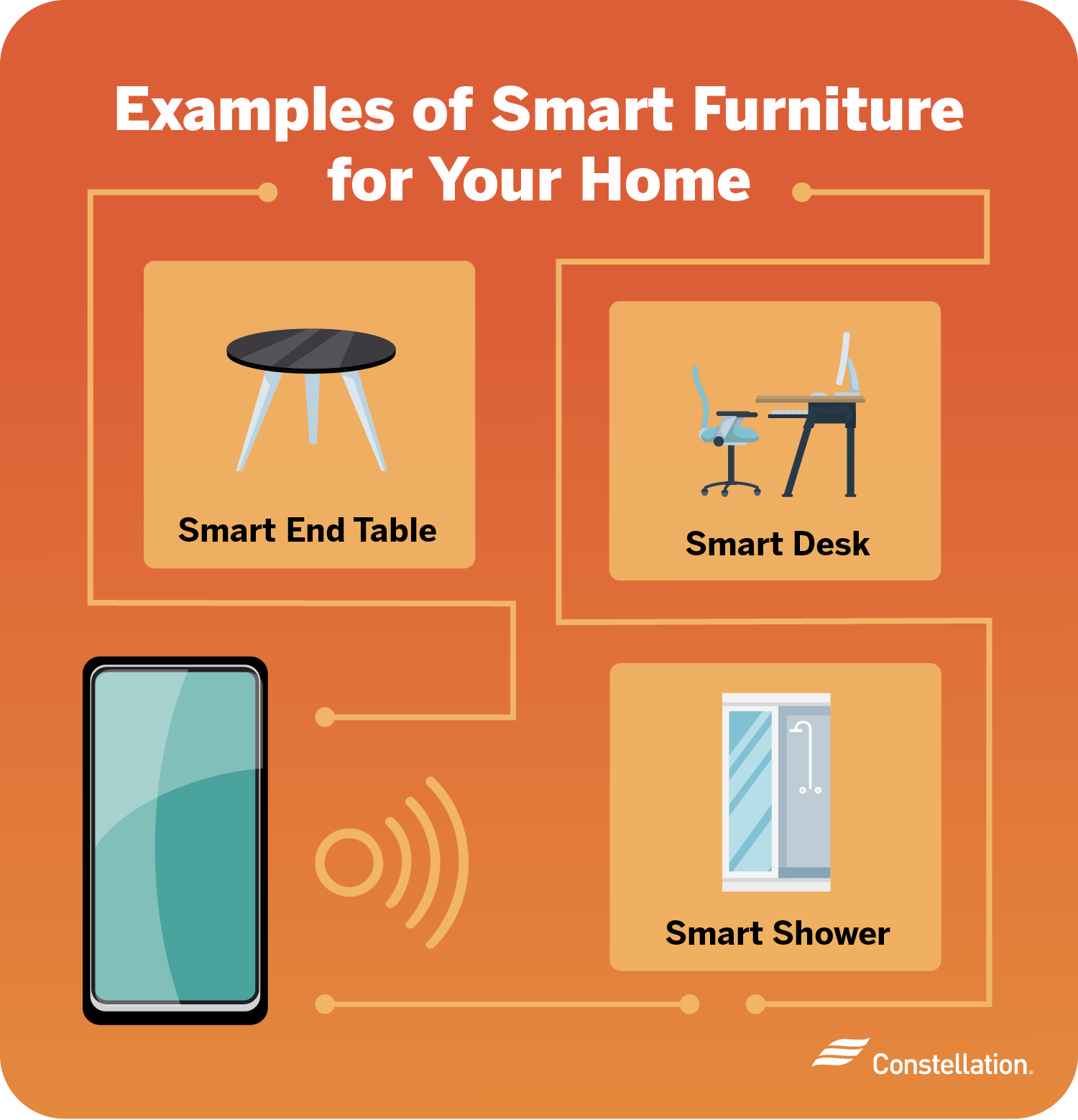 Smart furniture for your living room
In one of the most used rooms of your home, you have many options when it comes to smart furniture for your living room.
1. Smart coffee tables
What do smart coffee tables do? You can find an array of features like built in smart speakers, lighting, electrical outlets and USB charging ports. Some let you control Bluetooth devices through an integrated touchscreen, and even keep snacks, beverages and ice at the ready in refrigerator and freezer compartments.
Since they often serve as the center of the room and tend to get a lot of use, smart coffee tables are one smart home device that's worth it.
2. Smart end tables
Smart end tables offer some of the same features as smart coffee tables. They are particularly handy for keeping your phone charged through one of the USB outlets and also make it easy to access and charge your laptop or tablet for when you are multiscreening.
3. Smart couches
Smart couches are worth considering when setting up your smart home, combining customizable comfort with convenience. Whether connected to your smart home network or directly to your phone, you can customize firmness, degree of decline and even temperature. Some are multi-use and convert into smart beds. USB ports and electrical sockets make plugging in easy. Storage is another common option.
4. Smart blinds
Smart blinds connect to your smart home system so that you can control when they are up or down and how much light they allow into the room. You can let your smart home system connect to smart blind sensors to optimize and automate when they are open.
Smart furniture for your home office
This fast-growing market segment is expanding from focusing on commercial space to including home offices, as customers seek to be more comfortable and efficient when doing remote work.
1. Smart desks
Adding a smart desk to your home office can boost your health and productivity. Sitting for long periods is unhealthy. Smart desks combat too much time in the chair by moving up and down so you stand from time to time without disrupting your work.
You can program them to monitor your movements and calorie burn to change positions accordingly. In addition to helping you spend more time on your feet, most offer USB and electrical ports, places to stow electronics and connectivity to your smart hub.
2. Ergonomic chairs
These chairs are designed for your ultimate comfort and health. They include technology that automatically adjusts to support your size, physique and body weight. Others offer heating, cooling and even massage functionality. If you need to spend a good part of your day sitting, this kind of chair can help you do it in a way that is healthy for your bones and joints.
3. Smart lamps
Smart lamps provide light like any other light fixture, but they add convenience, rich features, and energy efficiency. Connected to smart hubs, you can program smart lamps to turn on and off when you need them and even remotely to make your house look lived in. They can sense when you leave and turn off to conserve power.
4. Smart power strips
Smart power strips connect to your smart hub or phone so you can control what is plugged into them. They cut power to devices after they have been idle for a certain time to eliminate the low-level power draw that many electronics and appliances pull, even when they are off.
Smart furniture and appliances for your bathroom
Smart fixtures for your bathroom add convenience and efficiency to your daily routines.
1. Smart faucets
Smart faucets connect to your smart hub and voice assistant to work on command. You can tell your smart faucet to turn on and off with your voice and even pre-program it to deliver certain amounts of water, like "fill the coffee pot" or "give me a cup." You can also specify temperature. The convenience of touchless operation is one you will appreciate.
2. Smart mirrors
While a smart mirror looks like any other, it adds lots of nifty features. Some include speakers, in-mirror smart displays and Bluetooth connections to pipe in news and weather. Some smart mirrors offer workout routines or makeup suggestions. You can change the lighting to check your appearance in sunlight to candlelight.
3. Smart showers
Enjoy cutting-edge luxury with a smart shower system that lets you set a precise temperature and automate it so you never have to stand waiting for the water to warm up. You can customize your experience with different water flow patterns and pressures. Smart showers are also efficient when it comes to water usage.
4. Smart thermostats
Have ultimate control and efficiency of your home environment with a smart thermostat. Change the temperature in your home from your phone, tablet or smart assistant from anyplace. You can set routines that reduce energy usage when you are away or let the smart system optimize its operation to minimize energy usage.
How smart furniture can save energy in the long-run
With convenience and innovative features come efficiencies that can save energy. Smart furniture and fixtures connected to a smart hub offer you the ability to automate your home and optimize your power use.