With so many screens vying for your attention, you might wonder: What is a smart display? Is a smart display different from a tablet? Which is best to buy?
Answering the first question: A smart display is a device that has an integrated touch screen and connects to home automation systems. Consider it an upgraded smart speaker. Like a smart speaker, it responds to your voice commands. It also gives you the ability to watch videos, monitor security cameras, and make video phone calls.
Here we will discuss how a smart speaker is different from a tablet, which is the best to buy, and should you decide to buy one, what is the best smart display for your home.
How does a smart display work?
The next question after what is a smart display, is how does it work. A smart display works like a smart speaker, controlling your smart home devices via your voice commands. With a screen, however, you have more functionality. You can also use it for video chats, to play videos and music and, with some models, to conduct web searches. Most offer touch screen capabilities and are designed to be conveniently used hands free–unlike a tablet.
The difference between smart displays vs. tablets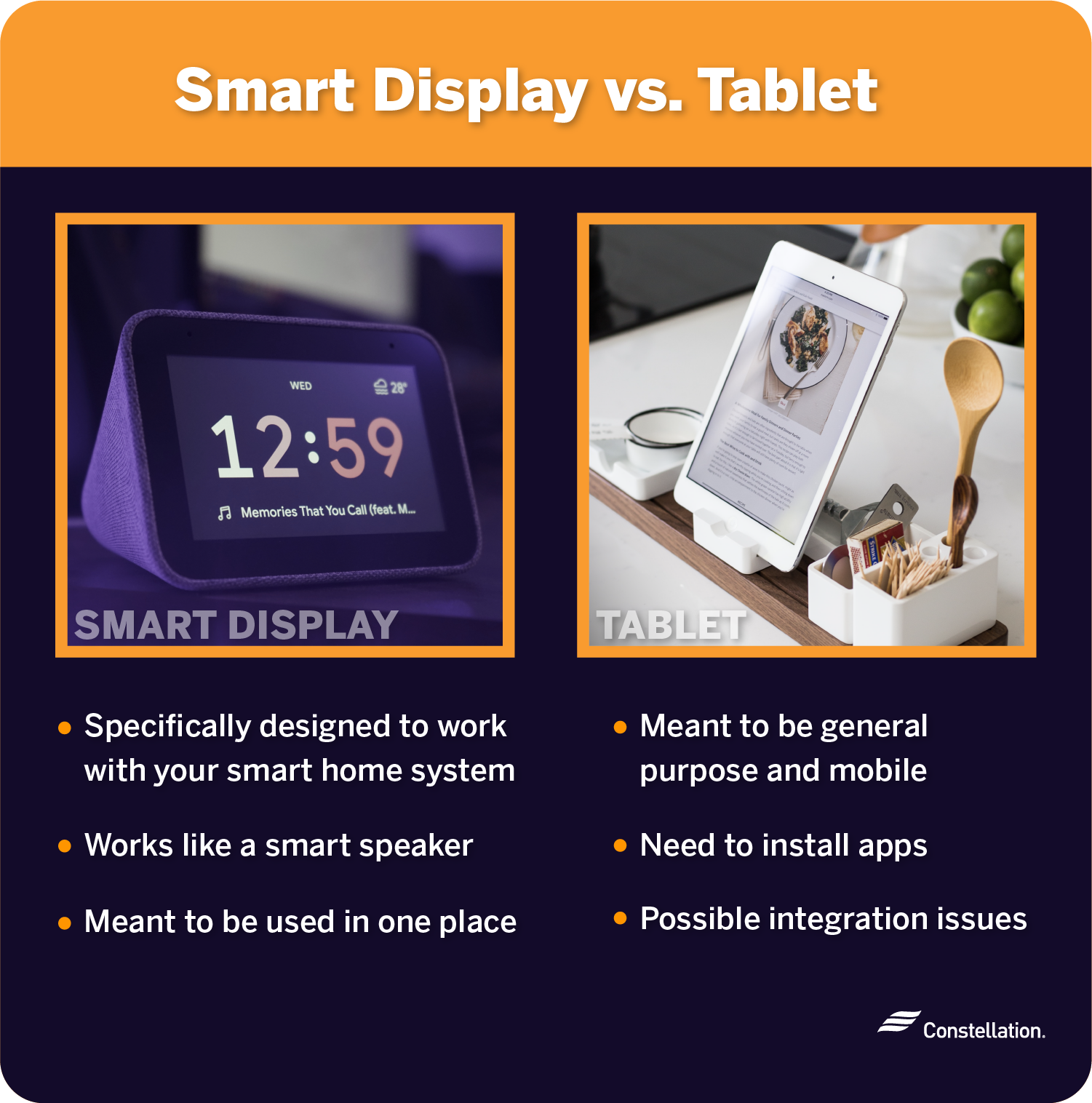 While you can install a voice assistant and video apps on a tablet, they are not really optimized to work with your voice assistant or smart system. Tablets are meant to be general purpose and mobile.
Smart displays are specifically designed to work with your smart home system and to be easy to use right out of the box. You just talk to them and they work; no installing apps and fiddling with integration issues. Smart home displays are tied to your smart home, meant to be used in one place, so you won't be taking it with you.
The smart display vs tablet debate is likely to heat up as companies add features and functions to their devices.
Popular smart display brands
If you are looking for the best smart display, you have quite a few choices. More companies are getting into the category, offering a range of features at different price points.
Lenovo is the smart home display innovator. The company launched the first product in this category, basically inventing smart speakers with screens. Lenovo products work with the Google Assistant, responding to voice commands to control smart home devices. They have a camera and a screen for sharing recipes or making video calls, and more.
Google Nest Hub models connect to your smart home, can be used for video calls and also bring you all the popular Google services, like YouTube TV and Music and the Google Assistant. It does not have a web browser.
Facebook Portal is a smart display that focuses on communication, specifically through Facebook Messenger, Whatsapp, or Workplace. It offers some Alexa voice controls, but it isn't as complete or easy to connect and control your smart home through this device.
Amazon Echo Show is a line of smart home displays that includes the Alexa smart assistant and puts Amazon's video library at your service.It has a web browser and touch screen. In addition to connecting to and controlling your smart home devices, you can watch live feeds from your home security cameras. They also are set up for video phone calls.
7 things to consider when choosing a smart display for your home
The best smart display for your home depends on several factors. If you are looking for smart home benefits, for example, you might make a different choice than if you are looking for a device to use for entertainment and information. With some consideration, you might decide that smart displays are among smart home devices that are worth it.
1. Intended use
Will you use your device as part of setting up your smart home, primarily to control smart home devices and manage home automation? Or will you turn to it to provide information, from weather reports to recipes to answers to trivia questions? Perhaps you want to watch videos, make video calls, or browse the web. The way you plan to use the device will dictate many of your choices.
2. Size
Smart home displays come in sizes to fit your spaces. You can find a small one that is as big as a clock for your nightstand and you can find some as large as a small television to mount on your wall.
3. Resolution
If you are viewing videos or making video calls, you might want a higher resolution screen. Otherwise, it may not be worth the higher cost for a high resolution screen.
4. Cost
Smart displays are not particularly expensive. You can buy cheaper models for under $100, whereas those with all the whistles and bells will top $300. They run close in cost to smart speakers. The added functionality of video isn't a huge add-on expense.
5. Sound quality
The quality of smart display speakers varies. If you listen to music and sound matters, invest in a brand that offers superior sound performance. Some are designed as bare-bones home automation interfaces and do not offer high fidelity speakers.
6. Energy use
Smart speakers do not consume a great deal of energy. The backlight on this display accounts for the majority of energy consumption. Most devices power down the display if left idle for a certain amount of time, cutting power consumption. These devices stay on standby when not in use, sipping a bit of power all the time, however. Yet, if you are looking for ways to save energy in your home and are optimizing how you use power as one of your energy-saving strategies for smart homes, the device is probably worth it. It will use a bit of energy, but will save more overall.
7. Additional features
Some models come with just a few bare-bones features. Others are loaded with special apps like those that monitor your sleep, give you eagle eye views from security cameras around your home, or facilitate video conferencing.
Is a smart display worth buying?
Smart home displays are finding a role in smart home systems, adding convenience and functionality to existing systems. Smart homes and connected technology are attracting buyers for convenience, security and energy saving. These systems are adding value to homes when it comes to resale. Upgrading and adding a smart speaker to a smart home display is another way to enjoy more benefits from an already benefit-rich approach to home technology.