If you're thinking of upgrading your bathroom, you might have heard about digital and smart showers. But what is a smart shower and its benefits?
A smart shower is a plumbing fixture that uses electronics to control temperature, rate of flow and which outlet to use — all from a touchpad, your phone or a voice-activated smart speaker. Here, you'll find digital showers, explained.
How does a smart shower work?
Smart showers and traditional showers are alike in many ways. The difference comes from how you control them and the power that precise control provides.
In a traditional shower, you turn knobs and levers to adjust the temperature. You can also change how fast the water flows.
In a smart shower, electronic controls manage those functions — and give you additional capabilities that go far beyond that. You can control your smart shower through a digital touchpad, your phone, voice or by using your smart speaker. Smart showers can also play a role in energy-saving strategies for smart homes.
Options for upgrading your traditional shower
When you're setting up your smart home, adding home automation in the shower can help you save energy in your bathroom. You have several options when it comes to smart shower technology: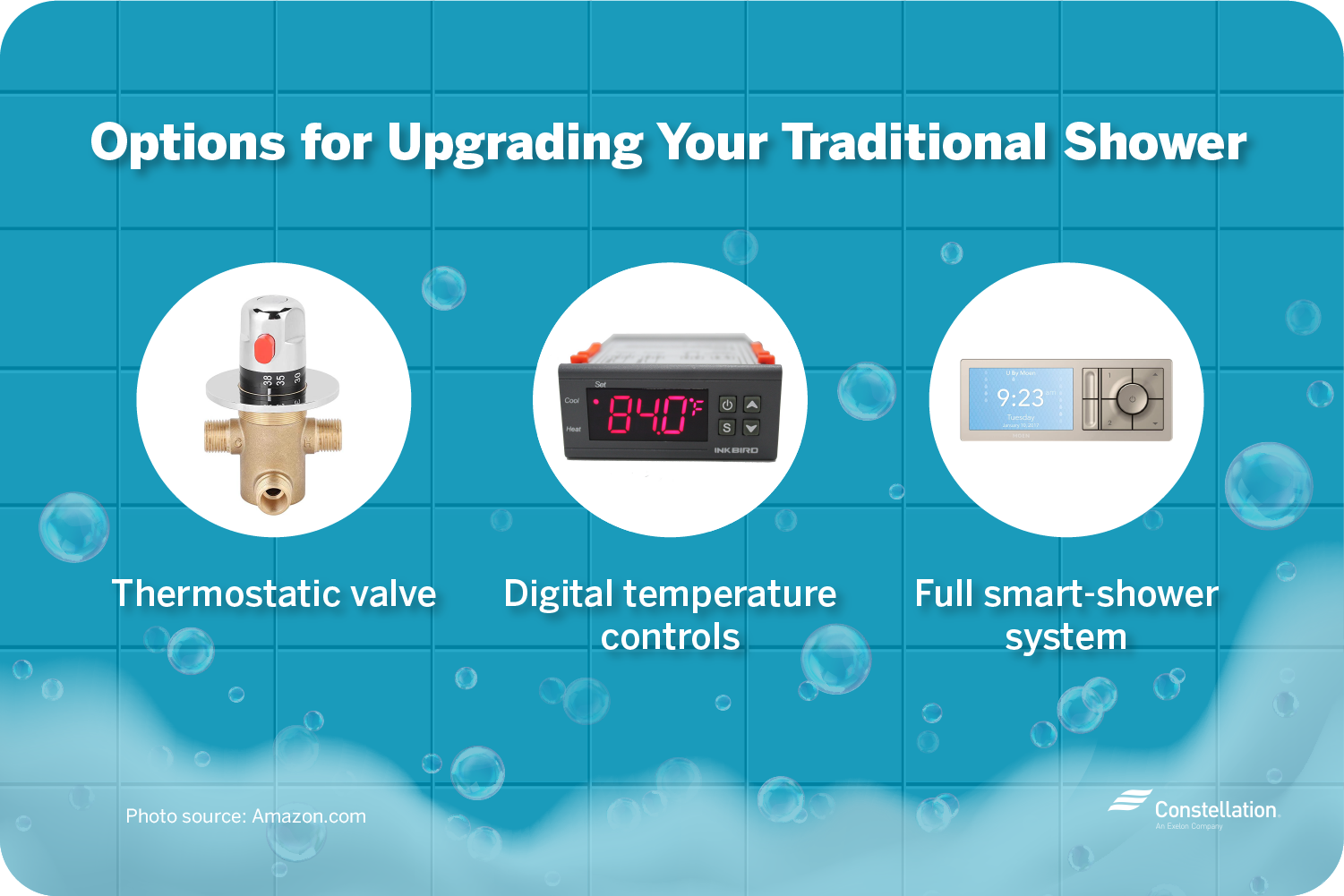 Thermostatic valve. This is a plumbing device that controls the amount of hot and cold water that comes together to keep your shower running at the temperature you desire. In smart showers, these are electronic.
Digital temperature controls. Instead of using knobs to control the water in your shower, smart showers have a digital touch screen that you can use to customize your shower experience.
Full smart-shower system. When asked "What is a smart shower?" the image that comes to mind for many people is a complete package of electronic valves and digital controls, all connected to your smart home system as part of complete home automation.
7 smart-shower benefits
Some of the benefits of a smart home include convenience and energy savings. These are also smart-shower benefits. Yet the list of reasons to upgrade to a smart shower doesn't stop there.
1. Set a precise and consistent water temperature.
Digital temperature controls of the thermostatic valve give you the ability to select an exact water temperature. The sensors in the system ensure that the temp stays exactly at that setting throughout your shower.
2. Control and manage your shower remotely.
With a fully connected smart shower system, you can turn on your shower from your phone or smart speaker as you're getting out of bed or when you're returning from a workout. That way, it's ready for you to just step in.
3. Activate your shower through voice control.
Your smart speaker can give you effortless and hands-free control of your shower. Through voice alone, you can turn the water on and off and set its temperature.
4. Automate your showering routine.
Add shower programming to your routines for smart-home assistants. With home automation shower control, you can program your shower according to your schedule. For instance, you can have your shower ready when you wake in the morning. Or, you can program the showers to run at a certain temperature for a certain length of time.
5. Avoid scalding with built-in safety features.
It is surprisingly easy to burn yourself or a family member with water that's too hot. An important smart-shower benefit is enhanced safety that comes through limits on the highest water temperature.
6. Reduce your home's water consumption.
You can reduce your average shower water usage and cut energy used to heat water. Program optimal settings for the length of your shower, rate of flow and water temperature. You'll enjoy comfortable showers without waste.
7. Enjoy a sleeker, more modern design.
You can increase your property value with smart-home upgrades like a smart shower. Bathrooms are one of the major influences on buyers. A modern-looking bathroom can pay for itself with an increased sales price.
And if you aren't selling, having a nice bathroom is something you can enjoy every day all by yourself.
Should I get a smart shower for my smart home?
Today's buyers are looking for all the whistles and bells. When you invest in smart-home upgrades, you signal to buyers that you care about your property and maintain it well. You may be able to demand a much higher price over dated homes with old-fashioned bathrooms. Adding a smart shower can make sense if you make the right choices.
Things to consider when purchasing a smart shower
With increased interest in smart-shower benefits, companies are introducing a variety of options across price points. Here are some features to consider:
What's the shower's temperature control range? Check to see how wide your available temperature range will be. You might want limits on the high end of the temperature spectrum.
What are the shower's energy requirements? How much power does the system draw? You won't end up saving on your overall energy consumption if your smart shower is an energy hog.
Can I install a smart shower on my own? Costs can quickly mount if you have to hire a plumber. Some smart showers are easier to put in than others. If you can do it yourself, you can save money while adding value.
How is it controlled? Higher-end units give you the option of a touchpad, app, voice or integration with your home automation system.
What features are integrated? You can find basic options as well as those with pre-programmed routines and even water massage capability.
With digital showers explained, you have a solid grounding for deciding whether smart-shower benefits are worth it to you. Like a growing number of Americans, you may find that integrating home automation shower features into your smart home can upgrade your lifestyle and possibly help you get the most out of your real estate investment.