Wondering about the best smart home devices today? With so much new smart tech hitting the market, it's hard to know the smart home devices that are worth it. Which ones actually live up to the price tag and provide real value for the money? If you're asking yourself "What smart home devices should I get?" we've got options that can bring you everything from convenience and security to energy savings.
The Best Smart Home Devices
Smart home devices that are worth it don't necessarily have to be big-ticket items. Many are surprisingly affordable. The best smart home devices are designed to be intuitive and easy to use, as well as improve your lifestyle and return value on your investment.
Easiest: Smart plug
One of the most inexpensive and easiest smart home devices is the smart plug. A very basic unit can be found for around $25, with more advanced options retailing for less than $60. Anything you plug into them becomes a connected smart device. Plug it in, set it up and then control it from your phone.
Use it to turn lights or your television on and off when you're not home; it's a way to give the place a lived-in look that scares away thieves. Fire up your coffee pot while you're still in bed. If you leave home and remember you left a space heater on, turn it off with your phone. Some of the more advanced smart sockets, like the Constellation PowerPlug, work like a home hub, integrating with other devices for better control, automation and energy use management, while being small and flexible enough to plug in anywhere without blocking the other opening in the power outlet.
Most Affordable: Smart lighting
Smart home devices are worth it if they pay for themselves in savings and security. And with a very reasonable price tag, smart light bulbs are a great choice as your first purchase.
Smart lighting can save energy while providing convenience and increasing home security. And for around $20, you can buy a smart bulb that will last 20 years, costing only pennies a month in electricity. You can dim them and turn them on and off through an app on your phone. Some smart light bulbs even act as repeaters that extend your network's reach.
Best Hands-Free Device: Smart speaker
A voice-activated smart speaker is one of the best smart home devices when it comes to versatility. You can use it to control your smart home simply by speaking commands. Devices that are compatible with Amazon Echo or Google Home connect to do things like set alarms, turn up the thermostat, close the blinds or flick on the porch light. A smart speaker is also an entertainment device, streaming music or audio books, and you can even use it to ask questions, get the weather or access information on the internet.
Best Home Protection: Security camera
Smart security cameras are definitely smart home devices that are worth it when it comes to peace of mind. As part of a home automation security system, like Constellation Connect, smart security cameras can protect critical areas of your home. They let you know if anyone is trying to break in and provide identifying evidence in case of an attempted crime. They're easy to install and customize, with no wires or complex integration. And you can control them through a phone app and can easily set up professional monitoring, sometimes with no long-term contract.
Best Energy Saver: Smart thermostat
Some of the best smart home devices are those that can save you money. A smart thermostat can trim your energy bill by better managing your heating and air conditioning use.
Most people set their thermostat at a comfortable temperature and leave it there. A smart thermostat adjusts for day and night fluctuations, cuts overuse when you're not home, and adjusts to heat from sunlight or appliances. By optimizing comfort and energy use, many smart thermostat options could cut your energy costs enough to pay for themselves within a couple of years.
Best for Families with Kids: Smart vacuum
If you have children or an active lifestyle, a robotic vacuum cleaner is one of the best smart home devices to get. Smart vacuum cleaners have made many advances over the years, now offering features like programmed operation, geofencing to learn your rooms, self-charging and self-emptying. Because they run on batteries and can be programmed to charge at low-demand/low-cost times of the day, they can save you electrical energy as much as they save you effort.
They aren't the best option for some home layouts, or if you have a baby. But these smart home devices are worth it for many homes and families.
Best for Pets: Automatic smart feeder
Smart feeders keep your pets happy and fed on a schedule, even if you can't be home to do it. Connect your automatic smart feeder to your phone and set up a feeding schedule. You can even dole out a spur-of-the-moment snack with a few swipes on your screen. What's more, some models have a built-in camera so you can monitor whether your furry friend is eating well or watch pets from work over your phone.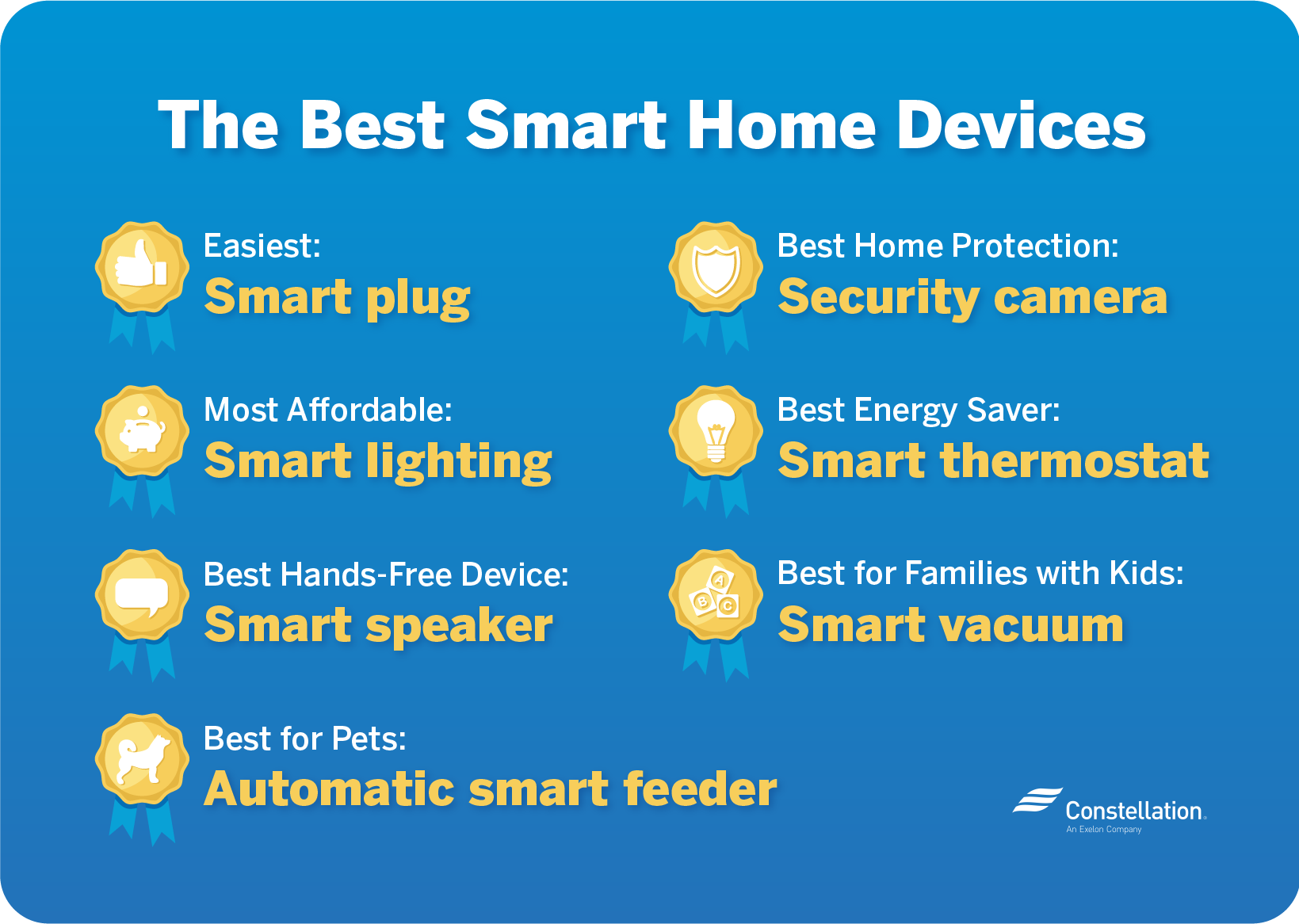 Acquiring what every smart home needs
So, are smart home devices worth it? Yes, many are. The best smart home devices can offer life-changing benefits in convenience and security, and some can even pay for themselves in energy saved. From smart light bulbs and security sensors to smart plugs and whole-home hubs, the modern homeowner has several new, marvelous tools to choose from. And they only get easier to use with each passing year.