These office organization ideas will tame clutter and create a more efficient work space. Office organization brings tangible benefits to your bottom line and to staff morale. When your work spaces are organized, you increase productivity and create flexible and resilient spaces that help during rushed times. Organizing a small office space also reduces stress and anxiety, contributing to a better at-work culture.
10 tips on how to organize your office
You don't have to be a professional organizer to know how to organize your office. We consider these to be the best office organization tips because they are easy to put in place and it is easy to stay on track with them. Once you get organized, you stay organized.
1. Use less paper in the workplace.
Stacks of paper and towers of files can cover desks and tables, creating a chaotic-looking office space. If you want to keep your office organized, someone has to sort and file these materials away. When you go paperless at work, you eliminate both the clutter and the effort needed to deal with it, thus freeing employees for more productive tasks.
Many similar office organization ideas come from the digital transformation process, which helps you better collect, control and use information for improved communication and cost savings.
2. Take advantage of smart office technology.
Using smart assistants at work, especially in combination with smart office technologies, can help work flow through your operation better, eliminate extra steps, and provide metrics to help you measure productivity and find the bottlenecks to eliminate. Using a voice assistant can keep you from cluttering your office with reminder notes–and better yet, automate repetitive tasks that might otherwise clutter your mind.
3. Create a filing system.
Tips for how to organize your office include organizing both your physical and digital space. You'll know where to access things and how to find what you need fast. When all employees understand the filing system, you can streamline processes and keep disorder at bay.
Create files by client, by project, or by work stream. Try color coding. Make sure to keep pace with the creation of documents by doing the necessary filing daily or weekly. And don't keep things for the sake of keeping them. Discarding old files is as important as categorizing new ones.
4. Get rid of old or unused office equipment.
Do you need all those filing cabinets after you've gone paperless? You can recycle old office equipment and outdated furniture to open up space. Charities and start-ups are often eager for your cast-offs.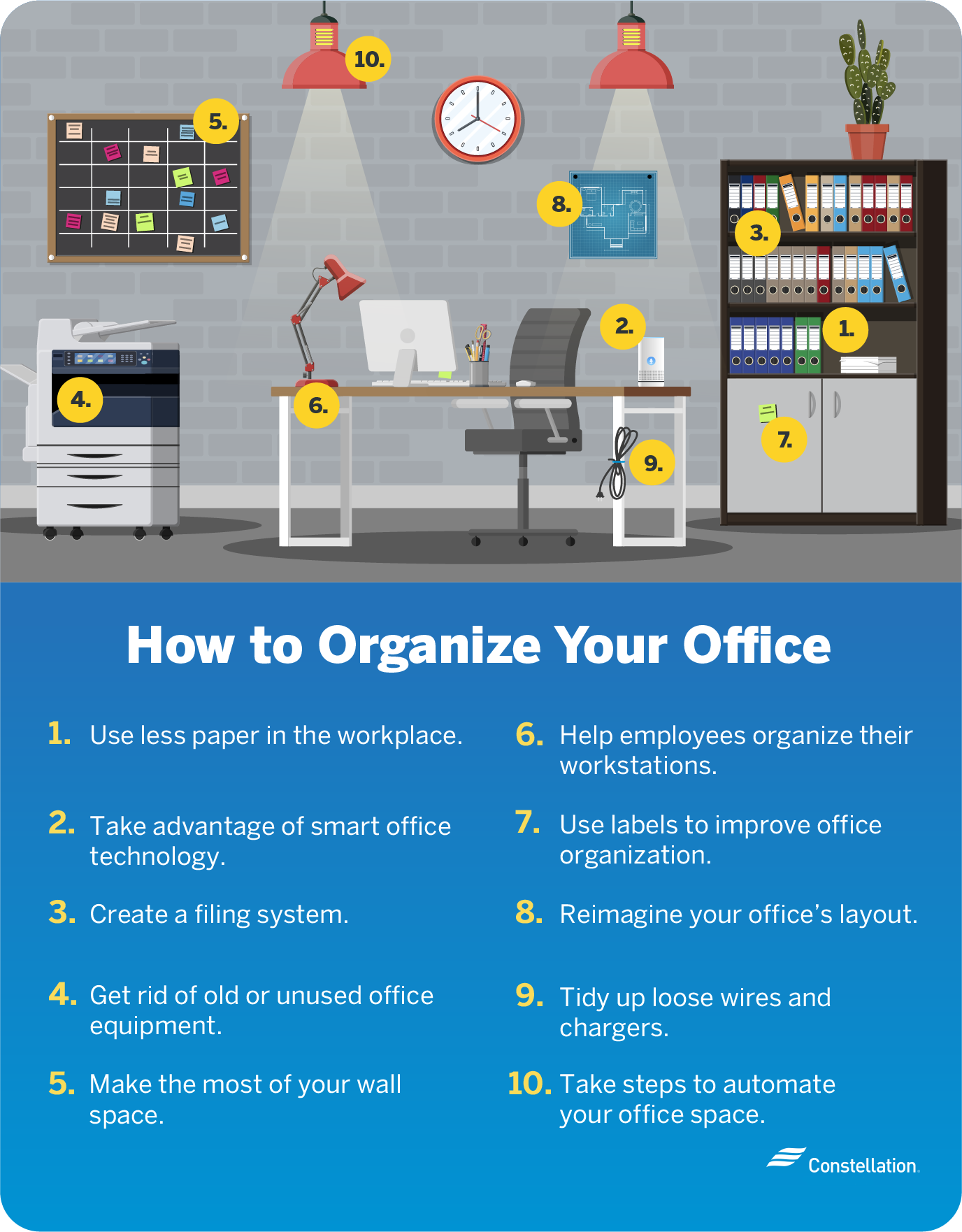 5. Make the most of your wall space.
Don't just look to your floor space for storage. Go vertical and up the walls with shelving to store things. Install whiteboards and cork boards for organizing processes. You can store more things per square foot when you go up.
6. Help employees organize their workstations.
You can't do it all yourself. Employees should play a major role in work office organization. Provide them with tools and equipment they can use to organize their own spaces and work processes. Do the same with common areas. Provide office organization ideas and encourage employees to share their own office organization tips. Share advice on how to organize their offices and post notes and office etiquette signs that remind people about office organization routines.
7. Use labels to improve office organization.
Labels help you find materials and equipment when you need them–and know where to put them when you have finished using them. Don't just label things; label their locations, as well. Labels also help people understand functions and processes at a glance. It all adds up to better work office organization.
8. Reimagine your office's layout.
Office layout is too often done without thinking about work flow and traffic flow. Tradition, habit, or random choices too frequently dictate where things are placed in a small office. If you are wondering how to organize your office better, think about how work steps in projects flow through your space.
Think about people, your staff, contractors and service providers, as well as clients and visitors. How do they move about your facility? Organizing your office layout around these flows can increase productivity and make the best use of your space. You may discover you need new machines as you go through this process. A small business equipment loan can help finance these upgrades and additions.
9. Tidy up loose wires and chargers.
Even in our wireless world, wired devices and networks continue to multiply. They clump and tangle endlessly, creating visual chaos, and a potential fire hazard. And you might find yourself dealing with knots should you want to unplug a single device. Using cord management devices and cord labels can tame this chaos, keeping wiring both safe and simple.
10. Take steps to automate your office space.
You can reduce both clutter in spaces and clutter in processes when you automate your office. Eliminating repetitive tasks can help you improve organization, remove clutter, increase efficiency and even reduce your small business's energy consumption.
Enjoying the benefits of work office organization
A calm, efficient, and attractive workspace takes thought and effort. Yet effective work office organization benefits your bottom line and work culture. Being more productive, flexible, and motivated is worth the ongoing effort to get and stay organized.