The use of smart assistants in the workplace is a trend that's beginning to take off. Once used exclusively to automate and manage homes, smart assistants are increasingly seen as helpful in the workplace. As people become accustomed to controlling devices by voice at home, they expect to do the same thing at work with smart office assistants.
What are smart assistants?
Smart assistants are devices loaded with software that you use to access information, perform tasks or control other devices. You can have a smart assistant on your computer or your phone, but most people use them through a smart speaker. Well-known brands include Alexa, Siri, Cortana and Google Assistant. New assistants are coming to the market that are specialized for business.
Types of smart assistants for your small business
Smart assistants are starting to evolve to support you in your work world. The top brands can help you manage your day-to-day. Specialized smart assistants in the workplace are designed for business use and offer expanded features you can use at work.
Alexa for Business. Developed by Amazon, Alexa is ready to help you with note taking, to-do lists, setting up alarms in advance of meetings and can open and close apps and documents. It works on Amazon, iOS and Android devices.
Cortana. Microsoft's entry is Cortana. It can manage your calendar, take notes and give you reminders with alarms for important meetings. It can start apps and answer your questions with voice commands.
Siri. Apple's assistant gains new features every year. It can type texts and emails for you, run internet searches, call contacts, and keep tabs on the news, sharing items of interest with you. If your business is international, it even works as an interpreter.
Google Assistant. Google hasn't given its assistant a name, but they did give it rich features. Developed for Android phones, it types for you, calls contacts, runs searches and manages apps. It connects seamlessly with your smart home devices and works with both text and voice commands.
Fyle. One of the more business-focused smart office assistants, Fyle is powered with artificial intelligence and integrates with the Google G Suite and Microsoft Office 365. It can extract data, put business cards into a database, and connect with your CRM. It's one of the best new smart assistants in the workplace.
DataBot. While lots of virtual assistants can run Internet searches for you, this one goes a step further and puts information into presentations at the command of your voice. It will not only search out facts, but will find illustrations and images to support your points. It's one of the more innovative options when considering ways to use smart assistants at work.
Factors to consider before making your purchase
If you see the benefits of voice assistants for business and you think you could use their help at work, consider these factors when choosing among options:
Capability. Think about the tasks you perform most often, especially laborious, repetitive and time consuming ones. Look for smart office assistants that offer the right capabilities for your needs.
Compatibility. Smart assistants in the workplace should ideally work with your preferred computer and phone operating systems–and the apps you most often use. If you find one that also works with your home automation system, it's a bonus.
Energy consumption. Your assistant shouldn't require much electricity to operate, especially in stand-by mode. Ideally, you can use it to monitor your energy use and turn off devices you've left idle.
7 ways to use smart assistants at work
The benefits of voice assistants for businesses are similar to the benefits of using smart assistants at home. Smart office assistants and using voice assistants at work, however, put these devices to use in different ways.
1. Send text messages and make phone calls
For hands-free multitasking, using your smart office assistant to write and send texts and dial your phone for you can boost productivity. Some can also be used for small-business chatbots.
2. Manage calendars and employee schedules
Juggling your schedule and fitting meetings in is much easier when you rely on a voice assistant. It can adjust your calendar and warn you about conflicts in real time. Coordinating employee schedules is also easier.
3. Set reminders for meetings and important events
When you have your meetings set, smart office assistants can remind you a few minutes in advance. It's easy to get immersed in a project and forget the time. Alarms that give you a heads-up so you can prepare help to eliminate that problem.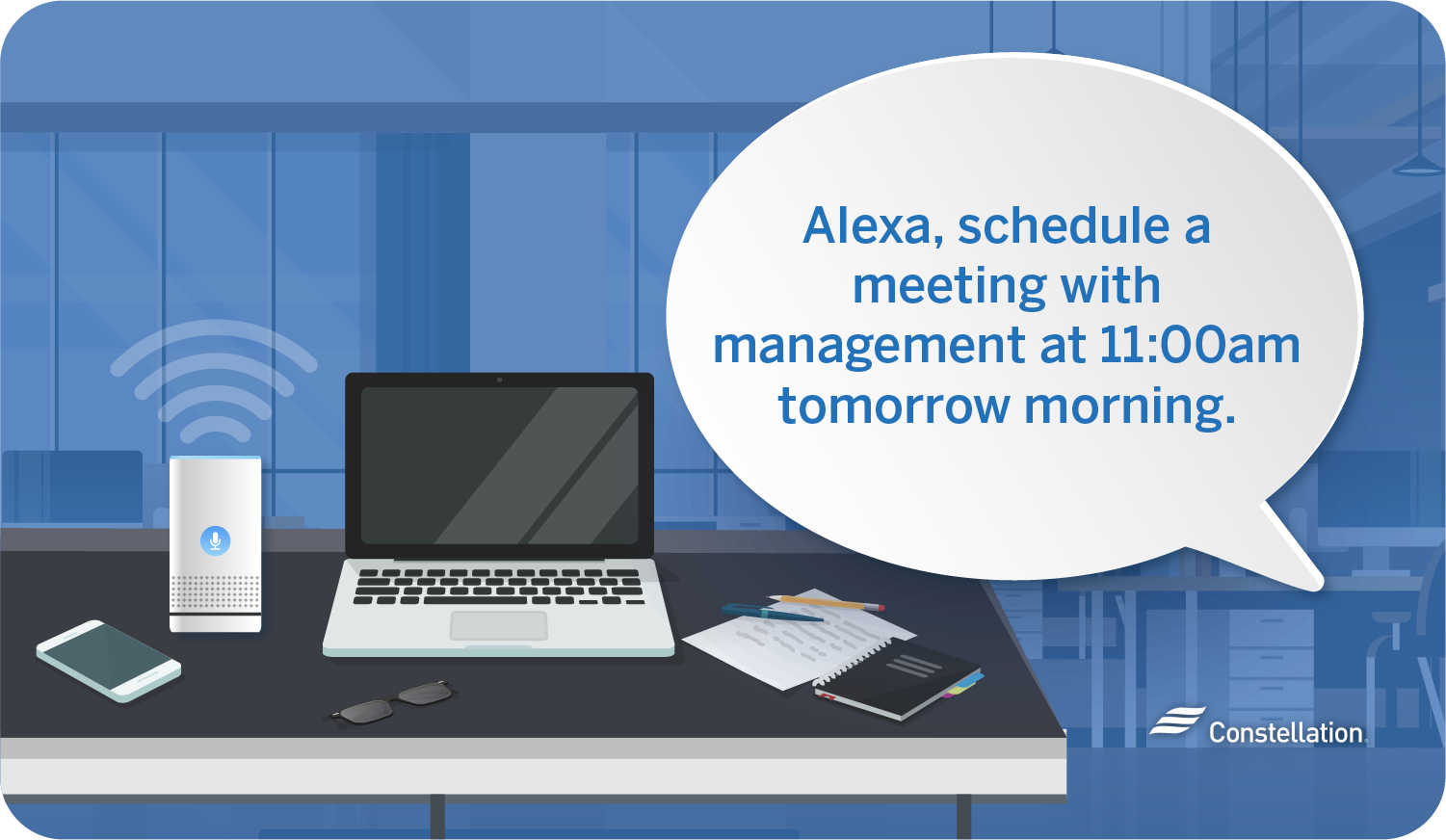 4. Pair your voice assistant up with other smart office devices
One of the ways to use smart assistants at work is to link them with other smart office devices to be more efficient in your small business energy consumption and to increase security. You can use them to program everything from your lights to your computer, and even your window shades and thermostat. They can also link with your smart security systems.
5. Create to-do lists for you and your employees
Just tell your smart office assistant what you need to get done today and also create to-do lists for your employees. It can then send the lists to your staff via text or email and can follow up as appropriate, keeping everyone on track.
6. Integrate a smart assistant into your meetings
Smart office assistants are handy in meetings, taking notes or capturing a full transcript. You can tell it the details of various to-do lists and then schedule tasks and follow-ups by group or by person.
7. Take notes throughout the day
One of the benefits of voice assistants is that they're always ready to capture your thoughts and record notes. You can tell yours to remind you to pick up milk on the way home just as easily as you can tell it to make a flight reservation. Capture ideas on the spot as they come to you by simply speaking them aloud.
Using technology to improve processes and employee productivity
Part of the digital transformation at work involves technologies like smart office assistants that make work easier and more productive. Smart assistants in the workplace are smoothing communications and processes to make them more efficient. Add a side benefit: when connected to your smart office systems to optimize energy use, they can play a role in helping you stop wasting energy in your business.