The trend of consumers moving away from traditional brick-and-mortar business toward online commerce has been going on for years. But things have sped up in 2020: Consumer habits and expectations are rapidly changing, and business owners face new regulations and health concerns. Adapting your in-person small business has never been more important than right now.
Understanding the shifts in consumer behavior among your customers will be key. You may find that you need to add services like contactless payment and curbside pickup. Or you may decide to go completely online. That kind of change may be a lot of hard work, but it could also bring new opportunities — especially if you adapt faster than your competitors.
Below, you'll find ideas and strategies for adapting your in-person small business for the coming year and beyond.
Set up contactless delivery and payments
Serving your customers without direct contact is good for everyone's health and could be more convenient as well. One way to do that is to avoid using cash and going paperless in your transactions. Changing business models for your small business in this way lets your customers pay via a POS system with a debit or credit card, or with a third-party app like Apple Pay or Venmo.
When you consider how to set up contactless delivery, you have options like curbside pickup, customer access lockers or doorstep delivery. Of course, delivery doesn't affect services such as hair cutting or plumbing. If your business falls into that category and you're looking for ways to limit contact between your staff and customers, consider contactless payment as well as safety measures like masks, plexiglass barriers and social distancing.
Offer a curbside pickup option at your business
Offering smooth and efficient curbside pickup for customers not only makes things easy but also inspires confidence in your business. Although this service largely started in the 2020 stay-home economy, the convenience for customers means it's likely here to stay. It's an easy way of adapting your in-person small business to the changing economy.
The key to success is making the process simple for your customer and seamless for you. That means you may want to consider curbside pickup as part of your digital customer service strategy. You can do an internet search for "curbside plugins" to add to your website and "curbside mobile apps" that integrate into your accounting and inventory software. Affordable and ready to use, they get you off to a great start with minimal fuss.
Curbside pickup best practices
The following curbside pickup best practices — many of which were learned through trial and error in 2020 — can help you get things right the first time: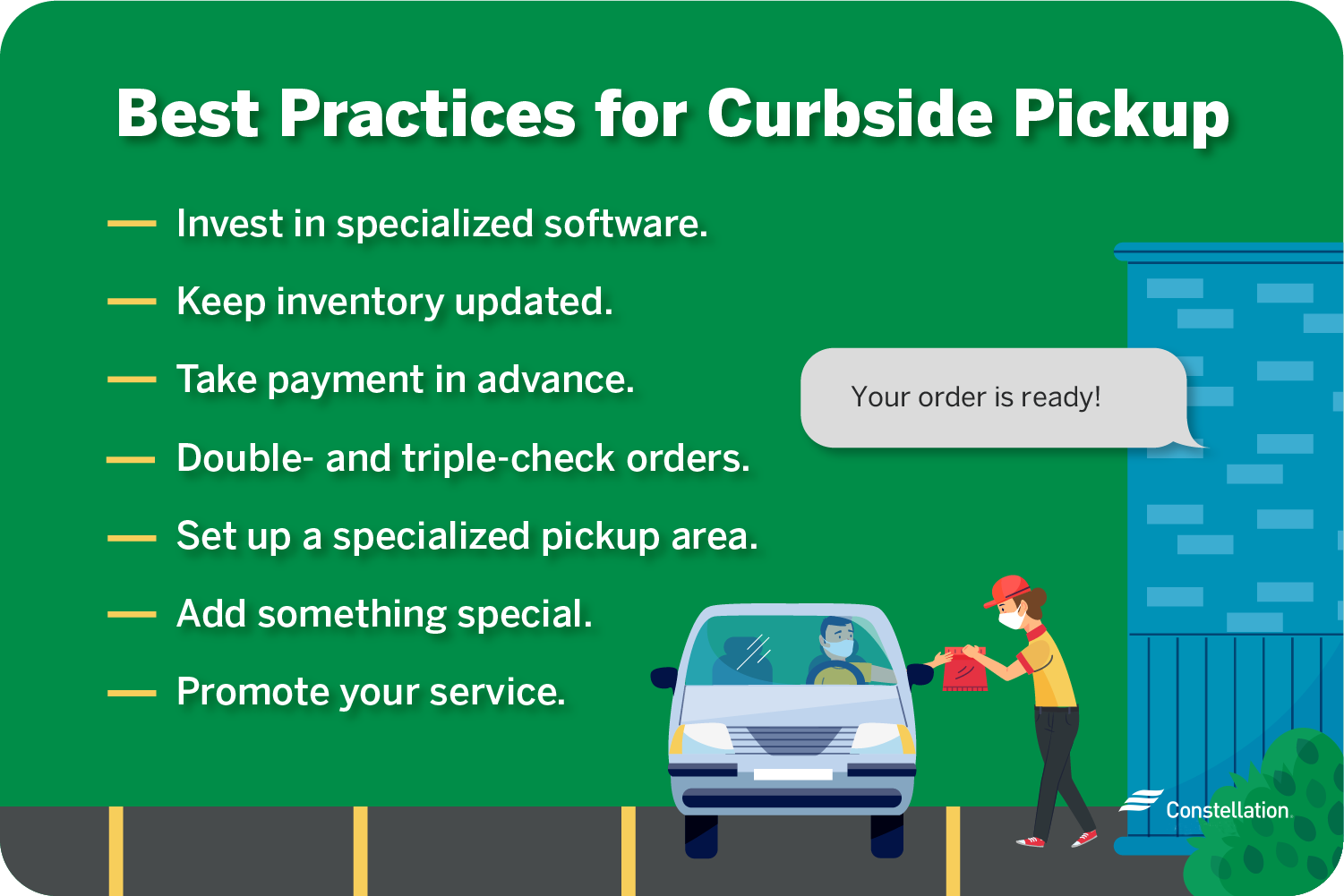 Invest in specialized software. You can take orders over the phone or via your website, but you'll find that specialized mobile apps and website plugins bring integration and easy-to-use features that save you both time and effort.
Keep inventory updated. Customers won't be happy if they drive all the way over to your location only to find the item they want isn't available. Keeping tabs on inventory and making availability clear to customers is a must.
Take payment in advance. You'll slow the process down and add risk if payment is made when the customer comes to pick items up. Contactless digital payment in advance is easier for everyone.
Double- and triple-check orders. Customers may not be understanding if they don't receive what they paid for. Take an extra pass inspecting each order to make sure it's right.
Set up a specialized pickup area. Make sure the pickup zone is well-marked. Ensure that customers can get in and out fast. And don't forget the comfort and safety of employees bringing goods out for pickup.
Add something special. It could be as simple as a handwritten note or a small discount off the next purchase, or perhaps a nice, useful gift. The idea is to surprise and delight customers, making the experience memorable. It's a great way to keep customers engaged.
Promote your service. Post online and on social media. Put up signs on your premises. Use email. Do everything you can to get the word out.
Utilize an automated locker system
Sending staff running out to deliver products is labor-intensive. And your customers can only pick up their order when you're open. One way of adapting your in-person small business to a contactless model is to use an automated locker system. When your customer places an order, you put the items into a locker. When it's ready for pickup, they get a mobile notification with a bar code that opens their locker and lets them take their merchandise.
Retailers like Home Depot have been using the technology for years, and now it's mainstream. You can find fully integrated systems that include lockers, installation, software and integration. It truly is a plug-and-play way to transition from brick and mortar to online. You can expand your hours of service without changing your business hours.
Improve your digital customer experience
Changing business models for your small business may involve thinking through your customers' online experiences. If you're delivering a service in person — such as plumbing, home repair or even haircuts — your business can still benefit from a digital customer service strategy.
A number of businesses can deliver services remotely through online meetings. For instance, personal trainers offer sessions via Zoom, and therapists and doctors offer virtual appointments. You can list services and products online. You can offer online scheduling and then email or text updates as to when you'll be showing up. It's important not only to have these digital offerings but also to make sure that they go smoothly and boost your business's reputation.
You may even consider undergoing a complete digital transformation. Improve customer service without overburdening your staff by using small-business chatbots. Use off-the-shelf apps to make communication seamless. Gain flexibility and improve productivity by moving your computing to the cloud. Contactless payments keep things smooth and safe, and systems that integrate into your accounting software make invoicing easier.
But perhaps most importantly, stay engaged with customers. Make use of email, social media, push texts and more to maintain that connection. The changes of 2020 are opening opportunities to reinvent small-business strategies. You can even participate in a virtual Small Business Saturday.
9 things to consider before you transition from brick and mortar to an online model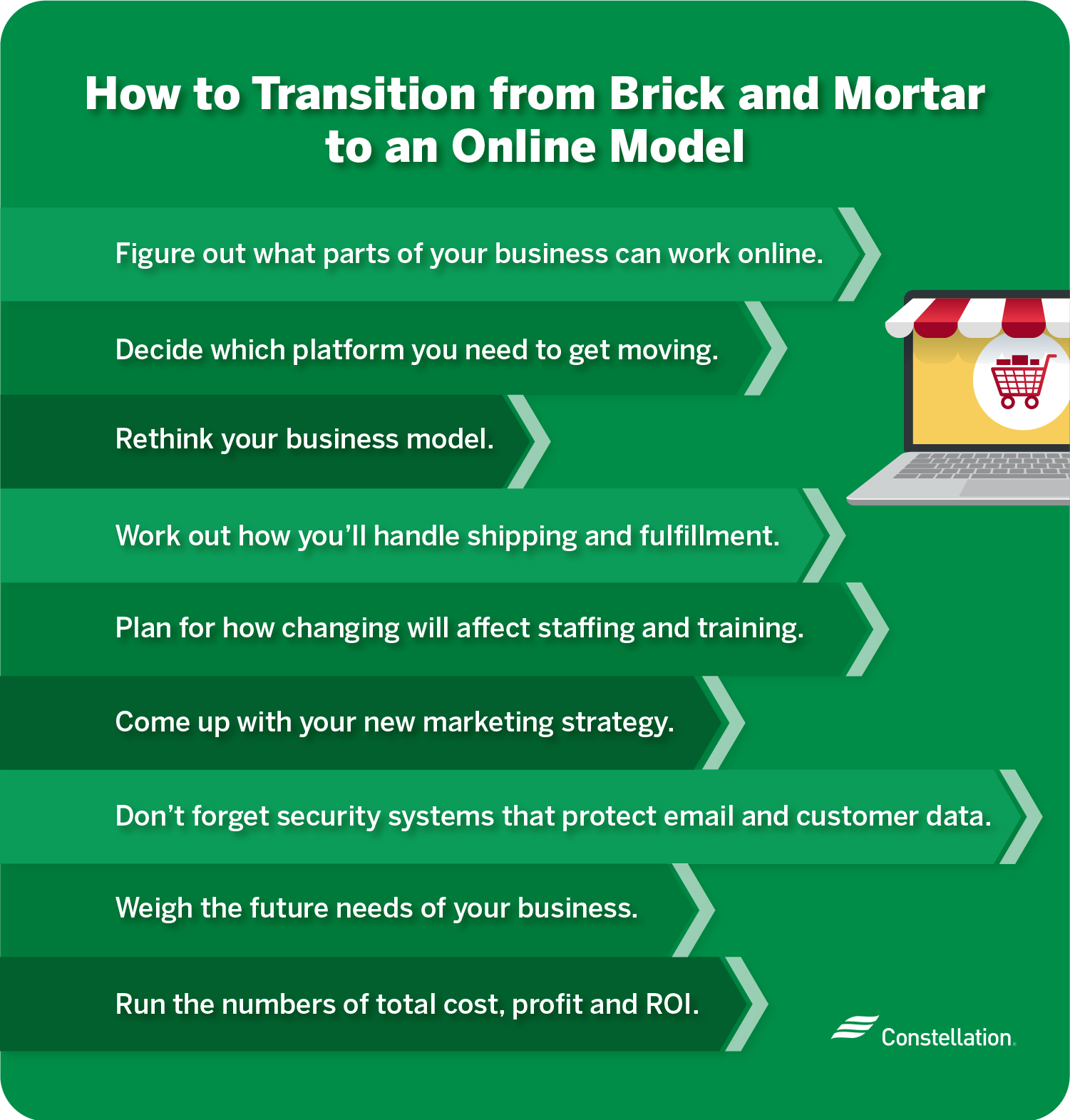 If you're contemplating changing business models for your small business by offering products or services online, make sure to give the following some thought:
Figure out what parts of your business can work online. A hair salon, for example, faces different challenges than a clothing retailer.
Decide which platform you need to get moving. E-commerce plugins make setting up an online store easy. Perhaps you need a scheduling app to work with your home services company.
Rethink your business model. Will you offer different products and services? Will you be a desktop- or mobile-first company? How can you get everything integrated? How will you deliver customer support?
Work out how you'll handle shipping and fulfillment. Does it make sense to use a third-party service provider, or can you do it all in-house?
Plan for how changing your business model will affect staffing and training. Do you have enough people? The right people? What will they need to stay safe and effective? Figuring out the answers will help keep your workplace running smoothly.
Come up with your new marketing strategy. Make sure customers know about you and how your company has changed. Engagement makes all the difference.
Don't forget security. You may have security gates over your windows and an alarm system protecting your physical property. You'll need just as much security online. Look for systems that protect email and customer data as first steps.
Weigh the future needs of your business. How flexible are the choices you're making? Are you leaving yourself room to scale?
Run the numbers. What's the total cost? Can you still earn a profit? How fast will you see a return on your investment?
How consumer behavior has shifted
Consumer behavior is changing fast. Your ability to adapt with these changes, ideally faster than the competition, will have an impact on the success of your small business. Consumers are buying different things in different ways. Here are some macro trends that could affect your business.
Concern with health and safety precautions
Consumers have a renewed concern about health. Your in-person business should adapt and make the changes very easy to see. Let customers know how you keep your establishment clean, how you ensure social distancing and that safety is a top priority.
Increase in online shopping rates
Over 75% of consumers have tried a new shopping method as an alternative to brick-and-mortar stores, according to a recent McKinsey report on changing U.S. shopping behaviors. Consumers are increasingly spending less money at in-person stores and appreciate fully online experiences or blended options. Customers of all ages and income levels are growing more comfortable with technology and even prefer the new shopping methods. Businesses that fail to adapt are likely to see revenues fall.
Focus on purchasing essentials
General unease about politics and the economy is slowing consumer spending and shifting purchases to essentials. About 40% of U.S. consumers have cut spending on things like home furnishings, jewelry, shoes and apparel. Groceries, personal care and household supplies are considered essentials and aren't seeing drops in demand.
Less brand and product loyalty
With so much change in the marketplace and willingness to try new ways of shopping, it's not surprising that brand loyalty has taken a beating. Customers seek better deals and better experiences, abandoning old loyalties to find them. Now more than ever, your business will benefit from providing excellent service and special deals.
Changing business models as a small business
Changing your business model and adopting a digital customer service strategy can be a challenge. It will require investment and hard work, and it may not come without some trial and error. Yet there is a huge opportunity in change as you plan for the new year, especially with digital transitions and energy-saving smart tech that will pay over the long haul. The investments you make now can help your business keep up with the times — and put you in a profitable position in the years ahead.