Point-of-sale (POS) systems are the nerve center for profitable retail businesses today. Modern POS systems connect sales data with pricing, inventory and operational data, giving you accurate, real-time information on business performance. With POS system insights, you can respond quickly to opportunities and problems.
What is a POS system?
A POS system is the combination of hardware and software for conducting transactions. It has replaced the cash register at the point of sale. Ringing up transactions, however, is just the beginning. Systems today go well beyond the cash register.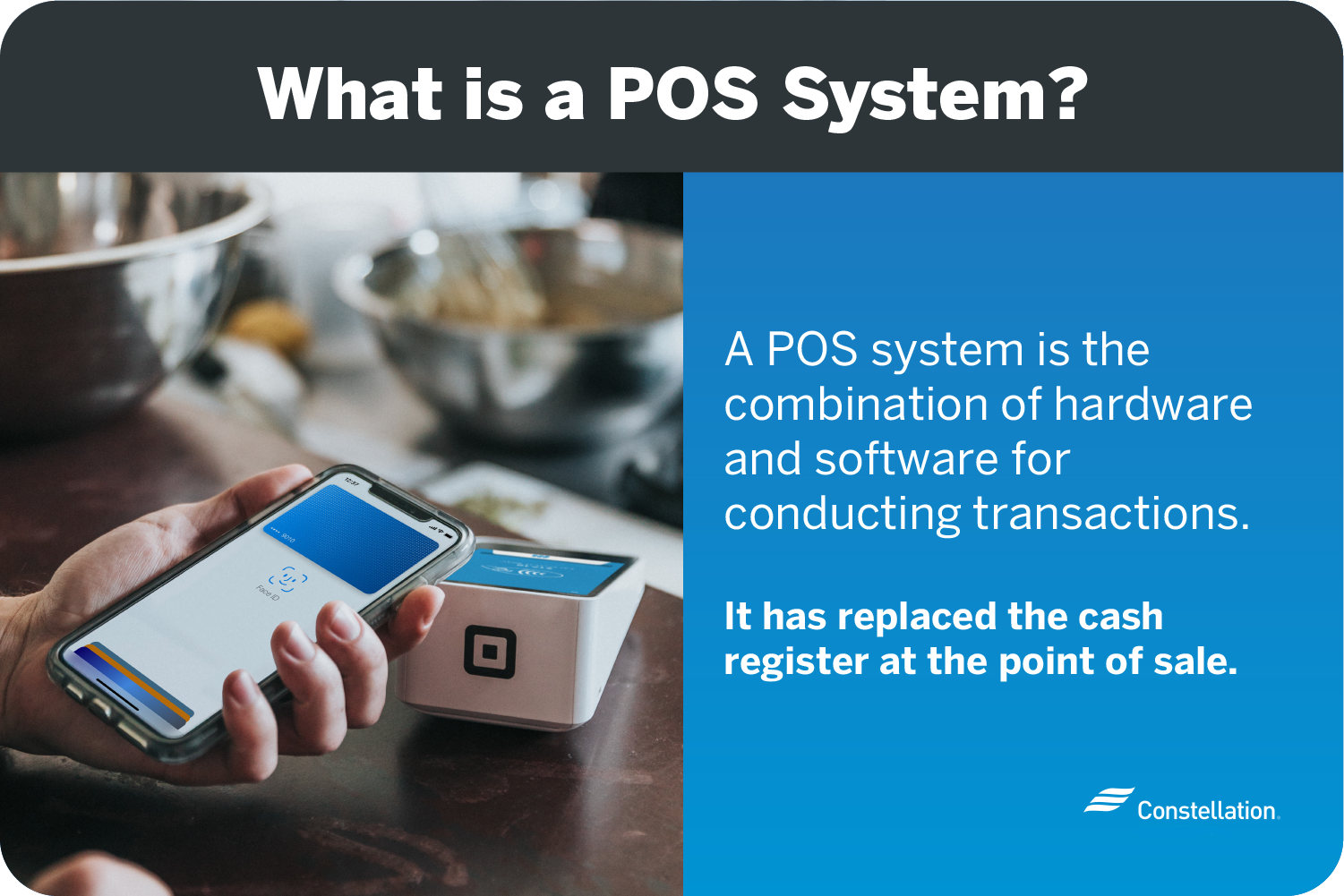 They give you the ability to track sales, manage pricing and promotions, forecast volume, synchronize inventory and plan work schedules for staff. Different POS systems connect with customer management systems, as well, for a seamless way to manage your business.
How to select an energy-efficient POS system
The right POS system can go a long way toward helping you successfully run your business. It will not only improve sales tracking, forecasting and customer relations but also save energy. Here are the key considerations for evaluating energy-efficient POS systems:
Opt for a solid state drive. New SSD technology is fast replacing the old-fashioned spinning disks. They're lighter, more durable and fast. With fewer moving parts, they also run cooler and use less energy.
Select fanless models. Cooler-running drives eliminate the need for a fan because there's less risk of your CPU overheating. Fanless models cut dust and noise. They also have the advantage of consuming much less  energy without a fan to power.
Look for models that use passive cooling. All systems produce some heat, much of which can now be addressed through passive cooling. Systems are built with internal air flow in mind and incorporate "heat sink" attachments made of conductive metal that's shaped to dissipate heat without using electricity.
Check for sleep modes. Look for a system that can automatically enter into sleep mode, powering down to use as little energy as possible when not in use.
Choose energy-efficient monitors. New monitors are designed to be efficient when active and to use very low power in sleep mode. Many have brightness adjustments that can further lower power consumption to stop wasting energy.
Look for ENERGY STAR®. The EPA and U.S. Department of Energy have jointly specified standards for ENERGY STAR® ratings for POS equipment. This certification is your assurance that systems are independently tested and rated.
Which industries would benefit from a POS system?
A point-of-sale system can provide real value to any business that handles transactions in regular high volume. POS systems for retail businesses, restaurateurs and service businesses like dry cleaners, car washes and even plumbers and handymen can provide a sizable benefit. With prices falling and options growing, POS systems make sense for more and more businesses.
What do you need to get started?
POS systems come ready to use right out of the box. The days where systems integrators had to hook up complex machinery are long gone. Different POS systems offer choices for add-on features and functionality. Still, even these are easy to set up without technical help.
The advantages of POS systems
Beyond the obvious advantages of efficiency, speed and accuracy, additional benefits of POS systems for restaurants, retailers, service businesses and more include the following:
They're compatible with EMV technology. You can accept chip cards that offer that extra layer of security to your customers.
You get security features. POS systems have built-in safeguards to protect customer information from data thieves and can link to a locking cash drawer.
Your business can track daily sales. This is perhaps the biggest upside. After all, what is a POS system good for if not for collecting and organizing data. With them, you can track sales in real time and output data to your accounting and analytic software.
Tipping is emphasized. Many systems offer round-it-up automatic tipping or make leaving a tip a prominent option — both increase your revenue.
They're convenient. Remove the clutter of paper receipts and the need to constantly search for a pen for signatures.
The disadvantages of POS systems
POS systems do have several disadvantages that could be a problem, depending on your resources and location.
They require a power source. Paper-and-pen bookkeeping takes no electricity. Mechanical cash registers don't need a power cord. Today's systems require a battery or a wall plug for the power they need to function. Keeping a credit card imprinter on hand ensures you can still process transactions, no matter what.
Investment may be expensive. This technology costs money, even for very rudimentary options. All the bells and whistles that might come with POS systems for retail giants, for example, can be prohibitively expensive.
They may be dependent on internet access. Many different POS systems operate in the cloud or on mobile devices. They're dependent on access to the internet. Your ability to process transactions can grind to a halt if you lose your connection.
Should you choose a mobile POS system?
Mobile POS systems are gaining in popularity. Their customer interface is a tablet or phone, not a cash register. They are ideal for processing transactions tableside, in the aisles or out in the field.
How to select an energy-efficient mobile POS system
Mobile POS systems are designed to run on your mobile phones and tablets. Energy efficiency depends in large part on how well your device uses power. Energy-saving settings help. Good systems have a bridge that allows your system to stay powered on when switching out a battery pack.
Which industries would benefit from a mobile POS system?
Businesses and industries that benefit the most from a mobile POS system are those that can enhance the customer experience by not being tethered to a cash register. You can meet and serve customers in your store's aisles, tableside (POS systems for restaurants) and at a private residence (for home service workers, like plumbers or HVAC technicians). The convenience and speed of such transactions enhance the customer experience.
What do you need to get started?
The ease of use and convenience of mobile POS systems extends to setting them up. Most offer a card reader you simply plug directly into your phone. You'll need to set up your account, link to a bank and key in your inventory and price lists. Then you're ready to go.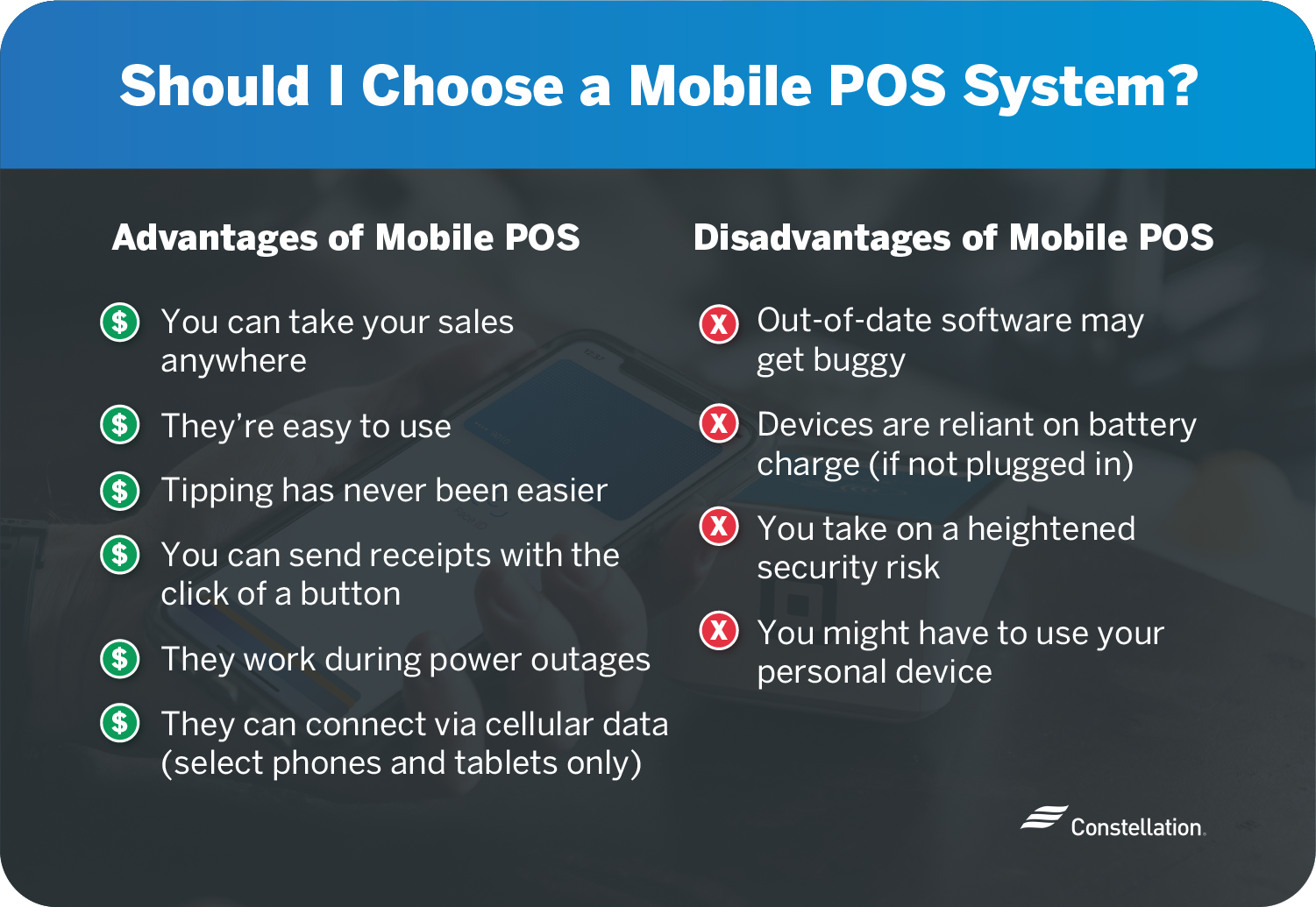 The advantages of using a mobile POS system
A superior customer experience isn't the only benefit of a mobile POS system.
You can take your sales anywhere. Transactions happen anywhere, without customers having to wait in line to check out. Your customers can buy on the spot, making mobile POS systems for retail businesses very appealing.
They're easy to use. With nearly no setup, you're up and running in minutes. Just follow the easy instructions to install the software.
Tipping has never been easier. Asking for a tip is a seamless part of the transaction, increasing profit with almost no effort.
You can send receipts with the click of a button. No more paper clutter. And if a customer has lost a receipt, you can retrieve it for them.
Mobile POS systems work during power outages. If the grid goes down, you can still rack up sales.
They can connect via cellular data (select phones and tablets only). You don't need to connect to a router to complete transactions. Many systems can also switch from Wi-Fi to the internet. If you have a signal, you're in business.
The disadvantages of using a mobile POS system
Despite many advantages, mobile POS systems have drawbacks.
Out-of-date software may get buggy. If you don't stay on top of updating your software, you could experience slowdowns, glitches and malfunctions.
Devices are reliant on battery charge (if not plugged in). If you run out of battery power, you're out of business until you can charge. A backup battery or mobile charger is a must.
You take on a heightened security risk. Mobile devices are especially vulnerable to cybercriminals, making your mobile POS system a rich target. Hacking is only part of the risk. Mobile devices are easily lost or stolen.
You might have to use your personal device. While some mobile POS systems come with dedicated devices, others run off your own personal device, which can be inconvenient.
What about automated POS systems?
Devices that empower customers to place orders themselves — directly entering information into a POS system — are gaining in popularity. For instance, different POS systems for restaurants allow patrons to read online menus, make their choices and note customizations without having to interact with a waiter.
The system sends a clear and complete order to the kitchen. In stores, shoppers can walk your aisles and ring up their purchases as they shop. While such systems are initially expensive, they save on labor costs and free your staff for other profitable work.
Money and energy-saving POS systems make collecting and using business data easy. With accurate knowledge of how your business is performing, you can make the necessary adjustments and take advantage of opportunities that lead to success.