In the United States, a lot of change has followed in the wake of the new coronavirus. How people work, shop, travel, go to school — practically every aspect of our lives has been affected.
Depending on where you're located, you may have already adopted a slate of small-business workplace strategies for coronavirus safety. Whether you want to fine-tune your current policies or maybe completely rethink your operation, embracing change can keep your business competitive and running smoothly.
What your small business may look like with CDC guidance during the COVID-19 pandemic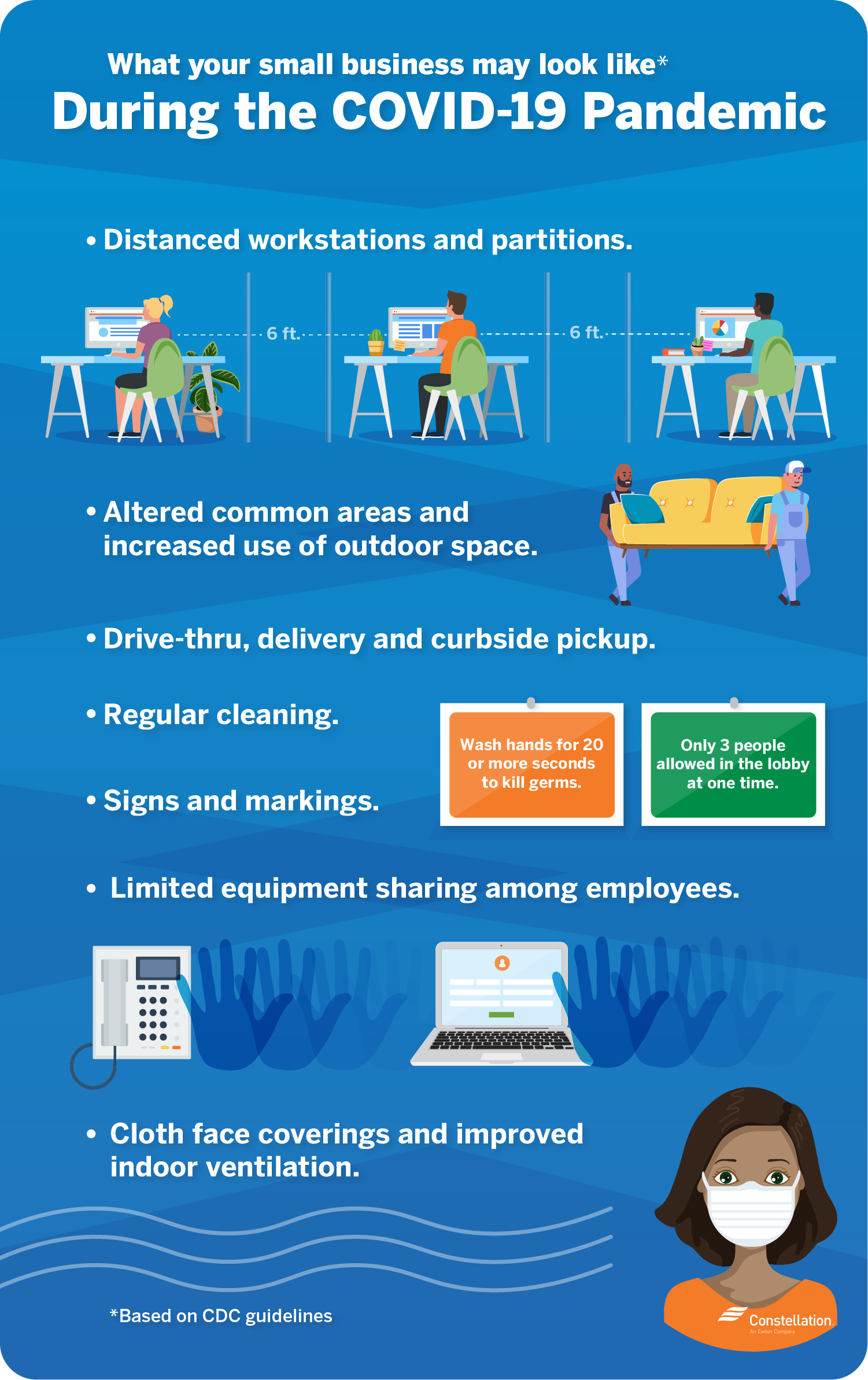 The Centers for Disease Control and Prevention and other government agencies have issued several suggested guidelines for small businesses on how to operate during the COVID-19 pandemic. States and localities also have their own suggestions and rules. Importantly, though, you'll want to gauge what would make your customers and employees feel comfortable in your place of business.
If possible, you may want to adopt any or all of these small-business workplace strategies during the coronavirus outbreak, according to the CDC:
Distanced workstations. When at all possible, the CDC recommends increased physical distance — at least 6 feet — between people. You can space desks or workstations at that distance.
Partitions. Another way to limit contact, as per the CDC, is to use barriers to keep customers and employees from coming too close.
Signs and markings. One way to help customers with social distancing is by placing tape or decals on the floor at 6-foot intervals. Signs hung near the entrance can also serve as a reminder.
Regular cleaning. Washing and disinfecting frequently touched objects, like doorknobs, handrails or the register area, is recommended by the CDC as well.
Cloth face coverings. If appropriate, the CDC recommends that employees wear cloth face coverings to protect coworkers and customers from infection by air droplets. You may also decide to ask customers to wear face coverings, according to government guidance, especially in places where social distancing is difficult or impossible to maintain.
Altered common areas. The CDC suggests closing or limiting access to areas where employees may gather and interact. You may also choose to remove seating from visitor areas or reception rooms, and space any remaining furniture apart, to improve social distancing.
Increased use of outdoor space. Especially during nicer weather, small businesses may be able to use outdoor space as a waiting area for visitors or customers. Restaurants could offer socially distanced outdoor seating. Retailers could display some of their inventory in front of their stores
Drive-thru service. One way the government recommends that small businesses increase distance between people is by relying on drive-thru service, where applicable.
Delivery and curbside pickup. Restaurants, hardware stores, retailers and more can offer options to customers for getting their products that don't involve personal contact.
Limited equipment sharing. The CDC suggests not using other employees' phones, computers, workstations or any other work tools if possible. If you do have to share, the agency recommends cleaning and disinfecting before and after use.
Improved ventilation. Indoor air quality may affect transmission of the coronavirus. If possible, the CDC recommends that businesses improve their ventilation system or, in some areas, even open windows.
Managing your small business in the time of COVID-19
No matter how much the current economy has affected your small business, management in the age of COVID-19 will not be the same as it was before. Your employees may be nervous. Or they may have questions about their jobs or whether they'll be safe from infection. They may also be facing health or childcare challenges at home. Your workers will come to you for answers.
Your employees may need to work differently during the coronavirus outbreak
The pandemic and the shutdowns it caused around the country have led to many COVID-19 workforce changes for small businesses. Owners, in some cases, have altered how and when employees work, including the following:
Working from home. While not possible for all small-business employees, administrative staff and those who can operate digitally have been able to work remotely from home. In response, employers have been challenged to improve communication and connectivity as well as ensure productivity. Additionally, small-business owners have had to work with their employees around issues like home-schooling and caregiving. An advantage of this workforce strategy is that your workplace will use less energy if your staff is working remotely because you won't have to run lights and equipment or regulate the temperature.
Staggered shifts. Your small business may not be able to accommodate social distancing with a full staff. In that case, you may decide to schedule workers in staggered shifts, or have employees work alternating days. This means more planning by employers and greater communication about employee availability. If you are working the same hours over a longer period of time, though, your business hours may cause you to consume much more energy.
Flexible hours. Another option for small-business owners who choose to limit the number of employees in an enclosed space is to think outside the 9-to-5 box. If possible, you could schedule employees to work much later or earlier in the day than they normally might. Or if they normally only work Monday to Friday, they could shift work hours to the weekend instead. Again, planning and communication is key. And, as with staggered shifts, changing your business hours can have an impact on your small business's energy use. If you look into what times are most and least profitable, you can better choose when to schedule your employees' work hours.
Sick leave. The CDC recommends that small-business owners encourage their employees to stay home if they show COVID-19 symptoms. The CDC recommends steps for employees to take if they think they're sick, and suggests that they isolate at home until certain conditions are met.
Emphasizing energy savings with staff
Cutting energy costs will be one of your best small-business workforce strategies as the coronavirus continues to affect the economy. Luckily, there are several ways to cut energy use in your small business.
You can start by looking for energy waste. Make sure your staff is turning off lights when they leave a room. Turn off and unplug equipment that isn't being used. Set your computers to go to sleep when not in use during the workday and shut them down at the end of the day. Find ways to use less paper, like printing on both sides of the sheet or reusing paper by printing on the back side of old documents. You may want to look for ways for your small business to go paperless.
Is your small business's equipment using too much energy? If you haven't already, consider swapping out any traditional light bulbs in your workplace for LED or CFL bulbs, which use much less energy. If you have a choice between a laptop or a desktop computer, choose the laptop; they're much more energy efficient. And if you need to purchase equipment, look for the ENERGY STAR® label for guaranteed energy savings for your small business.
If you're interested in improving your small-business's energy efficiency but your cash flow is limited right now, you may be in luck. Your small business may qualify for an energy efficiency financing program.
Bringing new employees up to speed as your workplace adapts its coronavirus strategy
As government shutdown restrictions ease, your small business may need to add to your workforce. Make sure all new safety or work policies are clearly communicated to your new employee(s). If you're emphasizing energy savings, go over best practices, like turning off lights and equipment or what the best thermostat settings are. And it's wise to cross-train your new employee to do multiple jobs, if possible. Doing so can keep your small business running smoothly even when you've got employees out.
Don't forget your customers
If you alter your operating hours,  your customers will need to know if and when you're open. You'll also want to explain what you're doing to ensure safety (such as cleaning or mask wearing) and any new policies you have (like curbside pickup, delivery or online options).
Preserving the income for your small business is vital. Now is the time to get creative about engaging your customers. It's not just about now; it's an investment in your business's future.
The COVID-19 pandemic has put several new pressures on employers. In response, you may decide to reinvent your small business. Or you may choose to change in smaller ways, according to your ability and comfort level. But regardless, there are many small-business workplace strategies to meet the coronavirus moment we're in. If you haven't applied for a PPP loan yet, for instance, you may still be able to apply — and possibly with greater flexibility in the terms. With some planning and perseverance, you can rise to today's challenge and continue to thrive into the future.