The benefits of cloud computing are numerous, making a move to the cloud one of the small-business technology trends in 2019 worth your consideration. The advantages of cloud computing, once accessible only to large companies, are now within reach of even the smallest firms. Cloud service providers offer affordable, customized, near turnkey options for businesses of every size.
You could argue that small businesses benefit from cloud computing the most. Nevertheless, many factors come into play when a company weighs the decision of an on-premise vs. a cloud server. Here, we'll explain what the cloud is, the pros and cons of cloud computing and tips for moving a business to the cloud.
Why you should migrate your business to the cloud
Cloud computing — using off-premise third-party servers — is a way for companies to rent computing power as needed to cut costs, increase productivity, get on-demand flexibility and take advantage of the paperless business trend. Companies use cloud storage as a secure repository for data and cloud computing as a productivity booster. After weighing a dedicated server vs. the cloud, some companies are moving everything to the cloud, while others are using a hybrid approach, opting for some combination of a local server and cloud computing.
What is the difference between a dedicated server and a cloud server?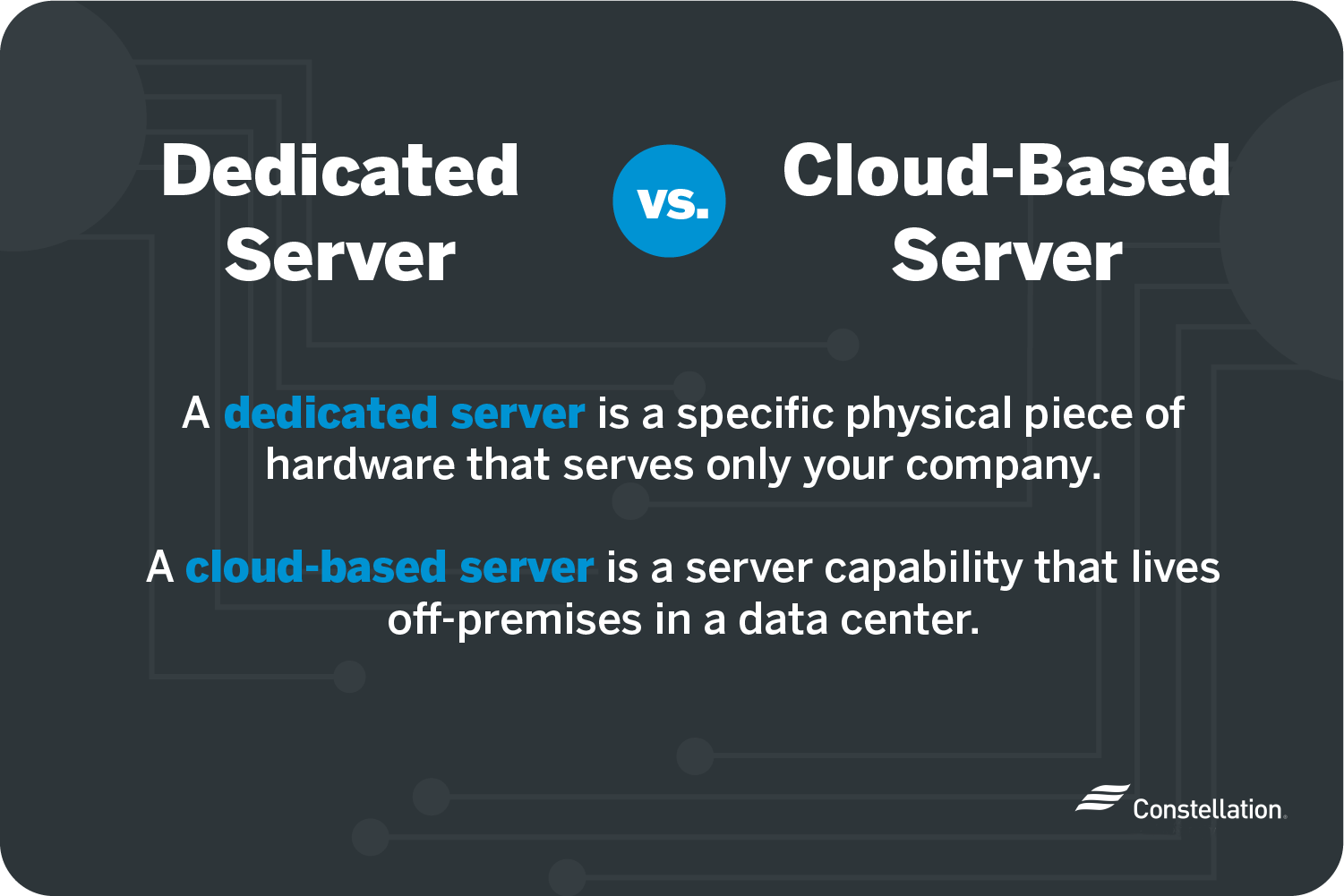 A dedicated server is a specific physical piece of hardware that serves only your company. A cloud server is an off-premise server capability located in a data center. Cloud servers can scale up or down based on your needs.
How do small businesses benefit from cloud computing and storage?
The advantages of cloud computing for small businesses include expanded data storage as well as more accessible operations and applications. Moving to the cloud creates cost-effective opportunities to start using smart small-business technology with less impact on staff and resources.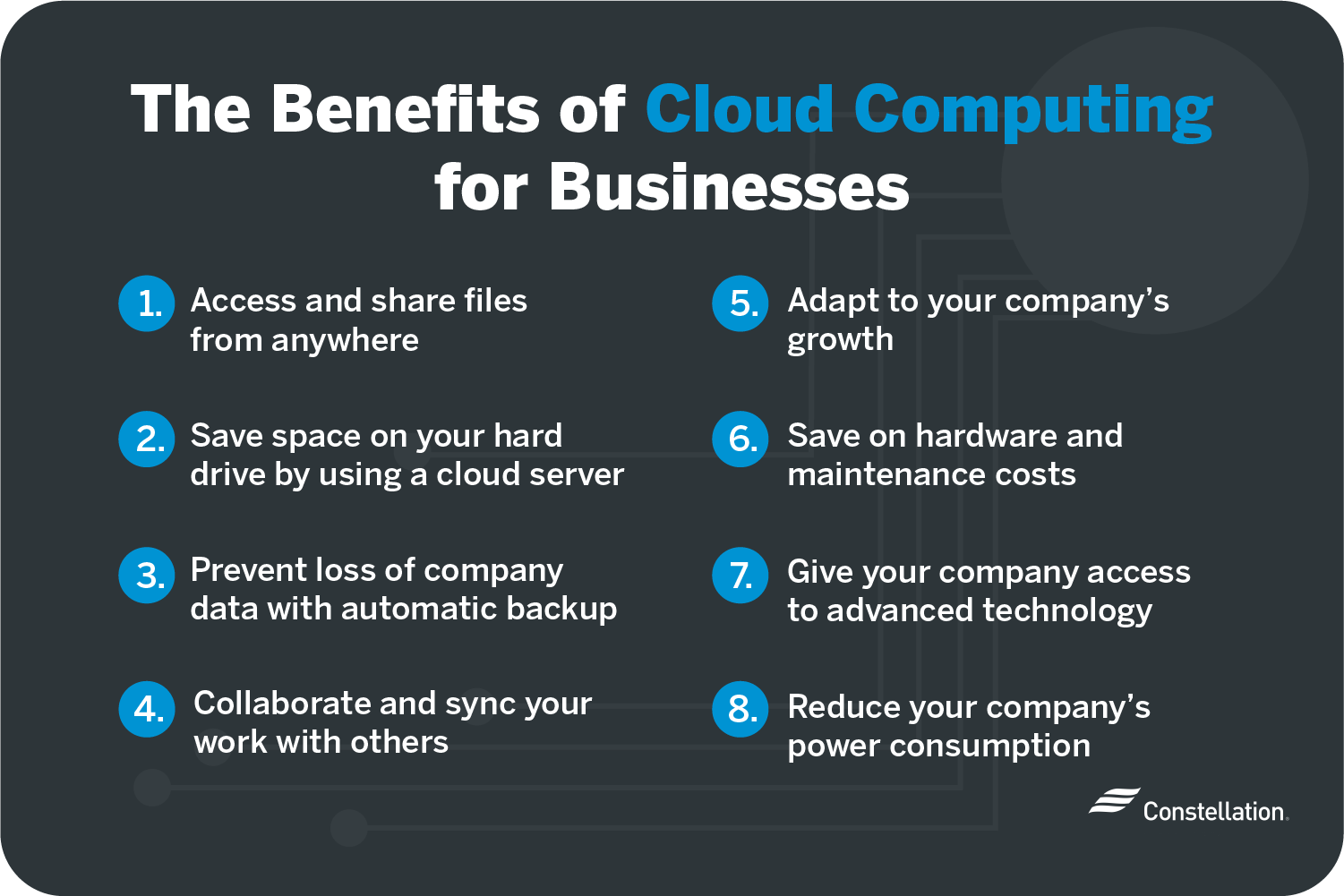 1. Access and share files from anywhere
Small businesses need flexibility in their IT infrastructure — one of the primary advantages of cloud computing. Your staff members can work from home. Employees in the field can be just as connected as those in the office. Work with freelancers across the country as easily as across the room. The cloud lets you control access to data and applications, to anyone anywhere on any device.
2. Save space on your hard drive by using a cloud server.
Managing disk space on your dedicated server can be a headache. Files and applications are growing in size and complexity, especially if you have image or video files. A server at near capacity is not very efficient. You either have to take the time to figure out which files to delete or you need to buy more machines to add storage. Storage capacity is a major factor in the choice of on-premise vs. cloud servers. With cloud computing and cloud storage, your capacity grows as your needs grow.
3. Prevent loss of company data with automatic backup
Loss of data can be devastating. Scheduling, performing and quality checking is a burden on resources. Backups are prone to errors and omissions, and backup media (such as CDs, auxiliary drives or other servers) are prone to failure. If you don't store your backups off-premise, you're vulnerable to localized disasters. Backups are one of the major benefits of cloud computing. On the cloud, they are frequent, automated and done remotely. If there's a fire or hurricane at one data center, your business information is secure at another data center. And when it comes to small-business security, cloud data centers give you state-of-the-art enterprise grade protection. Best of all, restoring your data and systems is fast and easy.
4. Collaborate and sync your work with others
When considering the cloud vs. on-premise servers, think about how your staff works. Cloud computing enables real-time co-editing and collaboration without emailing big files or struggling with version control and synchronizing changes. One of the advantages of cloud computing is that nothing is ever lost or destroyed. You can always track back to earlier versions.
5. Adapt to your company's growth
A cloud computing benefit is that your IT infrastructure grows and contracts with your needs. If you have seasonal spikes or unexpected events that temporarily increase demand for capacity, the cloud spontaneously accommodates them. Cloud computing gives you the ability to quickly and easily adapt to changing situations and changing fortunes.
6. Save on hardware and maintenance costs
Hardware is expensive to buy, install, integrate and load with applications. Your infrastructure has to handle your busiest times but can sit idle during slack times. Equipment breaks and becomes obsolete. And what do you do with your old equipment? You can't just throw it away because it's a security risk and it has to be done in an environmentally responsible way. Add in the costs of staff, space, applications and energy use. The cloud replaces these costs with a transparent and predictable budget item. You may even benefit on your taxes by moving a capital expense to an operating expense.
7. Give your company access to advanced technology
Your company can enjoy the latest high-speed servers and cutting-edge cybersecurity by moving to the cloud. You can rent high-powered software and ensure your applications are always the most recent version instead of buying software and paying for regular upgrades.
8. Reduce your company's power consumption
In weighing the pros and cons of cloud computing, consider energy use. In addition to the power consumption of the servers themselves, you have to cool your server room and light the facilities. Those savings are a huge difference between a cloud server and a dedicated server.
Tips for adapting your business to the cloud
The benefits of cloud computing are compelling and create the opportunity for small-business technology upgrades that are affordable and accessible. Still, shifting to the cloud can be disruptive, affecting operations, staff and even customers. You will want to align on objectives and carefully plan for a smooth and efficient transition.
Involve your whole team
Obviously, your IT staff is going to be doing much of the heavy lifting. But your whole company relies on the IT infrastructure. Involving all stakeholders in planning a move makes sure that important business considerations are factored into every step.
Understand what services, applications or processes you're moving to the cloud
Take the time to do a complete audit of the current state of your existing IT infrastructure. What equipment are you using today? What applications are critical, and what resources do they take? How does your team work and collaborate now? What do they want for the future? What processes are now handled by your current systems?
Consider what data you'll want to store on a cloud server
Beyond applications and processes, look at what data your company stores. Start with what's on servers, but then consider what valuable information might reside on individual desktop and laptop computers. Moving to the cloud is your opportunity to wrap your hands around all the information that's important to your company.
Make a written cloud transition plan
Decide what data and applications you're going to move to the cloud first. The flexibility of the cloud means that you can take small steps to reduce the risks and the burden on your company. It isn't an all-or-nothing decision. Decide what work steps are involved, the resources needed and the timing. Work with your cloud provider to make sure you're considering everything and to use their experience to make things go smoothly. A plan gives you predictability and makes your organization and provider accountable.
Have a backup plan in case of an internet outage
Access to the cloud depends on the internet. Because you can lose internet service without warning and due to circumstances beyond your control, you need a backup plan. First consider the cost of downtime. Multiply the number of your staff by hourly wage by the number of hours you're down. Consider a staff of 10 with an average hourly wage of $30, unable to work for five hours. Your lost productivity would total $1,500 for a five-hour outage. Also, consider the opportunity cost of not being able to serve customers. That gives you a budget for what you should spend on finding a backup internet provider. You might select a second cable or fiber provider, or consider satellite or wireless options.
Level the playing field with cloud computing
Cloud computing puts big-company capabilities and capacity within reach, even with small-company resources and budgets. You can rely on state-of-the-art data centers with highly trained expert staff that keep you up and running and up to date. The competitive advantages of cloud computing, including the ease of moving data and applications, can make it an opportunity that's too big to ignore.