The best corporate gifts help your company deepen relationships with clients, vendors and employees. You can use them to show appreciation, as an incentive and to build morale. Done right, you'll make a strong, positive and memorable impression. Among the interesting trends are unique corporate gifts that save energy and connect to smart homes and technology.
How to give smart, unusual corporate gifts that save time and energy
Finding a meaningful gift that will have a lasting impact isn't easy. You'll want to choose an item that connects to your company and keeps your message top of mind. Smart tech is a unique corporate gift that can improve the lives of your employees, vendors and clients — and tie in to energy-saving strategies. And many tech corporate gift ideas can be surprisingly affordable.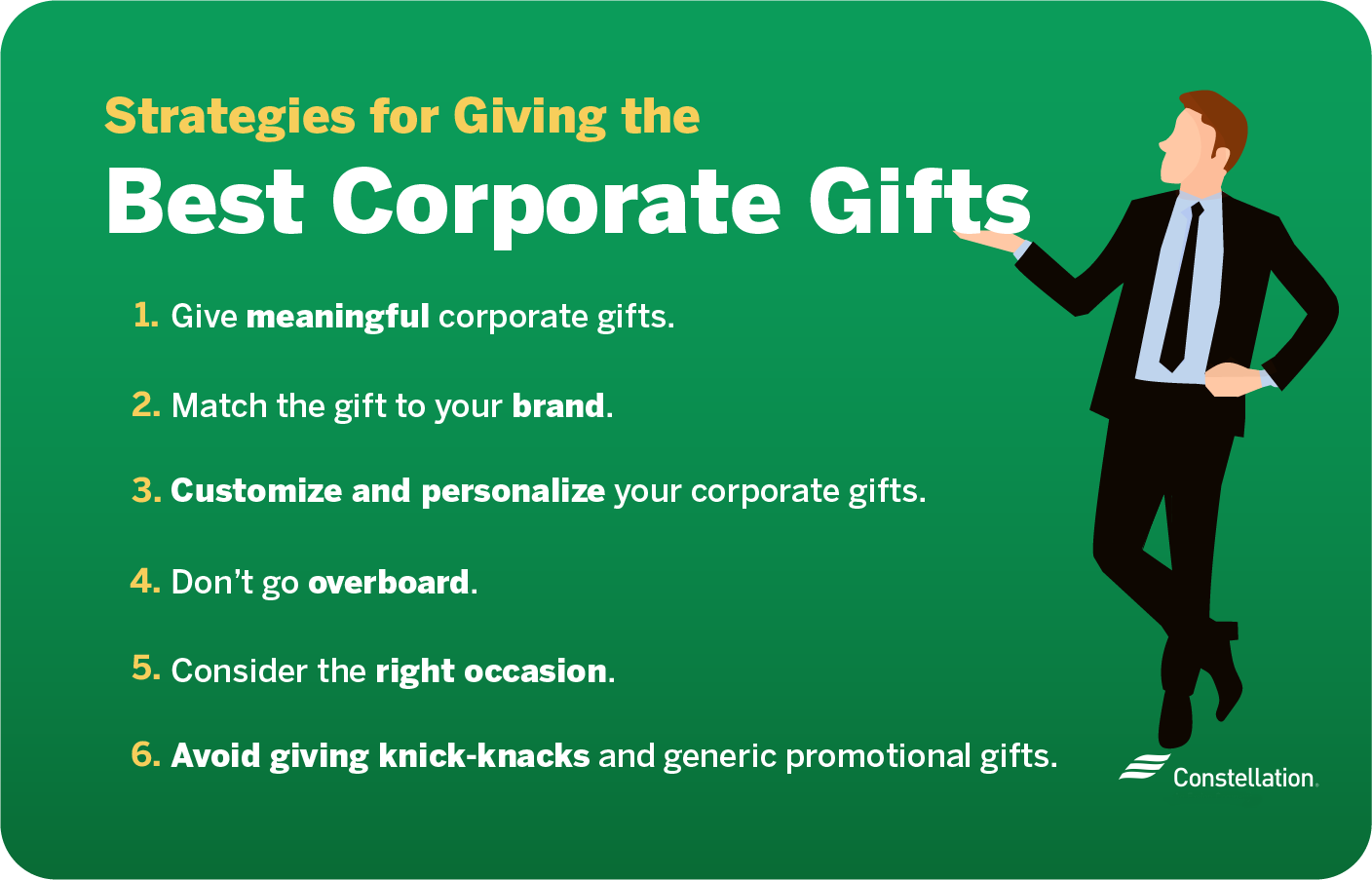 Give meaningful corporate gifts. Experts always talk about how important it is that your gift be meaningful, but what does meaningful mean? Start with the message you want to convey. What's the one takeaway you want your recipient to retain? Knowing what that is will help you sort through your options and come up with unique corporate gift ideas.
Match the gift to your brand. Your gift says a lot about your brand and your company, so it's important that your gift matches what you're about. A technology company may find that a smart electronic device helps them convey their forward-thinking and smart solutions.
Customize and personalize your corporate gifts. Personalization can make your gift more memorable and valued. It takes more than engraving a name on a generic item. A better approach is to match the gift to something you know about the recipient. Thoughtless giving can lead to blunders such as giving a set of steak knives to a vegetarian.
Don't go overboard. If you give a gift that's very expensive, you could end up making your recipient feel uncomfortable. An employee could feel bought, and a client could feel bribed.
Consider the right occasion. Just as important as the gift itself is the occasion for the gift. Some companies have stopped holiday giving because even the best corporate gift ideas can get lost in the hustle and bustle of the season. Consider a meaningful moment like the anniversary of an employee's hiring or the signing of a client.
Avoid giving knickknacks and generic promotional gifts. Gifts that promote your company are as welcome as advertising, meaning not so much. They're about you, not the recipient. Generic gifts say you don't care enough to put thought into giving. Rather than knickknacks that just become clutter, focus on unique gifts for employees and customized gifts for clients and partners.
Corporate gifts your employees will love
The right gift is a great way of showing that you value the contribution of your team members. These unique corporate gifts that save energy are a thoughtful way to say thank you and enhance lifestyles.
1. Give the gift of voice assistant speakers
Estimated cost: $$
A voice assistant speaker makes life easier for your staff members, giving them control that enhances productivity at home. Voice assistant smart speakers are hardworking devices that manage media, answer questions and control smart devices around the home through an easy, energy-efficient smart home app.
These timesaving devices offer more than convenience, optimizing comfort and energy use. New devices are dropping in price as they grow in popularity.
2. Help out your co-workers with portable chargers/power banks
Estimated cost: $
Low batteries are a common nuisance, so portable chargers are always appreciated, especially by frequent travelers. They come in endless variations, from wall plug-in to car lighter–powered, and some even use solar power for genuine energy efficiency.  Keeping phones properly charged is a battery life booster. They're easy to customize with a company logo and recipient name.
3. Encourage good health with fitness trackers
Estimated cost: $ to $$
Fitness trackers are the gift of good health. By recording eating, activity and sleep, they help your employees make mindful choices and track progress, individually or as a group.
4. Turn up the tunes with wireless speakers
Estimated cost: $ to $$$
Listen to music, talk radio and audio books anywhere without wires. Wireless speakers come in hundreds of shapes, sizes and materials, from engraved wood to futuristic chrome shapes, with choices that fit your brand.
Because these devices are wireless, they can run for hours in your employees' homes without running up power use. Most also seamlessly integrate with smart technology controls.
5. Make life simple with branded flash drives
Estimated cost: $ to $$$
A plug-in USB storage drive is a handy gift, especially for the frequent travelers on your staff. These devices easily lend themselves to customization and branding, and come in an array of price points. Look for options that include built-in security, from password protection to encryption.
6. Save time with smart reusable notebooks
Estimated cost: $ to $$$
These devices sync handwritten notes with phones and computers for convenience and enhanced productivity — with the benefit of reducing paper waste. Choose from very simple to elegantly designed, feature-rich options that work for employees, clients or vendors.
7. Make taking notes easy with smart reusable stickers
Estimated cost: $
Smart stickers are a nifty technology that digitizes whiteboard notes so they can be uploaded to the cloud and shared with team members.
8. Improve the air with wireless essential oil diffusers and humidifiers
Estimated cost: $ to $$
Oil diffusers and humidifiers are wellness gifts that can create tranquility and help employees breathe easier. Because they run on batteries, energy-efficient humidifiers and diffusers are an eco-friendly choice. Wireless options connect to smart systems for customized control.
9. Stay hydrated with smart water bottles
Estimated cost: $$
Smart water bottles help employees stay healthy and hydrated. They track intake and sync with fitness apps to show progress toward goals. Because they're battery-operated, they're energy efficient. With many styles to choose from, you can customize them to your brand.
10. Save energy with motion-activated toilet night lights
Estimated cost: $
Late-night trips to the bathroom can be safer — and a bit whimsical — with motion-activated toilet night lights. They're battery-operated for bathroom energy saving while creating a little fun.
11. Brighten your office with LED light indoor gardens
Estimated cost: $$
Plants improve air quality and mood. Growing an office herb garden can liven up the lunchroom. Plants can be hard to grow in dark spaces, however.
Specialized smart lighting, like LED indoor garden grow lights, are an energy-efficient, low-heat-emitting way to give plants the light they need without consuming so much power. Most are automated to turn off at night.
Live Secure and in Control
Constellation Connect protects your home.
And your peace of mind.
Start Shopping
Unique corporate gifts for your clients
These corporate gift ideas are a memorable way to promote your business and strengthen relationships with clients and partners.
1. Smart light bulbs
Estimated cost: $
Bulbs that can be controlled by a smart system are gifts that can really stand out.  They take something as everyday as a light bulb and make it extraordinary and innovative. These low-energy, long-lasting LED bulbs connect to smart systems like Constellation Connect for programmable and remote control.
Smart light bulbs can also customize room ambience and connect to home security automation systems.
2. Smart plugs
Estimated cost: $
Smart plugs and smart power strips turn anything plugged into them into a programmable device controlled through a smart home assistant like Constellation Connect.
3. 2-way wireless personal item trackers
Estimated cost: $
Say goodbye to lost keys, a misplaced wallet or a television remote that just disappeared. Clients may use these devices for tracking office property as well.
Small tags connect to important items and then to mobile devices through Bluetooth technology.
4. Energy-efficient night lights
Estimated cost: $
These low-level lights turn on when they detect movement. Lights that stay on all night can negatively affect sleep, but walking in the dark can be dangerous. These battery-operated, brandable alternatives save energy, provide safety and ensure sound sleep.
5. Branded security stamps
Estimated cost: $
This humble gadget quickly hides confidential data, using a self-inking stamp with a special pattern that obscures information on important papers. Easily branded, these devices negate the need for a shredder and make for a thoughtful corporate gift.
6. Optical drawing boards
Estimated cost: $$ to $$$
Your client can write or draw on any opaque material and import the image into a digital device. An interface with a phone or tablet captures writing and shapes on everything from sketch pads to whiteboards.
7. Rechargeable hand warmers
Estimated cost: $ to $$
In cold environments, our bodies conserve heat in our cores, sacrificing circulation to our hands. The result is mild discomfort and even loss of dexterity. An energy-efficient, rechargeable hand warmer can make a big difference on ski lifts, in cold cars and even in chilly offices from fall through winter and spring — plus they're easily branded.
The best corporate gifts benefit both the receiver and your business
When considering promotional gift ideas for business, whether customized corporate gifts for clients or personalized gifts for employees, the best gift ideas delight the recipient as much as they benefit your business.