According to the US Energy Information Administration, the average household in the United States pays around $1,340.04 for electricity every year, with small businesses paying approximately $7,856.52 in energy costs. McKinsey Global Energy and Materials reports that up to $130 billion worth of U.S. commercial and residential energy is wasted every year. That's bad news for the environment and expensive for property owners.
Fortunately, a new generation of smart-home devices and energy-saving apps now makes it possible to improve your energy efficiency, reduce waste and make your home a better place.
How do smart-home apps save energy?
Although the functionality of even the best smart-home apps varies widely, most energy-focused smart-home apps give homeowners increased control over their energy use by tracking energy expenditure, monitoring waste and alerting owners to energy-saving opportunities. These benefits have led to an explosion in popularity, with new smart-home devices rolling out every day.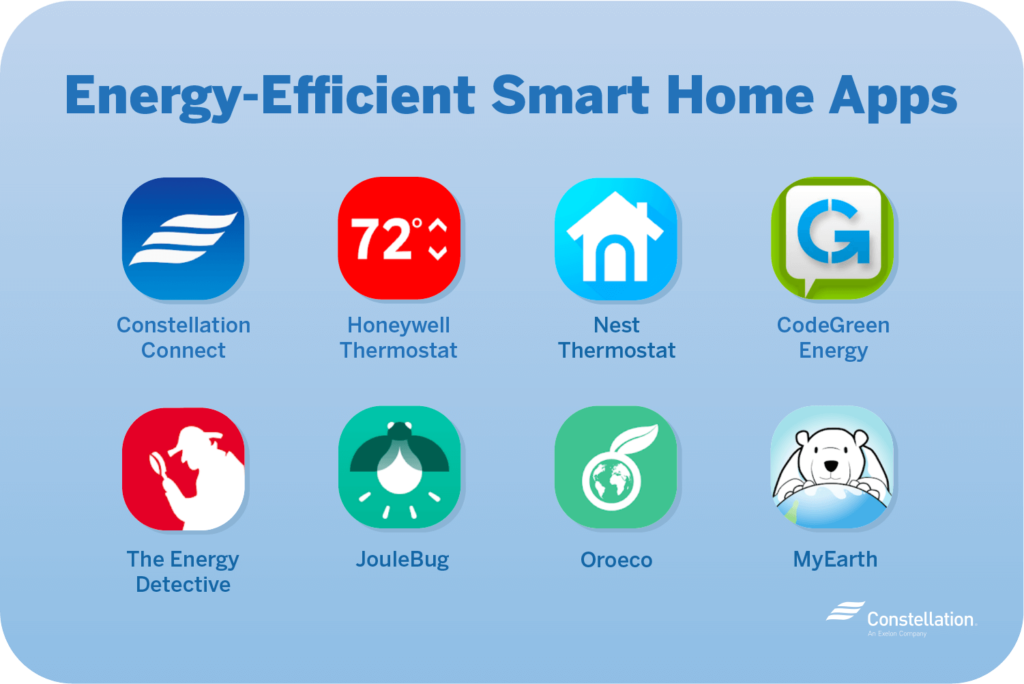 7 of the best energy-efficient mobile apps for your smart home
With so many options, it's easy to get overwhelmed. To make it simpler, here are seven of the best energy-efficient smartphone apps available today.
1. Constellation Connect
Cost: Varies depending on package
Compatible devices: Thousands of smart-home devices, including Amazon Alexa and Google Home
Constellation Connect is an easy-to-use home energy management system that interacts with smart devices, security cameras, lighting, smart locks and motion detectors to improve your energy efficiency and protect your home.
If you're looking to take control of your energy, the Constellation Connect app allows you to create a customized system with home assistants like Amazon Echo or Google Home. The system also easily connects with thousands other smart-home apps, and allows you to manage your devices from anywhere in your home via voice control.
2. Honeywell and Nest Smart Thermostat Apps
Cost: Prices vary from less than $100 to more than $400
Compatible devices: Constellation Connect, Google Assistant and Amazon Alexa
While not specifically a single app, smart thermostat apps are one of the easiest ways for homeowners to take control of their energy usage. Smart thermostats link to apps that allow you to program in temperatures for specific situations and even locations. For instance, you could instruct the thermostat to lower temperatures at times when your home is unoccupied, and increase temperatures when rooms are occupied.
Smart thermostats can also link to other smart apps through a central hub, allowing you to create "scenes" where lighting, ambient temperature and other activities are interlinked.
The best part is that you don't even have to touch the thermostat itself to make these adjustments. All you need to do is download the app for your smart device to control your thermostat from anywhere at anytime.
Popular smart thermostat apps include the Nest app and Honeywell, although you will need to purchase a smart thermostat in order for these apps to work in your home.
3. CodeGreen Energy App
Cost: Free
Compatible Devices: iOS and Android
CodeGreen Energy is one of the best free energy-efficient apps available. Using information gathered from ENERGY STAR®️ resources, the app allows users to benchmark and compare ENERGY STAR®️ scores for thousands of types of buildings. Track your carbon footprint and energy costs and receive insight for improvements.
While useful for residential properties, this app is especially helpful for small businesses that are considering relocating their operations to more energy-efficient buildings.
4. The Energy Detective (TED)
Cost: Varies based on system, with a free demo
Compatible devices: iOS, Android, PC, Amazon Alexa and Google Home
TED, short for The Energy Detective, is a real-time energy monitor. The app's hardware is installed in your home's breaker panel, where it logs energy demands by the day, hour and minute; records bill cycle demands; and sends email or text alerts as needed.
TED is easily customized and can be configured to monitor a particular device or appliance, and can be set up to monitor the electricity usage throughout your entire smart home. By using specialized monitoring software, homeowners can perform their own energy audits to study their historical energy use and identify energy-saving opportunities.
It's important to note that prices for TED may vary depending on the plan or product you choose, so be sure to research the app's different services to find the best solution for your needs.
5. JouleBug
Cost: Free
Compatible Devices: iOS and Android
If you like competition, JouleBug may be the energy efficiency app for you. JouleBug lets users track their everyday habits to earn pins, badges and points by doing good things that can reduce energy costs. The app works by linking to your utility account to monitor your energy usage and give you tips on how to save, from water-saving shower practices to energy-slashing advice for washing your clothes.
If you're concerned about a specific area of your energy use, you can even sign up for local and national challenges to compete with people within your community. And the more people who play, the more the planet benefits.
6. Oroeco
Cost: Free
Compatible Devices: iOS, Android and PC
Do you know your carbon footprint? If you don't, you're not alone. Oroeco is a fun carbon footprint calculator app that helps balance your personal values with everyday life. The app automatically tracks your climate impacts by monitoring everyday habits, from shopping and eating to transportation and energy efficiency choices. As you use the app, Oroeco uses real data to highlight where you're generating the most pollution, and offers tips for reducing your energy usage and bettering the planet.
To help motivate you in your energy efficiency quest, Oroeco even allows you to share, compete and compare with friends and family to meet the goals you care about. The app also offers virtual rewards for users who continue to strive for and meet their carbon-offsetting goals.
7. MyEarth
Cost: Free
Compatible Devices: iOS and Android
When visualizing your energy usage, it's sometimes hard to link everyday actions with direct environmental consequences. Cue MyEarth, the energy usage app that aims to make carbon units easy to visualize. Created by a university professor who is concerned with how individuals see themselves fitting into the bigger picture, the app allows users to track their energy using five categories: electricity, energy usage, recycling, travel and food.
When the user starts using the app, they are greeted by an image of a single polar bear on a shrinking iceberg. However, as you make more and more energy-saving decisions, the iceberg grows and the polar bear is happy. At the end of every week, users can see how they fared on energy efficiency, what they did well and what they need to improve on for environmental sustainability.
Bonus: Light Bulb Finder by ENERGY STAR®️
Cost: Free
Compatible Devices: All
It's no secret that your lighting choices can affect your home energy usage, especially if all your lights use old, inefficient bulbs. That's where Light Bulb Finder from ENERGY STAR®️ can help you save money in your smart home.
Light Bulb Finder helps you find energy-efficient light bulbs in your area and highlights local energy-efficiency programs to inspire and motivate you to save energy. Based on a few simple questions, the app can also create a personalized shopping list with the types of bulbs you need to replace, and offer tips on how you can use lighting to reduce your energy usage.
With so many different energy-saving apps to choose from, there's no reason why you can't make the most of your smart home! If you're looking for some inspiration, why not check out these energy-saving tips to start conserving energy today.