The holidays are a time of family and food, fond memories and glad tidings. It's easy to forget about being energy-conscious as we light up our homes and towns in celebration. But you want to spend your money on gifts, festive decorations and special meals, not high energy bills.
Here's a gift everyone can enjoy: a list of 10 holiday energy saving tips. You'll rest easier knowing that you're only using as much electricity as you need. And that means less anxiety about holiday expenses — and more visions of dancing sugarplums.
How to Save Energy with Your Holiday Decorations
Lighting is a big part of many people's holiday decorations, inside and outside the home. Product innovations are making holiday lights both safer and less power-hungry. Check out these energy-efficient Christmas decorations to avoid wasting energy during the holidays.
1. Switch to LED lights.
Using LED Christmas lights will bring your holiday power consumption way down. When it comes to energy-efficient Christmas decorations, LEDs, light-emitting diodes, are winners. These string lights don't just use 90% less electricity than regular Christmas lights; they last between 50,000 and 200,000 hours. That's less waste in landfills, since you don't have to replace them as often.
And there's a big safety bonus: LEDs emit very little heat, which reduces the risk of your Christmas tree igniting.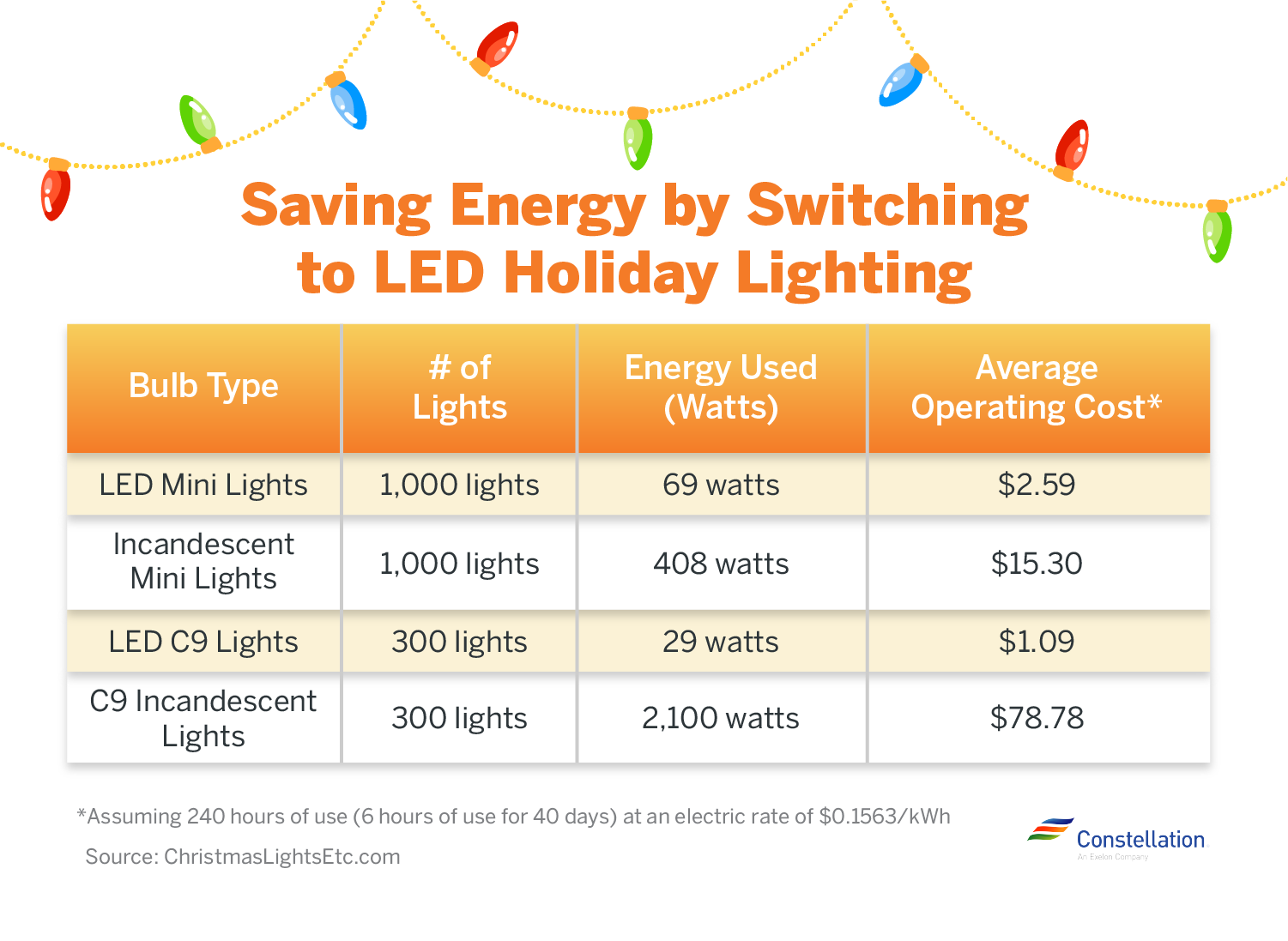 2. Choose fiber optic decorations.
Fiber optic lights are among the best tech Christmas decorations and bring a cool factor to holiday decor. The technology uses one light source that flows through fiber cable to multiple visible points of the light. That makes these energy-saving Christmas lights incredibly efficient. You can find multiple colors and innovative light effects in high-tech trees and light strings. Like LEDs, fiber optic decorations don't throw off heat, adding to their safety.
3. Use smart plugs and timers for your holiday lights.
Smart plugs transform ordinary lights into smart Christmas decorations. Remembering to turn off Christmas tree lights and exterior decorations can be a chore, especially if you have several displays and have to switch off multiple installations. A Christmas energy saving tip is to plug them into smart plugs and program the timers to switch the lights on and off at certain times. Or use your smartphone to turn them on whenever you want. It's a great way to avoid wasting energy during the holidays.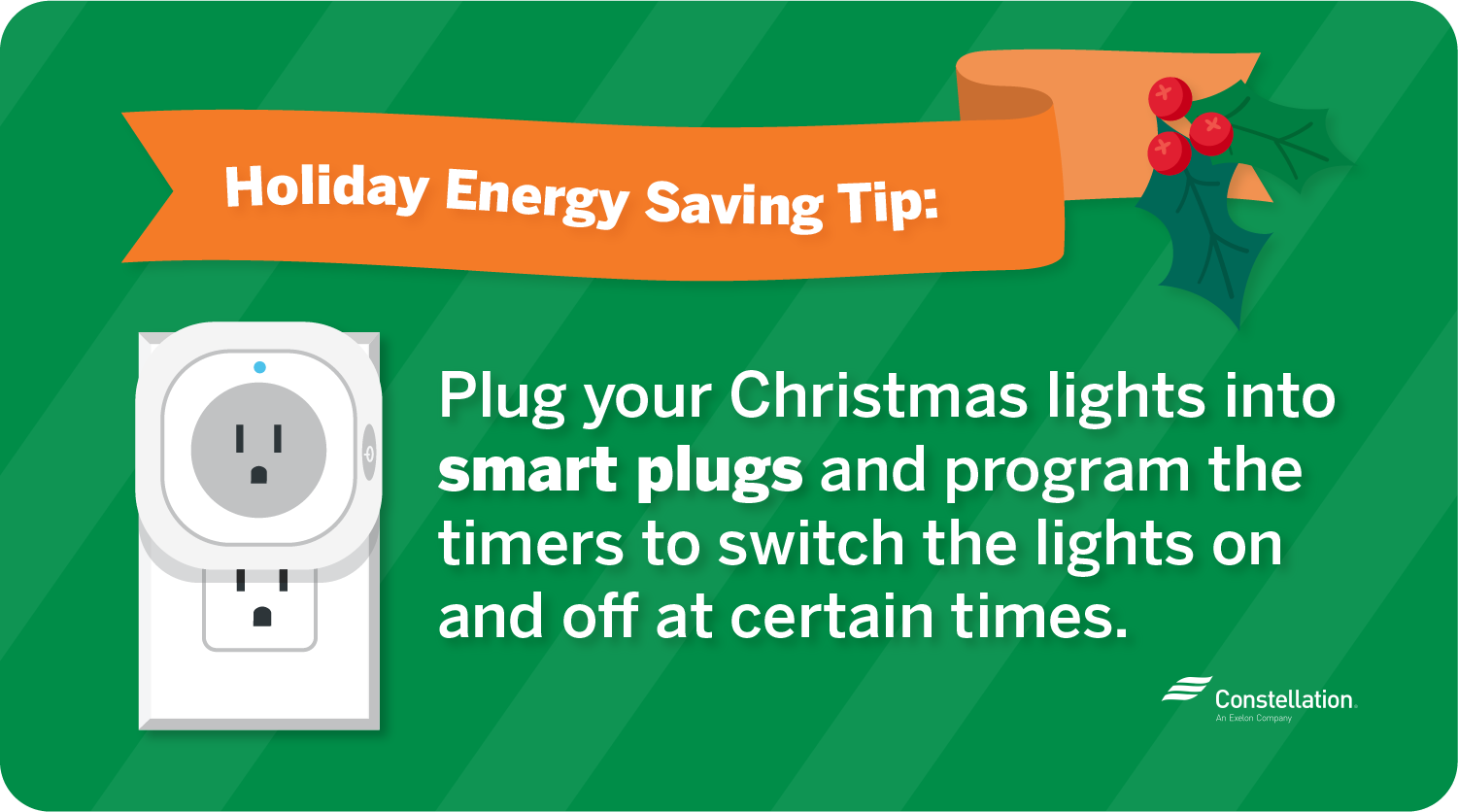 BONUS TIP: Use candles to decorate. Candles bring a warm glow to the room without using any electricity. But be sure never to burn candles when no one is around, and don't place them near flammable materials.
How to Save Energy with Your Gifts
No collection of holiday energy saving tips would be complete without considering these clever gift ideas. Your friends and family will receive two presents in one: cool technology and energy savings year-round.
4. Give the gift of smart tech.
Smart tech can save the recipient energy and money while providing control, convenience and security. Smart technology gifts aren't necessarily expensive. Smart plugs are affordable, for example. The benefits of a smart plug include providing control over energy use, the convenience of remotely controlling devices and enhancing security by creating a lived-in look to your home.
For a bit more money, a Wi-Fi-enabled thermostat is easy to install and gives your gift recipient more control over their environment and their energy bills. If you have a bigger budget, a Constellation Connect home automation system features centralized management of electrical devices and home energy use.
5. Buy gifts that use alternative energy.
Crank radios and sun-powered flashlights, phone chargers and lights are innovative gifts that don't draw power from the grid. If you live in an area that experiences frequent power outages, a generator that recharges with a solar panel would keep a loved one safe without running up the electric bill.
Gifts that let you turn down the thermostat, like sweaters, fuzzy socks and sofa blankets, save energy, too. And traditional gifts like books use no energy at all.
6. Choose ENERGY STAR® equipment and appliances.
Smart Christmas decorations aren't the only way to conserve power; you can cut energy consumption with the appliances you use, too. Buying energy-efficient water heaters, furnaces, air conditioners, washing machines and other appliances can add up to significant savings over time.
For instance, people tend to do a lot of cooking during the holidays, so you may end up running your dishwasher more. An ENERGY STAR ® dishwasher is 12% more efficient than a noncertified model. Plus, you'll save 3,870 gallons of water over its lifetime. Home entertainment also yields some great gift ideas: Televisions with an ENERGY STAR ® certification are over 25% more energy efficient than other TVs.
How to Stop Wasting Energy During the Holidays
There are smarter ways to use electricity over the holidays, like energy-efficient Christmas decorations, and then there's plain old waste. The following holiday energy saving tips will help you with some of the biggest problem areas.
7. Stop phantom energy drain while you're away.
Did you know many appliances and electronics use energy even when they're turned off? These "energy vampires" suck down energy without you knowing it. If you plan on being away more than a few days over the holiday, an easy holiday energy saving tip is to unplug appliances and other devices before you leave.
8. Bake several dishes at a time.
Your oven uses a lot of energy, especially baking holiday cookies or big holiday meals. You can do more energy-efficient cooking if you bake several things together, shortening the time your oven is on.
You will want to group things that need to cook at the same temperature. It can also help to rotate items on the rack to ensure even cooking. Besides that, resist the temptation to open the oven door to check on how things are doing. The temperature in your oven can drop as much as 25%, according to Energy.gov, every time you open the door. Your oven will have to use more energy getting the temperature back up.
And here's a stovetop tip: If you put a lid on a pot, what's inside boils faster, and your food will cook more evenly — all while using less energy.
9. Avoid preheating when possible.
While many recipes call for you to preheat your oven, it isn't always necessary. Experts at Energy.gov point out that anything that needs to be baked or roasted longer than an hour doesn't need to be put in a preheated oven. Most modern ovens get up to temperature very quickly — you don't need to run them a dozen extra minutes.
You can also cut energy use by turning the oven off 10 or 15 minutes before you expect the dish to be done. If you don't open the oven door, your oven will maintain its temperature so the rest of the cooking is accomplished without consuming energy.
One last tip: Your cookware matters. Ceramic and glass hold heat better than metal pans, so they will cook food faster with less energy.
10. Turn down the thermostat when you have guests over.
When you have a crowd of people in a room, it can heat up pretty fast. Take advantage and give your furnace a break. Lower your thermostat a degree or two at the beginning of the party. You can decrease energy use by 3% for every degree you lower the thermostat. And your guests will be more comfortable and lively in a room that isn't overheated.
BONUS TIP: Open the oven after you're done. Another way to give your furnace a break is to recycle the heat from your oven. After you're done cooking and have turned the appliance off, open the oven door and let the heat vent into the kitchen instead of venting through your roof.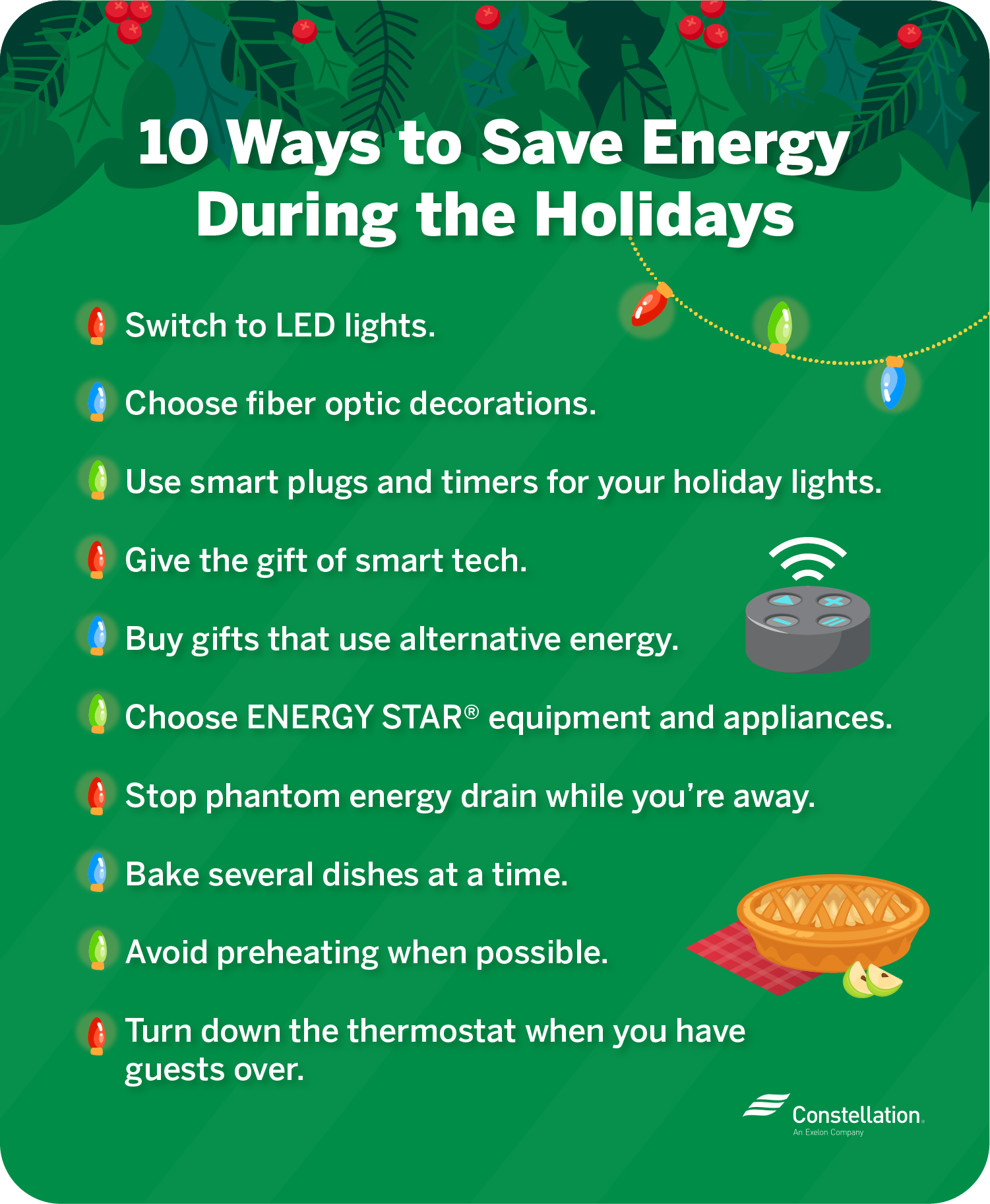 It's okay to splurge during the holidays, but you can still be smart about how you do it. With holiday energy saving tips like energy-efficient Christmas decorations, smart tech and strategies for cutting waste, you can celebrate confidently, because you'll know that you aren't needlessly running up your power bill. And that's a great gift for any homeowner.