After a day spent juggling a hectic work schedule, family duties or both, many of us would love to save time cooking weeknight meals. Who wouldn't want to have more free time with the family or just relaxing? There's a reason "quick and easy" recipes are so popular.
But did you know that there's a way to cut down on time spent in the kitchen during the week that doubles as an energy-efficient cooking method? It's called meal prepping, and it's gaining in popularity across the United States. Learn more about one of the most energy-efficient ways to cook, pick up tips for meal prepping and get a few tasty recipes that'll help you get started.
What is meal prepping?
Meal prepping is the practice of making your meals ahead of time, either individually or in batches, and refrigerating or freezing them until you're ready to eat. It's a natural solution for Americans who want to eat healthier, carve out some extra free time during the busy workweek and also save some money spent eating out or delivering in. And what's more, batch cooking and meal prepping can help you save electricity, which can lower your monthly energy bill.
Is meal prepping the most energy-efficient way to cook?
Meal prepping is one of the most energy-efficient cooking methods for a few different reasons. One way is that when you fill up your oven while cooking large batches, you're using as much of the space and heat as possible, which is more efficient. And with your food already made, you'll use the oven less the following week. You can also save electricity by cooking with appliances that are more energy-efficient than a standard oven or cooktop.
8 Meal Prepping Tips That Can Save You Time and Energy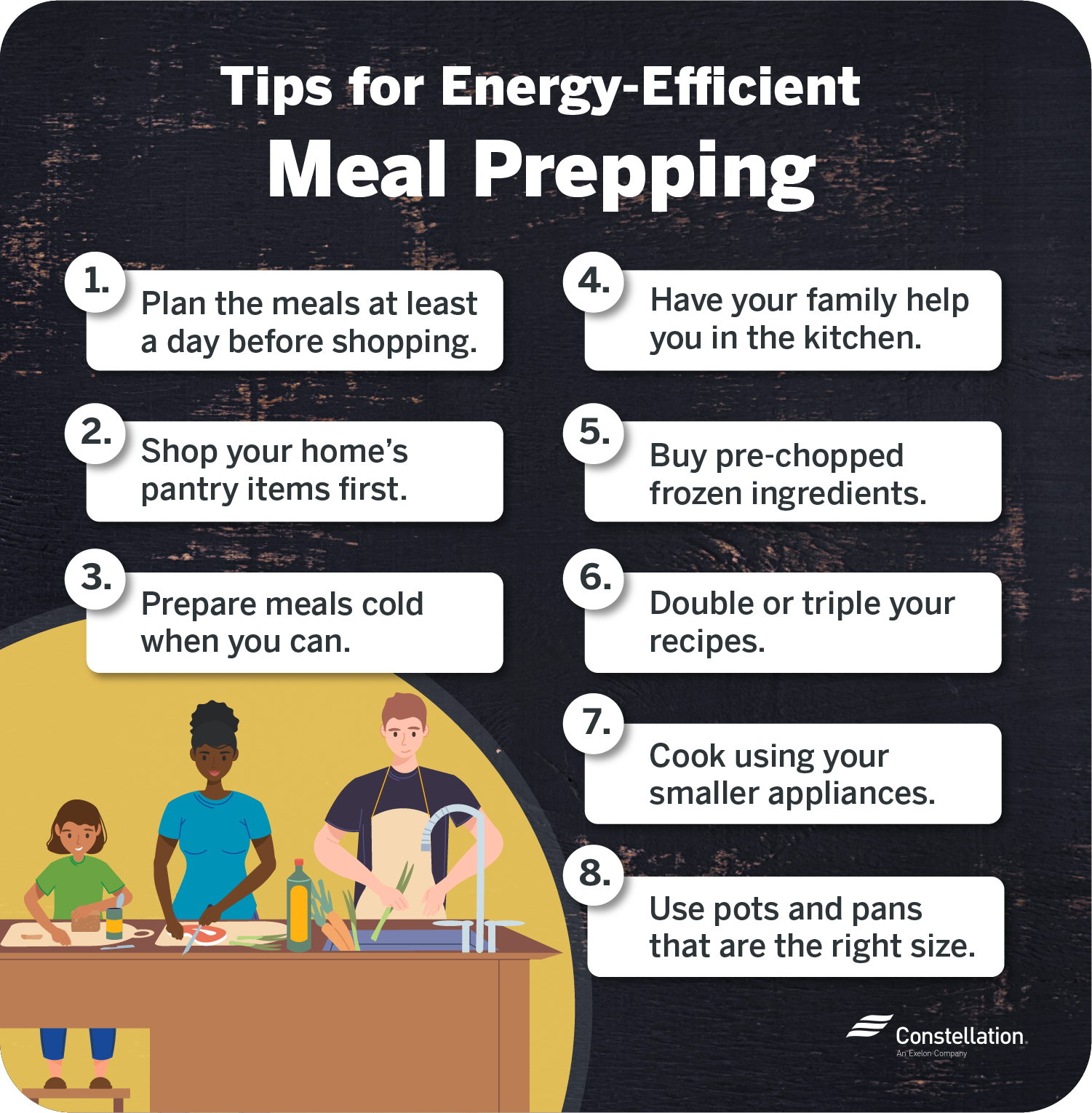 The concept of meal prepping may be simple to grasp, but the planning and work required to cook large batches of food may scare away some would-be meal preppers. Luckily, there are ways to make this energy-efficient cooking method a little easier with a few meal prepping tips:
Plan the meals at least a day before shopping. Don't plan a week's worth of meals, then go shopping and then cook it all in one day. Giving yourself enough time will reduce mistakes and stress. Remember: Meal prepping is supposed to make your life easier, not harder.
Shop your home's pantry first. This is another reason to give yourself enough time. See what you've got already before heading to the supermarket. You can save time and money.
Prepare meals cold when you can. You might want to look for recipes that can be prepared cold and either eaten that way or heated up in the microwave. Cold meals, aside from being easy to prepare, don't use any energy to cook. And microwave energy efficiency is as good as that of nearly any other cooking appliance, if you decide to cook your meal that way.
Ask for help! If you're batch cooking for your family, get them involved. Even kitchen novices can cut up veggies or grease a pan. You'll save time cooking, but you'll also create buy-in for the meal prepping lifestyle and give your family an appreciation of where their food comes from.
Buy pre-chopped frozen ingredients. One of the best tips for meal prepping is using frozen veggies. They're just as nutritious as fresh vegetables, they're convenient and don't go bad, and depending on the season, they're often cheaper than fresh produce.
Double or triple your recipes. To make the most of your time, look at the servings yielded by a recipe and consider doubling or tripling the ingredient amounts. You'll have more meals to add to your stockpile, and if you're using a standard oven, you'll be using it more efficiently by filling it up.
Use smaller appliances. If possible, consider forgoing the range altogether and using more energy-efficient cooking devices instead, like microwave ovens, slow cookers, pressure cookers and air fryers. All use less energy than ovens and stovetops, and they don't heat up your kitchen, which can make your AC work harder on hot days.
Use pots and pans that are the right size. If you're cooking on the stovetop, make sure the pot or pan you use matches the burner size. A big burner wastes energy heating up small cookware, and a small burner will waste energy taking longer to heat a large pot or pan.
5 meal prep recipes for your energy-efficient appliances
The modern American kitchen is filled with all sorts of gadgets and smart kitchen appliances. Microwave and toaster ovens are common, and many of us have devices like a slow cooker (for instance, the Crock-Pot®), a pressure cooker (such as the Instant Pot®) or an air fryer. They can make delicious recipes, and they're all more energy-efficient than traditional ovens and stovetops.
The variety of meals you can prepare with these clever appliances is limitless, but here are five energy-efficient meal prepping recipe ideas to get you started: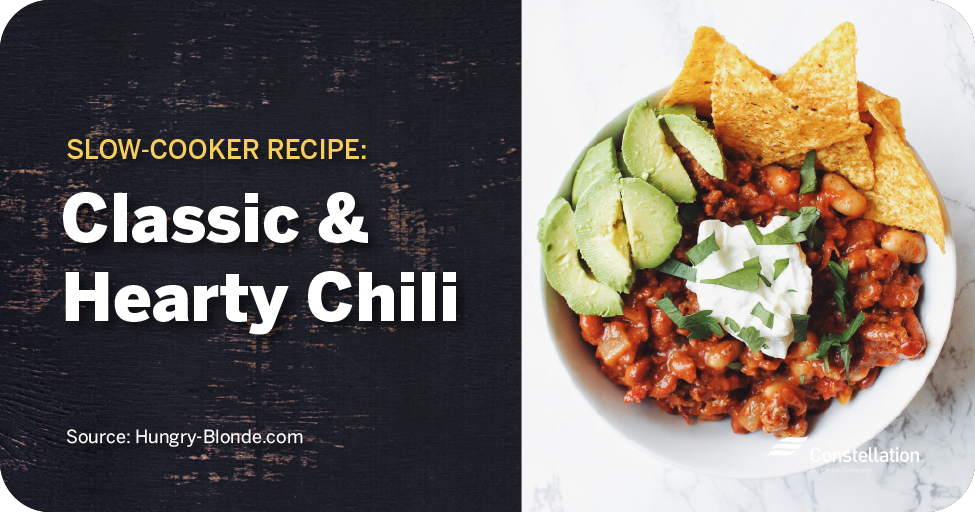 Slow Cooker: Classic & Hearty Chili
Chili naturally lends itself to meal prepping: It's simple to make, easy to divide into portions, super affordable and very satisfying. Plus, you may already have many of the ingredients on hand in your cupboard.
Recipe courtesy of Hungry Blonde
Ingredients:
1 tablespoon olive oil
1 yellow onion, chopped
2 pounds organic, grass-fed ground beef (80/20 works well, but you could use leaner/fattier if you'd like)
3 garlic cloves, minced
1 (16-ounce) can organic red kidney beans, drained and rinsed
1 (16-ounce) can organic white cannellini beans, drained and rinsed
1 (28-ounce) can organic diced tomatoes, not drained
1/4 cup organic tomato paste
2 1/2 tablespoons chili powder
1 teaspoon ground cumin
1 teaspoon salt
1 teaspoon black pepper
1/8 teaspoon ground cinnamon
Directions:
In a large stovetop pan, sauté the onion in olive oil until translucent. Add in the ground beef and cook until beef is browned.
Add the onion and beef mixture to the slow cooker along with the rest of the ingredients and combine well.
Cook on high heat for 3-4 hours or low heat for 6-8 hours, depending on your slow cooker's settings.
Add whatever toppings you'd like! Tortilla chips, avocado, cheese, sour cream, fresh herbs, etc.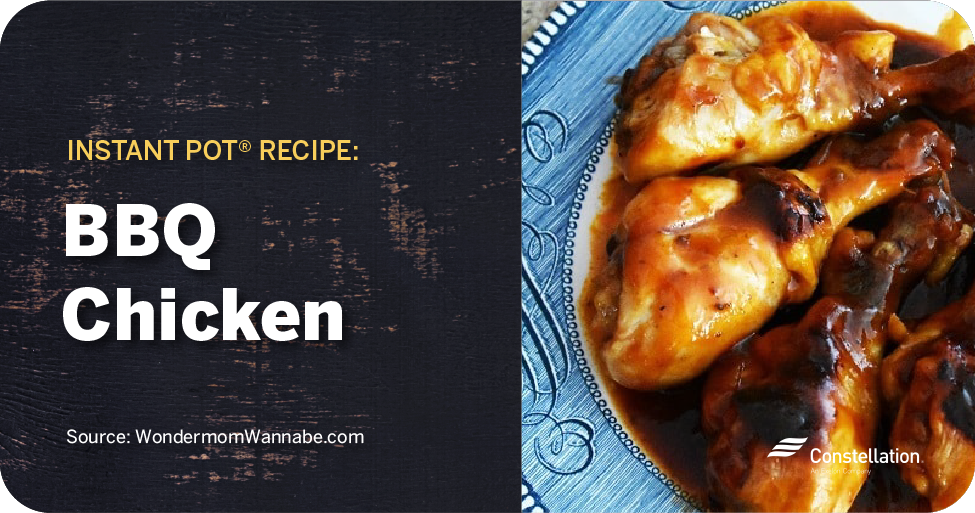 Instant Pot: BBQ Chicken
You can save time cooking without sacrificing flavor by using pressure cookers like the Instant Pot. Pressure cookers also use much less energy than conventional ovens. Meal prepping tips: The beauty of this recipe is its versatility. Have some of the drumsticks for one meal; then debone the meat and use for rice bowls, salads, etc.
Recipe courtesy of Wondermom Wannabe
Start to finish: 22 minutes
Servings: 4
Ingredients:
4 tablespoons olive oil
8 chicken drumsticks
1 large onion, finely chopped
1 teaspoon garlic powder
1 teaspoon seasoned salt
1 cup reduced-fat barbecue sauce
1/4 cup water
Directions:
Sauté olive oil, chicken, onions, garlic powder and seasoned salt for 5 minutes.
Change Instant Pot function to meat/stew setting and set timer for 12 minutes.
Add barbecue sauce and distribute evenly. Add water.
Be sure that steam is on sealing, not venting, before locking lid.
Allow to cook for 12 minutes.
Quick-release the steam and turn off.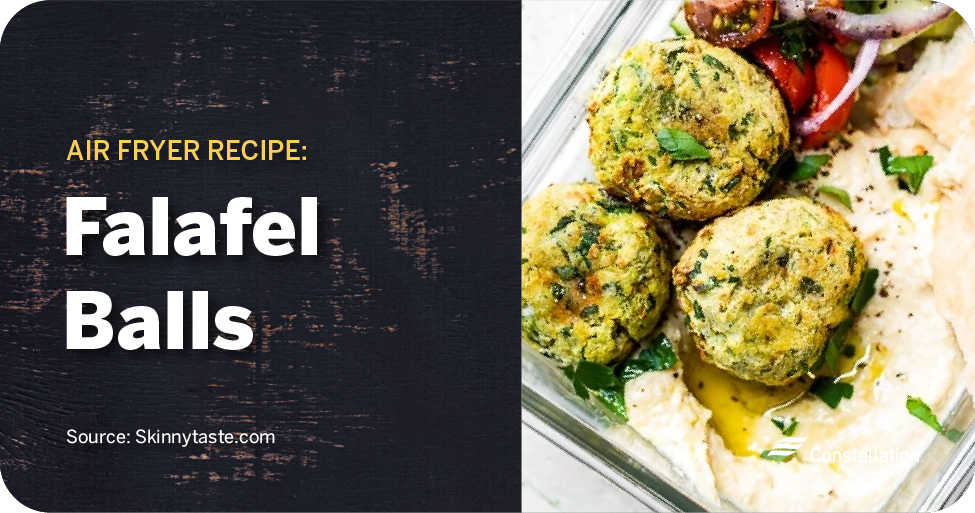 Air Fryer: Falafel Balls
This recipe delivers all the taste of a Middle Eastern comfort food classic without all the oil that traditionally comes with frying it. Plus, you'll conserve energy by using your air fryer rather than heating a pan of oil on the stovetop. Meal prepping tip: Make extra and freeze the falafel balls for up to six months.
Recipe courtesy of Skinnytaste
Start to finish: 2 hours, 45 minutes
Servings: 4
Ingredients:
1 (15.5-ounce) can chickpeas, rinsed and drained
1 small yellow onion, quartered
3 cloves garlic, roughly chopped
1/3 cup roughly chopped parsley
1/3 cup roughly chopped cilantro
1/3 cup chopped scallions
1 teaspoon cumin
1/2 teaspoon kosher salt
1/8 teaspoon crushed red pepper flakes
1 teaspoon baking powder
4 tablespoons all-purpose flour, plus more for dusting
Olive oil spray
Optional for serving:
Hummus, sliced tomatoes, sliced cucumber, thinly sliced red onion, pita, tahini, etc.
Directions:
Dry the chickpeas on paper towels.
Place the onions and garlic in the bowl of a food processor fitted with a steel blade. Add the parsley, cilantro, scallions, cumin, salt and red pepper flakes.
Process until blended, 30 to 60 seconds, and then add the chickpeas and pulse 2 to 3 times, until just blended but not puréed.
Sprinkle in the baking powder and the flour, scrape the sides of the bowl down with a spatula and pulse 2 to 3 times.
Transfer to a bowl and refrigerate, covered, 2 to 3 hours.
Form the falafel mixture into 12 balls. If it's too sticky, add some flour to your hands and your work surface.
Preheat the air fryer to 350 F.
Spray the falafel with oil. Cook 14 minutes in batches, until golden brown, turning halfway.
Notes:
Refrigerate for up to 4 days. Freeze uncooked balls for up to 6 months. Defrost in the refrigerator overnight before air frying.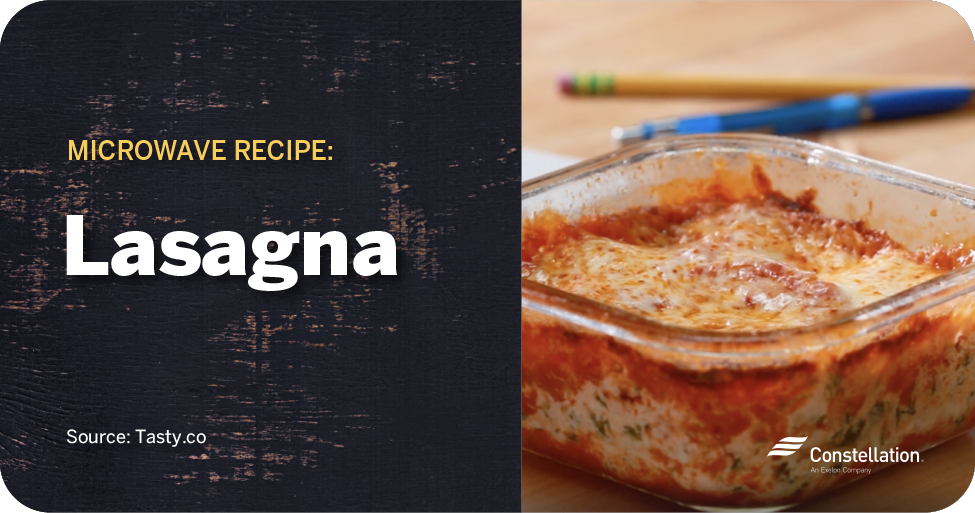 Microwave: Lasagna
This simple energy-efficient dish is great for a quick dinner or, if your workplace has a microwave, a take-to-work lunch. Meal prepping tips: Follow the instructions and pop the dish in the fridge after securing the lid rather than microwaving right away. Buy several containers and make multiple individual servings to be frozen or refrigerated.
Recipe courtesy of Tasty
Start to finish: Less than 30 minutes
Servings: 1
Ingredients:
1/2 cup ricotta cheese
1/4 cup fresh spinach, chopped
2 tablespoons fresh parsley, chopped
2 tablespoons grated Parmesan cheese, divided
1/2 teaspoon salt
1/4 teaspoon pepper
1/4 cup marinara sauce
4 no-boil lasagna noodles, broken in half
1/2 cup shredded mozzarella cheese
Directions:
In a small bowl, mix the ricotta, spinach, parsley, 1 tablespoon of Parmesan, salt and pepper until combined.
In the glass container, spread a layer of marinara sauce. Top the marinara sauce with the lasagna noodles.
Cover the noodles with a layer of the ricotta mixture and then mozzarella.
Continue with another layer of noodles, ricotta, marinara sauce and then mozzarella. Repeat.
Cover the top layer of lasagna noodles with more marinara sauce and a layer of mozzarella and Parmesan.
Place the lid on the glass container without sealing it closed.
Microwave for 7 minutes or until the cheese is melted through.
Remove from the microwave carefully. The container will be hot!
Serve immediately.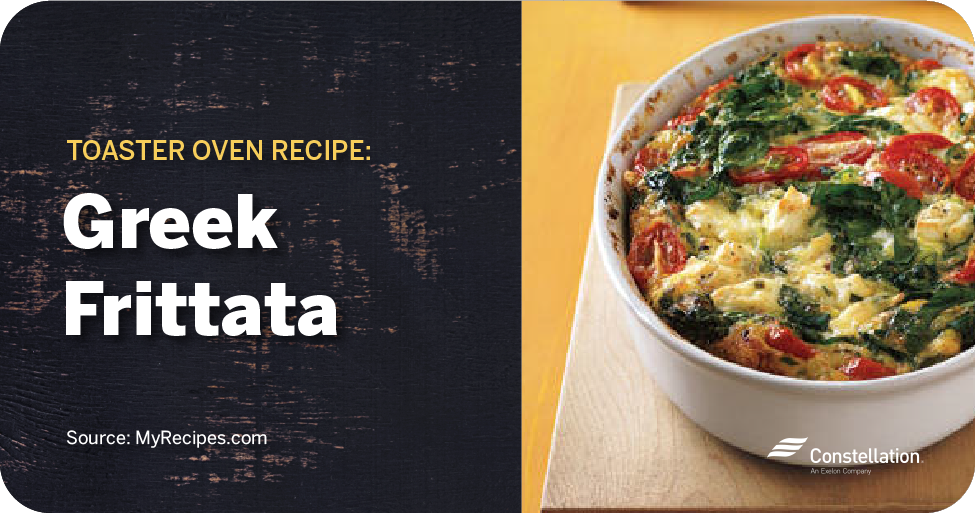 Toaster Oven: Greek Frittata
Toaster ovens use much less energy than their full-size counterparts. And what better use for them than this delicious Mediterranean-inspired egg dish. Follow the recipe or branch out into different toppings. Get creative! Meal prepping tip: Don't forget to make extra. Frittatas do well in either the refrigerator or the freezer.
Recipe courtesy of MyRecipes
Start to finish: 40 minutes
Servings: 4
Ingredients:
3 tablespoons olive oil
10 large eggs
2 teaspoons kosher salt
1/2 teaspoon black pepper
1 (5-ounce) bag baby spinach
1 pint grape tomatoes, halved
4 scallions (white and green parts), thinly sliced
8 ounces feta, crumbled
Directions:
Heat toaster oven to 350 F.
Add the oil to a 2-quart casserole dish and transfer to oven for 5 minutes.
Meanwhile, in a bowl, whisk together the eggs, salt and pepper. Add the spinach, tomatoes and scallions and combine. Gently stir in the feta.
Remove casserole dish from oven. Pour the egg mixture into the casserole dish. Bake until the frittata is browned around the edges, is slightly puffed and a knife comes out clean, 25 to 30 minutes.
Benefits of batch cooking for your family
Anyone can reap the rewards of meal prepping, but especially families. The benefits of batch cooking are numerous:
It gives you and your family more free time. Meal prepping is a timesaver. Batch cooking on a Saturday or Sunday can lead to several quick weekday meals in the days and weeks to follow. All you have to do is reheat and eat — and sometimes you don't even have to reheat. Rather than stressing out trying to come up with a meal on the fly, you can get food on the table in no time and then even have some time left over to relax with your family.
Your family will eat healthier, home-cooked meals. When you're busy, eating out, takeout or delivery can be very tempting. But restaurant food can be high in fat, sugar and salt, which can lead to health problems. And many store-bought, pre-made frozen dinners aren't much better. When you make your own food, you can control what goes in it and make healthier choices.
You'll spend less money on restaurant food. Aside from the health benefits of meal prepping, you'll also spend less on eating out, takeout and delivery. Home cooking is nearly always cheaper.
You can save money on gas or electricity use. Batch cooking is energy-efficient cooking. The energy used to heat up an oven is the same whether you put a single serving in it or fill it up, so it's more energy-efficient to do the latter and avoid using it multiple other times throughout the week, at greater expense. And you'll save even more energy if you cook with smaller, electricity-saving appliances like microwave and toaster ovens, slow cookers, pressure cookers and air fryers.
You'll prevent food waste and won't buy what you don't need. Meal prepping is only possible by planning. The thought and focus you put into your week's meals will help you make use of what you have and put together a practical grocery budget for the rest. You can reduce guessing and impulse buying, preventing waste and saving money.
Delicious, timesaving, energy-efficient cooking isn't some unattainable goal reserved for TV moms and foodie web personalities. All meal prepping takes is planning ahead and spending a little more weekend time in the kitchen than you normally might. But you can't beat the results: healthier food, more money in your pocket and extra time with family and friends.