The types of LED lights available today provide efficient, affordable, long-lasting light and fit nearly any function or decor. They come in a variety of temperatures and intensity, from pleasant ambient room light to focused function and task light. You can find types of LED light bulbs in forms from chandelier candle sizes to yard-wide flood lights.
What are LED lights?
To understand what LED lights are, it helps to know a little bit about the technology behind them. LED is an acronym for "light-emitting diode," which is a specialized type of semiconductor. A semiconductor is a material that conducts electricity more effectively than an insulator, like glass, but less effectively than a conductor, such as copper. With LEDs, light is created when electrons move within the semiconductor material.
There are some key differences between LED bulbs and other types of bulbs you may be familiar with. In compact fluorescent lamps, or CFLs, light is generated by the flow of an electric current between two electrodes at either end of a gas-filled, phosphor-coated tube. In incandescent bulbs, electricity passes through a filament which heats it up in the process, in turn producing light. However, a majority of the energy created in both of these processes is released as heat instead of light.
LED light bulbs emit very little heat and have a lifespan that's tens of thousands of hours longer than an incandescent bulb or CFL bulb. Because they last a long time, are relatively cool, and don't need to be in a vacuum or gas-filled tube, the different types of LED light bulbs are energy-efficient and easy to use.
LED lights' energy usage and brightness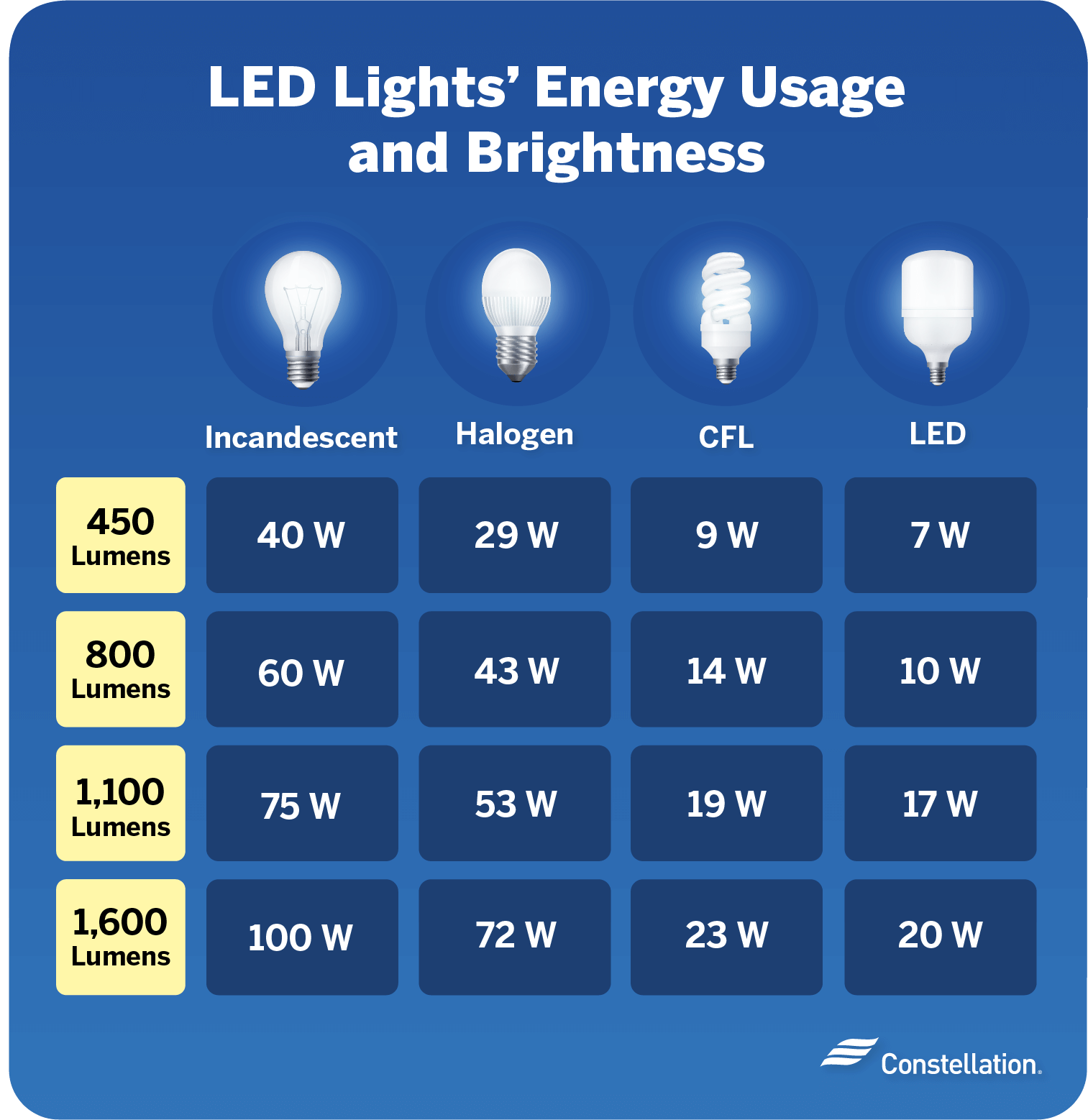 Light bulbs used to be rated by the energy they used; hence you would buy a 40-watt bulb if you didn't need very bright light, or a 100 watt or more bulb when you really needed bright lighting that approximated daylight. Power was synonymous with light.
Not so anymore.
A more useful metric now is the lumen (lm), a measure of light visible to the human eye from a light source. The more lumens, the brighter the bulb. An LED that consumes just 15 watts produces as many lumens–1600–as a 100-watt incandescent bulb. That is a massive energy savings.
The benefits of LED lighting
Replacing inefficient incandescent bulbs with LED lights for home use can be one easy way to potentially cut your energy bill–and more.
1. Energy efficient
LED lights for home use consume 75 percent less energy and have a lifespan that is up to 25 times longer than traditional light bulbs, according to the U.S. Department of Energy. Replacing incandescent bulbs with LEDs is a great way to save energy in your home. The government predicts that various types of LED lights will represent the majority of light installations by 2035, saving 569 TWh annually.
2. Cost-effective
The cost to buy LED light bulbs is decreasing as more people buy them. However, you can still expect to pay twice as much for an LED bulb vs. an incandescent bulb. Where you may save money is in powering the bulb and not having to replace it as often.
The LED bulb will only burn 1/6th the energy of an incandescent bulb. And considering how often you must replace the incandescent bulb, the savings with all types of LED lights is considerable. They will last 50 times longer than incandescent. And the more you turn incandescent bulbs on and off, the shorter their lifespans become.
3. No heat or UV emission
Because LED technology doesn't require the burning of a filament to create light, LEDs emit much less heat than incandescent bulbs. For example, the filament temperature of a traditional 100W incandescent bulb can reach 4,600º F, while an equivalent LED light will only get up to around 87º F.
Another benefit of LED lights is potentially lower health risk due to UV radiation. LED light bulbs are coated with phosphor to absorb the blue light and create warm white light. The coating absorbs UV light, as well. If you are light sensitive, different types of LED lights are ideal for most applications in your home.
4. Long life span
Longevity is another benefit of LED lights. On average, they last 100,000 hours, which translates to a lifespan of 10 to 25 years in some cases. That's roughly three to five times longer than the lifespan of a CFL and approximately 30 times longer than the lifespan of an incandescent bulb.
Unlike traditional incandescent bulbs that can suddenly pop and burn out, LED bulbs simply fade over time, giving less and less light as they wear out. That gives you time to replace them before you are left in the dark. Plus, longer life bulbs are better for the environment, as you are not creating more solid waste.
Different types of LED lighting technologies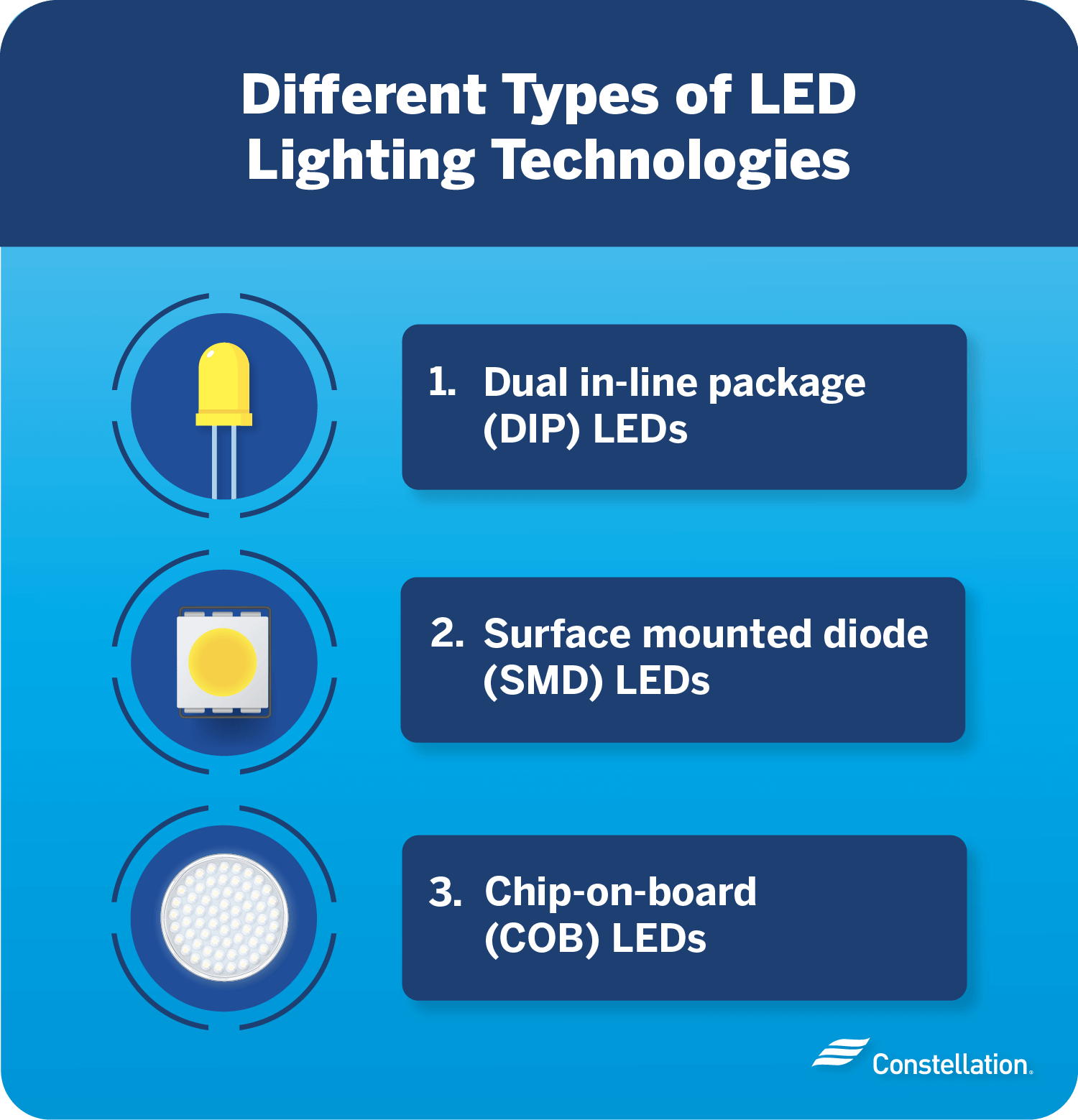 Dual in-line package (DIP) LEDs
This older version of LED technology has a long history of solid performance. When used for lighting, each cell or chip produces about 4 lumens. For general ambiance, lighting experts recommend 20-40 lumens per square foot. In kitchens or bathrooms, you may wish a brighter 60-80 lumens per square foot. Bulbs with this technology are usually less expensive.
Surface mounted diode (SMD) LEDs
SMDs are smaller and more efficient than the older DIP technology. They can change color and are easily controlled. They are brighter than DIP LEDs, averaging between 50 and 100 lumens per watt. SMD technology is frequently used in LED strips and for bulbs  in recessed lighting.
Chip-on-board (COB) LEDs
One of the newer technologies to come to market are COB LEDs. They are essentially printed onto surfaces in a way that allows them to be very close together. They create the appearance of nearly continuous light. They are among the brightest of commercially available LEDs, making them the technology of choice for LED floodlights and spotlights.
Different types of LED light bulbs for the home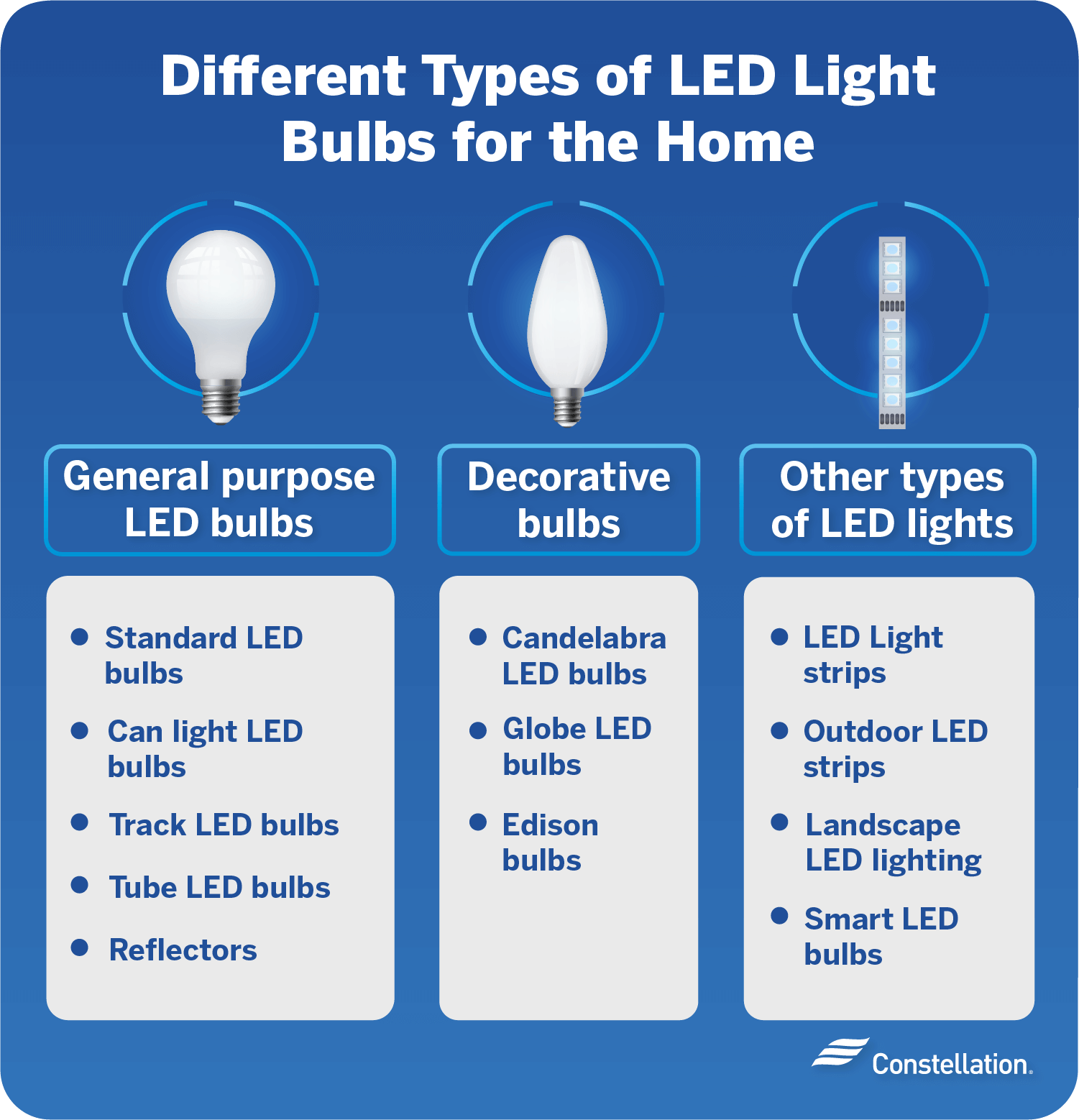 Because LED technology creates very bright, low heat, highly efficient light, it is incredibly flexible with many innovative applications. They can be made with lightweight, durable plastic in a variety of shapes and safely be used where incandescent lights could create a fire hazard. Here are some of the most common types of LED lights.
General purpose LED bulbs
General purpose LED lights for home use are similar in form and function to traditional incandescent or fluorescent light bulbs.
Standard LED bulbs
This versatile bulb looks like the familiar light bulb and is an easy retrofit replacement for incandescent bulbs throughout your home.
Can light LED bulb
These bulbs fit into common "cans" that are recessed into walls. They will provide lasting light and much less heat, lengthening the lifespan of your fixture and minimizing maintenance.
Track LED bulbs
Replace old fashioned bulbs with LED in your existing track lighting fixtures or invest in a new fixture that uses LED.
Tube LED bulbs
You can replace CFL tubes with LED tubes and eliminate a potential health risk. When an LED tube breaks, it releases no harmful chemicals.
Reflector
These LED bulbs work as flood lights or spotlights–but are safer, cooler and less energy-wasting than traditional bulbs.
Decorative bulbs
One of the benefits of LED lights is the amazing flexibility they offer when it comes to decorative use of light.
Candelabra LED bulbs
Candle-sized LEDs are ideal for candelabra. They can be turned up to make a room brighter or dimmed for ambiance. Some even flicker like candles.
Globe LED bulbs
Available in clear, frosted or colored globes, these light bulbs work well in fixtures with an open bulb that is meant to be visible or along vanity mirrors in the bathroom.
Edison bulbs or vintage bulbs
You can achieve a retro look with thoroughly modern LED lights in old-fashioned forms. Revitalizing an antique fixture is easy with the LED bulb options now available.
Other types of LED lights
LED light bulbs for home use include outdoor applications and non-traditional uses. They make energy–efficient decorative lights with many ways to put them to use. Using LED light bulbs outside is on many energy–saving tips lists.
LED Light strips
Flexible strips of lights that you can mold around shapes and cut to fit are a fun way to add light to your home. Run them under cabinets to brighten a dark kitchen. Add them to a closet. Clip them under stair steps to create a safer environment. They come in white, colors and multi colors–with some letting you change color options with a click.
Outdoor LED strips
You can use waterproof LED light strips to turn your deck into a showpiece at night. String them in trees and along walks to brighten your outdoor space. Like indoor types, you have plenty of options when it comes to color.
Landscape LED lighting
LED spotlights can add drama by lighting trees and other plantings at night. A floodlight for your driveway can make your property safer and deter thieves. LED lights along walkways make your home inviting and create ambiance. Landscape LEDs come in dozens of types, including some that mimic the flicker of gaslights.
Smart LED bulbs
Smart lighting that uses LED bulbs adds light control and convenience to energy savings. Control can be by touch, connection to your phone or smart hub via WiFi, or PIR passive infrared sensor that detects motion and zigbee control low cost, low power wireless connection.
Recycling your LED light bulbs
Recycling LED light bulbs is relatively easy. They don't contain the harmful gasses and metals that other kinds of bulbs contain. The plastic, metal and glass are all valuable for reuse. You will want to take care of sharp edges if the glass globe breaks.
Because of this and because they often require special handling, you can't put them in your curbside recycling bin. Some stores have LED collection bins on site. Your town or county may have specific types of recycling days.