As winter approaches, small-business owners are looking for ways to keep their businesses up and running. This can prove challenging, especially when customers are doing less shopping in-store and social distancing guidelines are in place. To plan for small-business success this winter season, it's important that you go the extra mile to keep your customers and staff safe. These strategies can help you maintain social distancing in your business over winter and attract customers despite the cold weather.
1. Convert unused indoor space
Rethinking your small business's interior layout can help you safely accommodate customers during social distancing this winter. If you have rooms or areas that aren't currently being utilized, there may be an opportunity for you to repurpose them and create more space in your business.
There are many possibilities for converting unused space inside your business. For example, you may decide to transform a storage room into an additional checkout space. Or you could provide customers with somewhere to wait in line so they aren't stuck standing out in the cold. However you decide to adapt your small business, just make sure you're keeping social distancing in mind.
2. Move your small business outdoors
Though it may not be the way you usually prepare your small business for winter, utilizing outdoor spaces for social distancing can make it easier for your customers. Making this transition may seem overwhelming, especially in the colder areas of the country. But with a little ingenuity, you can move your small business outdoors and promote social distancing in your business in winter.
How to offer outdoor seating and shopping in the winter
Not sure where to start when it comes to moving your small business outdoors? These useful tips can show you how to offer outdoor seating in winter and help you create shopping arrangements that keep your customers warm and safe.
Designate an outdoor area to use. Whether it's a patio, parking area or a spot on the sidewalk, start by choosing a location for your outdoor operation. Just be sure to apply for any permits you may need, such as an outdoor seating permit.
Make sure the space is winterized properly. It will be hard to draw customers in if you can't promise protection from the elements. Install an awning or canopy, decide on a heating system and do your best to create a warm and comfortable environment.
Add energy-efficient lighting. By investing in energy-efficient outdoor lighting for your small business, you can stay open late without negatively impacting your energy bill.
Try not to block sunlight. Another business energy saving tip is to utilize natural lighting in your outdoor space. When setting up your outdoor arrangement, try taking the direction of the sun into account to fully utilize it's light and heat as you move your business outdoors.
Avoid metal and other cold materials. When it's cold out, metal becomes almost unbearable to touch. So, if your business will be offering socially distanced seating outside during winter, it helps to use warmer materials, such as fabric, wood or plastic.
Provide blankets or warm beverages. If possible, you may want to consider offering blankets or warm beverages to your customers as they shop or dine outside.
Tell customers about your new setup. It's not best to catch customers off guard with your new look. Take advantage of your website and social media accounts to share important information and help them know what to expect next time they come by.
Move your equipment back inside when closed. The harsh winter weather can do a number on your equipment. To prevent any unnecessary damage, it's wise to move everything back indoors at the end of each day.
3. Properly heat all areas of your business
One of the ways cold weather affects small businesses is by reducing the amount of in-person customers they see. Though attracting customers in cold weather can be hard, keeping the indoor and outdoor areas of your business warm over winter is a great way to help keep foot traffic consistent.
Heating options for your small business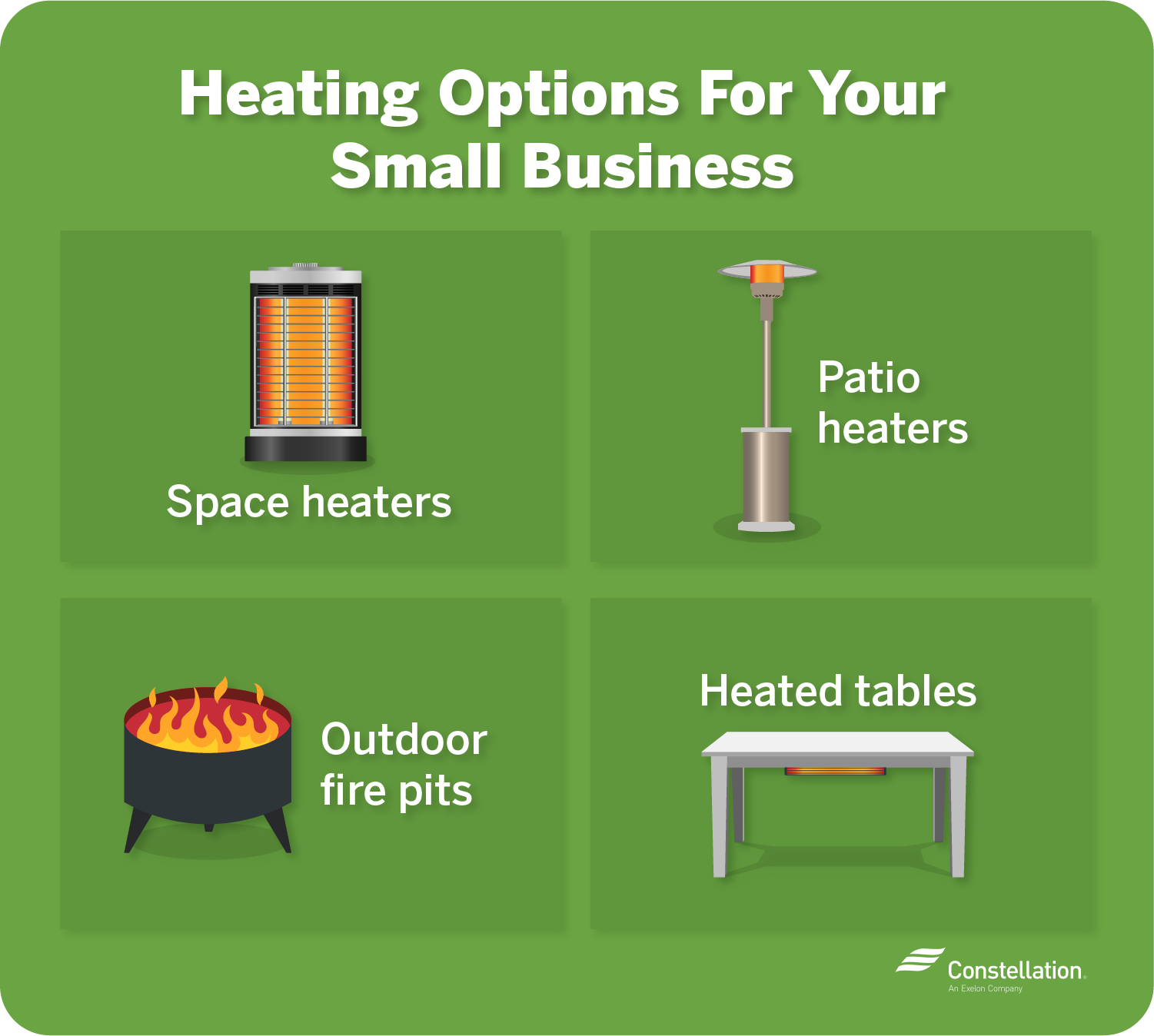 There are many options for heating your small business during the cold season. Depending your business's needs, you may decide to invest in:
Energy-efficient space heaters. A portable space heater can not only help you keep customers and staff warm, but it can also help conserve energy by heating just one particular area.
Patio heaters. Patio heaters can add a nice touch to your outdoor seating area and create a comfortable space for your customers. Just be sure to evenly distribute them so that everyone can stay warm and avoid violating social distancing by gathering around a single heater.
Outdoor fire pits. Adding an outdoor fire pit is an effective way to draw customers in and keep them warm over winter. They require some work to maintain, though, so make sure you have the extra staff to help keep your fire going.
Heated tables. Though they're more common in Japan, heated tables are beginning to gain popularity in the U.S. as well. If they're out of your price range, you can even try making one yourself.
Additional electric or gas. If you're having trouble heating your entire business, you may need to use some extra electric or gas in order to keep everyone warm.
4. Take advantage of pickup and carryout options
By utilizing pickup and carryout options, you can help incentivize customers to support your small business over the cold season and social distancing will be less of an issue. This may look different depending on the industry you're in, but one rule applies across the board — the simpler and more convenient the process is, the more likely you are to be successful in your efforts.
To minimize the amount of interaction you have with customers, it helps to set up a contactless payment system. This will not only help to keep everyone safe but also make your curbside pickup even smoother. You may also want to consider designating a certain area of your business for pickup orders to avoid any confusion among customers and staff.
5. Inform your customers of your social distancing policies
It's important that you proactively reach out to your customers to inform them how your business will be social distancing in winter. By keeping your customers engaged, you'll have the opportunity to let them know of any important changes going on in your business and reiterate the various safety precautions you're taking. In addition to your social distancing practices, you should also tell customers if you're doing things like limiting capacity, adjusting the way orders are fulfilled or changing your business hours.
To promote social distancing in-store, it helps to use signs, floor markers and partitions. If possible, you may also want to provide complementary face coverings for customers. This is the best way to ensure that everyone in your business stays safe and comfortable.
The challenges of running a socially distanced business over winter
There are quite a few challenges of running a business over winter, especially when social distancing is a factor. That's why it helps to have small-business workplace strategies in place. With the proper preparation, you can overcome the hurdles that winter presents and get through the season safely and successfully.
Keeping your business and customers warm
One challenge that small-business owners face over winter is keeping their business, customers and staff warm. This is particularly true for businesses that are operating both indoors and outdoors over the cold season.
Monitoring crowds to maintain social distance
The last thing a business owner wants to do is deny entry to a paying customer. But some small-business owners may be forced to limit their capacity and turn away customers in an effort to limit in-store crowding and maintain social distancing in their business over winter.
Creating a space where customers feel comfortable
People may be less likely to shop at a business unless they know what precautions the business is taking to keep their customers and staff members safe. That said, small-business owners will have to communicate effectively in order to attract customers over the winter.
Attracting customers in cold weather
Social distancing for businesses in winter can be tough, but with proper strategizing and small-business planning, you can keep business booming while ensuring the safety of your customers and employees. And as you work to reinvent your small business, you may just find that the changes you make put you ahead of the competition and continue to benefit you into the future.