There are lots of choices you must make as a homeowner, from the smallest decisions about how to decorate your home to the larger ones, like what type of energy efficient roofing to have installed on your home. Whether you're choosing an energy efficient roof for a newly constructed home or looking to replace your current roof with energy efficient roofing materials, you'll find that there are several types of residential roofs that will help you cut home energy consumption. You will need to weigh your options and consider a variety of factors, such as the climate in which you live, the type of aesthetic you're going for, and what energy efficient roofing features are most important to you.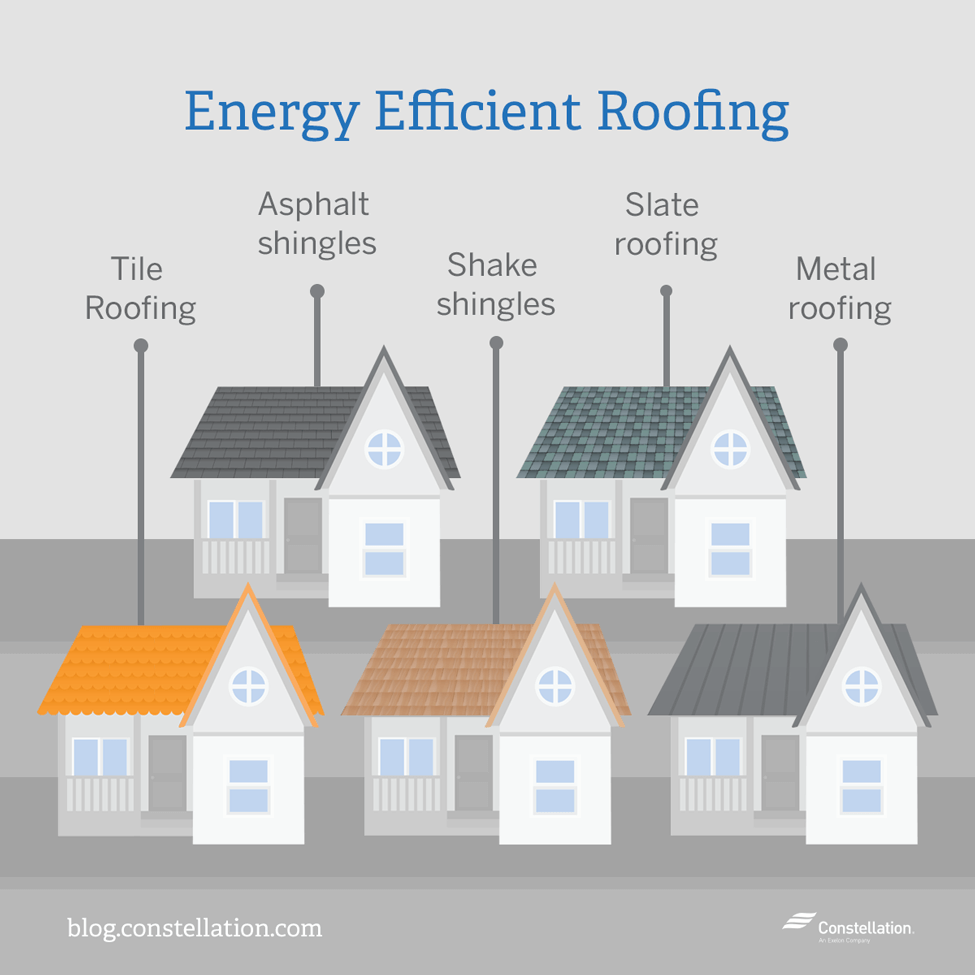 Types of Residential Roofs
There are a number of energy efficient roofing materials that are appropriate for residential properties, from various types of shingles to ENERGY STAR® metal roofing. Each type of energy efficient roof shingles has a distinct look and set of features that may be more effective for a specific climate. Certain types of energy efficient roofing shingles are more effective in areas that have cooler weather, while others will combat the heat of dry, sunny climates. Consider each kind of energy efficient roof shingles carefully to determine which types of residential roofs would be appropriate for your home. Some of the most popular energy efficient roof options include:
Asphalt shingles
Shake shingles
Metal roofing
Slate roofing
Tile roofing
Energy Efficient Roofing Shingle Options
No matter what type of energy efficient roof shingles you are considering, one of the first things to look for is ENERGY STAR® roofing. This certifies that the materials that you have selected are energy efficient.
Solar reflectance and emittance is one of the biggest keys to whether energy efficient roofing materials are certified by Energy Star. Roofing that reflects the sun's energy and releases it into the surrounding air keeps the upper floors of a home cooler and less energy is required when cooling a home. The color of a roof also plays a part in whether the roofing is energy efficient. Lighter roof colors will reflect more of the sun's energy, while darker colors tend to absorb heat, which can then transfer to attics, where it can seep down into the home. You will want to consider the color of your roofing materials for more than aesthetic value.
Shake vs. asphalt shingles
For many homeowners, the final decision comes down to shake vs. asphalt shingles. These are two of the most popular and effective energy efficient roof shingles on the market.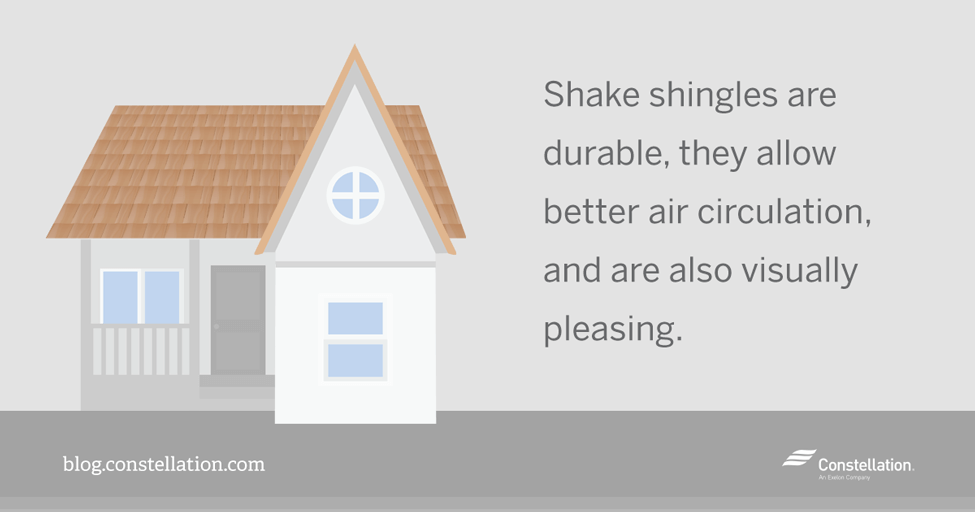 Shake shingles are very durable and can withstand strong winds and sudden storms with little damage. They create an energy efficient roof as they allow better air circulation in a home. They are also visually pleasing, especially as the wood begins to mature. Many buyers choose shake vs. asphalt shingles simply based on their visual appeal. The downside to shake shingles is that there is a lot of maintenance necessary. Wood rot and mildew can create problems, especially in areas that receive a lot of precipitation or are humid environments.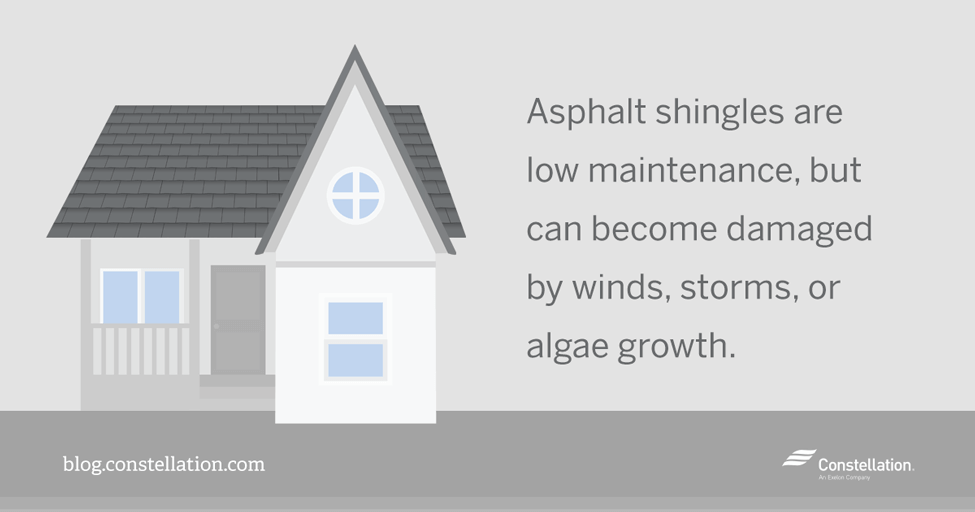 Asphalt shingles create a lower maintenance, energy efficient roof. Homeowners can choose from a range of colors and designs for a more unique feel to their roof. One downside to asphalt shingles is that they tend to become more easily damaged in wind and storms. Algae growth is another maintenance concern, though there are preventative coatings available that can help.
ENERGY STAR® Metal Roofing Options
ENERGY STAR® metal roofing is another popular option for homes. Metal is an energy efficient roofing option that is a good choice for many budgets and typically quick to install. With a little care and upkeep, a metal roof is a long lasting, energy efficient roof that can add a great look to your home.
ENERGY STAR® metal roofing comes in two main styles – metal panels and metal tile. Panels are large, energy efficient roofing sheets while tiles are formed shingles, made to look like slate, shake, or other popular styles.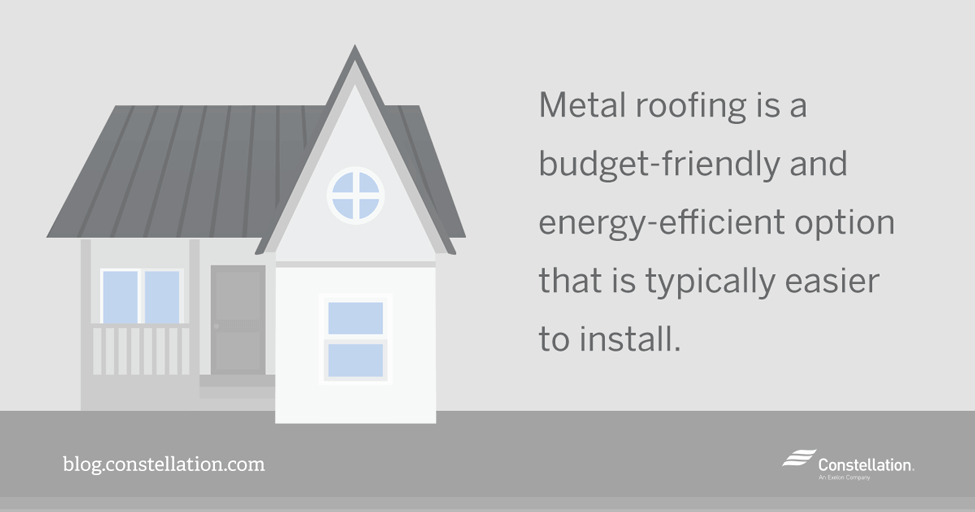 Pros of metal roofing:
Fire-resistant
Reflective, keeping home cooling costs down
Lightweight
Long-lasting
Cons of metal roofing:
Easily dented or damaged by impact
Harder to replace single sections of roofing
Expansion and contraction with temperature changes
Other Energy Efficient Roofing Options
There are other popular energy efficient roofing shingles that may be a good fit for your home. Slate roofing is a stunning energy efficient roof option that can last a lifetime. Its density helps to insulate your home, making it a very eco-friendly choice. Tile roofing is also a very aesthetically pleasing energy efficient roof option, but is best for those in warm, dry climates due to its tendency to absorb moisture and reflect sunlight.
With new innovations always on the horizon and improvements regularly made to existing energy efficient roof options, homeowners should always research their options when replacing a roof or building a new structure. Carefully considering your needs and looking for ENERGY STAR® roofing materials will help you find the right roof for your home. By understanding the energy efficient roofing materials available and how various energy efficient roof types can come into play, you can make a positive impact on the environment. To read about how you can make your home more energy efficient in other areas, follow our energy efficient series.