Want to lower your energy costs and shrink your carbon footprint? One of the quickest ways to achieve both these goals is to incorporate two words into your daily life: ENERGY STAR®.
Let's take a look at the nuts and bolts of this program.
What is ENERGY STAR? And what does an ENERGY STAR label mean?
Started in 1992 as part of the federal Clean Air Act, ENERGY STAR is a federal voluntary program run by the U.S. Environmental Protection Agency (EPA) to help people learn more about the many ways they can save money and help reduce environmental degradation through improved energy efficiency. Under the program the EPA identifies and promotes energy-efficient products and buildings, all with the overall goal of reducing energy consumption, improving energy security and reducing pollution.
One of the major sources of pollution is the formation of greenhouse gases. According to ENERGY STAR, two thirds of greenhouse gas (GHG) emissions in the U.S. come from energy use in homes, buildings and industry. Lowering the amount of greenhouse gases that go into the environment, then, has been a primary focus of the ENERGY STAR program and its ENERGY STAR rating system. That it's already making a difference is clear in this chart from ENERGY STAR.
ENERGY STAR GHG Reductions Since 2000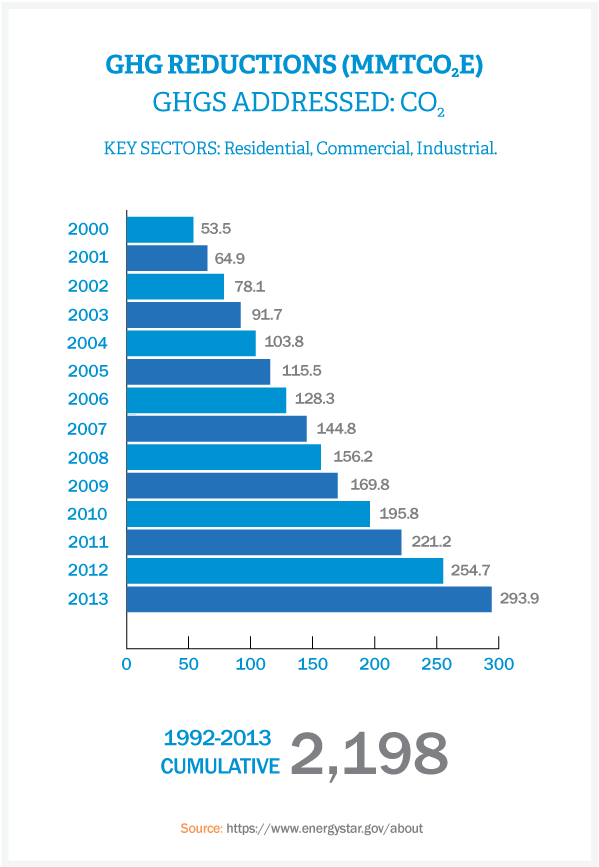 What Does an ENERGY STAR label mean?
A critical part of ENERGY STAR is its ENERGY STAR rating system, which focuses on three main areas: products, homes (new and existing) and commercial businesses.
Getting an ENERGY STAR rating — which not every appliance has — means that a product meets certain federally mandated guidelines regarding energy efficiency. The guidelines vary depending on the product. The water requirements for a dishwasher to get an ENERGY STAR rating are different than for a washing machine.
The EPA establishes its product specifications based on certain guiding principles:
Product categories must contribute significant energy savings nationwide.
Certified products must deliver the features and performance demanded by consumers, in addition to increased energy efficiency.
If the certified product costs more than a conventional, less-efficient counterpart, purchasers will recover their investment in increased energy efficiency through utility bill savings, within a reasonable period of time.
Energy efficiency can be achieved through broadly available, non-proprietary technologies offered by more than one manufacturer.
Product energy consumption and performance can be measured and verified with testing.
Labeling would effectively differentiate products and be visible for purchasers.
Today, appliances and products in nearly every category are available with ENERGY STAR ratings. The potential financial (and energy) upside of purchasing an appliance with an ENERGY STAR rating is clear from a look at two popular household appliances: the dishwasher and washing machine.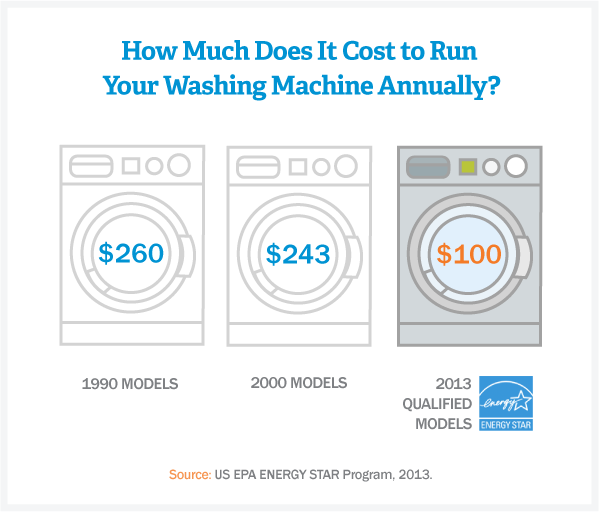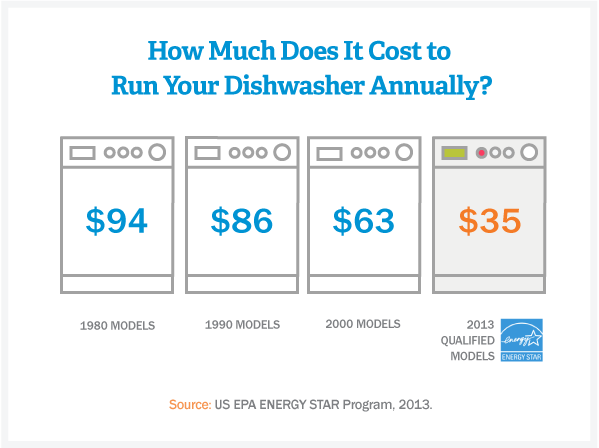 As you can see, replacing an older dishwasher and washing machine could potentially save you about $300 annually in energy costs, depending on the year of your appliance models. Multiply these savings by adding other ENERGY STAR certified appliances and procedures to your home, and it's easy to see how you could end the month with a lot more money in your wallet. ENERGY STAR offers a complete list of appliances with ENERGY STAR ratings.
What does an ENERGY STAR label mean for a new or existing home or commercial business? New homes that have an ENERGY STAR rating have followed certain energy-saving and energy efficient standards from the beginning of the build. In order for a new home to earn an ENERGY STAR rating, it must undergo a series of inspections, testing and verification that it meets the strict federal requirements. New homes built this way typically use 15-30% less energy than new homes built without the certification, according to ENERGY STAR.
Jumping on the ENERGY STAR consumer bandwagon is obviously a personal choice. It is a choice with implications beyond the walls of a home or business. According to ENERGY STAR, if every appliance purchased in the United States this year earned the ENERGY STAR rating, we would:
prevent greenhouse gas emissions equivalent to the emissions from 420,000 cars
save about 3 billion kWH/year of electricity
save $580 million in annual energy costs.
save more than 25 billion gallons of water per year
Source: ENERGYSTAR.gov
*ENERGY STAR and the ENERGY STAR mark are registered trademarks owned by the U.S. Environmental Protection Agency