Thoughts of switching electric providers are on many small business leaders' minds. High power bills are motivating businesses to take a second look at their electricity options. If you live in one of the states that allows energy companies to compete for your business, you can change plans or even change providers to find a more cost-effective way to power your home or business.
Can I switch electric companies for my business?
If you live or do business in states with a competitive electricity market you can shop around for the best deal. The U.S. Energy Information Administration maintains a list of the states that currently give consumers a choice over their provider and plan.
States with energy choice, also called retail choice, allow their residents to choose their retail energy providers. That provider could be a utility that generates electricity or it can be an independent company called an energy supplier.
Energy suppliers compete for your business because they know switching electric companies is easy. They offer competitive prices, provide a variety of contract types and terms and many now offer options such as contracts that specify renewable power sources and additional terms that help you optimize your energy usage. Providing exceptional customer service is yet another way these companies earn your business.
Now might be a great time to look into how to choose an energy supplier as you think through next year's operating expenses and look into how to lower your small business electricity bill.
What should you consider before switching electric companies?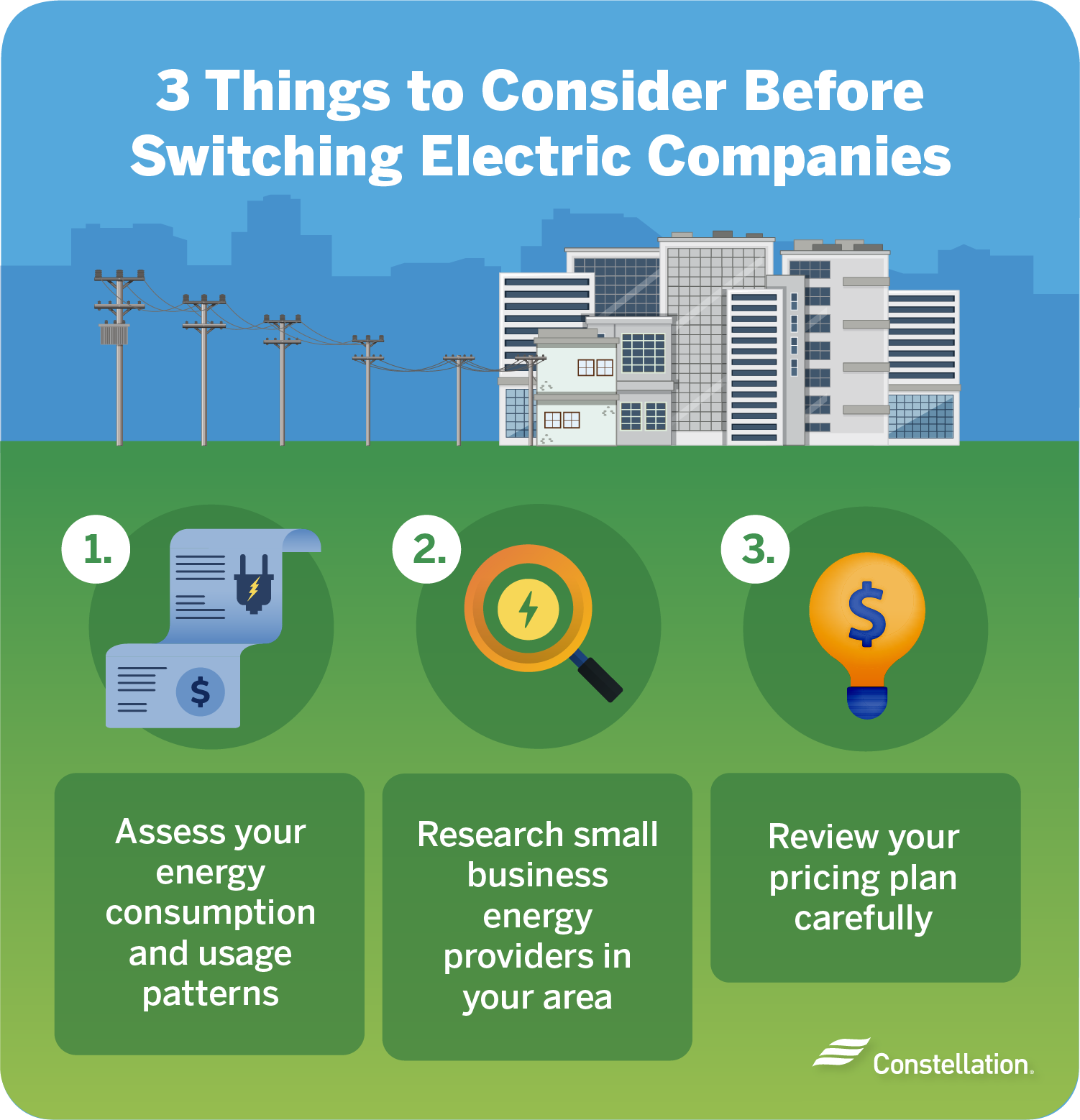 Before deciding to switch electric companies for your business, take some time to dive into the details of your electricity bill, research alternatives and examine the terms of your plan.
1. Assess your energy consumption and usage patterns
Find the supply line on your current bill and track how much electricity you've been using over the past few months. You can estimate your business's electricity costs annually to create a benchmark for comparison.
Next, take a look at your usage patterns. Does it vary month to month? Do you see a seasonal pattern? If you know your usage patterns by day and by time of day, you will have a great starting point for reviewing pricing options with other companies.
You should also familiarize yourself with the factors that influence small business energy costs so that you have the insights you need to shop for the best contract terms.
2. Research small business energy providers in your area
If you're thinking about switching electric companies, it's worth doing some research on your options. When researching, consider questions such as:
Is the competitive supplier you're considering well-established?
Is the supplier licensed to serve your state?
Are customer reviews on social media like Facebook and Twitter positive?
How does the company fare on rating sites like Google, Yelp and the BBB?
Are small business customers satisfied with this provider?
How has the provider responded to customer service issues?
3. Review your pricing plan carefully
In addition to switching electric providers, you can switch pricing plans. Your business may benefit from choosing fixed vs. variable rate pricing. In a variable rate plan, your energy costs will swing with market electricity prices, which could lead to unexpected spikes in your electricity costs across the year.
With a fixed rate plan, your rate is locked in, protecting you from rising prices and price volatility, making planning and budgeting easier. Your small business energy costs also include taxes, charges and fees, so examine the terms and conditions of any plan you're considering with care.
How do you switch electric companies for your business?
If you're considering making a change, it's important to know how to switch electric providers for your business, as well as the instances in which switching may not be an option.
Are there any cases when you can't switch to a new energy provider?
If your company operates in a competitive energy market, that means your business is generally free to switch electric companies. Check your agreement, however. If you signed an annual contract, you might be stuck with it until it expires. Energy providers may charge an early termination fee if you do decide to change to another provider before the end of your contract.
What should you know before signing an energy supplier contract?
As with any business deal, it pays to ask your new energy supplier the important questions before you sign on the dotted line. The answers may affect your decision or help you negotiate better terms.
What charges are included in the rate?
Be sure you know which components are included in your rate and which components, if any, are passed through and charged at market cost. Not all suppliers offer comparable products. A fixed rate with one supplier may not include the same components as a fixed rate with another supplier. To compare apples to apples, you need to know these details.
What happens at the end of the contract?
Make sure you know what is involved at the end of a contract before you sign. You don't want surprises. The time to make sure the contract ends as well as it starts is at the beginning. You can save your business headaches and expenses. Ask about the renewal terms and next steps. You can create a mutually beneficial long-term relationship with this kind of advance planning.
What happens if there are changes in energy laws?
Sometimes changes in laws can cause electricity rates to go up. To the extent possible, try to find out what will happen to your business should changes occur. Your provider should be able to provide you with insights into what legislators are considering, but take the time to do a little research yourself and suggest terms that can protect you from any changes that could adversely affect your business.
Is there an early termination fee?
You can't predict what changes might affect your business. That's why having energy choice for your small business is so important. Keeping your small business energy options open can help give you some flexibility. Make sure you know if there is an early termination fee (known as an ETF) and how much it will be.
Is there a penalty if you switch small business electricity providers?
If you have a month-to-month agreement and no existing long-term contract, you likely will not have to pay an early termination fee when switching electric providers. Read your current agreement and confirm switching details with your current energy provider before you sign on with a new one.
How long does it take to switch electric providers?
In states with competitive energy markets, switching is straightforward and relatively quick. The usual turn-around is a few days to two weeks after getting a confirmation from your local utility. Depending on where you live, you have between 3-14 business days to change back after the switch if you change your mind.
Will there be a lapse in service when you switch power company services?
Power to your small business will continue uninterrupted when you switch electric companies. In most places, the utility will still continue to bill you, but you will see your new electricity provider's name listed on the supply line on your next statement.
Do you have to tell your current electricity company your business is switching?
You will not have to handle the details of the switch after you sign your contract. Your new provider will notify your utility and they will send you a confirmation notice that you have switched electricity providers.
Explore your small business electricity options with Constellation
Switching electricity providers can help you manage increasing power costs for your small business. Contact us to get the details on electricity plans for small businesses. We will provide you with a detailed quote that makes all terms and conditions clear. When you can clearly see the value and how the plan will benefit your business, comparing your options and making the right choice is easy.