If you're unfamiliar with what a smart plug is and what a smart plug should be used for, this article looks at how these easy-to-use and affordable gadgets can help turn your home into a smart home. You can enjoy the benefits of smart technology without spending a lot of time or effort on setting it up. A smart plug can help you enjoy the convenience and efficiencies a smarter home offers.
What is a smart plug?
A smart plug is a simple device that transforms anything plugged into it into a smart appliance.  They are a simple and affordable option to help you set up your smart home.
How do smart plugs work? They connect electrical devices to a smart hub or via Wi-Fi to your smart system or smartphone. Plug a lamp into a smart plug and you have customizable control over it. The same goes for common household appliances and electronics.
You can control the things you connect to a smart plug with a programmed schedule or remotely via your phone or voice assistant. Because they simply plug into your existing outlets, you don't have to invest in expensive or complex wiring or professional set up. This makes smart plugs one of the best smart home devices to invest in.
What are the benefits of using a smart plug?
Using a smart plug, like the Constellation PowerPlug, puts the benefits of a smart home within reach. What does a smart plug do? It can help add convenience to your day, increase security and safety, save energy, and manage your kids' screen time. When you consider what a smart plug does, the benefits are many.
What can you use a smart plug for?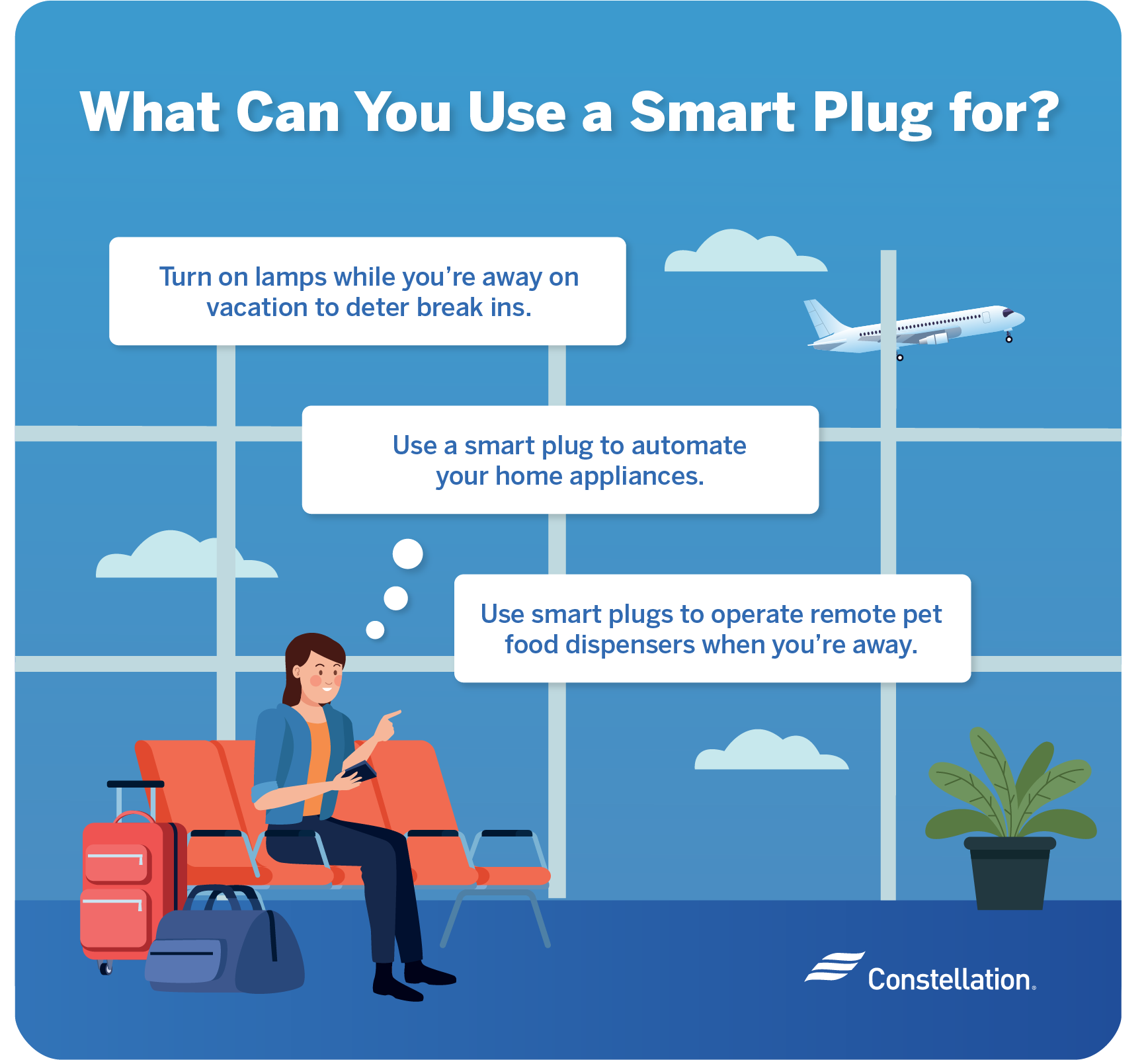 People have discovered dozens of ways to use smart plugs in their homes. What is a smart
plug used for? In most cases, control and energy savings are the top uses. Some ideas for how to use a smart plug are expected, while others are rather inventive.
Turn on your coffee pot while you are still in bed.
Turn on your radio when it is time to take a shower.
Confirm you turned off your curling iron or oven at a set time to reduce the risk of fire.
Turn on lamps while away on vacation to help deter break ins and protect your smart home.
Turn on your holiday lights with a set schedule.
Set a slow cooker to be on however long its needed without over cooking food.
Use it to automate home appliances.
Turn off power to electronics to stop wasteful power draw while in idle mode.
Use them to operate remote pet food dispensers when you are away.
Set limits to the amount of time your kids spend using computers, game consoles or the television.
Do smart plugs need to be connected to Wi-Fi to work?
Smart plugs are designed to be connected to Wi-Fi. If you want to control things in your home remotely via your smartphone, such as feeding your pets when you are working late, it needs to connect to the Internet. That said, many smart plug features work well if you connect your smart plug locally to your smart hub. You can still program it to power up and power down things in your home and schedule programs for its operation.
Things to consider before buying a smart plug
When shopping for a smart plug, you have many options when it comes to features and functions. Here are a few things to consider and features to look for when making your choice.
Voice assistant capability. Does the unit easily integrate with Alexa, Siri and other common voice command systems?
Energy monitoring. The right smart plug can turn out to be one of your best energy-saving home technologies if you find one that keeps tabs on energy being used by the devices plugged into it.
Scheduling ability. While remote control of appliances and devices is nice, the ability to set up programs and schedules increases the utility of your smart plugs.
Surge protection. Storms and fluctuations in power can damage delicate electronics and appliances. Look for a smart plug that protects against power surges.
Number of outlets. Some smart plugs have only one place to plug in appliances; others offer more outlets to turn multiple items into smart devices.
Indoor vs. outdoor use. Some smart plugs are designed to withstand rain and weather and can be used outdoors. Others are only for indoor use.
Turning things on and off is just the beginning. Some smart plugs allow the power to be modulated so that lights plugged into them can dim.
Single vs. multi-pack plugs. You can sometimes get a better price if you buy a multi-pack of smart plugs or plug bundles with smart light bulbs.
Constellation Energy and Smart Plugs
You can monitor and reduce your average home power usage with Constellation's smart plugs. Constellation smart lights and plugs can be purchased individually or in bundles. Once you start adding devices such as the PowerPlug to your smart home system, you'll find dozens of uses–including saving energy–for them.