Smart office security is a new approach for protecting your business assets. Your office contains electronics, documents, equipment, furnishings — and most importantly, people — all of which need safeguarding. Security is an important consideration, and smart office solutions increase your options.
What is smart office security?
Smart office security is a connected system that gives you visibility and control of your office space and assets. Using a smart hub, you can wirelessly link, program and control your security systems from anywhere, using a cloud-based interface that works on your phone or computer. Today's smart office security provides protection that is customizable and convenient, as well as easy to install and use.
The components of a smart security system
Wireless integration of various components gives you the ability to automate your office security system. By connecting everything to a smart office security hub, you can easily control every component.
Security camera(s). Just the presence of a camera can deter criminals. They don't want to be seen or leave a visual record of their crimes. When you connect to cameras via Wi-Fi, you can access them from anywhere, giving you the ability to see remotely what's happening at your office — as well as record it.
Security lights. Turning lights on and off remotely makes your office appear occupied. Energy-efficient outdoor lighting also increases visibility around doors and windows, making it harder for intruders to hide.
Alarms. Loud sounds and sirens tell thieves they have been detected and that law enforcement will soon arrive. Most will get out of there fast.
Smart locks. You can unlock a door remotely, assign a PIN to an employee or provide visitors with access codes that expire after use. By controlling who can enter your facility, you dramatically increase security. And you won't have to keep track of keys and security cards.
Motion sensors. Sensors can detect the movement of anyone on your premises. You can program them to flash on the lights, trip a loud alarm or focus a security camera.
Other detectors. Add glass break detectors to guard against unauthorized entry, as well as smoke, carbon monoxide and water detectors for an early warning of dangerous or damaging conditions.
How much do smart office security systems cost?
Because components and service plans vary across providers, making direct cost comparisons isn't straightforward. In general, you can expect to pay for equipment like cameras, motion sensors, smoke and water detectors, lighting, central smart hubs and door keypads.
On the low end, self-installed equipment starts around $230 for a basic package and rises to around $500 if you add cameras and various sensors. On the high end, an office security package would run you more than $850 and go up from there, not including installation costing as much as $200. Service plans for office security systems range from about $10 per month on the low end to as much as $60 per month.
Benefits of smart office security systems
Smart office security systems remove the hassles, costs and complexity from installing and using security equipment and technology. Additional specific benefits include:
1. Increased control
Every aspect of your automated office security system is at your fingertips. You can access, control and coordinate components remotely through an integrated dashboard. For instance, you can limit and track access to your premises by employees and guests. You can also add features like two-factor authentication, facial recognition, fingerprint scans and more that further increase office security.
2. Improved energy efficiency
Wireless security components typically run on rechargeable batteries, so they're not constantly drawing electricity from the grid. Programming lights to turn on and off to give the impression that someone's in the office is more efficient than leaving lights on all the time. And motion sensors that turn systems on and off only when people are present also contribute to lowering your small-business energy consumption.
3. Greater connectivity
Connecting the components of your smart office security system gives you access, visibility and control of office security from a remote location through a centralized dashboard. Getting the components to work together increases office security. For instance, when someone accesses the premises through a smart lock, connected motion sensors can then activate cameras.
4. Reliable and easy to use
Smart security systems are designed to be simple and intuitive for easy installation and use. Because they're wireless, smart office security components are less costly to place, integrate and operate. And wireless automated office security systems have proven to be every bit as reliable as the expensive wired options that used to dominate the market.
5. Potential for incentives
Some municipalities offer incentives for businesses to install smart office security. For instance, Philadelphia offers businesses payments for security cameras, including connected smart cameras, of up to 50% of eligible purchase and installation costs, and up to $3,000 for each property.
Tips for choosing the right smart office security system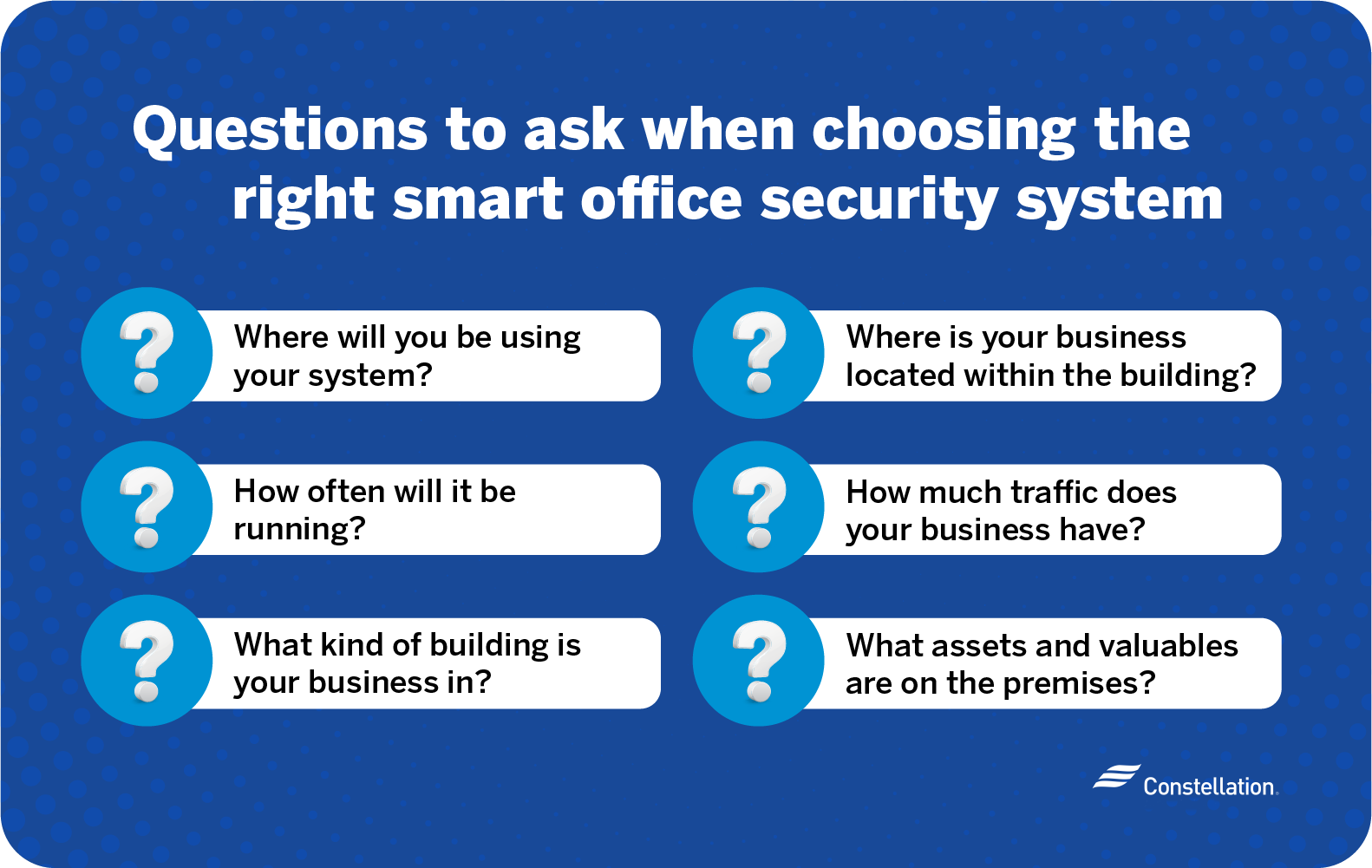 In choosing which smart office security system is right for your business, consider your answers to these questions:
Where will you be using your system? Outdoor security components need to be more durable. In addition to being weatherproof, they need to be resistant to vandalism. That can add to the cost.
How often will it be running? Equipment that runs around the clock draws more electricity and wears out faster.
What kind of building is your business in, and where is it located within that building? An office suite in a high-rise has different security needs than a stand-alone, single-occupant building directly accessible from the street.
How much traffic does your business have? Are employees coming and going regularly? Is your business open to customers and guests? The answers will drive your system choices.
What assets and valuables are on the premises? You'll want to do a cost-benefit analysis of the value of your assets vs. the cost of protecting them.
More ways to increase your office's security
The right equipment is only part of protecting your business and employees. These workplace security tips can enhance the benefits of a smart security system for your office:
Use strong Wi-Fi passwords.
Educate employees on security best practices.
Invest in email security, as 94% of malware is delivered via email.
Lock up valuables and limit access to high-value equipment to specific employees.
Label all equipment with an inventory number and document it with photographs and purchase receipts.
Require employees and guests to wear ID badges.
Have an updated emergency plan.
Increasing office security requires good procedures, an informed workforce and equipment that gives you the ability to monitor, control and safeguard your assets and your employees. A smart office security system is a prime example of smart small-business technology, offering flexible, affordable and convenient options.