Do you know what the ideal office temperature is? The answer to that question can kick off office temperature wars that play out at your thermostat. Everyone has an opinion, and opinions vary.
Recent research, however, has uncovered the link between temperature and productivity in the workplace. So, you can settle office thermostat wars with facts. With a little mindfulness of seasonal weather patterns and some attention to temperatures across your office, you can boost morale and work output while reducing energy costs.
How temperature affects productivity in the workplace
The temperature in your office has been proven to affect office productivity. If temperatures are too far outside comfortable norms — either too hot or too cold — the work output of your staff could suffer. High temperatures can lead to lower productivity in any kind of workplace, especially when physical labor is involved. When it gets hot, human physiology craves a nice nap. Feeling sleepy isn't the best state for quality work. And on the opposite extreme, low temperatures are linked to slower work rates and increased errors.
Lost productivity is one of the ways weather impacts small businesses, directly affecting the bottom line.
The best temperature for your office
For decades, the standard advice was to keep your average office temperature between 70 and 73 degrees Fahrenheit. That temperature range, however, was determined when the workforce was mostly men wearing suits and sport coats to the office. In today's casual office culture, and with more women in the workforce, the best temperature for office air conditioning is higher by several degrees. Women, with a lower metabolism, get cold faster and rarely wear coats and ties to work.
The temperature and productivity link is significant. A Cornell University study of the ideal office temperature found that workers had a 25% error rate on computer keyboards when the temperature was 68. At 77 degrees, the error rate fell to 10%. A University of Chicago study of temperature and productivity found that for every degree above the average temperature, output value dropped by 3%.
Beyond increased error rates and lost productivity is the cost of wasted energy. Keeping the average office temperature too hot or too cold wastes money as your systems work harder to maintain your office environment.
But achieving the ideal office temperature is easier said than done. Different areas of your space may have different heating and cooling needs. Parts of your office on a high floor getting direct sunlight may need more air conditioning in the summer. Offices on the ground floor near doors or loading docks may be drafty and need more heat in the winter.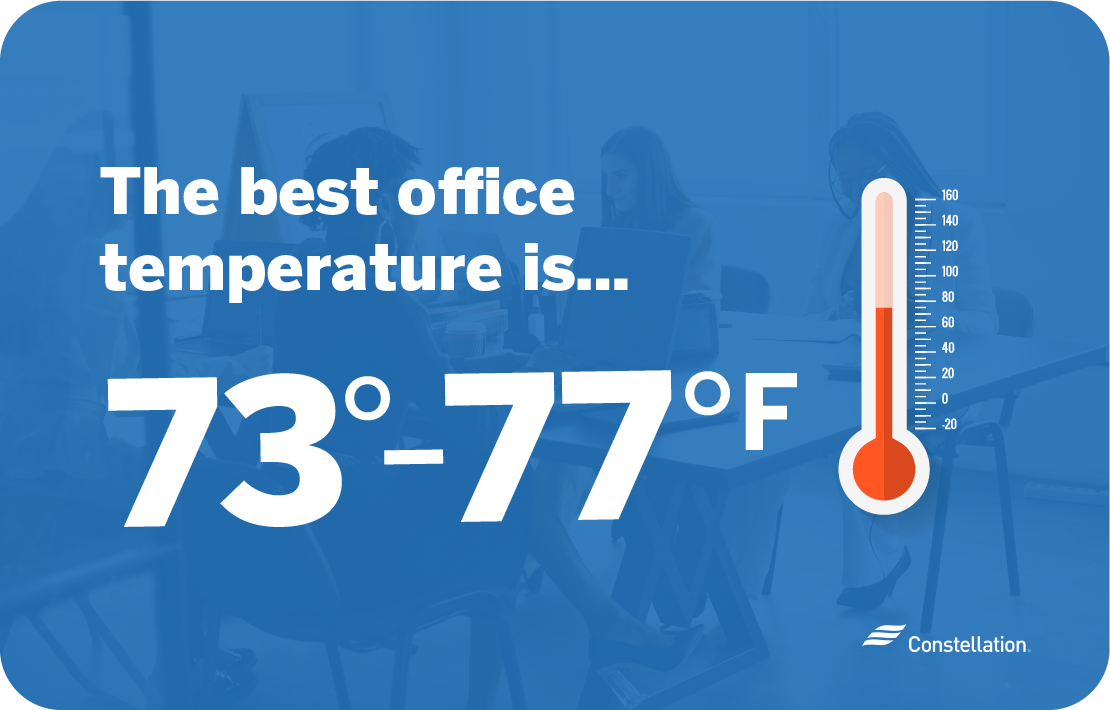 Am I required to keep the workplace a certain temperature?
Besides the comfort and productivity of your workers and managing heating and cooling energy costs, you need to consider Occupational Safety and Health Administration (OSHA) guidelines. OSHA recommends that the ideal office temperature be somewhere between 68 and 76 degrees Fahrenheit, with humidity in the 20%–60% range. These recommendations are for guidance and are not binding regulations.
What temperature is considered unsafe working conditions?
Rather than dictate specific temperatures, OSHA mandates taking relief measures according to the effects of temperature on the body. The idea is to maintain workers' safe body temperature. Too hot is measured by profuse sweating, with the risk of heat stress when a person's body temperature rises above 100 degrees Fahrenheit. You'll want to avoid overexposing employees to cold temperatures, as well.
OSHA recommends a variety of ways to help workers stay safe, such as fans, special clothing and mandated rest periods every hour.
Dealing with office thermostat wars
Half your office might think the average office temperature is too cold, while the other half thinks it's too hot. Office thermostat wars never seem to have winners; it's extremely difficult to keep everyone happy. But there are a few ways to arrive at the best temperatures for office air conditioning or heat.
How to better monitor and control your office's temperature
With productivity and runaway energy costs on the line, it's important to monitor and control the temperature in your workplace. Whether it's keeping your office cool in the summer or keeping people from freezing in winter, here are some suggestions for maintaining the ideal office temperature:
Get your employees involved. Survey your workers and find out what each one considers comfortable. Find a compromise and post office etiquette signs to encourage everyone to respect the thermostat setting.
Invest in a smart thermostat. Because temperatures vary throughout the day, consider using a smart thermostat that senses the environment and adjusts the heat or air conditioning automatically for even comfort and maximum efficiency.
Perform routine HVAC maintenance. A well-maintained system will run more efficiently and make it easier to regulate your office temperature. You may also want to upgrade to an energy-efficient air conditioner.
Encourage personal responses. Keeping a sweater handy or allowing personal fans allows employees to customize their workspace environments.
Recognize different needs across your space. Average office temperature is meaningless if some rooms are unbearably hot and others are frigid. Consider controlling temperature by zone and automating your office temperature, rather than going for an average.
Keeping your employees happy and productive
If your business is like many, you need every edge you can get. Managing your workspaces with the ideal office temperature and controlling your small-business energy consumption encourages productivity and saves on energy costs. And that's truly winning the office thermostat wars.