Smart home systems let you remotely manage your technology and many of your home's functions through a single app. People love the convenience they provide, but there are many other reasons why these systems are rapidly gaining in popularity: energy efficiency, security and even smart-home insurance discounts. The protection they provide in the areas of theft, fire, water damage and gas leaks can lower the cost of your homeowners or renters insurance and make you eligible for various discounts.
The different types of smart home insurance discounts
You can lower home insurance with smart home technology. Exactly how much depends on your insurance provider and the smart home technology you're using. Offers can vary.
The following are some common types of smart-home insurance discounts and utility company incentives: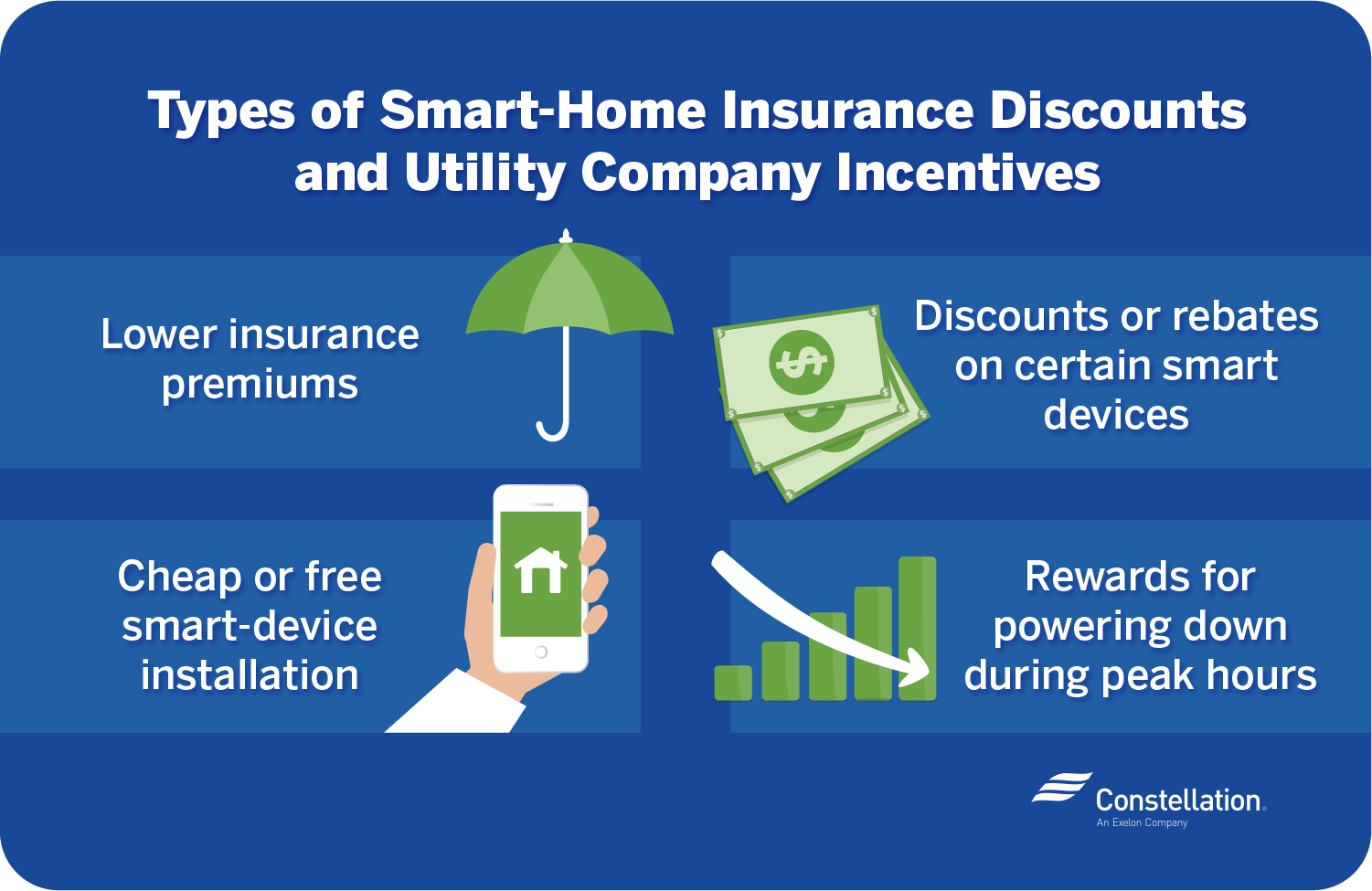 Lower insurance premiums. One of the ways to save on homeowners insurance is by lowering the amount of your monthly premium. If you install certain smart home devices, some insurance companies will offer you a discount.
Discounts or rebates on certain smart devices. Some manufacturers have made deals with insurers for home insurance discounts. By partnering with insurance providers, smart-device companies can offer discounts or home insurance rebates to consumers.
Cheap or free smart-device installation. Correctly installing equipment is critical for certain kinds of smart home devices. To ensure that the job is done right, some insurance companies and utility companies offer inexpensive or even free installation — with some restrictions.
Rewards for powering down during peak hours. It's in a utility company's interest to reduce strain on the grid during peak demand. Yours may offer rebates or discounts on smart tech and/or software to track peak usage and automatically turn off devices in your home during those times.
Smart devices that can earn you home insurance discounts
Typically, the best smart devices for home insurance discounts are those that make your home safer and detect potentially damaging problems early. Each company has different programs with their own requirements and rules. The risks — and thus discounts — can vary regionally.
Here are some of the most common ways to save on homeowners insurance by converting your house into a smart home:
Automated home security systems. Do security cameras lower insurance? They might if you have a smart home security system in an area with a lot of break-ins. Cameras and sensors can detect intruders and notify police without your assistance. You can lower home insurance with smart home technology like home security automation. Plus you can program lights to turn off and on to make it look like someone's home, deterring would-be thieves.
Smart thermostats. A smart thermostat can save you energy, but it may also be able to earn you discounts on your home insurance premium. For example, some smart thermostats can sync with your home security system to add an extra layer of protection in the event of an emergency or disaster. They may feature an alarm that sounds when suspicious activity is detected, or even be able to notify you if rising temperatures indicate a possible fire.
Video doorbells. Preventing loss is one of the reasons why insurance providers want you to have a smart home. Thieves don't want to break in if they think someone's home or they'll get caught. With a video doorbell, you can see and record anyone outside your door. You can speak to them as if you're in the home — even if you're hundreds of miles away.
Geofences. It's easy to forget to lock the door or to turn off an appliance when we leave home. Geofencing is a way to draw a virtual boundary around your property. When you leave the house and cross that line, your smart home system will sense it and automatically lock the door or turn off the oven. You may be rewarded for preventing accidents in this way with smart-home insurance discounts.
Smart smoke detectors. Smart smoke detectors can warn of fire and toxic carbon monoxide gas before either becomes a problem. And what's more, they're another one of the ways to save on homeowners insurance.
Smart locks. If you forget to lock up, you can use your phone to bolt the door remotely with a smart lock. You can issue codes to certain people you give permission to enter your home. The codes can be set up to work only on certain days or for a set number of hours. You'll have total control of access and can prevent duplicate keys from falling into the wrong hands. The added security can earn you smart-home insurance discounts.
Water shut-off sensors. Water damage can be expensive. That's why insurance providers want you to have a smart home with water shut-off sensors. It's another good way to lower home insurance with smart home technology.
More ways you can benefit from smart home technology
Protecting your smart home from loss or damage is one of the top reasons for investing in smart tech, but using smart devices for home insurance discounts is just the beginning. Smart home systems offer practical convenience and comfort. They can also reduce energy consumption and help with home energy management.
With the increase in energy efficiency, many smart home systems and devices quickly pay for themselves by cutting your heating and electricity bills. And if you decide to sell your home, having smart home systems can enhance its value.
Why do insurance providers want you to have a smart home?
Smart home upgrades offer greater security and loss prevention. They also provide rich data. Insurance companies can use that information to more accurately calculate risk and cost, both of which drive insurance premium rates.
Smart home data feeds a process called predictive analytics. Using advanced statistical algorithms and artificial intelligence (AI) machine learning, they can better forecast the future. With better calculation of risks to your home, they can often lower insurance premiums. Insurers don't need to charge more to have a larger buffer in case they were wrong in their risk assessment.
Your smart tech allows them to become more accurate and cut risk, expenses and work.
Reduced risk of damage
In the event of something sudden or unexpected — such as a fire, storm or water leak — a smart home system with sensors for detecting smoke, water leaks, storm damage and other problems can alert you early. You can prevent or stop the damage before it becomes severe.
Because your insurance company won't face as much risk or as high a loss, sensors are ideal smart devices for home insurance discounts. By offering you better premium rates, they incentivize you to make the investment in smart home technology.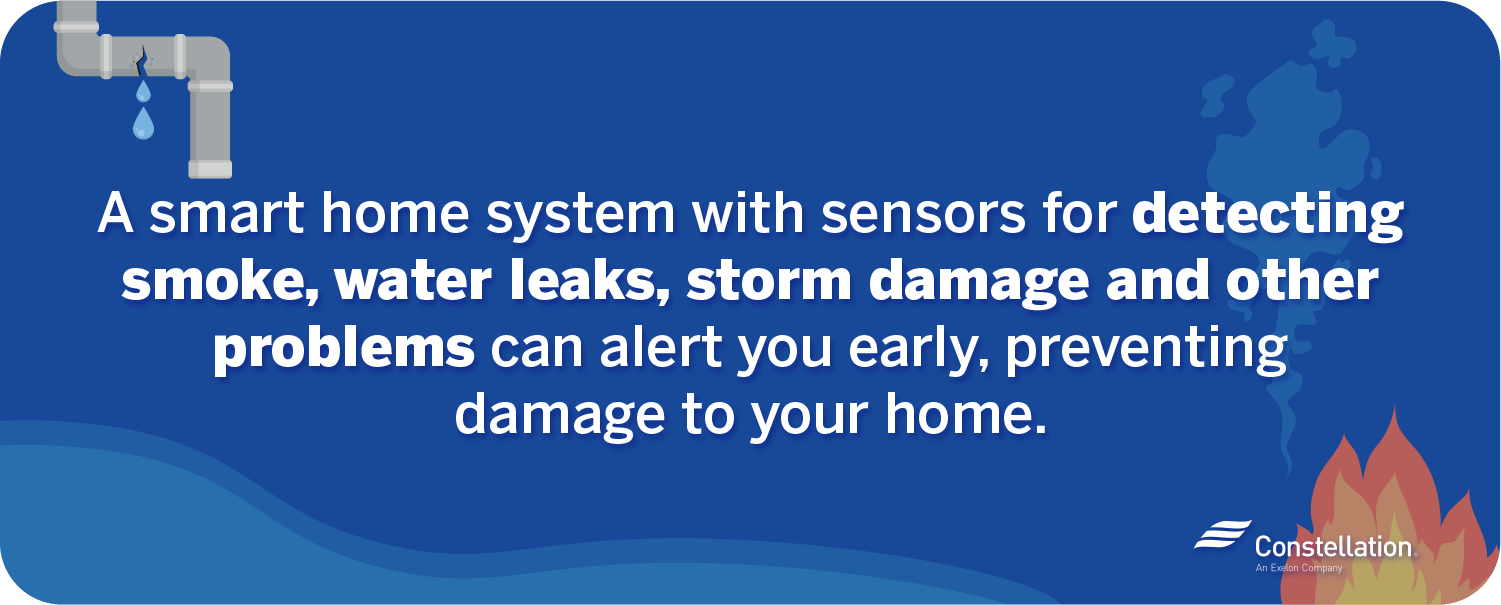 Fewer claims that need to be filed
In addition to paying you money for your loss when you make a claim, insurance providers have to cover the overhead for administering your case. Insurers have run the numbers and know that owners of smart homes are likely to file fewer claims because smart homes are more secure, better protected and more reliable. With a lower rate of claims, they save doubly and can pass some of the savings on to you in the form of lower premiums.
Claims are easier to settle
The administrative costs for handling insurance claims can add up for insurers. Smart homes can often prevent damages and thus claims. And if you do need to file a claim, smart home systems can make filing it faster and cheaper. Plus, smart home systems can provide useful data to your insurance company, which makes it easier to assess damage and then pay your claim faster.
Improved data collection
When you allow your smart home device to share data with your insurance company, they can use it to better understand your needs and habits. The days of one-size-fits-all policies are coming to an end as we usher in the future of smart homes. Insurers will be able to offer individualized coverage, with discounts and incentives tailored to give you the greatest value.
Lower your home insurance costs with smart technology
The growing variety and size of smart-home insurance discounts are adding to the reasons why smart home technology is so popular. The types of smart-home insurance discounts, size of savings and even the types of smart devices that insurance companies value will vary by company and by where you live.
Most people buy smart home systems like Constellation Connect to enjoy the benefits of a smart home, like greater control, convenience and energy efficiency. But you should make sure to look into smart-home insurance discounts when you decide to invest in a smart home system. You may be able to save money not only on your monthly premiums but also on the equipment and installation of the system itself.