Emerging small business technology trends are reshaping how businesses operate. Technology that as recently as a few years ago was available only to larger corporations with big budgets is now within reach of small businesses. Here are some of the most promising new technological trends for 2022 that can help you manage your people, processes and resources more efficiently–and better reach and serve your customers.
Top 10 small business technology trends
Emerging business technologies include applications that improve energy efficiency. Technologies that provide data, insights and controls create options that you can use in your small business planning and operations. Here are the top small business technology trends that may be useful for your company.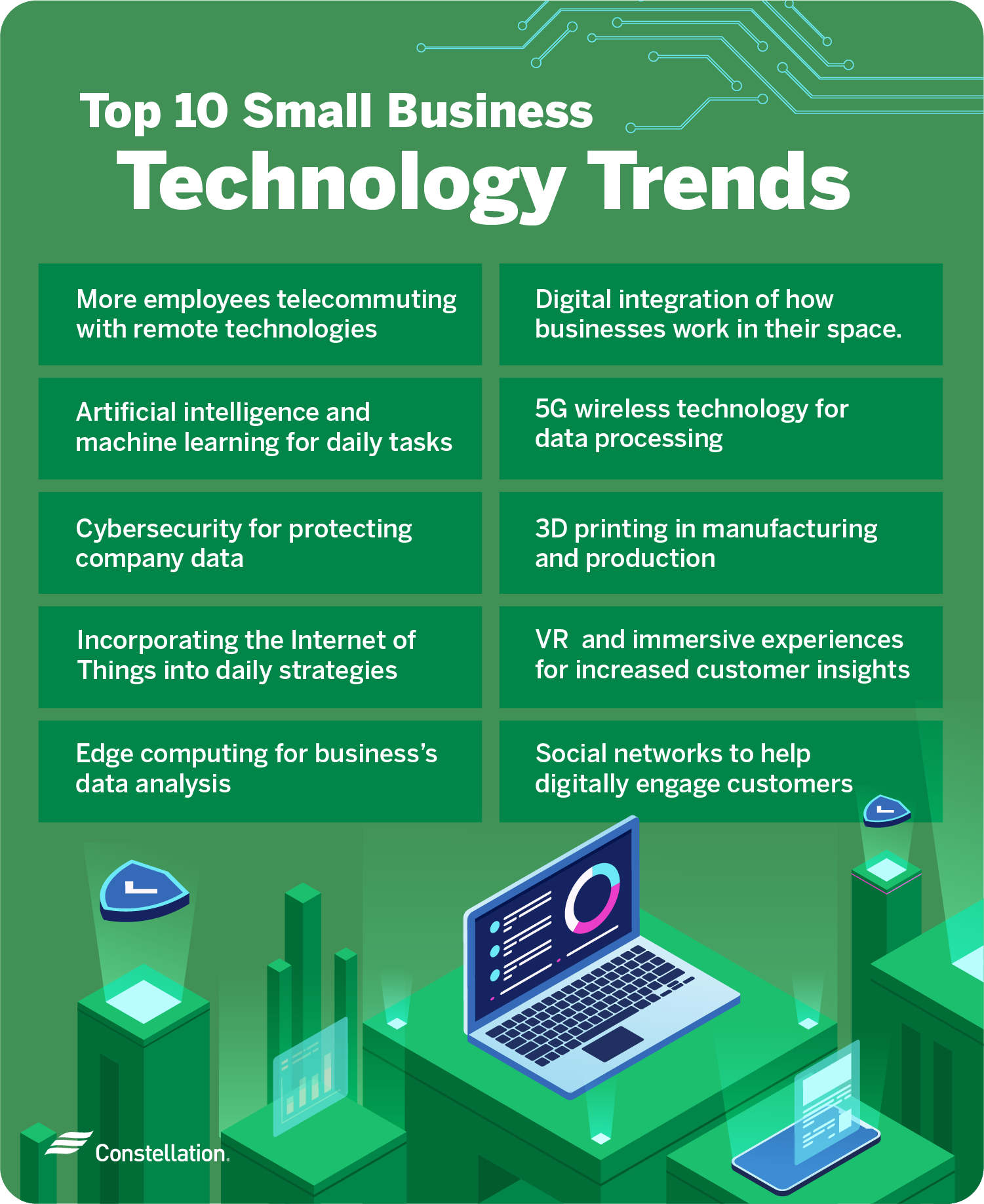 1. More employees are telecommuting as remote technologies improve.
Before the pandemic, only 43 percent of the American workforce spent a portion of the week working remotely. This is no longer the case. Remote work or telecommuting was growing before, but now it's part of the "new normal" for companies of all types and sizes. For example, the number of companies offering their employees a work-from-home option increased by 40 percent over the last five years.
The pandemic has accelerated the future of business technology adoption. Companies began investing in ways to make telecommuting more attractive and feasible, and many have succeeded. Remote work allows valuable employees to remain with a company if a spouse or partner moves to a new job, negating the need to hire and train a replacement. Productivity is higher, as is job satisfaction.
Remote workers usually operate from their home offices, sometimes using their own computers, printers and other equipment. Small businesses can eliminate some of the costs associated with replacing outdated technology in the workplace. Companies are instead investing more effort in emerging business technologies such as digital conferencing technology, shared virtual workspaces, and secure file transfer technologies.
2. Digital integration is transforming how small businesses work with their space.
The rise in remote work is causing businesses to rethink their processes, tools and even staffing decisions. Technological trends in business are opening opportunities to innovate for efficiency and profit. Converting to a paperless office is now a necessity with workers flung across town, across the country, and even across the globe.
Now is a good time to explore smart sensors and similar office productivity gadgets that can make space and resource usage more efficient. For example, smart plugs and smart thermometers can monitor energy use and office climate to give you the data your systems need to improve energy efficiency.
3. Artificial intelligence and machine learning are speeding up daily tasks.
Machine learning is rapidly gaining acceptance in many kinds of small businesses. It can simplify and speed up tasks, lower costs, increase productivity, reduce risk, and make your company more flexible and responsive.
A common example is adding chatbot features to your website and phone automation system to help people quickly get answers to common questions. Popular CRM platforms are offering AI for analyzing and optimizing communications. AI is streamlining accounting and pointing out risks early. It is no wonder that some 41 percent of businesses have adopted AI solutions already.
4. 5G wireless technology is improving communication and data processing.
With a remote workforce, reliable and fast connections are a necessity. Fifth generation connectivity technology–5G–is up to 100 times faster than 4G. It translates to more data on more devices powering more activities. You can better collaborate and share large files and rich data. Zoom® calls have become common. Imagine what holographic virtual conference calls will be like. You can also create an immersive virtual product demonstration. The possibilities are just beginning.
5. Cybersecurity is becoming essential for protecting company data.
The future of business technology is rapidly evolving. Cybersecurity is essential to all businesses, no matter how small. Companies increasingly rely on CRMs, augmented analytics and edge computing to be more efficient and to eliminate mistakes. Data has become more valuable–and more attractive to thieves. Investing in cybersecurity technology, processes and training should be a priority to protect your customers and your business.
6. 3D printing is changing manufacturing and production processes.
3D printers form materials according to computerized designs. The most common 3D printers release molten materials from nozzles that carefully layer to build objects from the bottom up. Common materials include plastic, powders, resins, metals, carbon fiber and more. Business uses of 3D printing include speeding up prototyping, creating custom products on demand, and lowering costs of manufacturing.
7. Small businesses are incorporating the Internet of Things into their daily strategies.
The Internet of things (IoT) refers to objects that include built-in sensors, connectivity and sometimes processing ability. These objects connect over the Internet to become smart objects that can be controlled by a smart-assistant on a computer or smartphone.
Businesses use smart technology to control everything from lighting and room temperature, machines and processes, inventory and shipping status, to employee productivity and health. Smart locks and cameras can improve small business security with keyless doors and access permissions. Optimizing your HVAC and other equipment can help you optimize your small business energy usage.
8. Small businesses are using VR and other immersive experiences for increased customer insights.
Remember when virtual reality was considered science fiction? That's no longer the case. Immersive reality is one of the top technology trends in 2022. While often associated with video games and the entertainment industry, immersive realities have multiple business applications, including employee training and creating more enjoyable, engaging customer experiences.
Of the three types of immersive reality currently available—virtual reality, augmented reality and mixed reality—mixed reality is expected to be the most influential when it comes to small business technology. Mixed reality refers to a mixture of real-world and digital objects that interact through smartphones.
9. Edge computing is redefining how small businesses work with data.
Edge computing refers to the devices, sensors and actuators within a network. The old way of managing such devices was to connect them to a computer that controls them from a central point. The technology has evolved to be faster and more responsive by moving the data analysis function out to the network edge where it can even be embedded in the sensors and actuators themselves.
One application that benefits from edge computing is security systems where time to respond truly matters. Cloud computing is sometimes confused with edge computing. Cloud networks capture, use and manage data from client machines into centrally located servers.
10. Social networks continue to help businesses digitally engage their customers.
This is one of the older business technology trends, yet the area is still changing fast. Social media platforms have become a useful tool in serving customers. Marketing benefits from being able to reach customers digitally. Social media is also useful for customer service, problem solving, crowd-sourcing, and coordination.
Social media can also play a role in creating a more customized and immersive customer experience. This area is a hotbed of experimentation, with emerging business technologies building on previous innovations.
Determining which technology trends matter most for your business
How will technology change business in the future? The possibilities are fascinating.
With so many business technology trends and fast innovation, it will take some effort to figure out which are most essential for your success. A restaurant probably has no need for edge computing, but may find that integrating AI into staff scheduling can improve efficiency. A hair salon may explore immersive reality so customers can explore hairstyles. Post-COVID, consulting companies may want to continue to improve collaborative platforms and virtual meeting options.
Whatever your industry, the promise of technology trends in business opens possibilities for growth, efficiency and greater profit.