Hurricanes are dangerous and cause billions of dollars in property damage annually. You can reduce your risk, disruption and costs with some careful preparation. But where to start?
Since the Federal Emergency Management Agency (FEMA) started its annual survey of preparedness and resilience in 2007, people have made major changes in the way they think about preparing for a disaster like a hurricane. The survey found that intention is high — but actually taking action has increased only 2% since 2013.
Hurricanes can affect you. That's why we have created a series of checklists to help you think through all the considerations and customize a plan that works best for your situation and your budget.
Step 1. Select the sections that matter to you
Click here to skip to the table of contents.
View all the hurricane preparedness checklists below
Hurricane preparation checklist: inside your home
Take photo inventory of your belongings.

Take photos of your belongings in case they're damaged by water or wind from the hurricane. These photos will come in handy if you need to file a claim with FEMA or your insurance provider after the hurricane.

Empty your fridge and freezer.

If your power goes out during a hurricane, which is likely if your area is in a floodplain or is under mandatory evacuation, your fridge and freezer will thaw. Either dispose of any perishable foods or wait until after the hurricane to determine if they're salvageable.
Tip: Use the quarter test! Fill a cup of water and freeze it. Before you leave your home, place a quarter on top of the ice. When you get back, you can see if your freezer thawed and re-froze by checking if the quarter sanke into the melted ice.

Turn off utilities.

Turning off your electricity at the main breaker can protect your home from power surges caused by floodwater. Do not turn off your natural gas at the meter. Learn more about hurricane safety tips for electricity and natural gas.

Turn off electrical devices.

If you decide to leave your electricity on, be sure to turn off as many electrical devices in your home as possible.
Hurricane preparation checklist: outside your home
Clear the area surrounding your home.

Clear all lawn chairs, decorations, children's toys and other movable objects by either tying them down or moving them inside your home or garage.

Check your trees for potential risks.

Circle the outside of your home and look for any weak or broken limbs. Cut the weak or dead branches off your trees to ensure that they don't become flying debris, which can cause major damage during a hurricane.

Board up your windows and close storm shutters.

Depending on your situation and resources, there are a number of ways to protect your windows from a hurricane. If you have hurricane essentials like storm shutters, close them. If you have access to sheets of plywood, board up your windows tightly to prevent flying debris from shattering them.
Tip: If none of these options are available to you, try taping up your windows, but only do this if you are evacuating! It creates bigger shards of glass that can be dangerous if you are inside but is easier to clean up once you return home.

Check your home for leaks.

If you have a ceiling or roof leak, now's the time to seal it up, because it may become much worse during the hurricane.

Check your home insurance or renters insurance policies.

Insurance that covers your home and belongings when a hurricane hits can help you recover faster from a loss. Check before hurricane season starts. It may be impossible to get if you wait until a hurricane is predicted for your area. If you have made major purchases or improvements to your home, be sure coverage is adequate to cover them. When a storm is predicted, be sure your policy is in a safe place and you know how to reach the company in the event of a loss.
How to make an emergency hurricane ready kit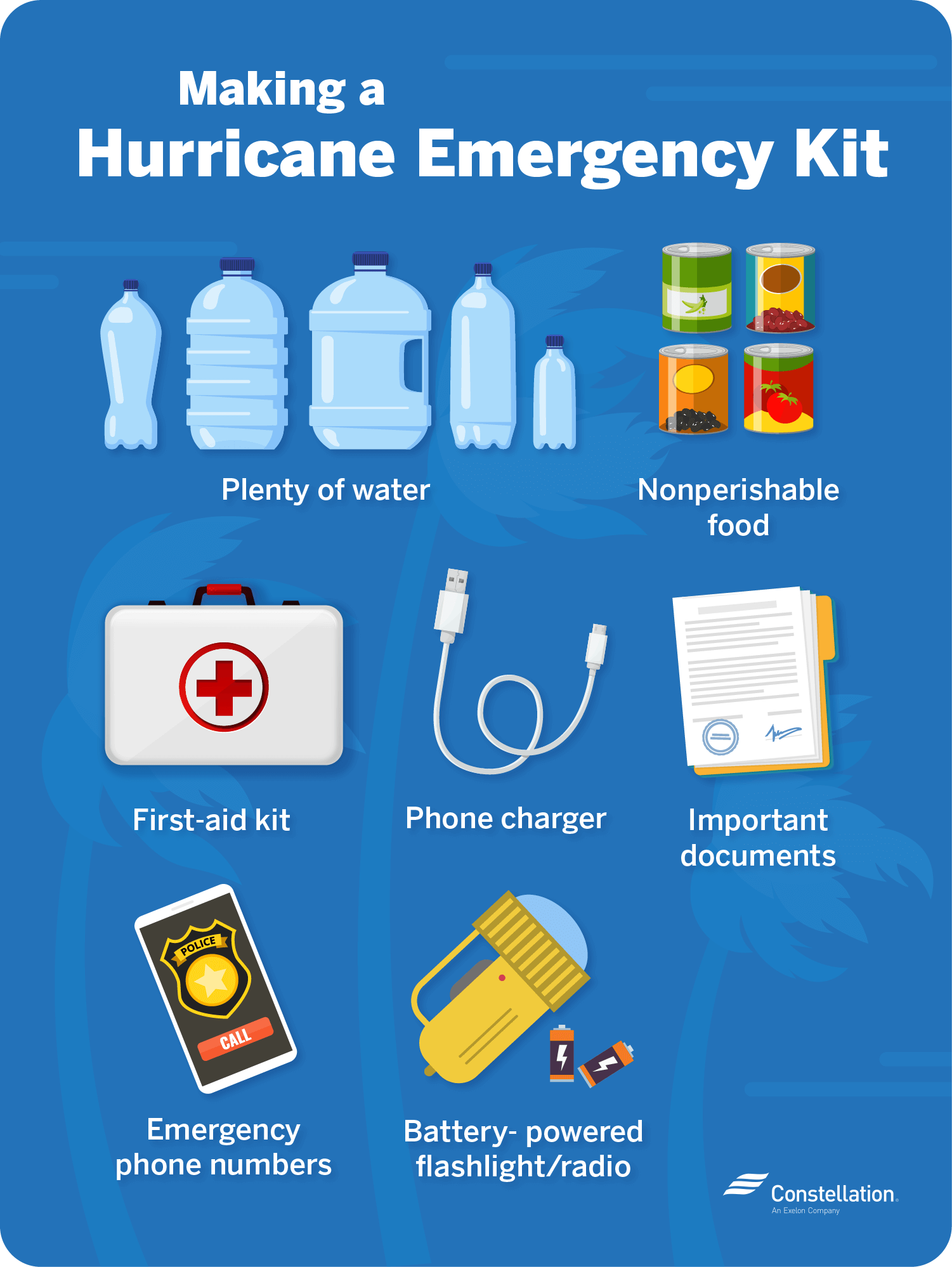 Stock plenty of water.

Ready.gov suggests having enough water on hand for three days, allowing 1 gallon per day, per person. Drinkable water should be at the top of your hurricane necessities list.

Buy or stock nonperishable food.

Canned foods are great hurricane essentials (don't forget a manual can opener — not electric!). Or if you're a serious survivalist, try military MREs.

Prepare your first-aid kit.

Double-check that your first-aid kit is fully stocked with the essentials. For reference, check out what the Red Cross suggests you add to your emergency first-aid kit list.

Don't forget your phone charger.

Keep your phone charged with a portable travel charger in order to make emergency calls, just in case the power goes out.

Prepare important documents.

Pack, as well as photocopy or scan, important documents such as your marriage license, Social Security card, children's vaccination records, insurance information, etc.

Write out your emergency phone numbers.

Write out a list of all emergency contact numbers, including your family's numbers, utility provider's numbers, school or work numbers, and public helplines.

Have a crank- or battery-powered flashlight and radio on hand.

Either works just fine, but if your flashlight or radio is battery-powered, pick up plenty of extra batteries!
Hurricane checklist for evacuating your home
Know when you need to get out.

Knowing the difference between a flood advisory, flood watch and a flood warning can keep you and your family safe. If your area is under a hurricane flood advisory, be aware and evacuate if needed. If you're under a flood watch, be prepared for the potential of flooding. If there is a flood warning, take action and move immediately to higher ground if possible.

Pack your medicine - try to plan for extra doses!

Always remember to pack critical medication for every member of your family (including the your pets). Medical emergencies after hurricanes are often caused by a disruption in prescription refills. You can find an up-to-date list of local pharmacies that are open during a hurricane by checking HealthCareReady.org.

Fill up your gas tank in your vehicle(s).

Fill your gas tank, and keep it full. Don't do this the day of evacuation because gas stations will be busy and may be running low. Every minute counts when it comes to getting on the road.

Plan your route.

Set out an evacuation route for you and your family, as well as a backup route. Be aware of bridge closings if you live on an island or peninsula town. To prepare for internet outages complicating GPS availability, purchase paper maps to add to your hurricane necessities list.

Know your local shelters.

If you need to evacuate but don't have a place to stay, the Red Cross and Salvation Army offer shelters for those affected by natural disasters. Research to see if your area has any local shelters set up.

Contact FEMA if necessary.

The Federal Emergency Management Agency, or FEMA, can give you temporary shelter. You can contact FEMA and request shelter by texting SHELTER followed by your zip code (example: shelter12345) to 43362. FEMA also provides housing assistance for those who have lost their homes in a natural disaster, such as a hurricane.
Hurricane checklist for students and parents
Check school closings.

Visit Cancellations.com for up-to-date school closing notifications.

Notify your teachers.

If your town isn't under a mandatory hurricane evacuation, but your family decides to evacuate, notify your teachers ahead of time. This will give you an excused absence and let your teacher know you're safe.

Stay up to date on assignments.

Use your extra time waiting out the storm to work on any major school assignments you might be missing.
Hurricane checklist for employees
Send an email to your supervisor(s).

Be proactive and let your boss know as soon as possible if you'll be evacuating or not.

Set up an email autoresponder.

Set up an automatic email responder if you'll be out of the office for a long period of time. Include your contact information and be clear about when you will return.

See if your pay is covered.

Some employers give paid time off (PTO) for disasters such as hurricanes. Check to see what your PTO policy is, and plan your finances accordingly.

Check if your employer has planned an evacuation.

If you're in an area that doesn't have a mandatory hurricane evacuation, your workplace may choose to weather the storm. If winds get too severe or flash flooding occurs, make sure that your employer has an evacuation plan for all employees.

Take your work with you.

If you need a specific device or item that can allow you to work remotely, take it with you: laptops, tablets, supplies, etc.

For nurses and other first responders: Make sure your family is safe and they know you're safe.

The courageous workers who stay behind to aid the sick, injured or those in an emergency are some of our nation's greatest heroes. If you have to stay behind for your job, make sure you know where your family will be, and let them know exactly where you will be, what time your shifts run and how to contact you in case of emergency.
Hurricane checklist for offices, workplaces and small businesses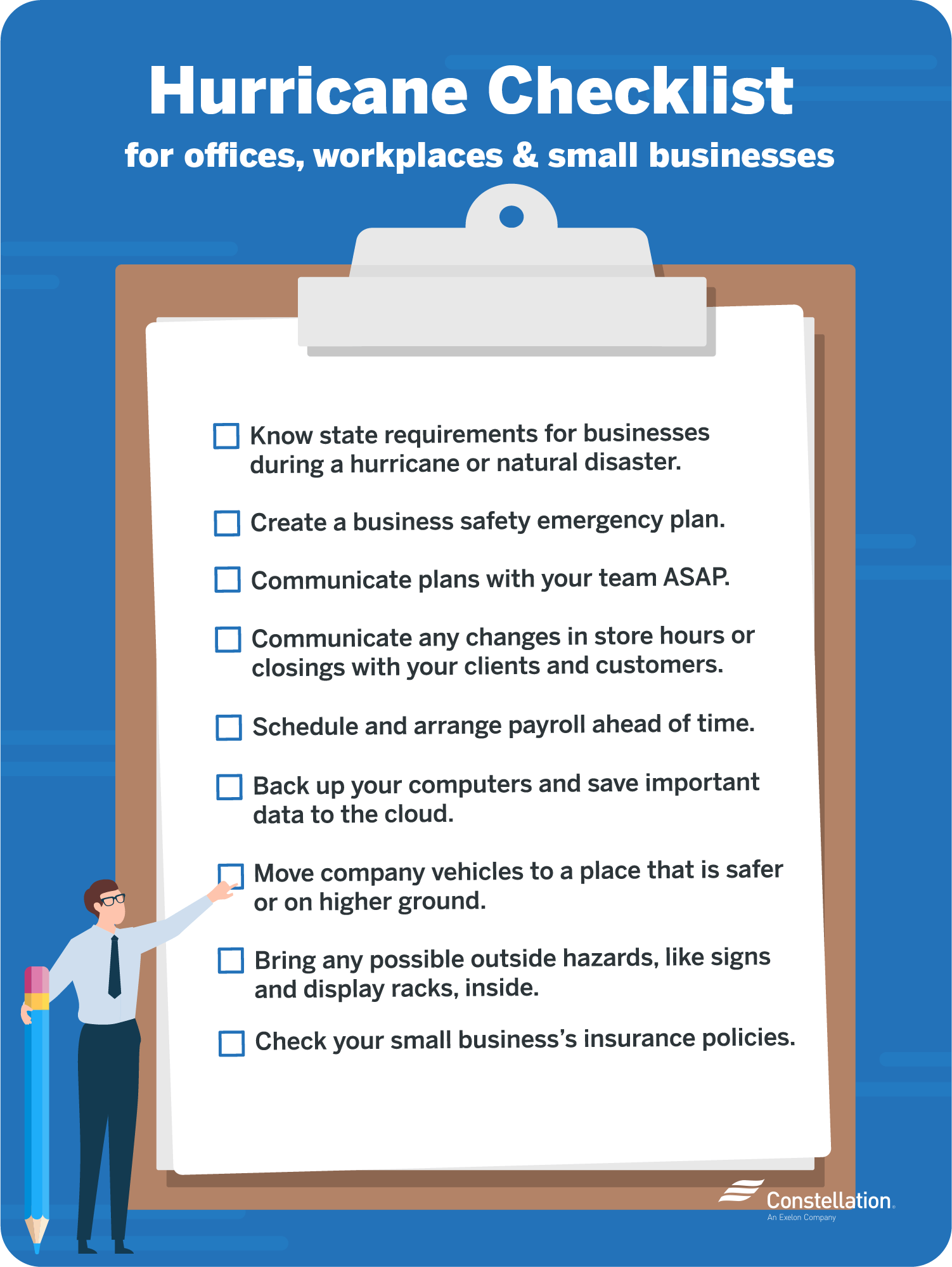 Know state requirements for businesses during a hurricane or natural disaster.

Businesses are required by law to offer a safe and healthful place in which to work, and for it to meet specific building codes. To learn more about what every worksite should have in place to protect workers from potential hazards, consult OSHA's recommended practices for safety and health programs .

Create a business safety emergency plan.

When it comes to hurricanes and other disasters, small businesses are encouraged to plan ahead of time for safety, protection, recovery or continuity of business. To learn more about hurricane essentials for small businesses, you can read the Disaster Preparedness and Recovery Plan by the Small Business Administration.

Communicate with your team.

Talk to your team as soon as possible, and go over your emergency plan to ensure their safety and the protection of business property and important documents. Define a communications plan, and let your employees know who to call, where to check or if there is an alternate location to do business. Make it clear to your employees if you still intend to stay in business and continue to serve customers.

Communicate with your clients and customers.

Use your company's social media channels to let customers know of any changes in store hours or closings as part of the hurricane preparedness plan for your business.

Arrange payroll.

Schedule and arrange payroll ahead of time, while banks are still operating. There may be disruption of service during a hurricane.

Back up technology.

Make sure to back up your computers and save important data to the cloud or flash drives. If you have important papers, the U.S. Small Business Administration recommends gathering them and putting them in a three-ring binder with pockets in a waterproof bag you take with you. You may also want to look into a backup power source to limit the damaging effects of a power outage on your business.

Move business vehicles.

Arrange to store company vehicles in a place that is safer or on higher ground.

Prevent hazards.

Bring any possible outside hazards, like signs and display racks, if possible. Secure items that can't be brought inside.

Check your small business's insurance policies.

Make sure that you understand what your business insurance covers, whether your coverage is appropriate and that you have all your policy information in a safe place. If you don't have flood insurance for your business and want to make sure your small business is safe from a hurricane, you can contact the National Flood Insurance Program (NFIP) or visit DisasterLoan.sba.gov/ela/.
Hurricane checklist for boat owners
Check your boat insurance.

Double-check your marine insurance policy to ensure that you'll be covered for any hurricane damage to your boat.

Check marina guidelines.

Some marinas mandate boat removal when hurricanes approach. Contact your marina for their hurricane policies.

If moving your boat, determine the best placement.

Find a safe place to store your boat inland, and be sure to weigh down the trailer or structure keeping it up.

If keeping your boat docked, tie extra lines.

In addition to extra lines giving extra strength, be sure to give extra length. This makes certain that any large waves or high waters allow the boat to rise and lower with it.
Tip: For extra information on hurricane boat safety, check out Boatsafe's hurricane preparedness checklist for boats.
Hurricane checklist for parents of babies and small children
Stock up on diapers.

Don't forget the diapers! Depending on their age, babies go through as many as 12 diapers a day, according to Parents.com, so put them near the top of your hurricane ready.

Pack games.

Kids can get bored pretty quickly while waiting out a storm. Pack games and puzzles that don't require electricity so they can be used at any time.

Prepare formula, food or your breast pump.

However your baby eats, make sure you're ready with all the necessary hurricane essentials, ingredients or tools needed to keep your baby happy and fed.

Keep Mama healthy.

If you're pregnant or nursing, be sure to pack extra fluids, prenatal vitamins, other medications and protein bars for yourself.

Prepare to carry children in worst-case scenarios.

If you have infants or toddlers, be sure to pack a sling, baby carrier or other carrying device in case you need to travel distances by foot.
Tip: For more information on what to pack for babies and kids in an emergency supplies kit, go to the APHA's Get Ready campaign.
Hurricane checklist for pet owners
Relocate pets.

Take pets to a kennel or friend's place on high ground, or choose a designated caregiver or pet sitter on high ground. Remember, some public shelters do not allow pets.

Bring enough pet food.

Experts at the ASPCA say to prepare enough food for three to seven days upon evacuation.

Put identification on your pets.

Make sure your pets are wearing their collars and ID tags.

Keep pets leashed.

If you're going to a hotel or facility that accepts pets, remember to have a travel bag and leash.

Chip your pets if there's time.

The ASPCA recommends microchipping your pets so they can be identified more easily if placed in shelters.
Hurricane checklist for friends and family of older adults and people with disabilities
Plan for evacuation.

Don't wait until a hurricane to prepare an emergency evacuation evacuation plan for an older or disabled loved one. If they are with a caregiver, communicate and plan what should happen during and after the hurricane.

Constantly check in.

If your loved one is staying at their caregiving residence, make sure you provide updated contact information for you and them. Make sure that their residence has all the hurricane essentials needed and be aware of their evacuation plan.

Sensory toys and comfort blankets.

Hurricanes can be scary for individuals with sensory disorders like autism. Remember to pack any sensory toys, games or weighted blankets that can help ease them during and after the hurricane.

Pack medications and medical devices.

Prepare oxygen tanks, speech machines, medications and other necessities for instant evacuation.

Switch manual checks to electronic deposit.

Older citizens that get government benefits and haven't yet switched from checks to electronic deposit can do so by calling 800-333-1795 or sign up at Go Direct.
Prepare for a hurricane and be safe!
The single most important preparation you can make is getting somewhere safe before it's too late. In fact, if you do decide to evacuate, make the move well in advance to avoid traffic jams and stress. Deciding whether to go or stay largely depends on potential wind and flooding. Wind is hard to predict, but you should know ahead of time if your home or business is in a flood zone. Check city, county or state resources or an updated FEMA flood map for your area.
These hurricane preparedness lists are helpful for getting ready in advance of a storm. Start preparing early, adding to your preparations as your time and budget allow. Whether you need to evacuate or shelter in place, you will be as well-provisioned and well-prepared as possible, even in the event of a long-term power outage. You'll not only lessen costly damage and disruptive impact but also keep you and your loved ones safe.