Windows can provide natural light, warmth from the sun, and be decorative additions to a room. Windows can also negatively impact a home's energy efficiency, however; they're a prime spot for air leaks, for instance.
The good news is that energy efficient fixes exist. Adding storm windows can improve window energy performance ratings. So, too, can properly weatherizing your windows. But the best way to guarantee your windows' energy efficiency is to have the most energy efficient windows in the first place. Here's some information on various window types to help you decide if different windows might help lower your energy costs.
What Are Window Performance Ratings?
Before comparing specific window types, it's important to understand how window performance ratings work so you can buy the most energy efficient window, no matter what type of window you ultimately think best fits your home and your needs. Energy.gov offers some pointers on window performance ratings:
The NFRC label. The National Fenestration Rating Council has a voluntary program that tests, certifies and labels windows (as well as doors and skylights) based on energy performance ratings. It's one way to compare the most energy efficient windows. Making sure any window you choose has this label is a good start toward ensuring it's energy efficient.
ENERGY STAR-certified windows. ENERGY STAR is a government program that tests a variety of appliances and home goods, including windows, and goes a few steps beyond the NFRC. While all ENERGY STAR-certified windows include the NFRC label, those with certification have had additional screenings to receive their window energy performance ratings. ENERGY STAR bases its qualification only on U-factor and solar heat gain coefficient ratings.
What Is a U-factor?
Energy.gov defines U-factor as the rate at which a window conducts non-solar heat flow. Sometimes a U-factor only refers to the glass or glazing. NFRC U-factor ratings include the glass as well as the window frame and spacer material. Here's what you need to know when reading the U-factor on a window: The lower the U-factor rating, the more energy efficient the window.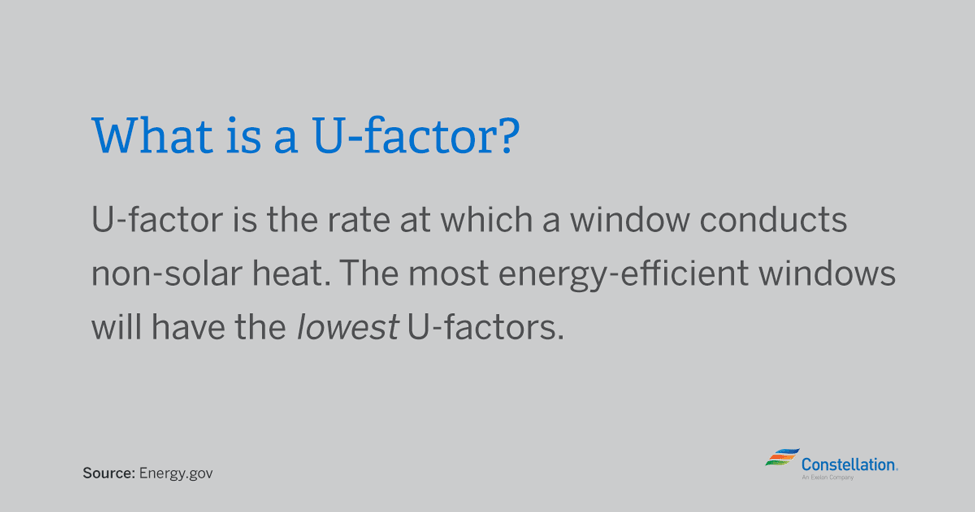 What Is Solar Heat Gain Coefficient?
ENERGY STAR also includes the Solar Heat Gain Coefficient (SHGC) as part of its window energy performance ratings. SHGC refers to the fraction of solar radiation transmitted by a window into your home. The SHGC rating you want depends, in part, on where you live. The lower the SHGC, the less solar heat a window transmits, which makes it a better window for its shading ability; it can help reduce cooling needs by blocking the sun's rays. A window with a high SHGC rating is better at collecting the sun's heat during the winter. So if you live someplace that's cooler more of the year, you would look for a SHGC rating that's higher overall.
Benefits of Energy Efficient Windows
Now that you know a bit about how windows are rated, we'll compare different window types to see which are the most energy efficient windows. A window, after all, also needs to fit the room you have and the style of decor, as well as the house itself.
Casement vs. double-hung windows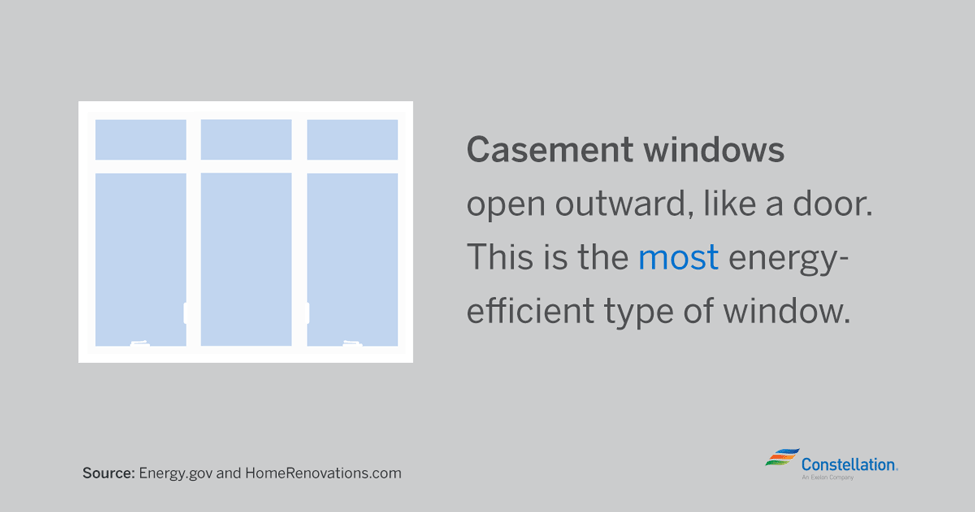 A casement window is a window that opens more like a door. A crank on the inside of the house opens and closes the window. A double-hung window has sashes that move both up and down and slide vertically.
HomeRenovations.com gives a higher energy efficiency score to casement vs. double hung windows. Casement windows typically allow less air to leak into your home because the sash usually presses equally on all four sides of the window frame and therefore seals more like a door than a window. By contrast, double-hung windows typically only fit snugly in the side tracks, which can allow air seepage along the top. You might be able to offset this with weatherstripping.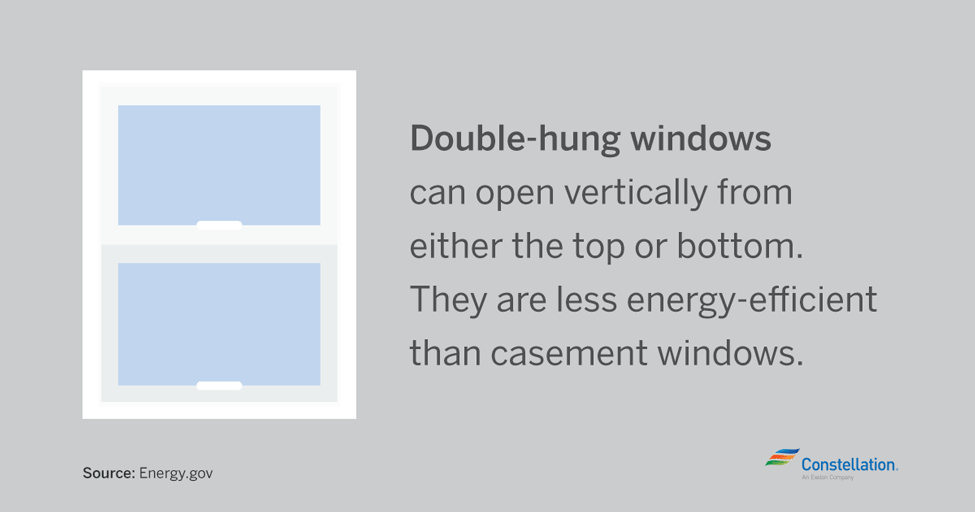 Sliding Windows vs. Casement Windows
Sliding windows, which come in single and double-sliding versions, do exactly as their name implies: The sash slides horizontally to open the window. In a single sliding window, only one sash slides; in a double sliding window, both sashes slide.
Casement windows are the most energy efficient windows in the battle of sliding windows vs. casement windows. The reason, says Energy.gov, is similar to the reason casement windows beat double-hung windows: They typically have lower air leakage rates than sliding windows because the sash presses consistently against the frame. By contrast, sliding windows usually don't grip the frame as well, allowing for more air leakage.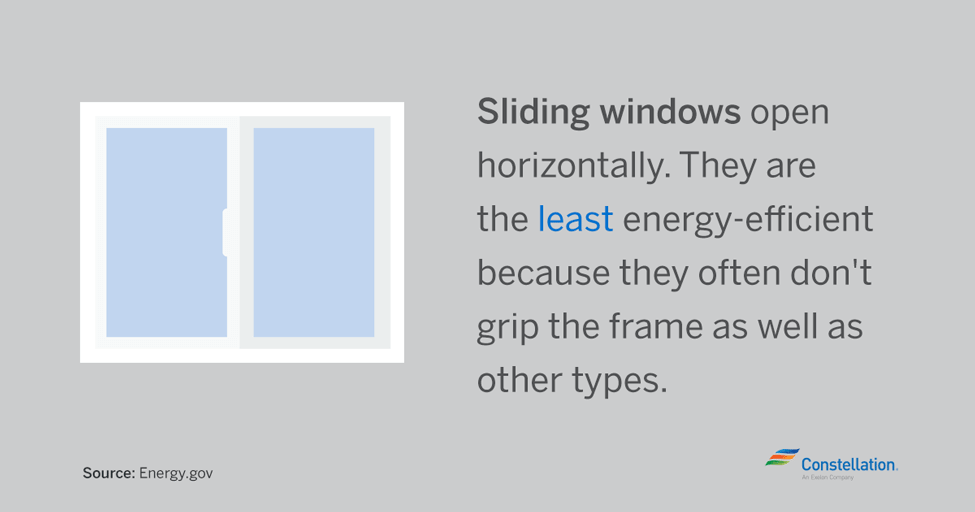 Single Hung vs. Slider Windows
A single-hung window only has one sash — the bottom one — that slides vertically. In the energy efficiency test of single-hung vs. slider windows, Energy.gov gives single-hung windows the top energy efficient rating. Sliding doors have a higher probability of air leakage due to how they operate and typically fit in the frame.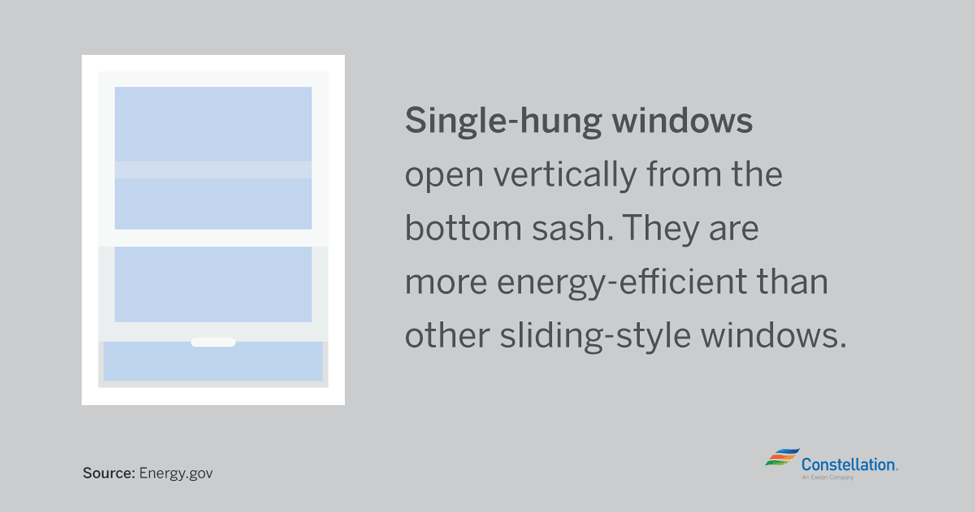 The benefits of energy efficient windows go beyond potentially lower energy costs and a cozier home. Window replacements might be eligible for tax credits and rebates. That's a win-win all around!
Click to see the full "Choosing the Most Energy Efficient Window" Infographic: