Quick! Do you know which appliances use the most energy in the average home?
You would be close if you guessed the refrigerator — it is the largest after all, and works 24/7 — but the answer is actually the air conditioner. That said, the Consumer Energy Center says the fridge is a home's "appliance workhorse," typically using 13.7 percent of a home's energy (compared to the AC's 16 percent). In other words, owning energy efficient refrigerators makes good financial sense.
The question, though, is which refrigerator should you choose? Are side-by-side refrigerators the most energy efficient? Does it matter whether you have a bottom-mount freezer refrigerator or a top-mount freezer refrigerator? We're here to break it all down for you.
First things first: How do you know when you need a new refrigerator?
How Do I Know if I Need a New Refrigerator?
Whether or not you opt for side-by-side refrigerators because you like the aesthetics and/or they fit your kitchen space better or you ultimately choose a top-mount freezer refrigerator or bottom-mount freezer refrigerator, you still need to know when it's time to replace your old refrigerator. An estimated 170 million refrigerators and refrigerator-freezers work their cooling and freezing magic in households across the United States every day. Of those refrigerators, however, more than 60 million refrigerators are over 10 years old, costing consumers $4.4 billion a year in energy costs, ENERGY STAR® states. Replacing one with a new ENERGY STAR®-certified refrigerator could save you $260 over the next five years on your energy bill.
Here are some signs that it might be time to trade in your old fridge for a more energy-efficient refrigerator according to Consumer Reports: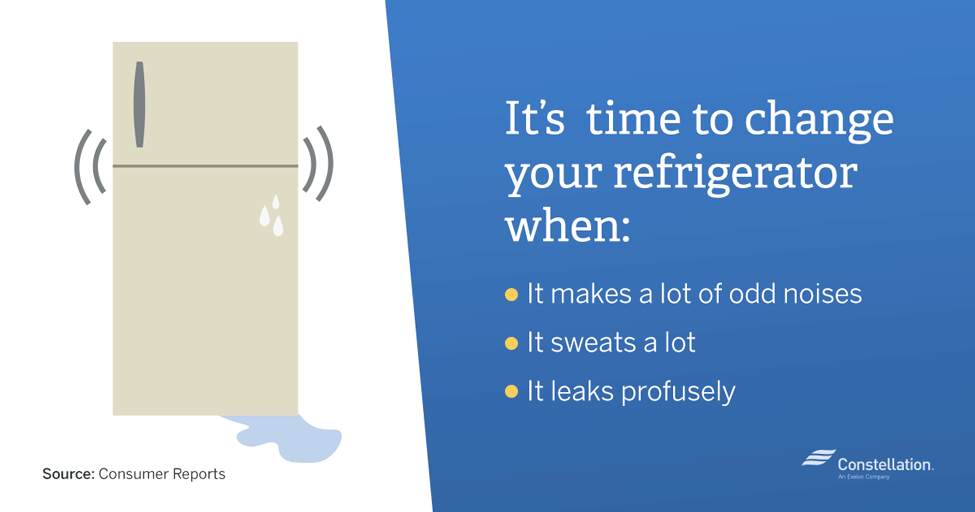 When to Replace Your Refrigerator:
The refrigerator makes a lot of odd noises, such as hissing.
The refrigerator leaks profusely.
The refrigerator sweats a lot.
Generally, Consumer Reports advises replacing an appliance if the repair is going to be more than half the cost of purchasing a new one. If your fridge is more than 10 years old, it's probably time to just go the replacement route given the energy efficiency improvements likely made over the last decade. Since the federal government created its first efficiency standards for  refrigerators in the late 1980s, the Consumer Energy Center reports the energy efficiency of fridges has improved by about two percent a year.
Another point to keep in mind as you ponder top-mount/bottom-mount freezer vs. side-by-side fridges is their potential for costly repairs, relates Consumer Reports. Side-by-side refrigerators with icemakers are more than twice as likely to need repairs as those with freezers either on the top or bottom. One Consumer Reports study found that side-by-side refrigerators with an icemaker had a repair rate of 36 percent. This contrasts with a 28 percent rate for top or bottom freezer refrigerators with an icemaker, and a 15 percent rate for top or bottom freezer refrigerators without an icemaker.
Which Refrigerator Style Is Most Energy Efficient?
In the energy efficiency battle of bottom-mount freezer vs. side-by-side fridges or top-mount freezer vs. side-by-side fridges — yes, it does matter where that freezer sits:  The winner is the fridge with the freezer on top. The Consumer Energy Center says top-mount freezer refrigerators use 10-30 percent less energy than the same models of side-by-side refrigerators. The variation in how much energy savings can be achieved with a top-mount freezer refrigerator depends in part, ENERGY STAR® states, on whether it has an ice dispenser. Generally a top-mount freezer refrigerator that has earned ENERGY STAR® certification uses less energy than a 60-watt light bulb.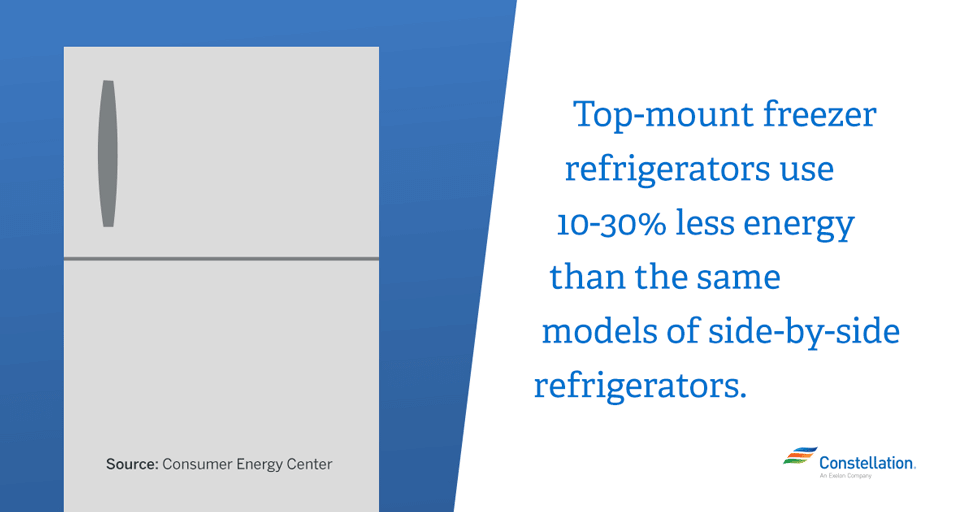 Why the Top-Mount Freezer Refrigerator Is the Most Energy-Efficient Refrigerator
While it might seem as if having a fridge with the freezer on the top or the bottom is really just about whether or not you want to stoop to get out your ice cream, it is the placement of the freezer in relation to the compressor that makes the energy difference. The compressor — which is near the bottom — generates heat. This heat makes it harder for the bottom freezer to achieve and maintain ideal temperatures. The top freezer models are farther away from the compressor and therefore can maintain ideal temperatures using less energy.
What to Look for When Buying New Energy-Efficient Refrigerators
The Consumer Energy Center offers the following tips for smart shopping for an energy-efficient refrigerator once you've decided which type of fridge you want.
Measure the space for the fridge. Leave at least a 1-inch clearance around the unit for adequate airflow. Don't forget to factor in how much space the door needs to swing open in relation to adjacent walls, cabinets and appliances.
Consider your family's needs, and get the right size. The most energy-efficient refrigerators are usually 16-20 cubic feet.
Consider skipping the icemaker and dispenser. Yes, they're convenient and reduce the need to open the door, which in turn helps the freezer maintain a consistent temperature more easily. But they do increase a refrigerator's energy use by 14-20 percent and usually increase the purchase cost of the fridge as well.
Look for a fridge with an "energy saver" switch. This switch lets you turn down or off the heating coils that prevent condensation. This enables you to better control the anti-sweat heaters in the fridge, which can lower your fridge energy costs by 5-10 percent.
Consider an ENERGY STAR®-certified refrigerator. These models typically exceed general appliance efficiency standards and often qualify for rebates.
Compare actual energy use number on EnergyGuide labels so you can find the most efficient model.
Now that you know not all energy-efficient refrigerators are created equal, we hope you find the one that best serves your household's budget and food needs.
Want more tips on appliances and which are more energy efficient? Check out our Which Is More Energy Efficient series. You'll learn about everything from boilers vs. furnaces to microwave vs. toaster ovens vs. ovens. Take our Energy Efficiency Quiz to really test your appliance knowledge.