Does super cooling your house work? Super cooling can be one way to beat the summer heat and take control of rising electric costs. If you plan things right, you may save money, in terms of your electricity bill, maintenance on your air conditioner, and extending your HVAC system lifespan. Super cooling AC methods during summer months are certainly worth considering.
Here are the details about what super cooling a house is and how to pre-cool your home. You could save some money and not have to sacrifice comfort.
What Is Super Cooling?
This super cooling AC technique involves significantly lowering your thermostat setting to much lower settings during the coolest parts of the day and letting the temperature slowly drift upwards during the heat of the day when your system is off.
What are the benefits of super cooling (pre-cooling) your home?
Does super cooling your house work? It may seem counter-intuitive, but it does save energy.
Your air conditioner does not have to fight the heat of the day to reach and maintain super cooling at night. It can rest during the early part of the day, not switching back into cooling mode until later in the afternoon. The net result of super cooling is that you could pay less for electricity and put your HVAC through less wear and tear.
Another benefit of super cooling a house is that some power companies offer discounted rates during off-peak hours, usually overnight. When you use super cool air conditioning to cool your house during the night, you are using more electricity when your rate is less expensive. If you select an energy contract option with off-peak discounts, you could get even more savings.
How to Super Cool (Pre-cool) Your Home
Does pre-cooling a house work? In most cases, yes, it does. Here is how to pre-cool your house with super cool air conditioning:
Run your air conditioner between 65°F and 60°F during the night. It makes your home cool without using as much energy as it would during the day. Not only will you cool the air, but you will cool your walls, floors, and furnishings, which help keep the temperature low for longer.
In the morning when outside temperatures start to rise, reset the thermostat to a normal setting. Most people prefer settings between 70°F and 75°F. Your home will slowly warm over the day. In a well-insulated structure, it will stay within the comfort range without your air conditioning system running for many hours. You might not have to use your air conditioner until later in the day or early evening.
Additional Tips and Tricks to Maximize Super Cooling Energy Efficiency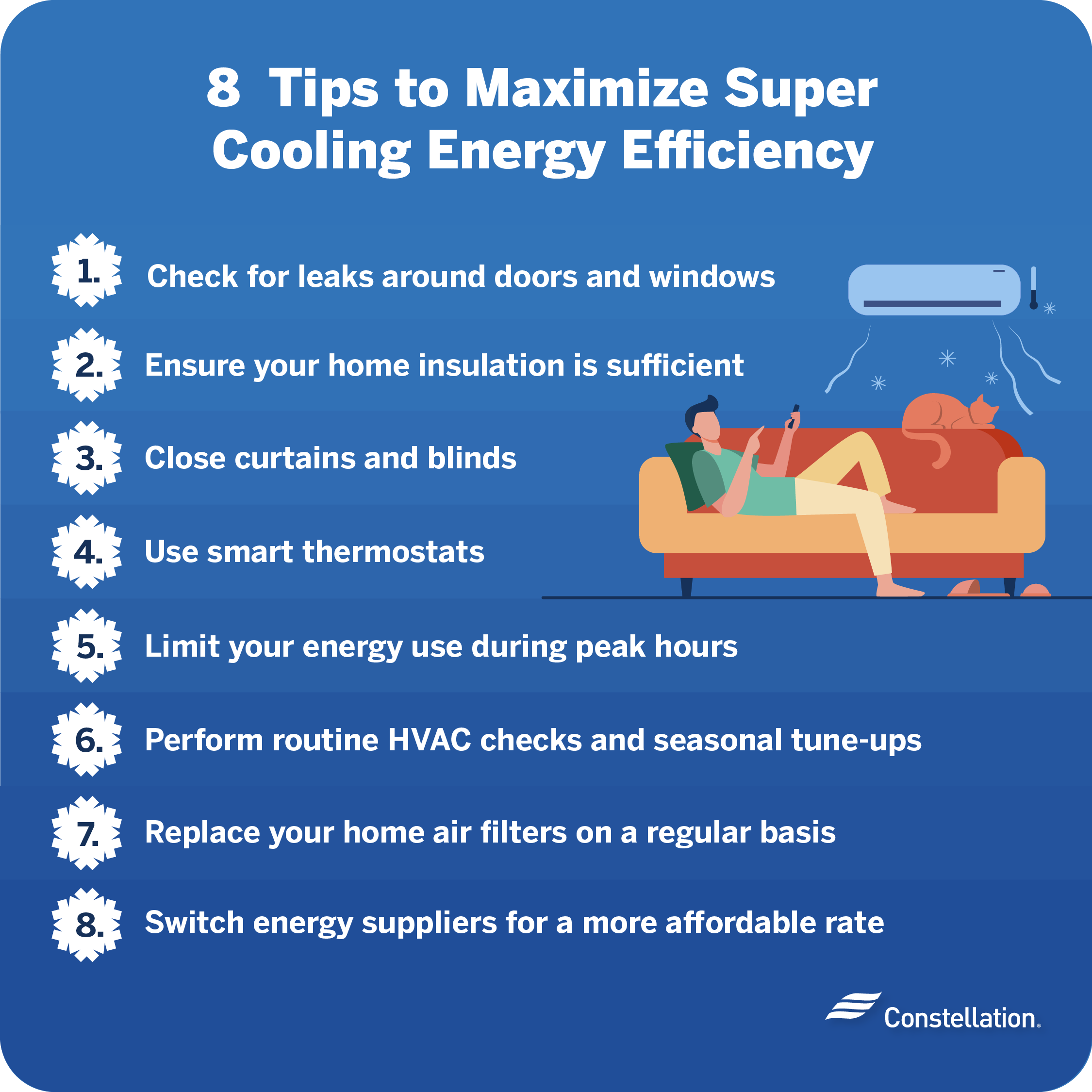 When you plan on super cooling a house, there are things you can do to make the super cooling AC technique work better. Knowing how to pre-cool your home is just the start. Here are some energy-saving tips for summer that work well with super cool air conditioning.
Double-check that there are no leaks around your doors and windows. Make an effort to find air leaks in your home and fix them.
Make sure your home insulation is sufficient. Apply the right types of insulation in different areas of your home. Pay special attention to how to insulate windows that get bright sun during the hottest times of the day.
Close curtains or blinds, especially those that get full sun. You will be amazed how much heat can radiate into your home through them.
Use smart thermostats to program when super cooling should start and end. They take the guesswork out of when to turn your system on and off.
Limit your energy use during peak hours in general. Do your laundry and run your dishwasher overnight when they won't heat up your interior as much.
Routinely check your HVAC and invest in a seasonal tune-up. Be sure to change the filters often.
Consider the benefits of changing your home filters for healthier air and an efficient system. Recent wildfires have been creating air quality issues, so getting air filters is advisable.
Look into switching energy suppliers for a more affordable rate.
Does super cooling your house work? If you think staying comfortable and possibly cutting your energy costs count, then indeed, super cooling your house is a good idea.