Picking among your choices of ceiling fan sizes can be challenging. Your choice matters both in terms of size and function. When you get it right, you optimize air flow in the room and can trim energy costs season to season.
How an Appropriately Sized Ceiling Fan Will Save You Money on Energy Costs
Let's start with function. Ceiling fans help you reduce the energy you need to heat and cool your home – without sacrificing comfort. They do this by moving air in the room. How much air can a fan move? Its capacity is measured in cubic feet per minute, listed as the "CFM rating" on new fans. The higher the CFM, the more air the fan can move. When you can better circulate heat in your room, you can lower the thermostat in the winter. In the summer, you can reverse the fan's direction, so your air conditioner doesn't have to work so hard.
How to Measure a Ceiling Fan and Room Size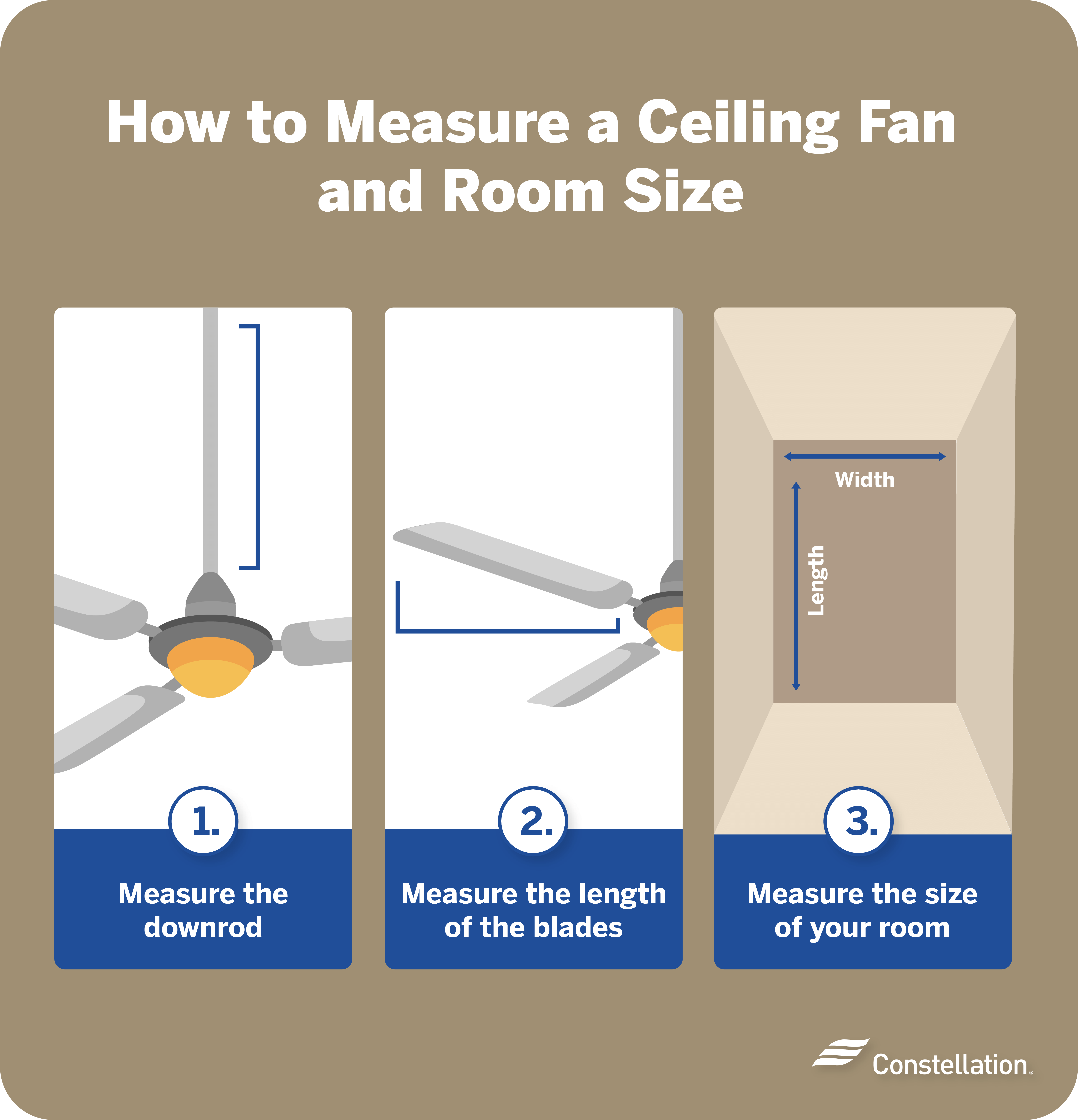 To answer the question of what size ceiling fan do I need for a room, you should measure three components.
The first is the downrod, which is the shaft that connects the rotating blades of the fan up to the ceiling plate. Some fans hug the ceiling. Others hang several feet below it. Check your ceiling height. You want at least 8 feet of clearance below the fan.
The second component is the length of the blades. With an even number of blades, you can simply measure the diameter across from the tip of one blade to the other straight across. Most fans have an odd number of blades. For these, measure from the center to the tip of a blade, then double it.
The third thing to measure is the size of your room. Measure the length of the room and multiply it by the width to calculate square footage.
Use these three measurements, along with the CFM, to choose a ceiling fan size that is right for every room.
What Size Ceiling Fan Do You Need for Different Sized Rooms
In answering the question what size fan do I need, match the ceiling fan size to the size of your room, considering both the CFM and the blade span.
Consider your ceiling height next when considering what size ceiling fan for a room. If you have low ceilings, a flush-mounted fan is best. If you have high ceilings over nine to 12 feet or more, you will need a downrod. For rooms with cathedral ceilings, you may need a downrod with a custom length.
Under 29" Fans for Tiny Rooms (50 Square Feet and smaller)
The tiniest rooms can be best served by small fans. Think smaller bathrooms, hallways, porches and mud rooms. A fan with under 1,000 CFM will work in these spaces without making them feel like wind tunnels.
29" – 36" Fans for Small Rooms (50 to 75 Square Feet)
Fans up to 36 inches in diameter work in slightly bigger rooms, like a medium bathroom, the typical bedroom and home offices. Look for a CFM between 1,000 to 2,000.
36" – 48" Fans for Standard Rooms (75 to 175 Square Feet)
This is the most common size range of ceiling fans. Large bathrooms and bedrooms, medium-size living and family rooms and kitchens accommodate fans of this size with a CFM of up to 3,800.
48" – 56" Fans for Large Rooms (175 to 350 Square Feet)
Larger rooms need bigger fans. If you have an expansive living room or soaring cathedral ceilings, you will want a fan with a wide diameter and a CFM approaching 8,000.
60"+ Fans for Great Rooms (350+ Square Feet)
Extremely large rooms need a fan with an extra wide span and the highest CFM. Think 8,000 up to 16,900 or more. Gyms, exercise studios, public areas and covered outdoor spaces benefit from ceiling fan sizes that are among the biggest.
How to Pick Ceiling Fan Size for Outdoor Settings
Using a ceiling fan in an outdoor space can make it feel much more comfortable, even on hot days. Small porches under 145 square feet or so need a small fan. Bigger spaces will require a bigger fan. You might opt for an outside fan that is a bit bigger than you would choose for an inside room, as you may need to move more air to get the same effect in an open space.
Don't Forget About Ceiling Fan Height
More than the size of your room matters when answering the what size ceiling fan for a room question. You want enough clearance under the fan, at least eight feet, so that tall people don't bump into it. You also want room above people for the air to flow without the room feeling windy. A downrod may be a few inches long or several feet, depending on how high your ceiling is.
Learn More Ways to Lower Your Electricity Bills
Adding ceiling fans and choosing the right size of ceiling fan is a great way to trim heating and air conditioning costs in your home. You can possibly save more money with these energy saving tips and by learning more about what energy choice is if you live in an area where the energy market is deregulated. Here is some advice about how to choose an energy supplier and get the best deal for your household.