Buying a new home or upgrading one of your home's systems is a big investment. When it comes to these big-ticket purchases, it's worth making sure they're covered if something breaks or goes wrong. That's why many homeowners choose to invest in a protection plan.
They may share some similarities, but home protection plans may provide different coverage from homeowner's insurance or a product warranty. In this article, we'll explain what a home service protection plan is, the various benefits they offer, and how they differ from other home and appliance coverage options.
What is a Home Protection Plan?
A home protection plan provides coverage and protection for the various systems that keep your home running. The details may vary based on the specifics of your plan, but home protection plans generally cover systems and appliances such as furnaces, air conditioners, water heaters, and in-home electrical systems.
Home protection plans provide comprehensive protection for your home's systems, including routine maintenance and inspections, as well as emergency repairs or replacements for covered parts and equipment. When you sign up for a home protection plan, you get the peace of mind that comes with knowing you're covered against unexpected breakdowns. You also save yourself the trouble of trying to find qualified contractors or attempting to make complicated home repairs on your own.
What is a Home Warranty Plan?
A home warranty plan is an all-in-one policy that's generally purchased upon buying a new home. They provide discounted repairs and replacements on your home's major systems and may also include coverage for certain appliances, such as washers, dryers, and refrigerators.
Unlike home protection plans, home warranty plans typically do not offer coverage for routine maintenance or safety checks on your home's systems or appliances. So, although you'll be covered if one of your home's systems breaks down, these same systems may experience more issues without the preventive maintenance. Additionally, warranty companies could deny your repair claims if they determine that a given system or appliance hasn't been properly maintained.
How Are Home Protection Plans Different from Homeowner's Insurance?
There's an easy way to think about the difference between home protection plans and homeowner's insurance. A home protection plan covers events that will happen over time as a result of the long-term use of the equipment, such as a broken A/C or leaky water heater, while a homeowner's insurance policy provides coverage for events outside of your control that might happen, such as theft, flooding, and storm damage. Homeowners insurance also doesn't cover preventative maintenance or safety checks, which could both included in a home service plan protection.
Before investing in coverage for your home, it's important to fully understand each of your coverage options and how they differ. This will help ensure that you make an informed
decision and get the right type of coverage for your household. Some homeowners may determine that they can get by with just one type of home coverage, while others may find that the best way to protect their home and belongings is to invest in several types of coverage.
Why Are Home Protection Plans Important for Additional Coverage?
Home protection plans are a great option for keeping your home safe and protected, helping to relieve stress, prevent costly breakdowns and save money on maintenance and repairs. They're also an excellent choice for additional coverage if you're already enrolled in a homeowner's insurance plan or another form of home protection.
Home protection plans offer several benefits to homeowners, including:
Peace of mind. Rest easy knowing the most important systems and appliances in your home are covered.
Stress-free repairs. Save yourself the time and hassle of trying to find a qualified repair person at an affordable rate.
No unexpected costs. Know how much you're paying, as well as what you're paying for, right from the start.
How Much Do Home Protection Plans Cost?
As with all home coverage options, the cost of a home protection plan varies based on the systems and services that are included. The more systems and appliances your plan covers, the more your plan is going to cost. However, when considering how much a home protection plan costs, it's important to weigh these costs against the price of future repairs to your home's systems.
Problems with a major system or appliance can arise at any time, and when they do, you'll need to get them fixed as quickly as possible. These repairs can often come with a high price tag, which may only get higher if your system or appliance needs to be completely replaced. Take your home's A/C unit as an example: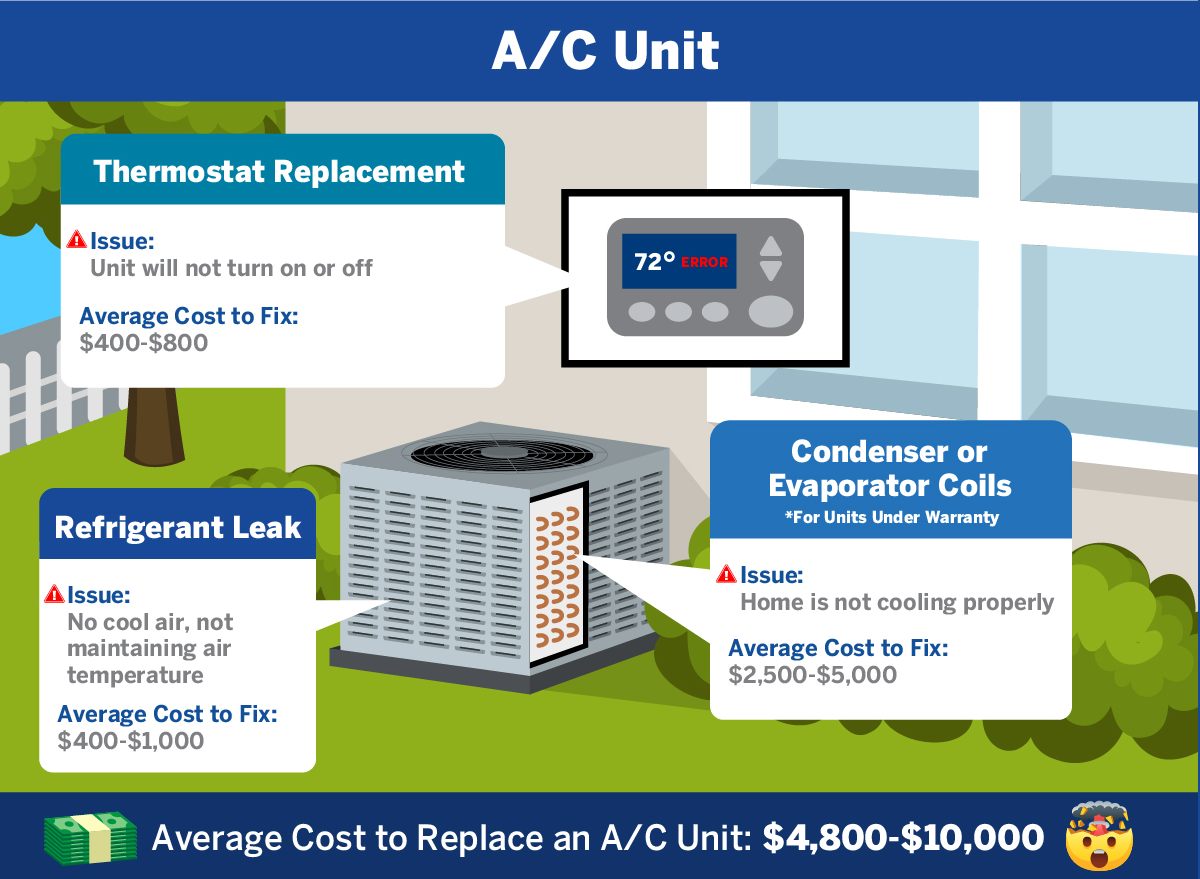 The average cost of replacing the condenser or evaporator coils on a home A/C unit is between $2,500-$5,000, while the average cost to replace a unit's thermostat is between $400-$800. If the entire A/C unit needs to be replaced, this can cost anywhere from $4,800-$10,000 depending on the type of system you have. A home protection plan may allow you to avoid these big and unpredictable expenses.*
Protect the family budget from unexpected repair costs with a home protection plan from Constellation
Constellation offers a selection of home service protection plans to help you improve your home's safety and save money on repairs. Each plan offers a different level of appliance repair coverage, making it easy to find one that fits your needs. Constellation's home protection plans are available in Georgia, Maryland and Texas.
Home protection plans in Georgia:
(view the entire infographic here)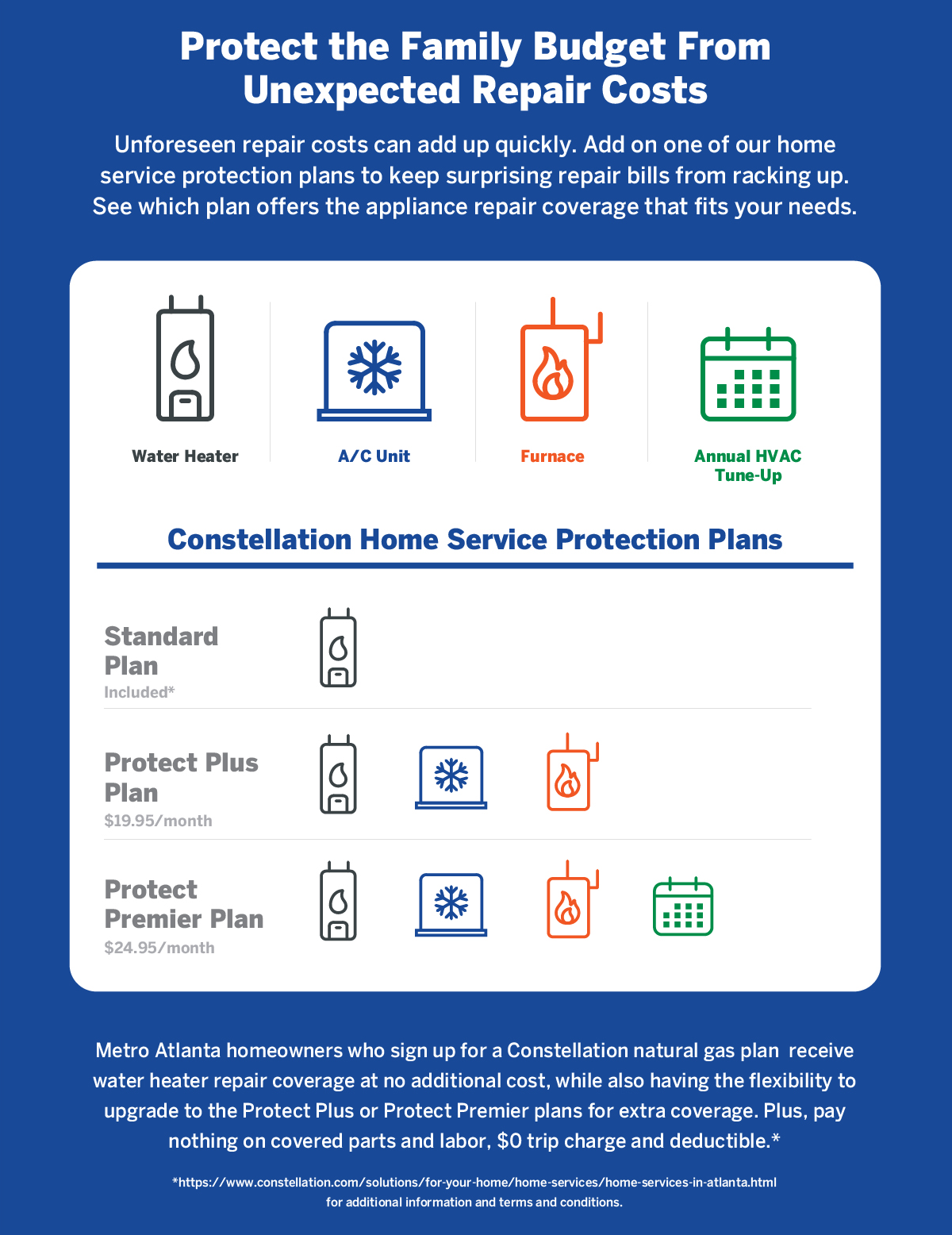 Home protection plans in Texas:
(view the entire infographic here)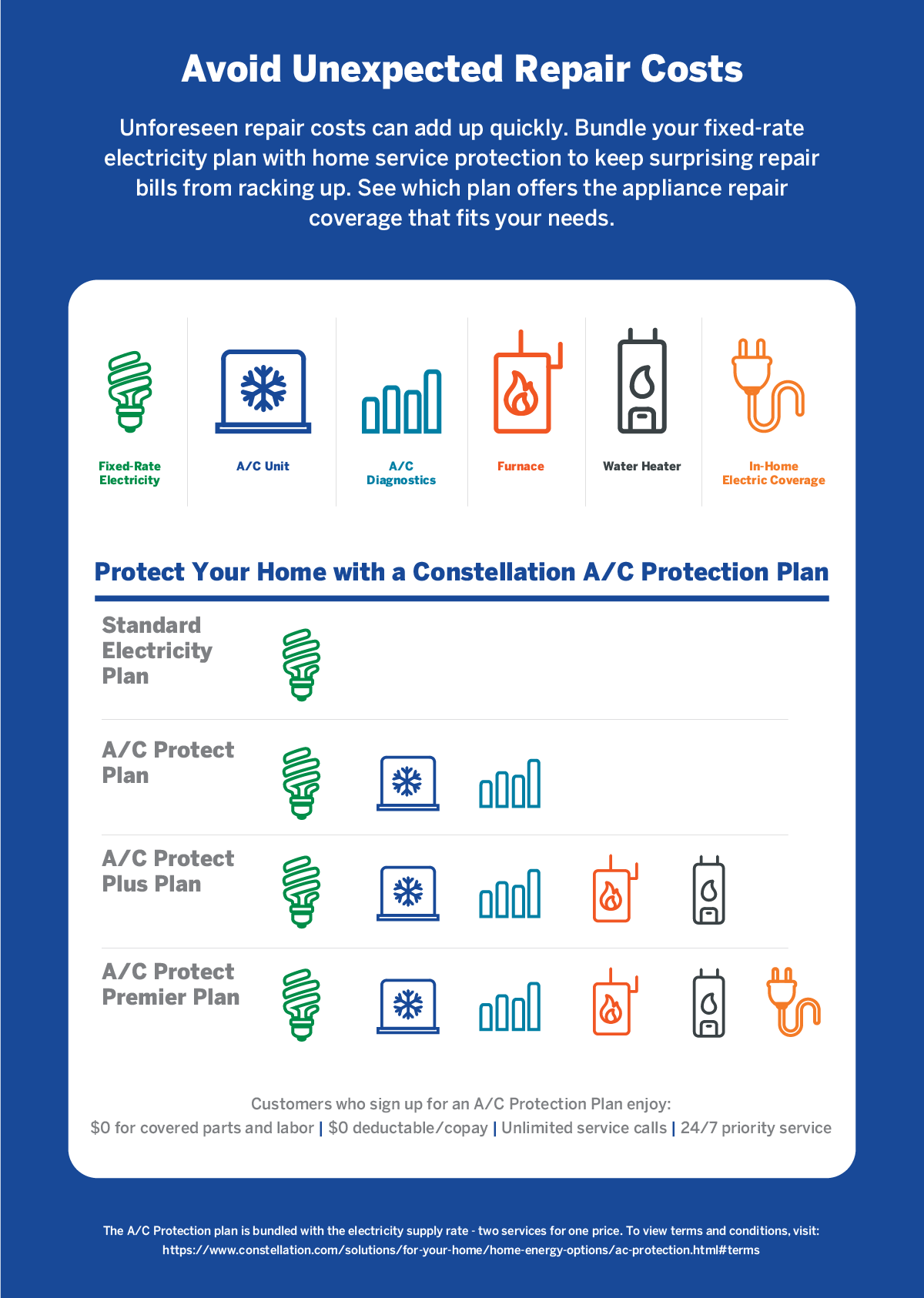 *Sources: