Air conditioner shade has the potential to increase the efficiency and longevity of your air conditioning system. When your unit must operate in direct, all-day sunlight, it tends to run hotter and longer. That's not only inefficient; but it could possibly shorten the life of your unit.
Ultimately, this may add up to higher costs. You could end up spending more to keep cool and may have to replace an expensive system more often.
Does an air conditioner work better in the shade?
Your air conditioner's compressor unit will run at peak efficiency when it's located in a reliably shaded location with plenty of space for airflow around it. Does shading your A/C unit help? According to many governmental bodies and institutions of higher education, it does. Eliminating the strain of operating your A/C in the bright sun allows your unit to optimize its capacity to keep your house cool in the summer.
How shading your A/C can help you save energy
When the sun beats down on your unit all day, it works harder to produce cool air. When you protect your A/C with some shade, you can increase its energy efficiency. And if you can provide shade for large portions of your home, your air conditioner won't be needed as much to counteract the solar warming.
But if you're asking yourself, "Should I shade my A/C unit?" the answer is yes, but with more of a focus on how you'll do so. Choosing the right side of your house for A/C installation is a more reliable way to shade your unit.
How to shade your outside air conditioner
Here are options for how you can bring shade to your A/C unit. These tips for creating air conditioner shade have the potential to enhance your energy efficiency. Additionally, shade landscaping can enhance the beauty of your property.
1. Determine which side of the house your A/C unit is on.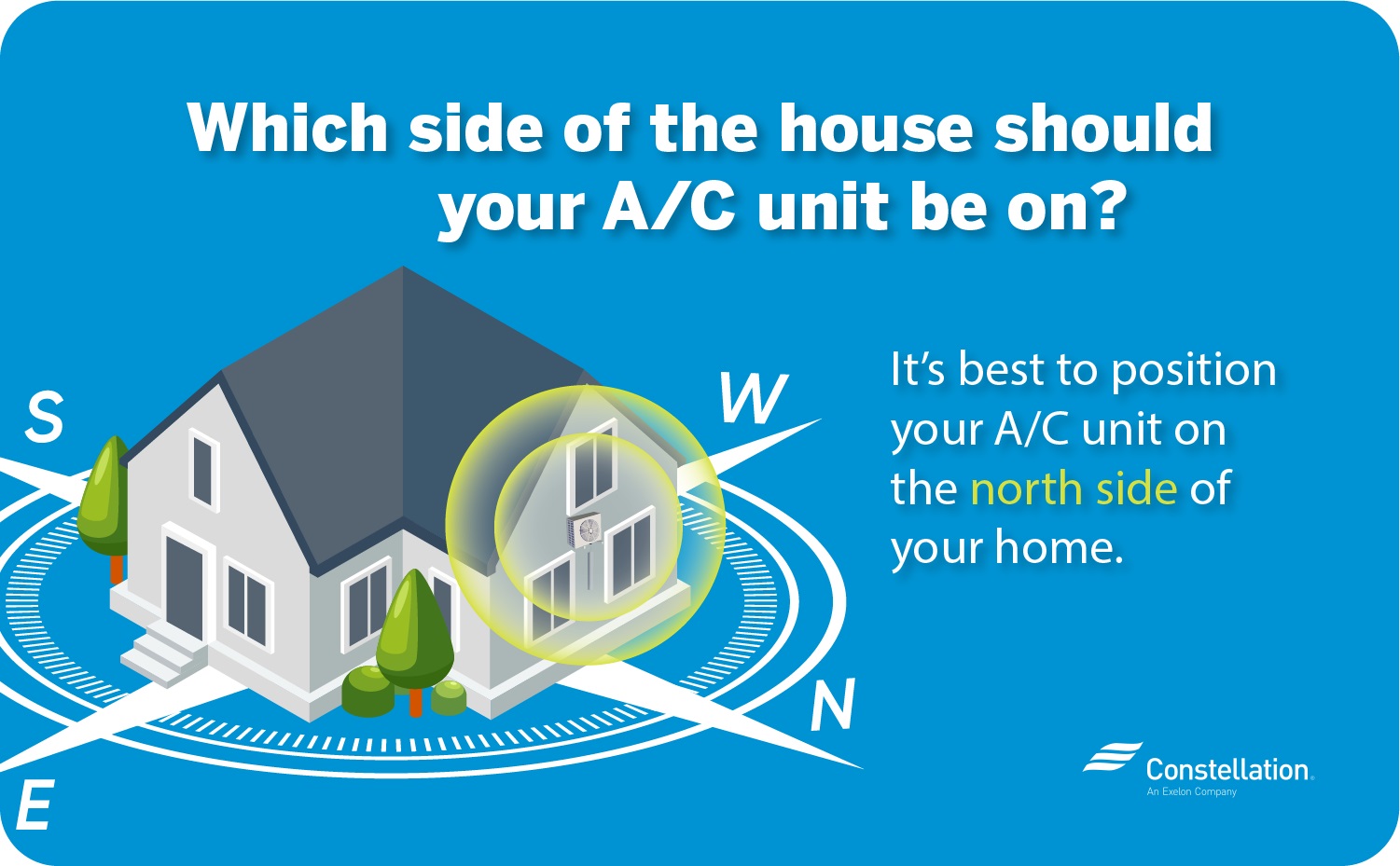 The best way to get shade for an A/C unit is proper location. The north side of your house gets the most shade all day, and even at the height of summer, it doesn't get direct sunlight. On the south side, however, the sun beats down relentlessly. If possible, it's best to position your A/C unit on the north side of your home.
2. Install an awning over your outside air conditioner.
When you use window units, you may have no choice but to install one in the direct sun in a south-facing window. Adding an awning over the window can increase efficiency. The awning blocks the sun's heat from entering the room and provides shade for the A/C unit itself. When installing it, make sure that it doesn't block the unit's intake and exhaust functions.
3. Plant trees and shrubs around your A/C.
Properly placed trees and shrubs provide cooling shade and enhance the beauty of your property. If you place your air conditioner on the north side of your home that gets less sun, you'll need plantings that thrive in these shadier conditions. Alternatively, in southern exposures, you'll want to plant varieties that can take a full day of sun. In all cases, ensure proper space around your unit for good airflow, considering growth over the years.
And more than simply shading your air conditioner, trees can keep the sun from beating down on large portions of your home and save work for your A/C unit. In some cases, tree shade on a roof can lower your house's inside temperature by 8–10 F.
4. Avoid restricting airflow to your air conditioner.
While shade for your A/C unit is beneficial, you'll negate all the gains if you end up reducing airflow around and above it. Ensure that you maintain at least 2 feet of open space around your air conditioning unit.
You'll also want 5 feet of open space above it. The fan exhausts hot air from the top of the unit. If your shade solution blocks this outflow, the hot air will stagnate around the unit and reduce its efficiency.
5. Keep your A/C unit free from vegetation.
You may have the best of intentions in planting shrubs, trees and vines for air conditioner shade. Vegetation grows and could eventually block the free movement of air around your unit. Additionally, falling leaves and debris can clog your unit, making it less efficient. The combination of shade and condensation creates an ideal habitat for moss and mold.
Regular maintenance can eliminate these problems. Keep your bushes and trees trimmed. Regularly clean your unit — once in the spring and once in late fall after the leaves are off your trees. Doing so should ensure smooth operation all summer.
More ways to improve your A/C unit's efficiency
You should shade your A/C unit, but reducing your cooling costs starts with having an energy-efficient air conditioner. Beyond those conditions, you can help your air conditioner operate more efficiently by following these additional tips:
Vacuum your air supply vents regularly. Smooth airflow is one of the most important factors for air conditioner efficiency. Keep the air supply vents free of dust and debris with a regular vacuuming.
Keep the indoor and outdoor coils clean. Regular service to prevent dirt from building up will ensure efficient operation. Here are some additional tips for fixing your air conditioner.
Keep your blinds and curtains closed throughout the day. Your air conditioner won't have to work as hard if you prevent heat from entering your home. Closing blinds and curtains blocks the hot sun from heating up your rooms.
Prevent or repair any air leaks in your home. Keep cool air inside and hot air outside by making sure your insulation, particularly around doors and windows, is in good repair. Try to keep your house closed tight during the heat of the day, limiting opening and closing doors that rapidly vent cool air out of your home. Sealing up other air leaks is also effective.
Make sure your unit is fully charged with refrigerant. Check your refrigerant in the spring to ensure that it's at the right level. It's important to perform regular A/C maintenance because, when refrigerant levels are too low, your unit strains to cool the air.
Maintain your air conditioner's performance with an A/C protection plan
Does shading your A/C unit help? Yes, shade is important, but so is proper maintenance. You can do it yourself, but many homeowners find it's more time- and cost-efficient to get a service plan. If your energy provider offers a way to bundle A/C protection with your electricity plan, you could save even more. Shade working with a smoothly operating unit may increase efficiency and could potentially keep your cooling costs down.