Charging an electric car at home is convenient. Installing an electric vehicle charging point may do more than just make your life easier. We'll answer some of the most common questions people have about this increasingly popular consumer trend.
What You Need to Know About Charging at Home
If you plug your car into a regular socket with an extension cord, it could take days to charge. A dedicated electric vehicle charging point is necessary to make the process practical. Here are some technical details to consider:
Can I charge my electric car at home?
You can charge your car at home, which may be a more convenient option than charging at commercial stations.
What do I need to charge an electric car at home?
Charging your electric car at home using your regular home energy supply is not ideal. It could take more than 60 hours to charge. You may want to consider upgrading to a Level 2 unit with a 240-volt supply. For real speed, a direct current (DC) fast charger station, with a 480-volt DC power supply, charges your electric vehicle in just half an hour.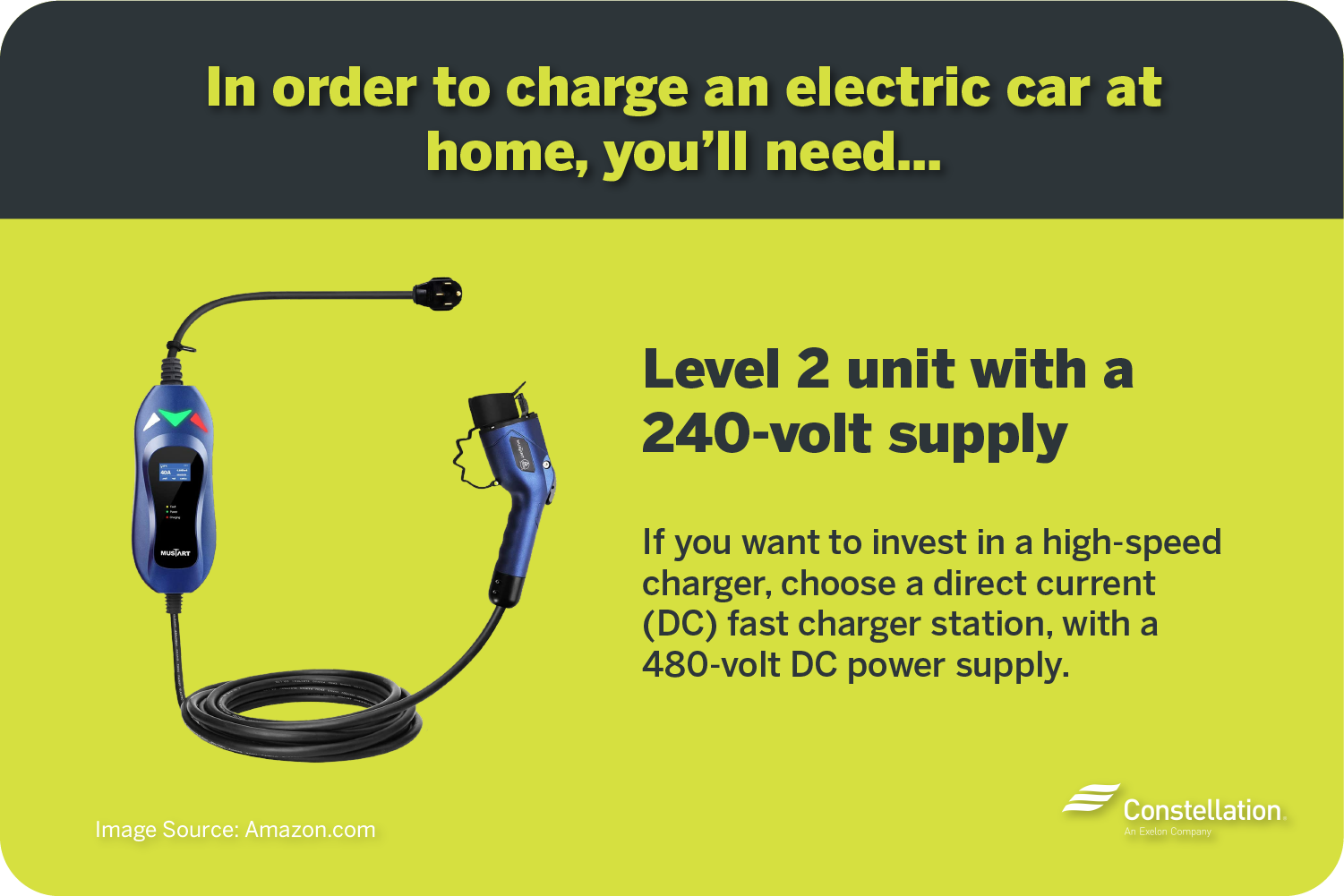 Where should I install my home charging station?
Most people install equipment in a garage for security and weather protection. If you install outdoors, use a unit rated for it. Alternatively, install inside near a door or window, connecting to your car with an extra-long charging cable.
How long does it take to charge an electric car at home?
Wondering how long it takes to charge an electric car? There's no definitive answer. It's hard to predict because battery sizes, configurations and conditions vary. The charger type and power source make a massive difference — from days to just minutes.
Choosing a Home Charging Station
Choosing among options for electric car charging at home is a matter of trade-offs and limitations. Weigh the cost against the value you add, similar to other changes you may consider when making your house more sustainable.
Which home EV charger should I get?
When deciding how to charge an electric car at home, consider charging speed, budget, your home's electricity supply and the limitations of your local power grid. For a fast charge, you'll spend more on equipment and installation. You might need to upgrade to a 240-volt supply.
Many homes can't accommodate a DC fast charger because residential neighborhood grids weren't built to handle 480-volt direct current. These systems can easily cost $50,000, putting them out of the reach of the average consumer.
Level 1 vs. Level 2 charging stations
The simplest, least-expensive charging station is Level 1. Simply plug the cable that comes with your car into any 110–120V AC socket with a three-prong grounded plug. Charging can be exceptionally slow — about an hour for every 4 miles of range — taking days to fully charge.
Opting for a Level 2 EV charging station may require stepping up your electrical supply to 240V and installing a special socket like electric clothes dryers use. Then you can install either a fixed or a portable EV charging unit. Consider the ENERGY STAR ® rating of whatever unit you choose. You can charge in 12 hours or less with a Level 2 EV charging station.
Home Charging Costs
Home charging costs will vary. They are especially dependent on the electricity cost in your area and vehicle efficiency.
How much does it cost to charge an electric car at home?
To understand the cost of electric car charging at home, check your vehicle efficiency, measured in kilowatt-hours per 100 miles driven. Electricity is also priced in kilowatt-hours, making the math easier. Take the number of kilowatt-hours your car uses to travel 100 miles and multiply that by what you pay for a kilowatt-hour in your home. Divide that number by 100 and you've got your cost per mile.
For example, a car that's rated at 33 kilowatt-hours per 100 miles, charged with electricity costing $0.13 per kilowatt hour, will run you 4 cents a mile. The U.S. Department of Energy has a Vehicle Cost Calculator to help you compare vehicles.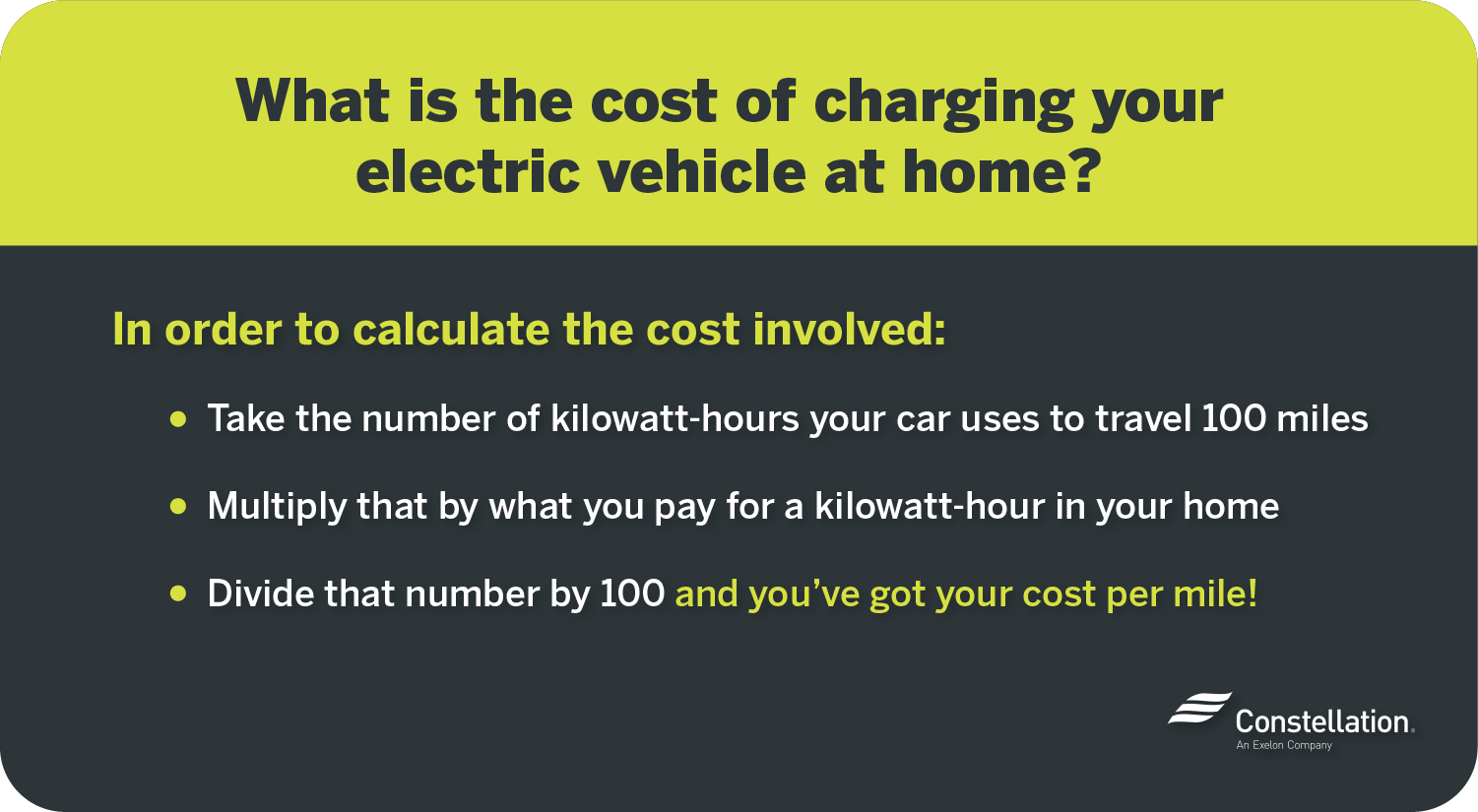 What's the average installation cost for an electric car charging station?
The cost of equipment for charging your electric car at home depends on the choices you make. A simple Level 1 charger runs between $180 and $300. Because it uses your existing supply and wiring, installation costs are also low.
Level 2 units start at $300 and can easily cost more than double that, depending on the model and features. Installation of 240V supply and wiring can add $2,000 (and more if your locality requires applying for a permit).
Does charging an electric car increase your electric bill?
Charging your electric car at home adds to your electric bill, increasing your average home energy usage. How much depends on the capacity of your car's battery and how often and how long it takes to charge.
If you're on a variable time-of-use plan, charge your vehicle when rates are lowest. A smart home energy saving strategy is to set up your smart home to charge your vehicle at ideal times.
Financial Benefits of Charging Stations
There are two other financial incentives for charging your car at home.
Does an electric charging station add value to your house?
Smart home upgrades may help you sell your house for a higher price. When you make your home and lifestyle more sustainable, you add value to your property. People are increasingly looking for ways to use less power, cut their bills and shrink their carbon footprint.
Is there a tax credit for installing an electric vehicle charging station?
Not only is there a federal clean energy tax credit for 30 percent of the cost of installing a charging station, many states and local governments also offer tax incentives.
Enjoying the convenience of a home charging station
Convenience is just part of the story. The installation cost of an electric car charging station yields a return on your investment as a green home improvement that's increasingly becoming a smart home must have. Possibly saving money on charging, extending battery life, potentially improving home value and saving on taxes — all of these benefits combined can make charging your electric car at home enticing for any energy-conscious driver.
Charging your electric vehicle on the road
If you find yourself out and about or on a road trip and need to refuel, you can find electric car charging stations in some of these Constellation residential service areas.