Slow summer sales are common for many small businesses. But even though revenue may be down, there are ways to take advantage of this time. For instance, you can try different ways to engage customers during the slow season and then use the techniques that work best when business heats up again. You can even increase sales during slow times with some clever off-season marketing strategies.
By learning how to prepare for the slow season and using your time well, you can make the most of your summer — and be ready for your business to take off when things get back to normal.
Why is business slow during summer?
Summer is a small-business slow time for many industries. Of course, seasonality depends on the nature of your work. If you're in the tourism or hospitality business, summer may be your best season. If you're in retail, though, it's often your worst.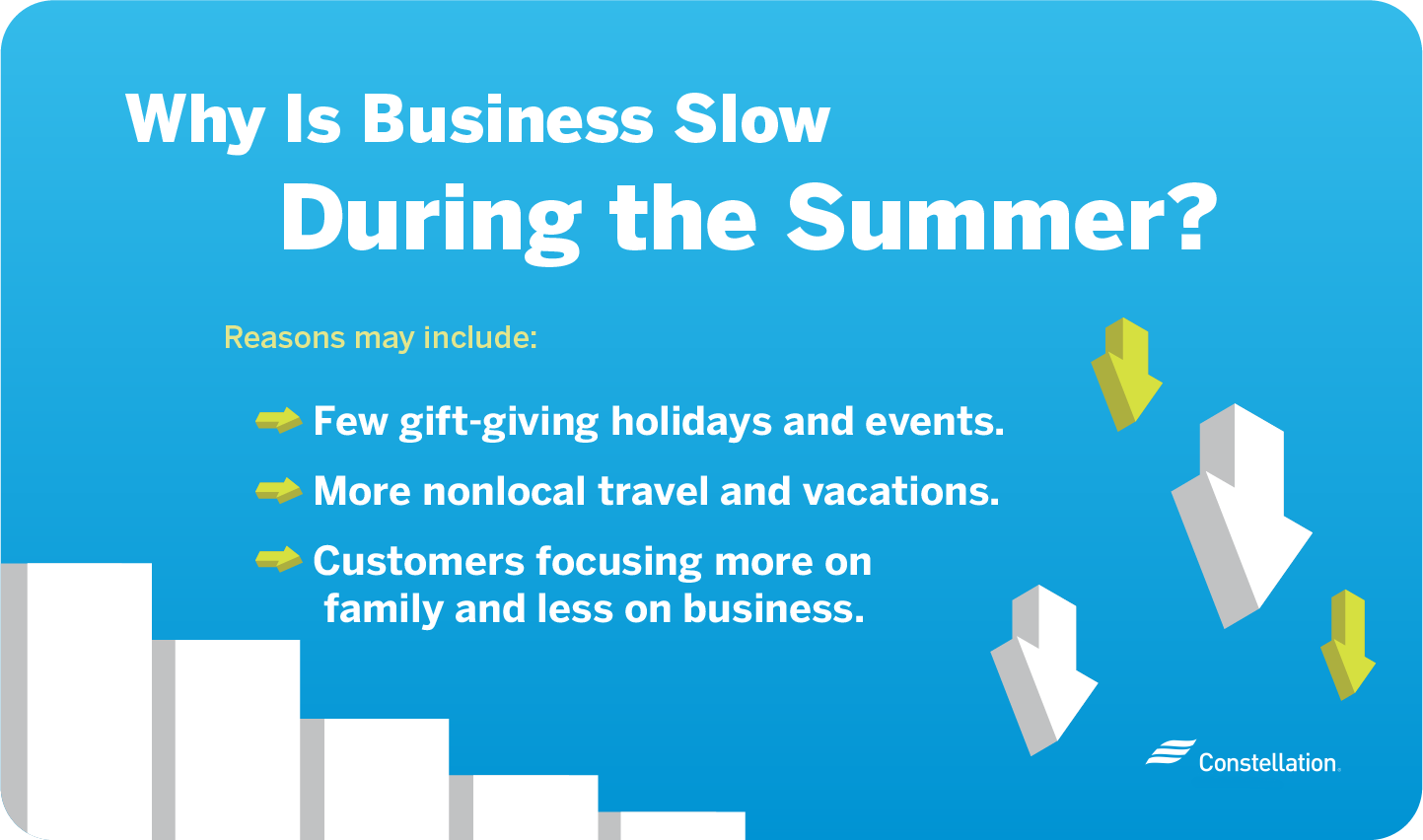 Reasons why business is slow during the summer for some industries include:
Few gift-giving holidays and events. Many retailers make the most money during the winter gift-giving holidays. After Father's Day in June, there aren't many holidays or events to structure sales around until children go back to school.
Vacations. Many Americans tend to take time off for vacation during the summer months, particularly in August. That's good news if you cater to those tourists, but it makes for slow times for small businesses back home.
More family time. With kids out of school and Americans spending more time with family, people often turn their attention away from some household matters. For instance, certain service providers, such as home cleaners or financial planners, may see a slowdown until summer ends.
Signs of a summer slowdown
Business activity across many industries tends to slow down over the summer, with the ripple effect going through to partners and suppliers. If you've been in operation a few years already, you can probably forecast when your business will slow in the summer. Indeed, a big part of planning for small-business success is identifying ahead of time the telltale signs of a seasonal slowdown, such as the following:
Sales and revenue slow. Knowing when your income will decrease and cash flow will get tight is extremely important when planning for your small business's slow time.
Traffic or requests for bids taper off. As client interest wanes, so will revenue.
Clients request fewer meetings. Client engagement is also a key indicator.
Productivity falls off. Whether it's from the hot weather or increased employee absence, many small businesses experience a drop in productivity in the summertime. If you track productivity for your business, you may see when it drops over the course of the year and plan ahead.
Staff requests for time off increase. Your employees may ask for more time off during summer, from a few extra days around weekends to entire weeks. Knowing, historically, when staffers take their PTO can also be an indicator of slow times to come.
Regardless of why your small business is slow in the summer, you'll still want to stay connected with customers during that time. Here are 11 summer marketing tips that can help see you through:
1. Assess your small business's online strategy
Today, nearly every business has an online element. No matter whether you're in the plumbing business or providing business consulting, customers look for you online. So your online presence matters. A digital transformation strategy can increase sales during slow times. And if you don't have an online store for your products or services, a lull in business is a good time to create one.
One of the best summer marketing tips is to make sure you claim listings on citation, review and directory sites. Make sure your information is complete, consistent and up to date. Add pictures and video. Check to see what customers are saying in their reviews. Respond to anything negative and ask pleased customers to give you a review.
Lastly, look into how your website is performing. What kind of traffic has it been getting, and when? What search terms is it ranking for? Which pages are people visiting the most? Knowing the answers can help you learn more about what your customers are looking for. And then you can make informed decisions about what you need to do — or not do — to improve your online presence. If you don't know how to find those answers, it might be worth getting the help of someone who does.
2. Ensure your website is mobile-friendly
More than half of all web traffic today is on mobile phones, with younger customers using mobile devices almost exclusively. If your site isn't mobile, you're missing out. A great way to engage customers during the slow season is to transform and upgrade your mobile online experience.
Cornell University offers key mobile-friendly tips, starting with responsive design that makes your site look good on any screen. For instance, you can use Google Accelerated Mobile Pages (AMP) so your site loads faster. If you're not sure how your website stacks up, Google provides an online tool that can tell you whether a webpage is mobile-friendly.
3. Automate the marketing efforts of your small business
If you're wondering why business is slow during the summer, one contributing factor could be that you haven't set up automated marketing yet. Just what is automated marketing? It's using technology to find and target customers and engage them through email, blog posts and special offers on your website, on social media and via texts. Create messages and schedule them to automatically go out to your target audience. Capture data and track what strategies and campaigns are working the best.
Setting up automated marketing takes time upfront, which is why it belongs among off-season marketing strategies, when business is slow. Once it's set up, though, you can increase sales over the summer and the rest of the year.
4. Connect with your customers on social media
You can also increase sales during slow times by embracing social media marketing. Pick one platform that's best for your business. It may be Facebook or Instagram, YouTube or TikTok. But resist the urge to do all of them. It takes time and focus to build a following. Things like hashtags and giveaways can be good ways to connect with customers. Or, if you have some extra capital, paid social media advertisements can help get your content in front of potential customers.
5. Gather new leads and referrals
One of the classic summer marketing tips is focusing on lead generation. Referrals are one of the most profitable sources of new business. You may want to try any of the following:
Reach out to satisfied customers. Ask them if they know of others who might benefit from your products and services. And offer an incentive both to current clients and to new clients they refer.
Add a chatbot to your site. A chatbot for your small business can engage customers, answer their questions and turn their interest into a lead.
Attend events and network. When you meet someone, follow up with a friendly note, but be careful not to be too aggressive. No one likes getting the hard sell from someone they have just met.
Be ready to offer help to new connections. Even if they aren't an immediate business prospect, that could change.
6. Add extra value to your small business's products or services
If business is slow in summer, it may be worthwhile to boost the value of your offerings. You can offer package deals, run a two-for-one special, include six months of free service or give away a promotional product. You don't have to incur a huge expense when adding extra value. Sometimes it's the little things that make the difference. The extra value you offer may be just enough to spark a sale for a customer on the fence.
7. Introduce a new product or service
It may seem counterintuitive to launch a new product or service during your small-business slow time. But when is it better to experiment than during a lull? You can do soft rollouts of products or services, get feedback from your most dedicated regulars and perfect your offering before business picks back up.
Also, in busier times, it can be hard to stand out and get attention. But in the summer, you can have a big impact with less expense and effort.
Here are a few questions to ask if you plan to increase sales over the summer with a new product or service:
What new customers might be attracted by your launch? And what existing customers might be persuaded to buy more?
Is your offering right for your brand?
What's the best way to reach new and existing customers and tell them about your new offering?
Will there be a seasonal tie-in for your new product or service?
Can you generate enough volume and profit to make your effort worthwhile?
8. Collect feedback and suggestions from your customers
Talking to your customers is simple yet one of the best summer slowdown tips you can take. Call them, email them or start a conversation on social media. You could come away with insights and ideas that could fuel growth now and into the busy season. Consider asking your customers any of the following questions:
Why did you choose our company or our products/services? What was the deciding factor?
How well did we measure up to your expectations? What could we do better?
What are our strengths? Weaknesses?
If you were describing us or our products/services to someone else, what would you say?
What other needs do you have?
If you could change anything about our company or products/services, what would it be?
9. Host an event in the community
People like to be out and about more when it gets warmer outside. Instead of accepting slow summer sales, turn it to your advantage and get out with them. Your community may host popular events — many of which seek sponsors or offer opportunities to have a booth. And given the current health crisis, outdoor events are much safer than indoor functions, allowing for better air circulation and easier social distancing.
Or you could host your own events. If you have a plumbing business, offer a clinic on leaky faucets. If you have a business consulting company, offer a free class around an important business topic. And if federal, state and local health safety guidelines make it too difficult to hold the event in person, you could turn them into webinars that you invite the people on your company email list to attend. You might be able to generate some unexpected revenue during your slow summer sales season. But even if you don't see a big bump in sales, the exposure is good for your brand.
10. Collaborate with another local small business
Getting attention takes time, money and effort. Consider joining forces with other small businesses to share the burden. For instance, you might talk to other retailers in your area to schedule a sidewalk sale.
A good strategy is to work with companies that aren't competitive but are in your same space. Using the plumber example, you could co-promote with an electrician, a floor company or another similar contractor. What's more, you could pool customers, share referrals and inspire joint promotions.
11. Educate your customers
One last marketing tip for when business is slow in summer: Take the time to educate your customers. People like to do business with a company they know, understand and trust to be experts in their field. Establishing that trust, or brand authority, is key. So provide them with plenty of helpful information.
Don't tell them what you want them to know. Tell them what they want to know. Think of all the questions customers have asked you over the years and write up full answers. You can post the questions and answers on your website, on social media and even offer them as articles to local media (as long as they don't come across as sales pitches).
Time improving your brand reputation is time well spent. Building trust and authority with your customers means that when they do need what you offer, they'll think of your business first.
June, July and August can be difficult months for a small business. But you can increase sales during slow times. Even if your revenues during the midyear lull don't match your busiest periods, these summer marketing tips can help you make the most of your downtime. And the preparation and hard work you put into your marketing during the off-season will bear fruit in the fall when business picks back up again.