If you're responsible for paying the bills in your home, you're familiar with utilities like electricity, natural gas and water. But if you're moving into a new place, for instance, you may not know the utility companies for your address yet. And you may be wondering, "Who is my electric company?"
In the United States, you can find utilities by address fairly easily. Often, there's only one electric utility for a region. It may also serve as your gas utility. But in some states, you'll have additional energy choices to make. You'll need to find an electricity or natural gas provider.
Constellation services many states and cities across the nation with electricity and/or natural gas. To find out if Constellation is an energy supplier in your state, enter your zip code below and start comparing rates.
Your state or municipality may allow energy choice
Over the years, some states and towns in the United States have deregulated their energy markets. In those places, customers can choose their energy supplier. That leads to competition and, often, lower prices or value-added services.
In those markets, your energy provider may be a different company than the local utility. Basically, the utility is responsible for delivering your energy. The retail energy provider supplies your energy and helps you secure the rate you pay for electricity or natural gas.
So, if you live in a place that has energy choice, it can pay to shop around. You'll want to find an electricity and/or natural gas provider with an energy plan and pricing that meets your needs. In some states, like Texas, you can choose your electricity provider. In other states, like Georgia, you can choose your natural gas provider. And some states, like Pennsylvania and Massachusetts, allow residents to choose both electricity and natural gas providers. If you're not sure whether your state offers energy choice, one way to find out is by contacting your local utility or state regulatory commission.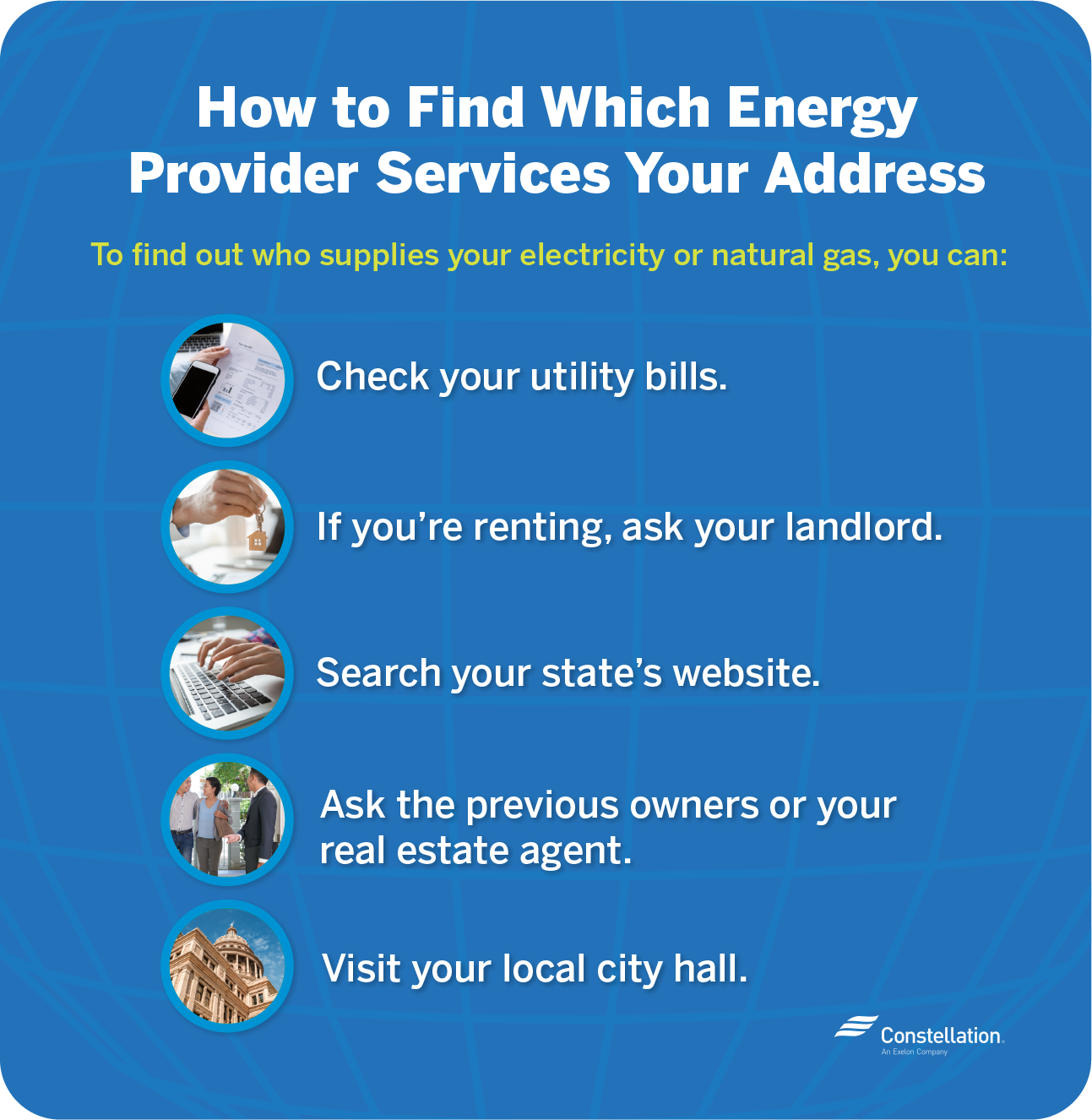 Who is your electricity supplier?
There are several ways to find your electricity provider. If you don't get to choose your supplier where you live, it will be the same as finding the utility company that services your address.
Find your electricity bill. You can find your electricity provider by looking at a recent electricity bill. The statement will have the total amount due broken out into line items. Look for the item or section that says, "electric supply charges," "supply services" or something similar. If you have a separate electricity supplier, the name of the provider will be listed there. You may also be billed directly by the electricity provider.
If you're renting, ask your landlord. Depending on the terms of your lease, you may be responsible for paying the electric bill. Ask your landlord around the time you sign your lease about utility companies for your address and whether you have a choice in electricity providers.
Search your state's website. Your state may have an energy section on its website that can give you more information about electric utilities and suppliers by address. You may also get answers by contacting your local utility or state regulatory commission.
Ask the previous owners or your real estate agent. If you're buying a home, don't wait until you move in to find out who your electric company is. During the closing process, reach out to your real estate agent or the seller's agent to find the utility companies for the address you're moving to. And don't forget to ask if there's a separate supplier. It's never too early to try to find an electricity provider for your new home.
Visit your local city hall. You may be able to find your local utility by contacting your town hall or municipal building. They can also tell you if your area has energy choice.
What natural gas provider services your address?
To find the natural gas supplier for your address, you would follow many of the same steps you would take to find an electricity provider.
Search your natural gas bill. If your utility bills you, look for a line item or section that says, "natural gas supply," "gas supply charges" or something similar. You can find the name of the natural gas provider for your address there. Your supplier may also bill you directly.
Ask your landlord or the former owner. As you get close to signing either a lease or closing documents, you should find out if your new home uses natural gas. If so, make sure to ask who the natural gas utility is for the address and if you have a choice in natural gas suppliers.
Contact your state or local government. Your state's website and/or your town hall may be able to give you more information on natural gas providers in your area.
How to find out which energy plan you have
Once you have a better understanding of your utility and energy supplier options, you can use your energy bill to get a sense of the pricing of your energy plan. Electricity often has a price per kilowatt-hour (kWh). Natural gas has a price per thousand cubic feet (Ccf) or per therm.
When you identify your energy supplier, call their customer service number to find out the energy plan for your address. You may also be able to contact your provider online. If you or someone in your household set up the plan, you may still be under a contract for a set price over a set time period. If the contract term has expired, you may be paying month to month at a variable rate.
Choosing the best energy provider for your needs
If you live in a place with energy choice, you may be able to sign up for a different energy plan for your home. But price is just one factor to think about. You'll also want to consider contract length, the company's reputation, customer service and any additional taxes or fees that might be added. Knowing your energy habits and needs — and how they might be best served — will guide you in choosing the best energy supplier for you.
Whether you're setting up a new home or just want to take control of your energy use, an important step is finding the utility companies that service your address. But if you live in a market with energy choice, you may also choose an electricity provider and/or natural gas supplier with an energy supply plan that's right for you.
Constellation provides electricity and/or gas to customers in Texas, Georgia, Ohio, Pennsylvania, Massachusetts, Maryland and more. View our current fixed supply rate plans and decide if switching to Constellation is right for you. With a little research, you can rest assured that when you open your energy bill, you're getting competitive rates on electricity and natural gas.