Summer is almost here, and for many people, that means it's time to fire up the backyard grill. That can be a relief, as it can mean less mess in your kitchen (as well as less heat in your house!), and it's a fast way to serve a delicious meal to a larger group of people if you're entertaining. Besides, whatever your food preferences, there's something special about juicy burgers, succulent steaks or grilled veggies cooked to perfection on an outdoor barbecue.
Like anything else, though, not all barbecue grills are created equal. There are differences not only in taste (and only you know which you like best) but also with respect to energy efficiency. What's the most energy-efficient grill? First, we need to look at various types of grills:
Propane gas
Natural gas
Electric
Charcoal
Second, let's look at your immediate objective. Are you in the market for a barbecue and trying to decide which you'd like to purchase by evaluating the difference between propane and natural gas grills? Or are you considering an electric? In this comparative guide, we'll look at the differences among propane, natural gas and electric grills.
What is the difference between an electric grill and a gas grill?
Traditionally, people tend to think that an electric grill offers the least-authentic barbecue flavor, so that might be a big consideration in your electric vs. gas grill decision. You might not be looking for the most energy-efficient grill but rather the one that offers the best taste, and that's a worthwhile rationale.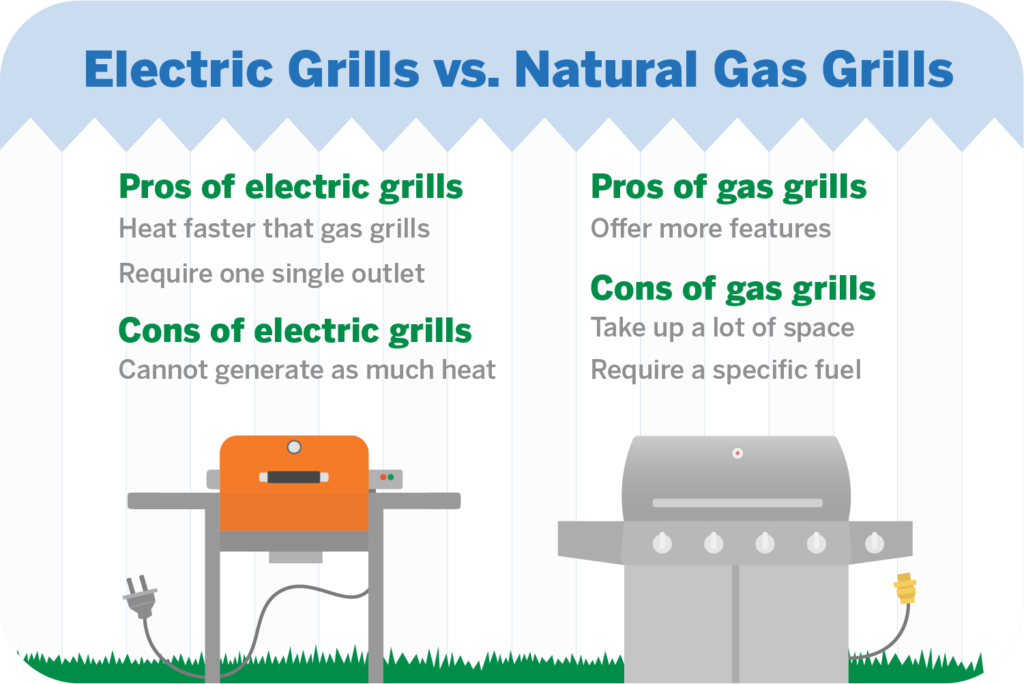 Electric grills vs. natural gas grills
Some food enthusiasts maintain that there's no comparison between an electric and a gas grill when it comes to barbecue flavor. After all, an electric can't get that open flame that you can achieve with gas.
But in lots of ways, an electric grill is safer, and if you're someplace more indoors or close to a building (in a garage, for example, or on an apartment balcony), an electric grill could be the only safe choice.
Also, depending on your location and access to natural gas lines, you may have limited options in gas grills. Cost may be another important consideration: Natural gas grills are slightly cheaper than their electric counterparts, which can require quite a bit of power.
Pros of electric grills
Electric grills heat faster than gas grills, so less energy is required to reach cooking temperatures.
They only require a single outlet to operate all grill features.
Cons of electric grills
Although electric grills heat faster than gas grills, an electric grill can't generate as much heat. This may affect cooking times and rob meat of additional juice.
Pros and cons of gas grills
Gas grills are the most commonly sold grills today. If the choice is a gas grill vs. electric grill, either might suit your needs, but a gas grill arguably confers better flavor to your food. Still, an examination of the pros and cons can help you decide between the two.
Pros of gas grills
Some gas grills come with features that include side burners and rotisserie kits.
Unlike charcoal grills, gas grills are quick. You could have one heated and ready to grill in as few as 10 minutes.
Cons of gas grills
There is a difference between propane and natural gas grills. Each grill is equipped for a specific fuel; they're not interchangeable. In deciding propane vs. natural gas grill, limited access to fuel may play a disappointing factor.
Gas grills require a lot of space. They can't be used in any structure that's even slightly enclosed; in fact, they need to be used far away from any building.
As you weigh the choice of propane vs. natural gas grill, know that there are some local laws or ordinances that could prohibit your use of one or both. Before you spend money on either, check your local code to make sure that you're purchasing one that's allowed in your community.
What are the differences between propane and natural gas grills?
In mulling over propane vs. natural gas grill options, there are a few factors to consider. For instance, where do you live? Natural gas grilling might not even be available to you if there isn't a convenient natural gas line. Often, if you live outside a municipality, there's no direct access to natural gas. If there is, natural gas can be both more convenient and more cost-effective than propane.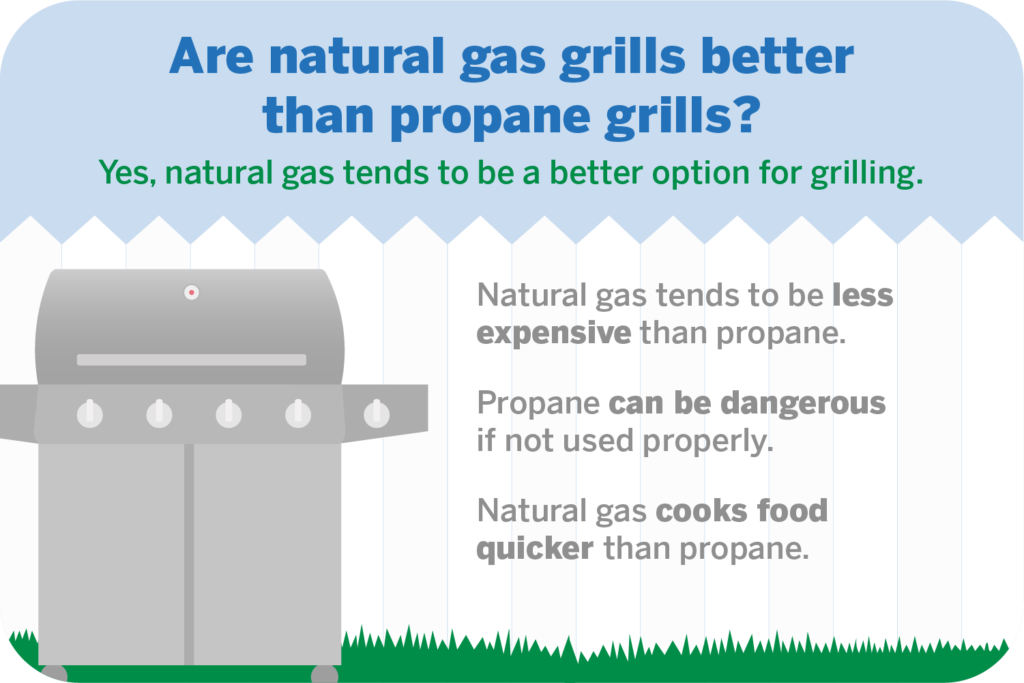 There's not much of a difference between propane and natural gas grills when it comes to food quality and taste. The bigger consideration when it comes to propane vs. natural gas grill use is energy and cost. You can purchase propane in a tank at most convenience stores, gas stations or supermarkets. If you're using natural gas, you purchase from the gas company and the line connects your source directly to your grill. What are some other differences?
Natural gas tends to be less expensive than propane.
Propane can be more dangerous if not used properly. Propane gas is heavier than natural gas and air, which means that a leak can result in propane gas falling to the ground and causing a potential fire hazard. By contrast, natural gas would rise into the air and evaporate.
Natural gas does often cook foods more quickly than propane, and if you're hooked into a natural gas line, you'll never run out of fuel. Propane tanks can run out, and you don't want to be hosting a barbecue and have your barbecue fuel depleted!
Another difference between propane and natural gas grills is the portability. You can wheel your propane grill anywhere that's safe for barbecuing. Because a natural gas grill is connected to the gas line, you're tethered to one spot.
Still, if the choice is propane vs. natural gas grill and which would best meet your needs, bear one thing in mind: Most propane grills can be converted to natural gas with a few adjustments. The gas company will be able to advise you which parts are necessary to make the switch. So, if you've already purchased a propane grill but are considering natural gas, it's usually possible to convert.
Which grill is more efficient?
Comparing gas vs. electric grill cost efficiency, the average electric grill uses 1,250 watts. How much money you're actually spending will depend on the rate you pay for electricity. It's easier to determine the cost of your barbecuing if you're using a propane grill because you know exactly how much you paid for the liquid propane at the store.
If you're leaning toward gas in the gas grill vs. electric grill question, you might want to consider the associated costs. Because we're talking about two different types of energy, it's hard to evaluate cost; it's not an apples-to-apples comparison. But here's a start in determining what would be the lowest-cost and most energy-efficient grill:
If your home already uses natural gas, your cost involves two factors: the cost of the grill itself and the cost of an additional gas line. If you already have a propane grill, you can get a conversion kit to use it as a natural gas grill instead.
Like any type of appliance, the cost of the specific grill can vary widely.
A gas line can be costly to install if your home is not already equipped with one. This would require the services of a specialized contractor, and the cost depends on the distance from the house to the gas main. There also could be requirements with respect to municipal permits for installation of a home gas line, so be sure to check your local regulations.
With all of these factors taken into consideration, HomeAdvisor estimates that the average homeowner spends between $133 and $347 to install a natural gas barbecue.
Still, if you're comparing gas vs. electric grill efficiency, there are really two main costs for electric: the cost of the grill itself and the cost of the electric energy. If you're grilling once or twice a week (but not every day) then you might find that it's less expensive to use a gas grill vs. an electric grill. Generally, one unit of gas is about three to four times less expensive than one unit of electricity. Gas grills also heat faster, which means that they use less energy per unit of cooking time.
What about charcoal grills?
If flavor is your only concern, charcoal is the clear winner in any grill discussion. Charcoal smoke enhances flavors in a way natural gas, electric and propane grills can't match. Charcoal barbecues aren't nearly as commonplace as they used to be, however, in part because it has been shown that charcoal burns much more carbon than the alternatives.
Tips for saving energy with your grill
1. Cook smaller pieces.
Large items take much longer to cook than smaller pieces of food. For instance, a whole chicken takes longer to grill than a chicken thigh. You can save energy by cutting food into smaller pieces before grilling — and you'll have food on the table faster too.
2. Control your gas grill with high- and low-heat zones.
Don't fall into the trap of turning up the heat to cook food faster. Doing so increases the risk of burning the outside of the food and ruining dinner. Instead, set up part of your grill as a high-heat zone to sear food like vegetables, and use a low-heat zone to finish cooking.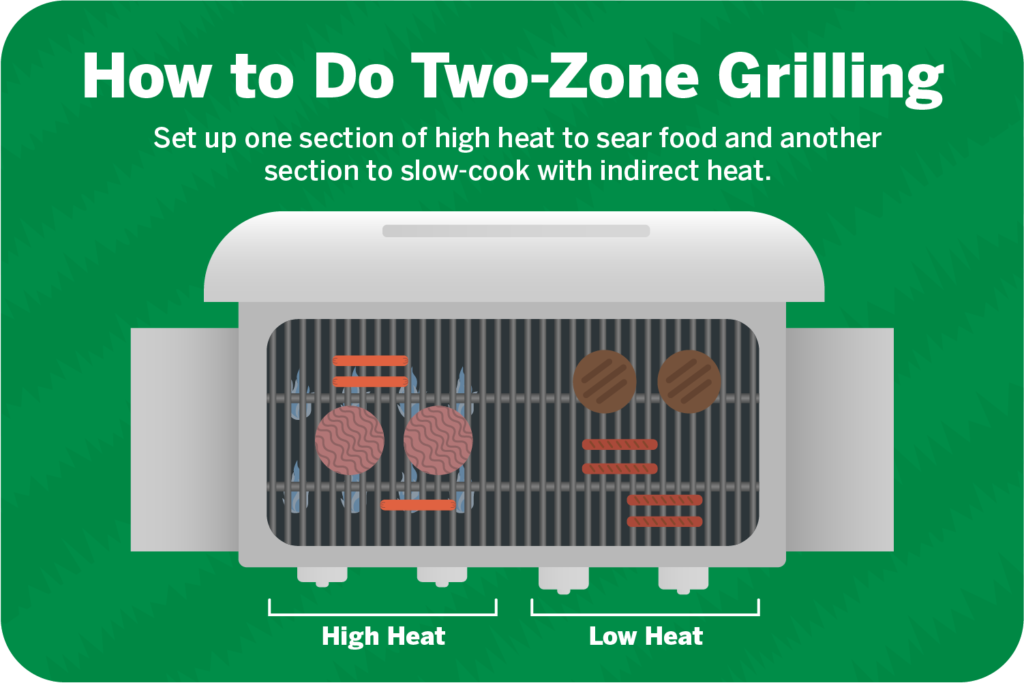 3. Keep the lid closed as you cook.
Many people cook with the grill lid open so they can watch for signs of overcooking. Doing so dissipates heat into the surrounding air, reducing grilling temperature and wasting energy. Cook with the lid down for consistent temperatures.
4. Only turn on additional features when you need them.
The modern grill comes with plenty of additional features, including warming areas, side burners and infrared burners. To conserve energy, turn off these features when you're not using them. If you're concerned with food getting cold, take it off the grill and keep it warm in a microwave or oven until you're ready to eat.
5. Turn off your grill when you're done using it.
Turn off your grill as soon as you're finished cooking: Letting it run without food just burns energy. For safety with gas and propane grills, use the shut-off valve when the grill isn't in use. This reduces the risk of children accidentally turning the grill on.
Bonus tip: No matter what kind of grill you use, provide yourself with adequate lighting if you're cooking after the sun sets. Solar lighting systems and outdoor automatic lights provide the illumination you need to whip up a meal on those hot summer nights.
So, what's your preference? Do you insist on the flavor that comes from a gas grill, or do you like the portability of an electric? Share your comments below. We'd love to hear what you think! And regardless of your grill preference, you can find other ways to save on home appliance energy use. Remember to check back here often for more home energy efficiency tips. And in the meantime, fire up the grill, crack open a cold drink and grab your grilling utensils — summer awaits!