If you haven't put a lot of thought into how you control the temperature in your home, perhaps now is the time to look at the benefits of a smart thermostat. You might be doing just fine with a "regular" wall unit, but you might be able to cross one thing off your daily to-do list by investing in a smart thermostat. Energy efficiency is one advantage, in that it takes the human work out of maintaining your home's climate.
"Smart" devices are usually part of the Internet of Things (IoT) category of electronics. You probably have heard about smartwatches and smartphones, but now "smart" devices are entering your home, too. They are electronics that are connected, either to each other or to other devices that have software and networks that allow these items to function by communicating with other devices rather than directly with humans.
When you install a smart thermostat, you're able to control the temperature settings from your smartphone or other connected device. But, the technology doesn't end there. You have a choice between a smart thermostat vs. wifi-enabled thermostat. A wireless — or wifi — thermostat is one that has a sensor to control your heating and cooling on its own.
Benefits of a wifi-enabled thermostat
There are several things that your wifi-enabled thermostat can do that even the best smart thermostat cannot. Because your wifi-enabled thermostat has sensors, the partner app on your phone can let you know if your house gets too hot or too cold. Depending on where you live, this could be huge. For example, in hot, humid places like Texas, you might need to know if your house goes above a certain temperature when you're not home. If you're trying to reduce energy costs by keeping your house temperate (which could mean not cranking the a/c up too high when you're not around), you might still worry about pets or plants in your home that require a specific temperature.
On the flip side, if you live somewhere that gets cold in the winters, you could worry about your pipes freezing if you go away for a few days during a cold snap. A wifi-enabled thermostat would ping your connected device if the temperature dips below the number of degrees you specify, and you can either control the thermostat from your device, or manage the settings so that it happens without your intervention.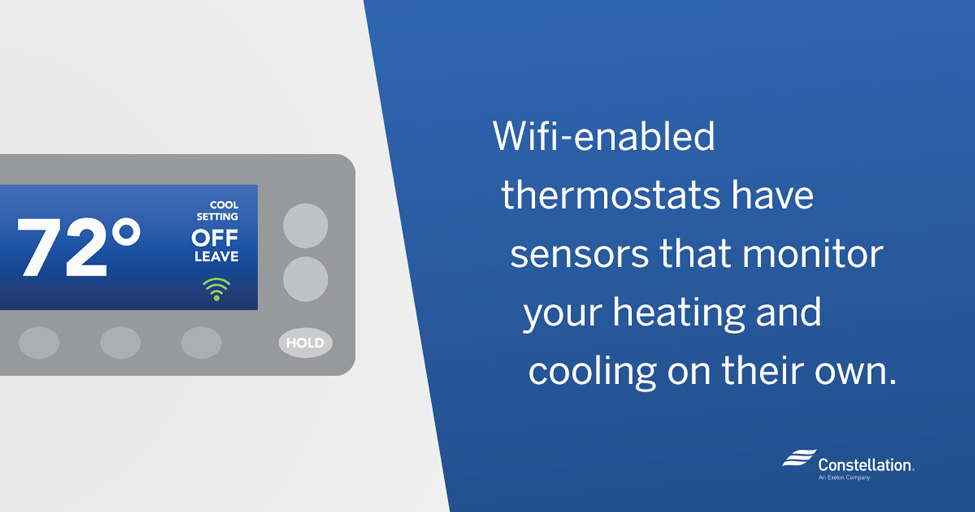 Similarly, some wifi-enabled thermostat models are connected to outdoor sensors, so they can detect the temperature and humidity of the outdoor climate. This can be a good indicator as to how to set temperature indoors, especially when you're away from home.
Here's a bonus, too: If you're away and can't "communicate" with your wifi-enabled thermostat, that could be indicative of a power outage (or that your wifi is down), which is also useful information if you're maintaining the temperature of your house!
Benefits of a smart thermostat
For most people, the biggest benefits of a smart thermostat is that it can save on energy costs in their homes. Smart thermostat energy efficiency happens because it takes human error (and effort) out of maintaining the climate inside your home. When you set up your smart thermostat, you will program it so that it will adjust the temperature before you arrive home on a daily basis, once you've gone to bed, when you wake up, and so on — whatever works for you. Whether your priority is keeping your home cool in hot temperatures or warm in winter, no more having to climb out of bed because you forgot to adjust the thermostat. Likewise, you don't have to worry about your house being too warm or too cold during the hours you're at work. You can set it to be the optimal temperature for saving money on energy costs, but still be perfectly comfortable when you arrive home.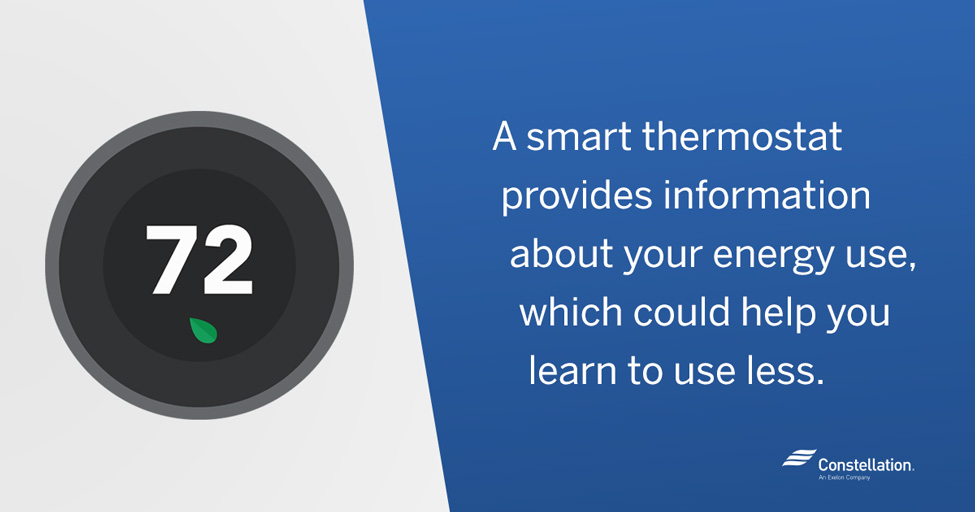 One of the other benefits of a smart thermostat is that it can provide you with information about how you use energy, and how you could potentially use less. Some models connect to apps that offer data that indicates your usage per month, how many units of energy are being spent on heat or air conditioning, and how your month stacks up against prior time periods. In an era when so many people rely on data to manage their day-to-day lives (like food and fitness tracking devices, sleep monitors and others), it can fit seamlessly alongside the other information that you're consuming and using to make better lifestyle choices.
How to choose the best smart thermostat
Like with any electronic device, you might have certain features in mind as you search for the best smart thermostat. You could be most interested in finding one that works with a data-rich app for temperature management, or your priority could be finding the best smart thermostat for multiple zones. So, let's take a look at the best smart thermostat for your needs, and whether you require a smart thermostat vs. wifi-enabled thermostat.
Nest Learning Thermostat: Nest (which is owned by Google) was the first smart thermostat on the market. It's called a "learning" thermostat because it tracks your manual or remote temperature adjustments in order to "learn" your habits and preferences over time. Eventually, the Nest Learning Thermostat will understand when you're home, when you're out, and how your routine interacts with adjusting the thermostat. At that point, your help is no longer needed — the Nest Learning Thermostat understands your behaviors well enough to manage the temperature on its own without human intervention. And, there's another perk; if your temperature gets to a certain number of degrees, a green leaf will appear on the display to let you know that you're in a smart thermostat energy efficiency state.
Honeywell Lyric: The Honeywell Lyric wifi-enabled thermostat works in conjunction with the Apple HomeKit app and products. Like others among the best smart thermostats, it can be controlled and programmed remotely through an app in order to keep your home running efficiently.
ecobee: The ecobee line of smart thermostats works with room sensors in order to maintain your desired environment. Using the sensors, the ecobee detects where you need warm or cool air based on motion detection, humidity and other factors. The ecobee website says that this thermostat could save 23 percent on your heating and cooling costs.
eversense: The eversense thermostat claims that there's "no programming, no learning, no motion sensors". That's because it works with location-sensing technology using geo-location on your phone. In other words, the thermostat will automatically adjust the temperature in your home as you cross in and out of certain zones.
As is the case with any technology, even the best smart thermostats are going to evolve rapidly. With any electronics, it's important to compare features before purchasing so that you are buying the model or style that will be most compatible with your needs.
Best smart thermostat for multiple zones
If you're looking for the best thermostat for multiple zones, that adds another set of challenges. "Multiple zones" means that you might have more than one unit that controls the HVAC in your home. Many houses have separate thermostats for upstairs and downstairs, for example. That's because the needs might be different for separate areas of the house — your upstairs might get significantly warmer than your downstairs because of heat from the roof, window exposure, lack of shade and other factors. Currently, ecobee and eversense models support multiple zones, but that will likely change as the current versions of the other brands' best smart thermostats are updated over time.
If you're still wondering about a smart thermostat vs. wifi-enabled thermostat, those terms are often used interchangeably. But, the benefits of a smart thermostat, regardless of the type, are primarily in making your life easier and your home more energy efficient. Smart thermostat energy efficiency is effective because it takes the planning and guesswork out of programming a thermostat or having to manually adjust temperature on a daily basis. Especially if you're on the go, travel frequently, live in an extreme climate, or have pets at home, smart thermostat energy efficiency can make a big difference in your home heating and air conditioning costs. We want to hear from you; have you made the leap to "smart home" technology? If so, share your experiences in the comments!