The choice between a gas vs. wood fireplace or even an electric one may improve the value of your home and may improve its energy efficiency as well. Fireplaces are a highly desired feature, according to the National Association of Home Builders. Make the right investment and then make the most of it by optimizing how you use your fireplace. When considering a wood-burning vs. gas vs. electric fireplace, here are some details about each and their pros and cons.
Wood-Burning Fireplaces
Wood-burning fireplaces are a traditional favorite. Wood is relatively cheap and plentiful in most locations and nothing beats the warm ambiance of a cracking fire.
Benefits:
Reliable operation with few moving parts
Produces a good deal of heat
Versatile–you can even cook using them
Inexpensive to use, depending on the cost of wood in your area
Things to consider:
Expensive to build–upwards of $5,000
Takes effort–you have to keep adding wood and tending the fire
Higher maintenance dealing with ash and soot and requiring regular chimney and flue cleaning to prevent a fire hazard
Relatively inefficient, as they draw warm air from your room and send it up the chimney
Wood smoke pollutes the air and has a negative impact on the environment
Gas Fireplaces
A gas, wood or electric fireplace offers ambience and heat. A gas fireplace, however, burns natural gas or propane instead of firewood. Are gas fireplaces safer than wood? In many cases, yes. If you have a wood fireplace, you can convert it to gas and enjoy its benefits.
Benefits:
Super easy to use, flick a switch or click a button and you have fire
Cleaner burning–a gas fireplace vs. wood emits far fewer toxins
Burns efficiently, providing high heat output
Affordable–especially if your home already has natural gas or propane service
Convenient–you don't have to constantly add fuel
They can cost pennies an hour to run, depending on how much you pay for gas
Things to consider:
If you aren't hooked up for gas, it can be costly to install
Without proper ventilation they are a carbon monoxide risk–definitely install a carbon monoxide detector and alarm
Some people miss the crackling of a wood fire
You can lose heat up the chimney
Electric Fireplaces
If you are looking for an easy option, electric fireplaces are easy to install and use. Depending on the price you pay for electricity, they can be an affordable option for staying warm. New technology recreates the feeling of a traditional wood-burning fire without the negatives.
Benefits:
Super easy to install–many are simply plug and go, no chimney required
Typically they are portable
Easy to use, as you don't have to build or tend a fire
Clean–no shoveling ash
Largely maintenance free
All of the heat they produce goes into your room, not up the chimney
Things to consider:
Electric fireplaces tend to have shorter lifespans than wood-burning fireplaces
Not an efficient long-term heat source
May increase your energy bill
Not an amenity that adds to resale value
Most Efficient Fireplace Types: Gas vs. Wood-Burning Fireplace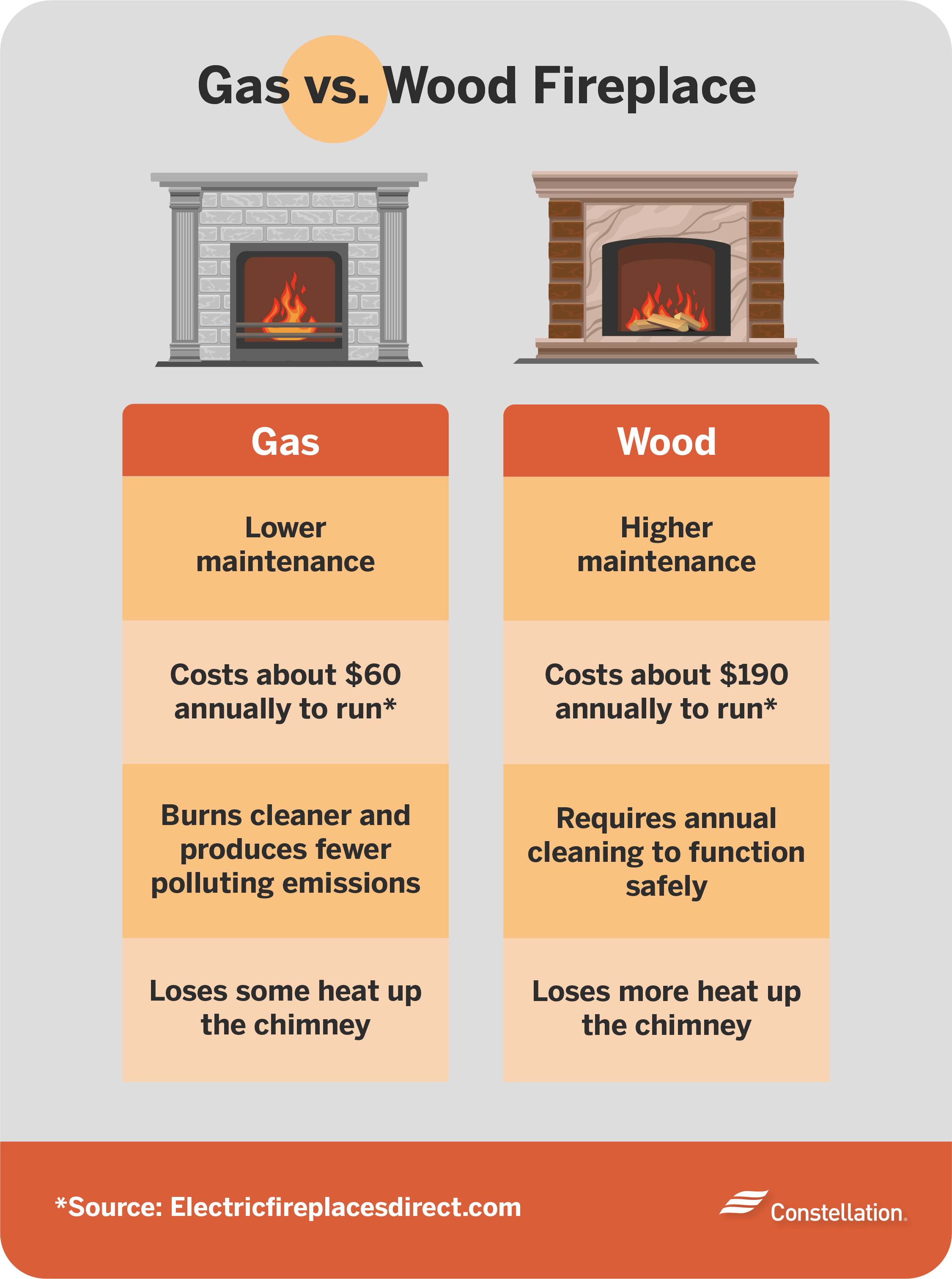 You might be wondering which is better, wood burning or gas fireplace. In the battle for the most economical fireplace, a gas fireplace is always going to win. When it comes to having a lower impact on the environment, again, in a gas vs. wood fireplace, gas is better. Gas fireplaces burn more cleanly and produce fewer polluting emissions. Wood-burning fireplaces typically emit 28 pounds of particulate emissions per MMBtus (one million British thermal units), Project Greenify reports, compared to natural gas, which produces up to 99 percent less emissions. And lastly between a wood burning vs. gas fireplace, properly constructed, your gas fireplace are typically more energy efficient.
Most Efficient Fireplace Types: Gas vs. Electric Fireplace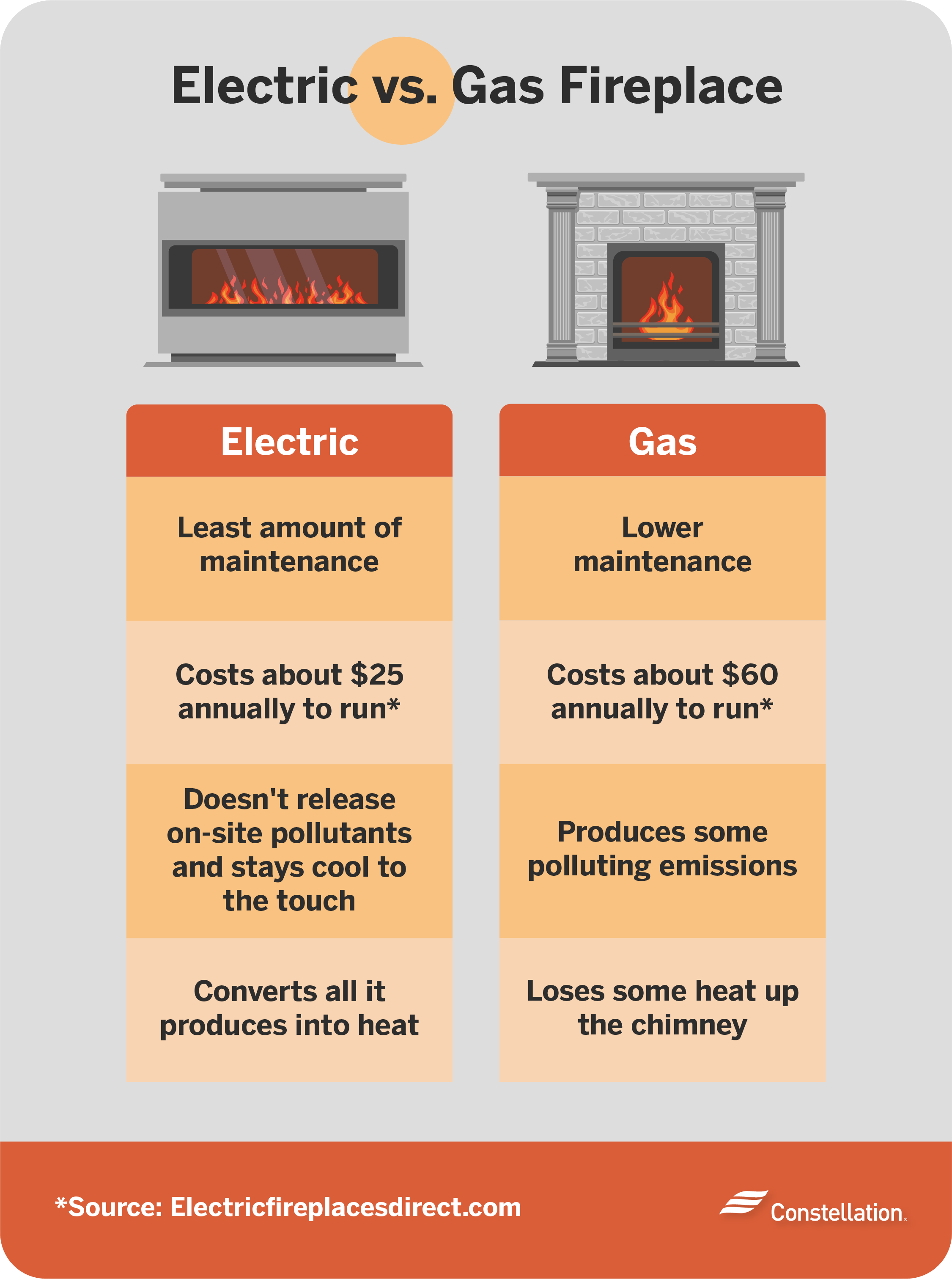 When comparing gas vs. electric fireplaces, or even wood burning vs. electric fireplaces, electric is the cleanest fireplace. Electric fireplaces are the only ones that do not release pollutants into the atmosphere on-site. They can also be safer in homes with small children and animals. From an efficiency standpoint, all the energy they consume goes to heat your home with none wasted in venting.
How to Make Your Wood Fireplace More Efficient (If you already have one)
If, after weighing a gas vs. wood vs. electric fireplace, you still want the wood-burning option, you can make it more efficient and safer. While the wood burning option may not be the most economical fireplace, you can improve its heat productivity with these tips.
Burn seasoned firewood. Green, or unseasoned, wood burns inefficiently and also creates a large amount of smoke. Seasoned wood — i.e., wood that has had at least an entire year to dry — burns more efficiently and with less polluting smoke.
Open the damper as wide as possible. This will increase the amount of air the fire initially receives. Doing this improves combustion and the amount of heat the fire produces.
Clean your chimney annually. Doing this prevents the buildup of creosote, a natural product created when fire burns. Creosote can build up on the side of your chimney flue, restricting air flow and, in worst-case scenarios, potentially creating a fire hazard.
Consider installing tempered glass doors in the front of your fireplace. Keep the doors closed while the fire is burning. This will increase the temperature in the chimney and reduce the amount of warm air the fire draws from the room. You'll find this is a great option for a gas or wood fireplace.
Install a fireplace insert. Fireplace inserts, literally large metal coverings that include doors, often include circulating fans as well, which can blow warmth into the room, further reducing the amount of air that is drawn up the chimney. Again with a gas fireplace vs. wood, this tip works.
Add insulation and a fan heat exchanger. This device will blow heat back into the room and minimize heat loss up the chimney.
So, What Is the Most Efficient Fireplace Overall?
The final tally is in. If you want the most efficient fireplace, you want an electric one. Get more energy-efficiency tips for your home on our blog.
Full gas vs. electric vs. wood-burning fireplace comparison table here: