The National Association of Home Builders says fireplaces are among the top three most desired features for a new homebuyer. Who doesn't love the idea of sitting by a crackling fire on a cold night? Like most things, though, that ambiance costs money. Fireplaces are also often major sources of air leaks. Bob Vila of "This Old House" says they can send up to 8 percent of valuable warm air right up the chimney.
The good news is that fireplaces can become more than an accessory to create a mood. You can improve fireplace efficiency by choosing an energy-efficient fireplace, or by taking other steps to improve how you use your fireplace.
Before we get into how to make your fireplace more efficient though, let's take a look at the most efficient fireplace types and do a little comparing.
Most Efficient Fireplace Types: Gas vs. Wood-Burning Fireplace
In the battle for most efficient fireplace, gas fireplace efficiency is always going to win over wood fireplace efficiency. That's because gas fireplaces burn more cleanly and produce fewer polluting emissions. Wood-burning fireplaces typically emit 28 pounds of particulate emissions per MMBtus (one million British thermal units), Project Greenify reports, compared to natural gas, which produces up to 99 percent less emissions.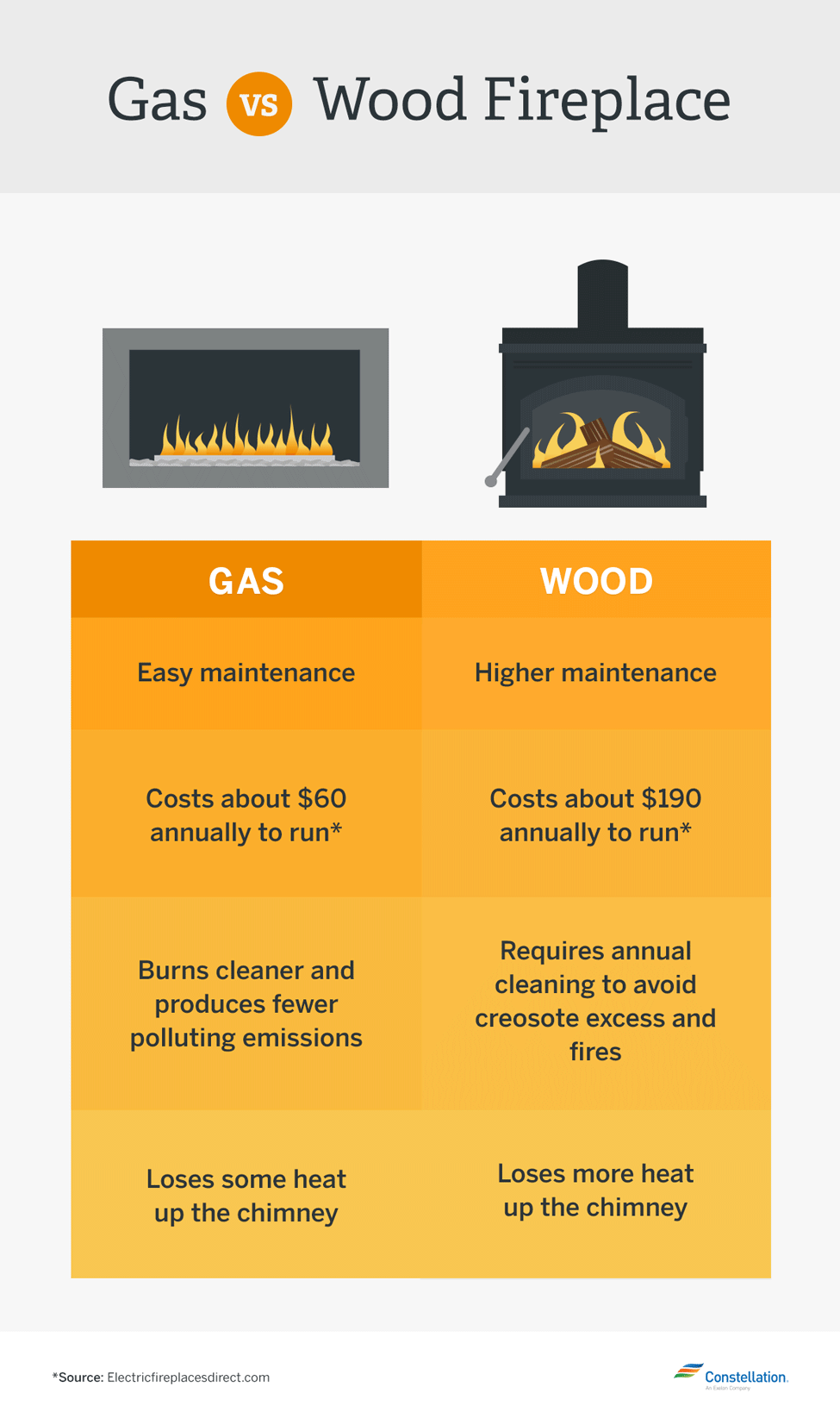 Here are some other pros and cons to consider when comparing gas vs. wood-burning fireplaces:
Gas fireplace efficiency includes easy maintenance, so you have no ashes or soot in the chimney with a gas fireplace.
Natural gas is a fairly inexpensive form of energy, so a gas fireplace is inexpensive to run. Gas fireplaces cost 17-19 cents an hour to run, or about $60 annually, Electric Fireplaces Direct says. Wood-burning fireplaces cost about $190 annually to produce a number of BTUs similar to a gas fireplace.
Both gas and wood-burning fireplaces lose heat up the chimney, although wood-burning fireplaces typically lose more. Electric Fireplaces Direct estimates 60 percent of heat from these fireplaces goes up the chimney. Additionally, wood-burning fireplaces can also draw warmer air from inside a room up and out the chimney, further lessening wood fireplace efficiency.
Wood-burning fireplaces require annual cleaning to make sure the chimney does not have excess creosote, which can create chimney fires. Creosote is a natural byproduct of burning wood. It liquefies when heated and flows down the sides of the interior chimney, making it a fire hazard if there is too much buildup.
Most Efficient Fireplace Types: Gas vs. Electric Fireplace
When comparing gas vs. electric fireplaces, electric is the cleanest fireplace. Electric fireplaces are the only ones that do not release pollutants into the atmosphere. They are also cool to the touch, making them particularly safe in homes with small children and animals.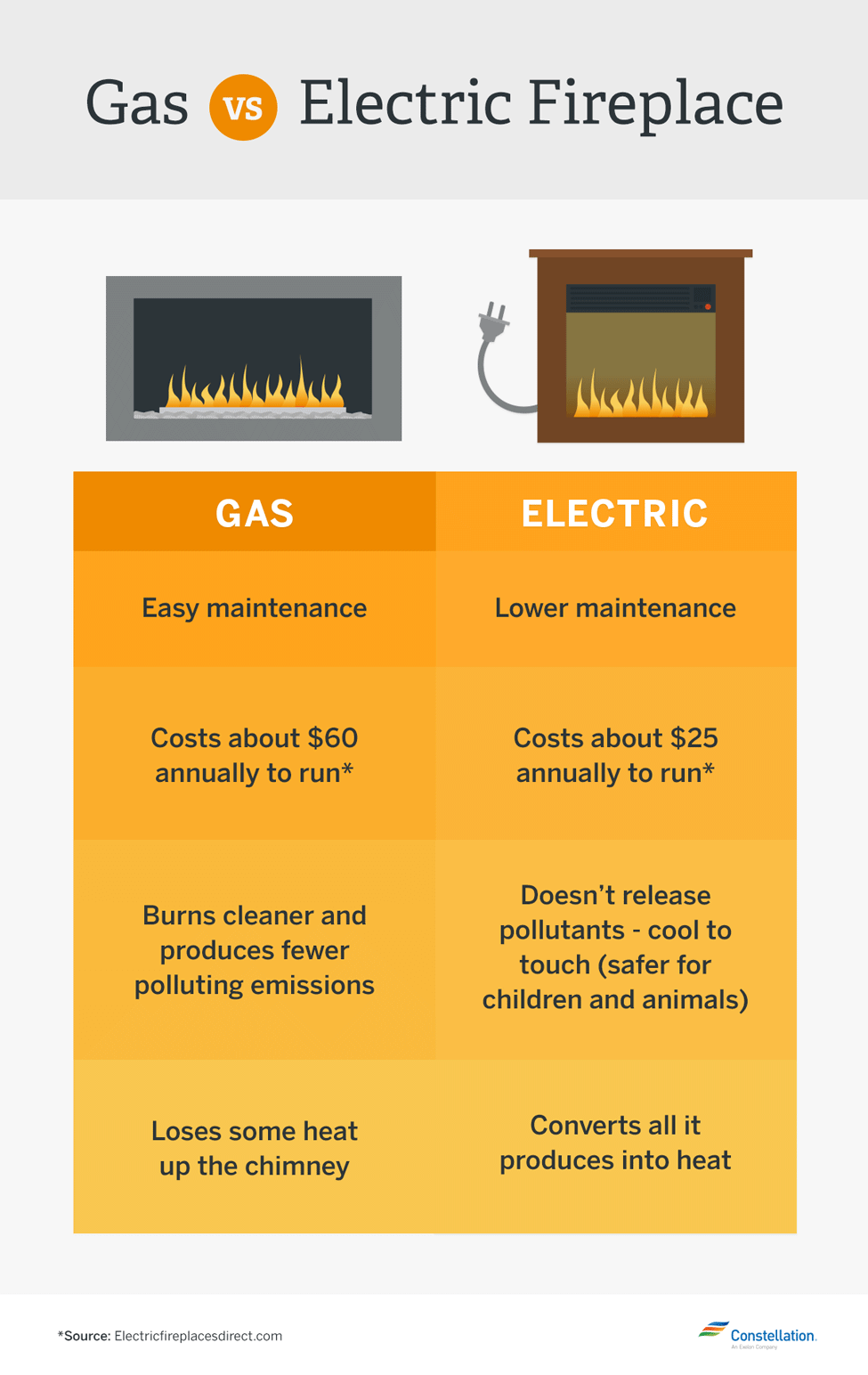 Other pros for electric fireplaces:
They require little maintenance.
They convert all they produce into heat kept in the home.
They are the least expensive of the fireplaces to run, costing 8 to 12 cents an hour or about $25 a year, according to Electric Fireplaces Direct.
How to Make Your Fireplace More Efficient
Maybe you've decided that converting your fireplace to electric or gas is unrealistic or just doesn't fit your personal preference. (We can all agree wood-burning fireplaces win the ambiance award.) If that's the case, here are some tips on how to make your wood fireplace more efficient.
Burn seasoned firewood. Green, or unseasoned, wood burns inefficiently and also creates a large amount of smoke. Seasoned wood — i.e., wood that has had at least an entire year to dry — burns more efficiently and with less polluting smoke.
Open the damper as wide as possible to increase the amount of air the fire initially receives. Doing this improves combustion and the amount of heat the fire produces.
Clean your chimney annually. Doing this prevents the buildup of creosote, a natural product created when fire burns. Creosote can build up on the side of your chimney flue, restricting air flow and, in worst-case scenarios, potentially creating a fire hazard.
Consider installing tempered glass doors in the front of your fireplace. Keep the doors closed while the fire is burning. This will increase the temperature in the chimney and reduce the amount of warm air the fire draws from the room.
Install a fireplace insert. Fireplace inserts, literally large metal coverings that include doors, often include circulating fans as well, which can blow warmth into the room, further reducing the amount of air that is drawn up the chimney.
Add insulation and a fan heat exchanger to blow heat back into the room and prevent heat loss up the chimney.
So the final tally is in: If you want the most efficient fireplace, you want an electric one. Get more energy-efficiency tips for your home on our blog.
See full Gas vs. Electric vs. Wood-Burning Fireplace comparison table here: