The basement is one of those spots in a house that people often ignore. It's a place to store things and then just pretend it doesn't exist. Do you lie awake at night asking, "Should I insulate my basement?" Ignoring that question can be expensive, especially since insulating a basement can be one of the easiest ways to improve your home's energy efficiency, especially if it's an older home. In addition to reducing heating costs, insulating a basement can keep rooms above it more comfortable and prevent moisture problems, insect infestation and radon infiltration. So, to help you along, we asked the tough question and offer some basement insulation tips to help you get started.
Should I insulate my basement?
Deciding whether or not to insulate your basement is not just a matter of asking if it's necessary; it's also a matter of deciding what part or how much of your basement you should insulate. For now, we're going to assume that your home is already built, i.e., that anyone building a home today would insulate his basement as a matter of course because it's the energy-efficient approach. So, given that we're talking about an existing basement, you can opt to tackle your entire basement or decide to go with insulating basement walls, ceilings or floors. Here are some points to consider while deciding if insulating a basement is in your home improvement future.
How much insulation do you currently have? A home energy audit can help get you started. If the answer is none, then you can leap right down to basement insulation tips.
What is the R-value of your existing insulation? R-value is how much your insulation resists heat flow—the thicker the insulation, the higher the R-value and overall effectiveness of the insulation. Learn more about R-value in our video. Choosing the right R-value for your space is important and will also affect the kind of insulation you choose.
Do you have a basement moisture problem? If your basement floods at all or has any water leaks, experts say to address that before considering any insulation solutions. That's because any insulation you might install on, say, the walls would potentially get ruined with excessive moisture. Foam insulation, for instance, is a common material for basement walls. Foam and water do not mix.
But, the biggest reason to say yes to the question "Should I insulate my basement?" is this: Virtually every basement has some kind of heat loss, and heat loss means you're paying more to heat your home. Erik North explains the details in his Energy Auditing blog: It's about the law of thermodynamics. Heat (not hot air) moves from higher temperatures to lower temperatures, and it moves faster when the temperature difference across a material is greater. Example: Your home is a cozy 70 degrees F. That higher heat radiates into the basement, which is probably about 55 degrees, give or take a few degrees, depending on where you live. The basement foundation, meanwhile, radiates the heat further outside where, in the winter, let's say it's 20 degrees. Final result? Heat loss and wasted energy that you've paid for.
Insulating a basement seems a fairly safe choice, then, on some level. The critical issue, though, is where to insulate. Is adding insulation for basement walls the right step? Insulating basement floors? Here's what the experts say.
Insulating basement walls
The Green Building Advisor says that insulating basement walls is a smart move if you live in Climate Zone 3 or colder. (That's basically anything north of most of New Mexico and Alabama, as well as Oklahoma, Arkansas and South Carolina.) Adding insulation to or improving inadequate insulation on your interior basement walls can save you anywhere from $280 a year if you live in Washington, D.C., to $390 annually if you live in Buffalo, New York (these are using natural gas rates of .$72/therm.)
Here are some points to consider when insulating basement walls:
Don't use rigid foam if your basement has stone and mortar walls. The Green Building Advisor says only closed-cell spray polyurethane foam will work on this kind of surface.
Interior insulation reduces the usable interior space by a few inches, according to Energy.gov, so plan accordingly.
Many insulation types require a fire-rated covering because they release toxic gases if ignited.
Energy.gov recommends vapor diffusion retarders to ensure moisture is contained and does not impede whatever insulation is installed.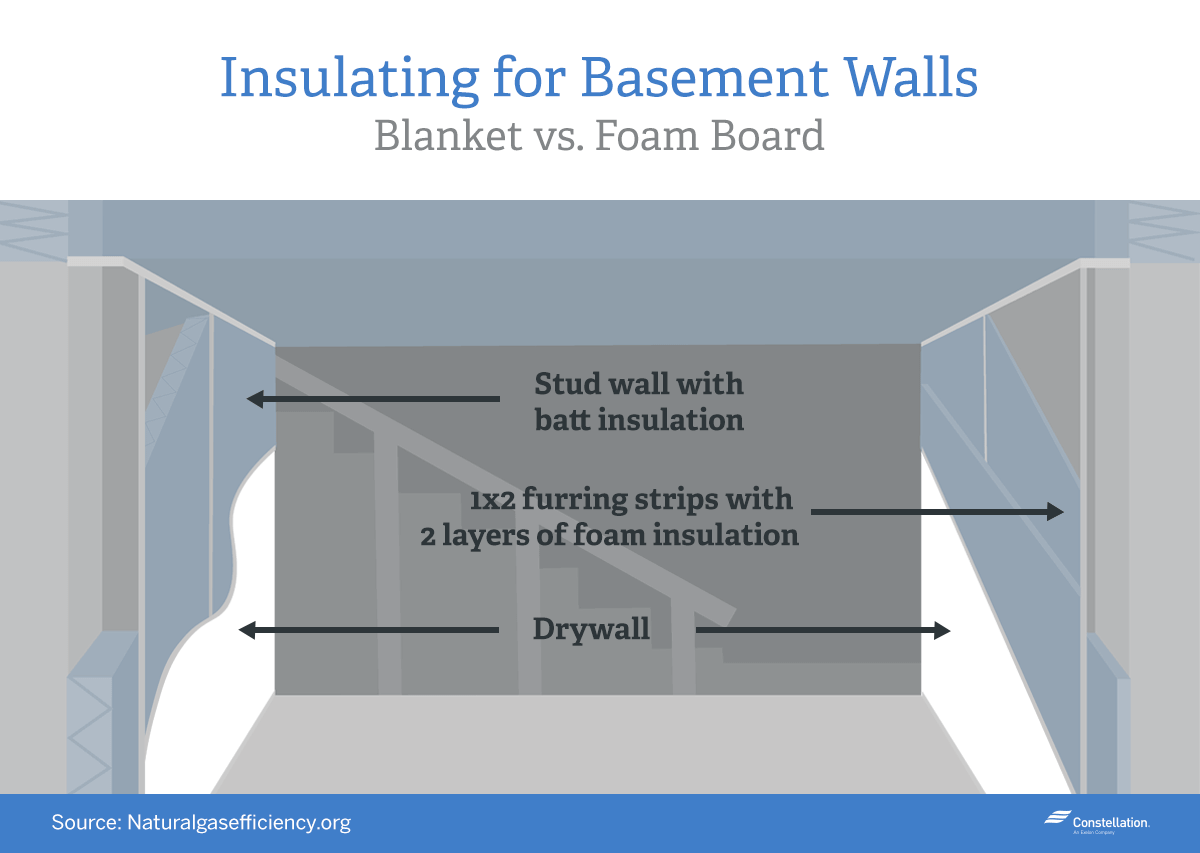 Source: http://naturalgasefficiency.org
Material types for insulating basement walls
Energy.gov recommends the following insulation for basement walls in existing homes:
Blanket (batt and roll) insulation: This can be made of a variety of materials, including fiberglass, mineral (rock or slag wool), plastic fibers and natural fibers. It's typically fitted between studs, joists and beams. It's generally less expensive than some other insulation types.
Foam board or rigid foam insulation: This insulation can be made of polyurethane, polyisocyanurate, or polystyrene. It has a high insulating value compared to its thickness, Energy.gov says. Note: Interior applications require gypsum board as well to meet fire codes.
Loose-fill insulation: Comprised of cellulose, fiberglass or mineral, this type of insulation can be useful for adding insulation to finished areas, particularly areas that are oddly-shaped or that have obstacles such as beams.
Sprayed foam insulation–Energy.gov says this is a particularly good choice for those who want a finished basement space when insulating a basement is done. Insulation materials can include cementitious, phenolic, polyisocyanurate and polyurethane. As its name implies, it's sprayed into place.
North advises against fibrous insulations such as fiberglass, rock wool or cellulose because they can be moisture traps. He recommends closed-cell spray foam and XPS foam board.
Insulating basement floors
Determining that moisture is not an issue is critical before starting any basement floor insulation project. HGTV.com recommends the following before insulating basement floors:
If the floor is concrete, clean it and seal with epoxy once dry.
Install sub-floor to make room for basement floor insulation.
Add insulation. HGTV suggests fiberglass, foam board, or modular flooring from a basement finishing system.
If you're interested in finishing the basement to make it living space, now would be the time to add any in-floor heating system. It will keep the space warmer in the winter and also likely decrease the energy use of any utilities in the basement because the heat keeps the space warmer beyond the mere addition of basement floor insulation.
Insulating basement ceiling
The verdict on whether or not to insulate basement ceilings is up for some discussion. Energy.gov recommends focusing on basement walls over basement ceilings when looking into insulating a basement. North is also skeptical about insulating basement ceilings. Since insulation slows the transfer of heat, he worries that insulating basement ceilings can actually reduce the temperature of a basement so much that there can be issues with pipes freezing and/or bursting. He is more of a fan of insulating basement walls over ceilings for this reason.
House Logic suggests looking at how you are going to use the space when deciding whether to insulate a basement ceiling or add basement floor insulation instead. They suggest adding insulation for basement walls if you plan to use the space as a living space; for example, perhaps finishing it off as a playroom. Insulate basement ceilings if you're merely looking to mitigate heat loss and potentially lower your energy costs. They recommend using fiberglass batt insulation, which fits more easily among the many pipes and joists found in most basement ceilings.
And there you have it: top tips for insulating a basement. For more tips in our Home Energy Savings Series, check out our post on attic insulation.