Ah, summer. Longer days, family vacations, warmer weather — who doesn't love summer living? Summer can also be a time of increased power outages as heatwaves sometimes test the power grid system and more severe storms can wreak havoc.
Not to worry, however. Here's how to prepare for a power outage so your family is not in the dark—literally—when the power goes out.
Before we get into what to do when power goes out and how to prepare for a power outage, it's important to understand the difference between a brownout vs. blackout. While the overall electrical grid system is quite stable — 99.9 percent stable if you eliminate weather-related outages, according to the Electric Power Research Institute — the reality is that brownouts and rolling blackouts do occur, often in the summer, so understanding the difference between a brownout vs. blackout is important for your power outage preparedness.
A brownout is a partial, temporary reduction in total system capacity, while a blackout is a complete interruption in power. Blackouts usually occur without warning and last for an undetermined period of time. They also often occur as a result of something unexpected, such as a severe storm or an unusual occurrence such as a car plowing into a power pole or an animal deciding a transformer would make a lovely home.
Another difference between a brownout vs. blackout is that a brownout is used by an energy provider as an emergency strategy to prevent the system from a blackout. In a brownout, a utility might decrease overall system voltage by 10-25% for a short period of time to ease strain on the system, according to Energy Vortex. This kind of reduction often has little impact on heat and lighting but might affect electronic equipment that's more sensitive to precise voltages.
A third type of power outage is the rolling blackout. This typically occurs with some advance warning, normally lasts for a fixed length of time, and is deliberately produced by utility companies as a means of coping with peak power demands that can't be met from the existing electricity supply. Rolling blackouts usually affect only a certain service area, and an energy provider will often spread these temporary blackouts among different service areas to ensure that no customer suffers more than another. This is different from a planned outage, which is generally announced by a utility company when service work is going to take place in a particular area.
What to do when power goes out
Safety is the top concern when considering power outage preparedness. The Consumer Energy Center offers the following power outage tips for safety:
Do not call 9-1-1. That number should only be used if there is an emergency, such as a line is down or if someone is injured or in danger.
If there are downed power lines in your neighborhood, do not go near them. Call your electricity company. Check to make sure that no children or animals go near the wires; they could still be electrified and therefore are lethal.
Drive carefully. Remember that traffic signals may be out in a rolling blackout. Consider each intersection to be a four-way stop and drive defensively.
If a power line falls on a car, stay inside the vehicle until first responders arrive to assist.
Knowing what to do when power goes out starts with power outage preparedness. Here are some power outage tips that can help:
Have a number of flashlights with fresh batteries in easy-to-locate locations in your home. Have a few upstairs and downstairs.
Consider having at least one plug-in flashlight that remains charged until you need it. Place it in a dark hallway outlet, for instance.
Consider flashlights with LED bulbs that have long battery life.
Have spare batteries readily available as well as candles and matches for backup.
Have a battery-operated radio (or one with a built-in, hand-crank generator) so you can listen to news and weather announcements. Don't have one? A quick trip to your car can enable you to get updates. Be sure you are listening in your car in an area that is well-ventilated.
Have the emergency number for your electric utility posted in a handy and obvious place, or stored in your phone contacts, in case you need to call.
Have an ice chest available to store needed medications and special foods that must remain cold.
Keep a couple of "blue ice" freezer packs in your freezer so they're ready for use when you need them.
If you use electricity for your water supply, such as through a well with an electric pump, have enough water on hand generally to last a couple of days. You should have at least one gallon of drinking water a day for each person in your house for cooking and drinking.
Fill the bathtub with water if you know a potential power outage could occur. The water can be used in an emergency if properly sterilized.
Have a household first aid kit in a prominent location.
Having household goods and important documents stored in a handy area, preferably in a container that you can easily carry should you need to can also help you be better prepared for when power goes out.
Download this handy checklist to help you get started: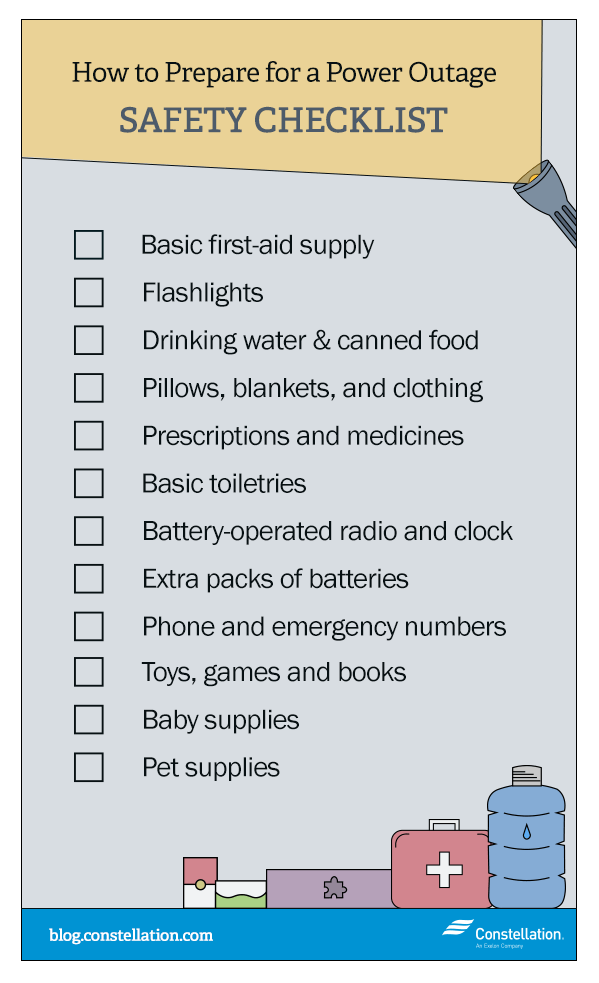 Power outage preparedness also includes being savvy about what to do when power goes out. In other words, you can take certain measures to protect your foodstuff and not overtax your household goods for when power is restored. Here are some power outage tips:
Don't open the fridge or freezer any more than necessary. Letting whatever cold air is inside out only increases the likelihood the food will spoil more quickly. Additional food safety tips can be found at the U.S. Department of Agriculture.
Leave one light on so that you'll know when power comes back on, but won't overtax your system by having everything come on at once.
Turn off electrical equipment you were using when the power went out.
Do not run a generator inside a home or garage
If you use a generator, connect the equipment you want to power directly to the outlets on the generator. Do not connect the generator to a home's electrical system.
If it's hot outside, move to the lowest level of your home to try to stay cool. Hot air rises; cool air falls.
Wear lightweight, light-colored clothing.
Drink plenty of water.
Source: ReadyNH.gov