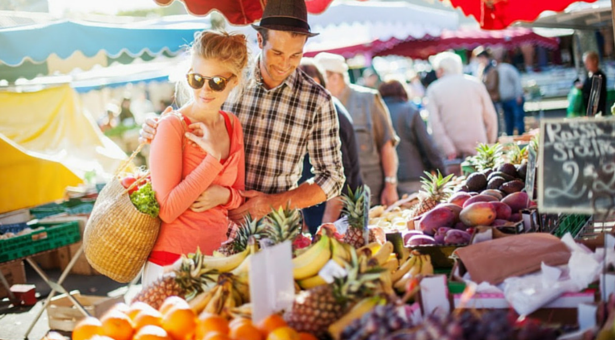 Not many shopping experiences are more rewarding than going to your local farmers market. The fresh air, delicious produce, and knowledge that you are shopping local are just a few of the perks farmers market goers enjoy.
Despite this, we know that going to the farmers market can require some planning that shopping at the superstore doesn't. From knowing what's in season to interacting with vendors, it's a totally different experience.
To help you get the most out of your trip to the farmers market we've put together this list of tips:
Seasonality
Like we said before, you want to make sure you know what is in season before you go. Unlike at the grocery store where they ship food in from around the world, what you get at the farmers market is what can be grown in the area.
Eating fruits and veggies that are in season pushes you to try new things and mix up your diet, allowing you to have fresher and tastier food since it wasn't transported from a faraway place.
Pro Tip: If you do see something that is not in season, you might want to question the source!
Make it an Experience
When you make the trip to the farmers market try not to think of it as a chore like we do with the grocery store. When you get there, spend your time taking in your surroundings. Be sure to talk to the vendors and other patrons—you might even make some friends!
Not only will interacting with others and your surroundings make the whole experience more fun, but it will also ensure that you are exposed to a wider variety of produce. By not rushing you are more likely to stumble upon better quality products or prices than if you buy the first thing you see.
Don't Overbuy
One of the best things about the farmers market is how fresh the produce is. Given this, you don't want to buy so much that it ends up sitting the crisper for too long. It can certainly be tempting to fill your bags with those plump tomatoes and gorgeous peppers, but remember: fresh is best!
If you do decide it makes sense to buy in bulk, you can usually strike up a deal with the vendor that is both easy on your wallet and helps the vendor make a little more money.
Come Prepared
Even in the digital age some vendors still run a purely cash operation. It would be a bummer if you found something you really wanted to buy or someone you really wanted to support with no way to pay them. Always bring cash!
You also want to be sure to bring your own reusable bags or baskets.  Even though many vendors will provide some sort of bag it is environmentally friendly to bring your own and lets vendors save what few bags they do have for other customers.
Time Your Visit
The early bird gets the worm, or at least the better looking worm when it comes to farmers markets. If you are looking to get the most pristine, bruise and blemish free produce it is best to show up earlier in the day. But if you are looking for the best deal, what's left later on might be the better option for you.
Dog Day Afternoon
If you are thinking about bringing your dog to the market make sure that they allow pets. Some farmers markets don't allow a canine companion so it's best to know before you go.
If you are able to bring your buddy make sure that he or she is comfortable during your trip! It is important that both you and your dog are hydrated and not getting too much sun exposure.
Armed with these tips we bet you're ready to take on the farmers market with confidence. Are you a farmers market pro? Share your tips and experiences with us  in the comments!