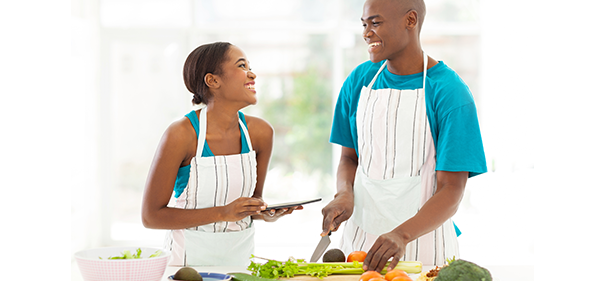 Valentine's Day has come and gone, and you may regret your decision to go out on one of the busiest date nights of the year. On any night going out can be a hassle, from finding the right outfit, to booking a babysitter, and hailing a cab – staying home can make date-night more enjoyable and easier to commit to more often!
At home date nights will help you save time, money, and countless frustrations while you have fun with the person you love! Here a few ideas for at home date nights that will keep your partner on their toes:
1.)   Show off your chef skills (or learn some new ones!) – The meal requests of mac-n-cheese and chicken nuggets that you likely get from your kids are certainly less than romantic. Put the little ones to bed and work together to whip up an adult meal to enjoy together. Make a favorite recipe, or even better, try something you have never attempted before! This date idea doesn't mean you need to be a master chef to have fun – learning something new together can be really fun (and even funny if things don't turn out perfectly!). Consider trying a meal delivery service like Blue Apron or Plated for new recipes, complete instructions, and all the ingredients you need for a unique and tasty meal without the stress of researching and planning.
2.)   Reminisce – Nothing is more cherished than great memories with the ones we love. When was the last time you watched your wedding video, looked through old photos, or pulled out that box of ticket stubs from the things you've done together. Pour a glass of wine and spend the night remembering the fun you've had together. Write the story of your romance or make a scrapbook. Another option is to have a throwback night to another decade (80s? 90s?) Turn on some of the hits from the decade you choose, select a perfect throwback movie and have a ball!
3.)   Movie Night – Think about theming your movie date night to include food, drinks, and even costumes. Make an Italian dish to watch The Godfather, make pizzas to watch Ninja Turtles (cowabunga!) or gourmet hot dogs to watch Field of Dreams or Moneyball. You could even tie in different drinks that correlate to the movie, or choose a series or trilogy to watch over the course of a few weekends. Give yourself something to look forward to each week to keep things fun!
4.)   Group date – Invite another couple to join in the fun and get to know each other even better. Try a cooking contest where each couple makes a unique pizza or host a game night. Group dates are great because they can sometimes help save money on a babysitter, letting the kids play together and have a sleepover upstairs while the adults hang out downstairs!
5.)   Spin some tunes – It seems like everyone is becoming a DJ these days. Having a DJ night is a fun way to laugh and spin up some favorites at home. Use music videos online or a streaming music service to cue up top hits or your favorite oldies. Take turns choosing the song and see what you learn about your partner from their selections. You may find some new jams to add to your daily playlist!
Do you have a favorite at home date night? Let us know in the comments how you like to spend time at home with your partner.