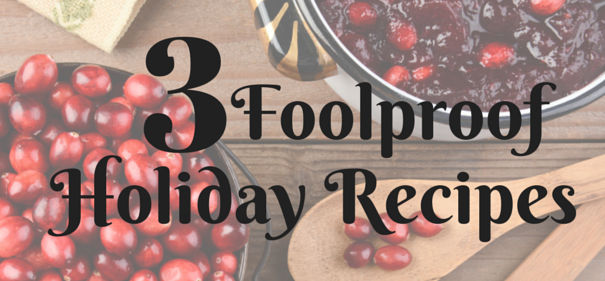 This holiday season, don't just eat: eat right! With these healthy holiday recipes, you can make sure you and your family get on track to better eating in the New Year.
    1.        Crock-Pot Roast
This recipe makes 12 servings, so you can prepare it for the whole family!
You'll need:
One 3-lb, raw, boneless beef roast (trimmed)
1 tsp. salt and black pepper
One 14-oz can of fat-free beef broth
4 cups of sliced carrots
3 cups of chopped onion
2 cups of sliced mushroom
1 cup sliced celery
2 tbsp. tomato paste
1 tbsp. Worcestershire sauce
2 sprigs of fresh thyme
1 tsp. chopped garlic
2 tbsp. cornstarch
Directions:
Heat a large skillet, sprayed with nonstick, to high heat.
Season the roast with ¼ tsp. each salt and pepper.
Cook and rotate until all sides are browned (should take about 5 minutes), then place in a crock pot.
Add the remaining ingredients, save the cornstarch, to the crock pot and gently stir.
Cook on high for 3-4 hours (or low for 7-8 hours, depending on which you have time for).
Turn off the crockpot and dissolve cornstarch in 2 tbsp. cold water in a separate bowl. Stir this into the liquid in the crock pot.
Let the crock pot sit, uncovered, for about 5 minutes.
Remove and discard the thyme sprigs. You're done!
    2.        Gluten-Free Cranberry Sauce
David Bonom on Myrecipes.com brings us his old fashioned cranberry sauce (which happens to be gluten-free). If you've gotten into the latest health craze, or if you'd just like some awesome cranberry sauce, then you should look at this recipe!
Ingredients:
1 tablespoon canola oil
½ cup chopped onion
1 and ¼ cups of sugar
½ cup of water
¼ cup port wine
¼ tsp. ground ginger
12 ounces of fresh cranberries
2 tsp. grated orange rind
Directions:
Heat the oil in a medium saucepan to medium/high, then add onion and sauté for 4 minutes.
Add sugar, water, port wine, ginger, and cranberries to the pan.
Reduce the heat to low and simmer for 8 minutes (you'll know you're done when the cranberries pop).
Remove from the heat and stir in the orange rind.
Serve chilled or at room temperature.
Note: If you go to the recipe on its original site, you'll see that the author has provided variations for "South-of-the-Border," "Apple," and "Raspberry-Walnut" cranberry sauce in case you want to spice things up!
    3.        Cream Cheese Turtle Cups
Don't forget about dessert! These cream cheese confections are a sweet ending to any holiday meal. As an added treat, you can have your children help you out with them!
Ingredients:
16 and ½ ounces refrigerated cookie dough
2 tbsps. all-purpose flour
8 ounces cream cheese, softened
⅓ cup hot caramel ice cream topping
⅓ cup hot fudge ice cream topping (warmed)
36 pecan halves
Directions:
Preheat your oven to 350 Fahrenheit and place the cookie dough in a large bowl.
Let cookie dough stand at room temperature for about 10 minutes to soften.
Add flour and beat until blended, then shape the dough into 1-in. balls.
Add dough balls to greased mini-muffin cups and press evenly onto bottoms and up the sides of cups.
Bake for 6-8 minutes. Press an indentation into the center of each cup of dough, then bake for 8-10 more minutes.
Cool in pan for 5 minutes.
In a small bowl, beat the cream cheese until it's fluffy. Add in the caramel topping and fold in the chopped pecans.
Spoon 2 tsps. filling into each cup and top with pecan halves and fudge topping.
Note: This recipe makes 36 cookies, so you'll have more to enjoy!