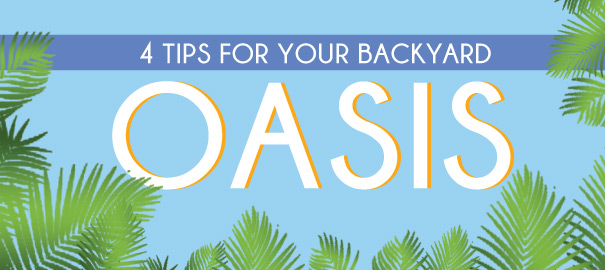 There's no time like the summer to give your backyard a bit of a sprucing! Whether you are a pro do-it-yourselfer or a pro at calling in reinforcements, here are some projects you should consider for transforming your backyard or patio into a little slice of paradise.
1. Add some whimsical lighting to your porch with Young House Love's bulb cover lanterns.
What you'll need:
Large, thick bulb covers ($4.99 each at Home Depot)
Wire
Needle nosed pliers
Hook screws
Tealight candles
What to do:
Step 1: Wrap wire tightly around the mouth of the bulb cover. Using the needle nosed pliers, cut the wire so that there is about one inch extra wire on each side and twist the ends together so that the bulb cover is held securely.
Step 2: Cut a long piece of wire to use as the lantern handle. Hook each end of the long wire to the wire that is wrapped around the mouth of the bulb cover. Wrap the wire tightly.
Step 3: Using a drill or screwdriver, screw the hooks into the ceiling of your porch. Place them in a row or scatter them as you see fit.
Step 4: Place tealight candles in each lantern and hang them to the hook screws by the long wire. Enjoy!
2. Take some inspiration from artist Daryl Fitzgerald from Light Reading in Melbourne and paint bricks to look like bookends. Hide them throughout your flower garden for some creative flair.
What you'll need:
Assortment of old bricks
1 Large paint brush
2-3 Small paint brushes
1 Small sponge
Stencils
Acrylic paints
Mod Podge or other acrylic sealer
What to do:
Step 1: Remove any dirt from the bricks and wipe dry.
Step 2: Using the large brush paint your bricks any color you would like! You can use books you love for inspiration or go rogue and make it up as you go. Use the small sponge to add a look of age.
Step 3: Using the small brushes and stencils paint titles and publisher logos on the "bookend".
Step 4: Finish the books with a coat of Mod Podge. Once the books are dry, hide them throughout your garden and yard.
3. Create a Mason Jar Herb Garden on your patio wall. This is especially useful for those of us without the space for a full herb garden. Check out this step-by-step tutorial of the Mason Jar Herb Garden by Claire Zinnecker for Camille Styles, summarized below.
What you'll need:
Old wooden board
Mason jars
Pipe clamps (1 per mason jar) and compatible nails
2 Triangle ring hangers
Stainless hanging wire
Picture hanger
Chalkboard paint and chalk
Paint brush
Herbs
Acrylic paint
Screwdriver and hammer
What to do:
Step 1: Space mason jars evenly on the board and mark their placement with a pencil.
Step 2: Paint pipe clamps gold or another color of your choosing. Secure the clamps to the board by hammering a nail through the hole in the clamp. The clamps should be attached at the center of each penciled mason jar position.
Step 3: Nail ring hangers onto the back of the board at the top on either corner. Tie on the hanging wire.
Step 4: Plant herbs in the mason jars.
Step 5: Place mason jars into clamps and tighten the clamps with a screwdriver until the jars are secure.
Step 6: Using the chalk paint, paint a rectangle beneath each jar for labeling the herbs.
Step 7: Nail picture hanger into your patio wall and hang your mason jar garden. Enjoy your herbs!
4. Build a tic-tac-toe board in your garden with these instructions from Erica at Northwest Edible Life. You can make this a permanent part of your yard or you can bring it out during parties or for the kids!
What you'll need:
1 Can dark spray paint
White acrylic paint
10 Smooth, flat stones
9 Square tiles (Home Depot)
2 Old flower pots or other containers for storing stones
What to do:
Step 1: Spray paint stones and let dry.
Step 2: With white acrylic paint and small paintbrush, mark half of the stones with Xs and half with Os and let dry.
Step 3: Lay out tiles in 3 rows of 3. You can dig out some dirt and grass below them if you would like to embed them in your yard.
Step 4: Paint X and O on the two pots and place the X and O stones in the respective pots.
Step 5: Invite guests and kids to play!
Have any other transformational backyard projects? Please share below!