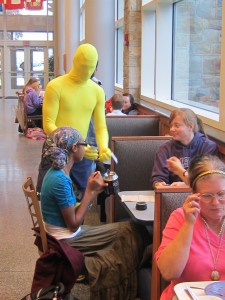 By Christian Kendzierski
Director of Media Relations, Mount St. Mary's University
Last week, an interesting phenomenon occurred on Mount St. Mary's University's campus in Emmitsburg, Md. A man in a yellow body suit and tights by the name of "Solar Man" walked around campus spreading the news to students and faculty about Constellation Energy's 100-acre solar farm, which is expected to be one of the largest in the state of Maryland. He also handed out solar-powered key chains and took photos with students.
The most fascinating part is that no one knows who he is! Will "Solar Man" visit the Mount's students and faculty again, and if so will we learn is identity!?
Click here to view local news coverage on Solar Man's mysterious appearance.
Christian Kendzierski is the Director of Media Relations for Mount St. Mary's University. The views expressed in this post are his alone and do not necessarily represent the views of Constellation Energy or its affiliates.